Before each Ohio State game, Eleven Warriors catches up with a media member who covers the opposing team to get his or her perspective on the Buckeyes' upcoming opponent.
With Akron coming to town for Ohio State's final non-conference game of the 2021 regular season this week, we caught up with George Thomas of the Akron Beacon Journal – the only full-time beat writer who covers the Zips – to get his insight on the Buckeyes' fourth opponent of the season.
The Zips are coming off a 35-14 win over Bryant, a Football Championship Subdivision team, but have lost both of their games against Football Bowl Subdivision opponents this year and have just one win over an FBS team since 2019, Tom Arth's first season as Akron's head coach.
Why has success evaded the Zips, do they have a chance to be competitive in the Mid-American Conference this year and do they have any chance of being competitive against Ohio State on Saturday? Thomas gives us an honest perspective on those questions and more.
(Note: This Q&A was conducted by phone interview, and some answers have been edited for brevity and clarity.)
Tom Arth's first three years as Akron's head coach have clearly been a struggle. What do you think have been the biggest challenges he's faced?
Thomas: A pandemic. Here it is: His first year, he went 0-12, pretty much without his players because he honored that recruiting class that came in. Last year, he gets hit by a pandemic. Everybody got hit by the pandemic. If you're coaching college football last year and you're trying to build a program, as far as I'm concerned, you get a mulligan. Period.
This year, they're still getting the pieces in place. I think the offense is on its way. The defense, I still have a lot of questions about.
Number one, let's be realistic: They're not gonna compete with Ohio State. But the defense is built to be athletic and fast. The Zips' defensive line gave up 50 to 60 pounds on the Auburn offensive line. So that's kind of what you're looking across the board. Defensively, they're not big, but they're supposedly fast.
His biggest challenge is the patience of the powers that be. Let him do his thing and give him the time to do it. It's that simple.
Akron was beaten 60-10 by Auburn and 45-24 by Temple in the first two games before winning its last game against Bryant. Are you seeing signs of progress from the Zips?
Thomas: Offensively, primarily. They were able to score against Temple. Mind you, there was a point in time when the Zips offense, last year and the year before, just looked like it couldn't do anything. They couldn't get out of their way. Keeping in mind Bryant is FCS, they still scored 35 points.
Coming out of training camp, DJ Irons, who will likely start (at quarterback) this weekend, and Kato Nelson, who was injured against Temple, were 1A and 1B as far as I was concerned as to who would be starting the season. But Kato's injured, he started the season, he was injured against Temple. DJ Irons came in last week and he racked up 432 yards of offense between passing and rushing and was responsible for four of the five Zips touchdowns.
That's progress to me. That's a young offensive line, they gave him plenty of protection to deal with. He was able to go through his progressions. He got the ball to nine different receivers.
The big area of concern for me is with the rushing game, because they have a redshirt freshman named Jonzell Norrils, who's from Toledo Central Catholic, who looks like he's got some promise but he fumbled the ball last week. Last season they had a guy named Teon Dollard, who averaged six yards a carry, and he was dismissed from the program. So their rushing game is a concern still right now.
The defense, it's small, allegedly fast, but it's built for speed. That's the best way to put it. Small, athletic, speed, that's what it's built for. I don't know how eventually that's gonna shake out, but I see reason for hope offensively.
Aside from DJ Irons, who are a few other Akron players that Ohio State fans should know about?
Thomas: You know what, if you had asked me that three weeks ago, I couldn't have told you. Wide receiver Michael Mathison, he flashed a little bit last year; he's been very consistent this year, he's also their kick returner. He's come kind of close to breaking a couple in the kick return game. Great hands, he runs well after the catch. Konata Mumpfield, another receiver, is starting to develop.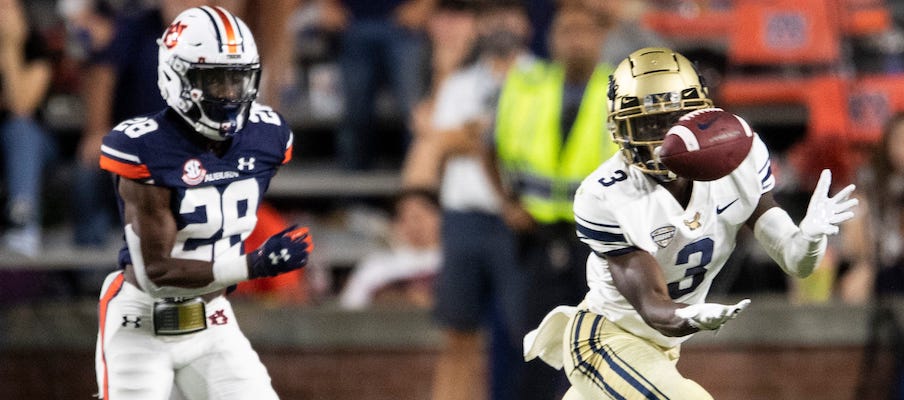 I still like Jonzell Norrils, I really do. I just think with Jonzell, he's not explosive, but I think he needs a consistent game where he averages 4.5 yards or so, will do wonders for his confidence.
Defensively, he's small but you always have to know where Bubba Arslanian is. He has a bit of a problem shedding blockers, but what 5-foot-10 linebacker wouldn't? There is a kid named Jeslord Boateng, who is a Dublin Coffman kid. He went to Michigan State, I don't know why it didn't work out there. He transferred to Akron this past January and he's starting to make an impression at linebacker.
At 1-2, Akron is currently tied for the best record in the MAC East. Realistically, how competitive do you think Akron can be in the MAC this year?
Thomas: Right now, it's still a matter of being competitive within games. I'm gonna have to see more to think they can compete for the MAC East title. You know who's probably gonna win that title this year? Sean Lewis has built a beast at Kent State, by MAC standards. He's built a beast. That's who everybody's gonna be looking at.
Akron needs to learn to be competitive in the MAC East. And perhaps that starts next week. I don't know. They have Ohio next weekend. I think Ohio is down right now, but it never seems that they're down against the Zips.
Akron enters this game as a massive underdog. What do you think would constitute an encouraging performance for the Zips on Saturday?
Thomas: If they can pull a Tulsa. Not that it's hard to do right now – and this is coming from an Ohio State fan, it's not hard to do right now – if you score 20 points on the Buckeyes, doesn't that lift your confidence if you're a team on this level? I certainly think so. I think they would feel good about themselves.
Against Auburn, they were shut out in the first half, and they were perilously close to being beaten by 50-something to nothing at one point. So I think they just want to make a good showing. 
Tom will tell you he's going down there to win. What coach isn't gonna say that? But coaches deal in reality too, I'm sure. So I know he knows that's not probable.