Ryan Day has lost a regular-season game as a head coach for the first time.
In Ohio State's second game of the 2021 season and its first game in front of fans at Ohio Stadium since 2019, Kerry Coombs' defense was gashed and Oregon defeated Ohio State, 35-28, to hand the Buckeyes their first regular-season loss since 2018.
Neither team scored in the first quarter. Ohio State's opening drive of the game ended with a turnover on downs; Ryan Day opted to go for it on 4th-and-7, but C.J. Stroud's pass fell incomplete, giving Oregon the ball at its 31-yard line. The Buckeyes' defense stepped up to force a punt on its opening series, keeping the game scoreless through each team's first possession.
Ohio State punted from the 34-yard line on its second possession, and Jaxon Smith-Njigba downed Jesse Mirco's punt at the 1-yard line, but Oregon drove 99 yards in 10 plays, capped by a 14-yard CJ Verdell touchdown run, to take a 7-0 lead 33 seconds into the second quarter.
The Buckeyes remained scoreless until their fourth possession of the game, when a pair of Smith-Njigba catches for 26 yards and 15 yards set up a 27-yard touchdown pass to Garrett Wilson for Ohio State's first points of the day, tying the game at 7-7 with 8:42 remaining in the second quarter.
 
Q1
Q2
Q3
Q4
 

#3

 Ohio State
0
7
7
14
28

#12

 OREGON
0
14
14
7
35
Oregon retook the lead on its subsequent possession as Verdell scored another 14-yard touchdown – though this one technically came on a reception – on a play that was very similar to his first touchdown. The Ducks opted to go for it on 4th-and-1, and even after Ohio State called a timeout, the Buckeyes allowed Verdell to get a wide open lane on the left side of the field to run all the way to the end zone, giving Oregon a 14-7 lead that it would ultimately take into halftime.
On the third play of the second half, Verdell extended Oregon's lead to 21-7 with a 77-yard touchdown run as he ran by Bryson Shaw in the open field and Cameron Brown whiffed a potential touchdown-saving tackle.
The Buckeyes responded with a touchdown on their own opening series of the third quarter as Stroud completing four consecutive passes to drive Ohio State down the field, culminating with a 26-yard touchdown pass to Smith-Njigba.
Oregon promptly went back up by two scores on its next possession as it drove right back down the field on the Buckeyes again, scoring its fourth touchdown on a 5-yard run by Travis Dye.
Ohio State drove back inside Oregon's 10-yard line on its next possession, but ended up without points as the Buckeyes went for it on 4th-and-2 from the 8-yard line as Stroud's pass intended for Chris Olave fell incomplete and no pass interference was called despite contact from an Oregon defensive back.
| OHIO STATE |   | OREGON |
| --- | --- | --- |
| 612 | TOTAL YARDS | 505 |
| 128 | RUSHING YARDS | 269 |
| 31 | RUSHING ATTEMPTS | 38 |
| 4.1 | AVERAGE per RUSH | 7.4 |
| 1 | RUSHING TOUCHDOWNS | 3 |
| 484 | PASSING YARDS | 236 |
| 35-54 | COMPLETIONS–ATTEMPTS | 17-35 |
| 13.8 | AVERAGE per COMPLETION | 13.9 |
| 3 | PASSING TOUCHDOWNS | 2 |
| 32 | 1st DOWNS | 27 |
| 85 | TOTAL PLAYS | 73 |
| 7.2 | YARDS per PLAY | 6.9 |
| 2-3 | RED ZONE | 4-4 |
| 6-15 | 3rd DOWNS | 8-16 |
| 8-71 | PENALTIES | 4-35 |
| 30:14 | POSSESSION | 29:46 |
The Buckeyes' defense was able to force a punt on its final series of the third quarter, and their offense made it a one-score game early in the fourth quarter. After finally converting a fourth-down attempt for the first time in four tries with a 23-yard pass from Stroud to Wilson, TreVeyon Henderson ran for a 2-yard touchdown.
Oregon proceeded to march right back down the field and make it a two-score game again, however, scoring its fifth touchdown of the game – and its third touchdown of exactly 14 yards – on a pass to wide-open tight end Moliki Matavao.
Again, the Buckeyes drove back down the field to make it a one-score game, as they went for it on fourth down for a fifth time – this time on 4th-and-5 – and Smith-Njigba got wide open on a crossing route to score a 15-yard touchdown, cutting Oregon's lead to 35-28 with 7:55 to play.
Finally, Ohio State's defense forced its first three-and-out of the year on Oregon's next possession, giving the Buckeyes the ball back with a chance to tie the game. Ohio State ended up punting on its next possession, however, after a holding penalty against Thayer Munford nullified a Stroud run for a first down on 3rd-and-10.
Needing another stop, the Buckeyes defense got another 3-and-out on Oregon's next possession thanks to a pass knockdown by J.T. Tuimoloau on 2nd-and-8 and a pass breakup by Cody Simon on 3rd-and-8. But Stroud threw an interception on 3rd-and-18 on the subsequent possession – the only turnover for either team of the entire game – to give Oregon the ball back with the lead and just 2:50 to play.
In defeat, Stroud threw for 484 yards and three touchdowns while three Ohio State wide receivers topped 100 yards – Smith-Njigba (145), Olave (126) and Wilson (117) – for the first time in school history. That only led to four touchdowns for the Buckeyes, however, on a day where Oregon scored five touchdowns on over 505 yards of offense.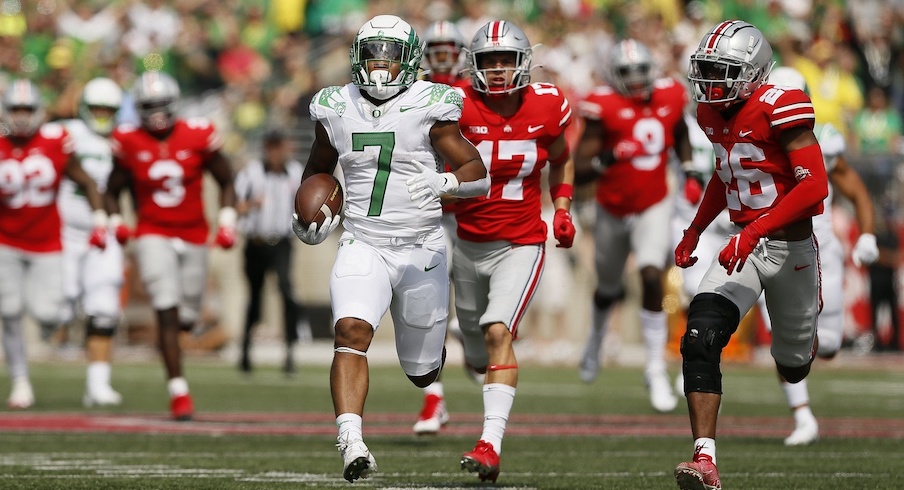 #3 Ohio State 28, #12 Oregon 35
sept. 11, 2021 • OHIO STADIUM • COLUMBUS, OH
• PHOTOS 
Game Notes
Oregon was without two of its top defensive players, defensive end Kayvon Thibodeaux and linebacker Justin Flowe, who both sat out the game with injuries.
Kamryn Babb, Teradja Mitchell, Thayer Munford and Haskell Garrett were Ohio State's game captains for the opening coin toss.
Ohio State's offensive starting lineup was unchanged from the season opener at center. Luke Wypler started at center with Harry Miller unavailable for a second consecutive game to start the season.
Miyan Williams made his second consecutive start at running back while TreVeyon Henderson was the second running back into the game.
With Josh Proctor recovering from an injury, Bryson Shaw made his first career start at safety for Ohio State. Cameron Brown and Denzel Burke started at cornerback in place of Sevyn Banks.
Proctor entered the game in the second quarter, but had to be carted off the field after suffering another injury in the third quarter.
After being cleared to play by the NCAA on Friday, Palaie Gaoteote made his Ohio State debut at linebacker in the second quarter.
Freshman defensive tackle Tyleik WIlliams made his Ohio State debut in the second quarter.
Running back Marcus Crowley was carted back to the locker room after getting injured on the opening kickoff of the third quarter. He was able to stand up after the collision, but was bleeding from his face.
Even though there were still 10,000 tickets available earlier in the week, Ohio Stadium's attendance hit six figures on Saturday, with an official attendance of 100,482.
Ohio State has now lost its second game of the season three times since 2014. The Buckeyes also lost their second game of the year against Virginia Tech in 2014 and against Oklahoma in 2017.
Day had won 21 straight regular-season games as Ohio State's head coach before Saturday's loss.