Ohio State clearly has some concern about its inexperience at linebacker going into the 2021 season. If the Buckeyes' coaches were fully confident in the linebackers they had, they wouldn't have pursued Henry To'o To'o in the transfer portal.
Ryan Day and his staff typically only pursue transfers at positions where they feel they have an immediate need. To'o To'o, who earned Freshman All-American honors in 2019 and was Tennessee's leading tackler in 2020, could have added a level of experience and proven playmaking ability that the Buckeyes simply don't have at linebacker right now.
So it was certainly disappointing for the Buckeyes, after months of recruiting him, when To'o To'o announced Saturday he would transfer to Alabama. While the team that beat the Buckeyes in last year's national championship game just added another impact player to its defense, Ohio State still doesn't have any linebackers on its roster who have ever started a collegiate game.
However, that doesn't necessarily mean the Buckeyes should start recruiting other linebackers in the transfer portal.
None of Ohio State's current linebackers have a proven body of work, and that's what made the potential addition of To'o To'o so appealing. Already regarded as one of the best linebackers in college football – The Athletic ranked him as the third-best player in the entire transfer portal this year – To'o To'o could have slotted in at either inside linebacker spot and given the unit a veteran leader who's already proven he can be a reliable three-down player while playing against some of college football's best teams.
That said, Ohio State already has a talented group of linebackers who have been waiting for their turn to emerge.
That starts with the fourth-year trio of Teradja Mitchell, Dallas Gant and K'Vaughan Pope. None of them have played very much at Ohio State, but that's mostly because they were stuck behind Pete Werner, Tuf Borland, Baron Browning and Justin Hilliard on the depth chart for the past three years. All of them were four-star recruits who came into the program with high expectations, and they've all had three years of development to prepare for this season.
Gant was sidelined by a foot injury this spring, but he's expected to be healthy in time for preseason camp, and Mitchell and Pope were both praised by their coaches for their performance during spring practices.
So too were third-year linebacker Tommy Eichenberg and second-year linebacker Cody Simon, who also both looked to be making a real push for playing time during the spring game and in the few practices media members had the opportunity to watch this spring.
"Tommy had a very good spring, Cody had a very good spring and then K'Vaughan and Teradja, they played the best football that I've seen them play since they've been Buckeyes," Ohio State defensive coordinator Kerry Coombs said after spring practices. "So that core of four guys had the opportunity to get a lot of work, and so I'm excited for them."
First-year linebacker Reid Carrico was also on campus for spring practices, and while the Buckeyes probably don't want to rely on a true freshman to play a major role at linebacker, the coaches indicated their pleasure with his development by removing his black stripe this spring.
Ohio State could use more depth at linebacker. Mitchell Melton suffered what Ryan Day described as a "long-term injury" this spring, so it's unclear whether he'll be available this fall. If Melton can't play, the Buckeyes would be down to just six available scholarship players who are true linebackers.
That should be enough, though, if Ohio State moves forward with primarily playing a 4-2-5 defense this season as expected. With Craig Young (who was a linebacker for the past two years), Ronnie Hickman and Kourt Williams all now playing the hybrid safety/linebacker bullet position, it's likely the Buckeyes will have only two traditional linebackers on the field in most situations, giving them enough players to fill out a three-deep depth chart.
Projected 2021 Depth Chart at Linebacker

| Position | First Team | Second Team | Third Team |
| --- | --- | --- | --- |
| WILL | TERADJA MITCHELL | CODY SIMON | K'VAUGHAN POPE |
| MIKE | DALLAS GANT | TOMMY EICHENBERG | REID CARRICO |
Ohio State could still look to add a different transfer linebacker if it feels it has to add depth at the position. But players in the transfer portal are usually seeking opportunities to become starters, and there aren't any other linebackers left in the portal who would be clear upgrades over the players the Buckeyes already have.
Among the top 13 linebackers who entered the portal this offseason, as ranked by 247Sports, 12 of them have already finalized their transfer destinations. The only one who hasn't, former USC linebacker Palaie Gaoteote, was a rumored potential target for Ohio State earlier this offseason before the Buckeyes zeroed in on To'o To'o. But al.com's Matt Zenitz reported last week that Gaoteote is expected to transfer to Texas, which could mean it's too late for the Buckeyes to make a run at him – if they'd even want to.
While the Buckeyes added a trio of impact players through the transfer portal – Justin Fields, Jonah Jackson and Trey Sermon – in Day's first two seasons as head coach, they've been selective about only adding players who they're confident will both make them better and fit their culture, as they know any transfer addition runs the risk of upsetting the players who could lose playing time as a result.
"With our offseason program and a lot of pride in how we do things here, to just have a guy step in and jump ahead of some of the other guys who have put work in, that's not easy to do," Day said in February. "So we don't just grab guys without really doing a lot of research on how it would affect our team dynamics."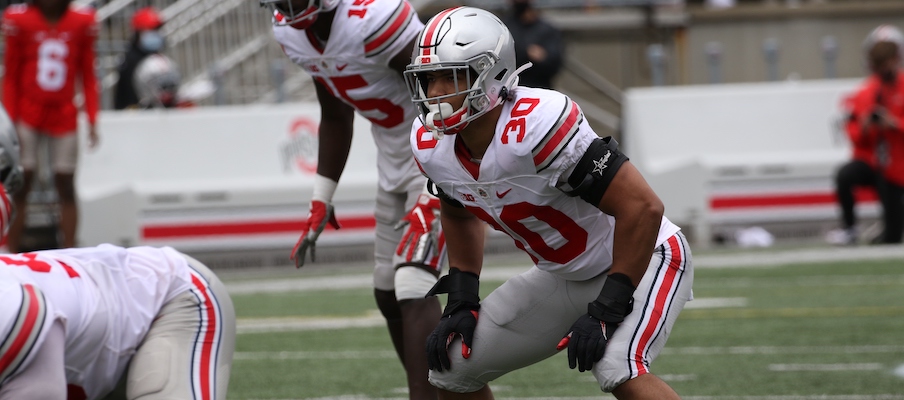 Because of its inexperience at linebacker, Ohio State couldn't pass upon the opportunity to add To'o To'o if it got it. But it's unlikely the Buckeyes will force the addition of a different transfer linebacker unless they believe there's another linebacker in the portal who will truly make their defense better, which there might not be.
Arguably, To'o To'o might have been the only linebacker in the portal who fit that description all along.
Going into the season without any linebackers who have proven themselves in game action could cause some sleepless nights this summer for Day, Coombs and Al Washington, but it's not as if they're devoid of talent at the position.
As long as those linebackers continue to develop this preseason, Ohio State could already have the personnel it needs to have a great linebacker unit. And given the changes that appear to be coming to the defense, it's possible even without To'o To'o that the Buckeyes could have more linebackers who belong on the field than they have playing time to go around.
"The best thing we have is competition, and I think everybody is competing," Washington said this spring when asked about replacing Ohio State's top four linebackers from last season. "It is a great challenge in a lot of ways, but in the same breath, this is the evolution of football, especially in college. This is why they come to Ohio State. This is what it's about. So next guys up. Take advantage of your opportunity. Believe in yourself. And compete."