Ohio State's potential frontrunner to start at Sam linebacker was practicing with the defensive backs on Monday.
If you're looking for an indication of how Ohio State's defense might look different in 2021, that could be a major hint. 
As the Buckeyes look to improve a defense that struggled last season, particularly against the pass, one of the first things they must do is figure out how they will replace their four linebackers – Pete Werner, Tuf Borland, Baron Browning and Justin Hilliard – who all played substantial roles last season. Craig Young, who played the third-most snaps at linebacker last season among returning Buckeyes behind only Teradja Mitchell and Dallas Gant, has been viewed as one of the leading candidates to play a role in that.
That could still be the case, but it might not be as a traditional linebacker. And that could be a sign of where the Buckeyes' defensive scheme is headed this season.
During Monday's Ohio State football practice at the Woody Hayes Athletic Center, when members of the media had their first opportunity to get an extended look at the Buckeyes this spring, Young went through individual drills with the defensive backs then lined up primarily as a safety during team drills.
Ryan Day, who said earlier this spring that Young had been spending time at both safety and linebacker, indicated Monday that Young was settling into his new role – a role that is otherwise being played by Buckeyes listed as safeties on the roster.
"I think that Craig has had a really good spring so far," Day said. "I think he's finding a role that he feels more comfortable with. His ability to come into the box, but then also line up at safety, he can do multiple things there. And that's exciting for us. Because he can cover, he can play in the box, he can be physical, he can blitz. So he, Ronnie Hickman, Ryan Batsch, Kourt Williams, those are all guys in that position that we think have a chance to do that this year."
While Ohio State coaches rarely use the term "bullet" in interviews anymore unless they're asked specifically about it, Day's answer and Monday's practice suggested the Buckeyes are looking to make the hybrid safety/linebacker role a real part of their defense this year. And it could be a part of their primary defense.
In the portion of Monday's practice that was open to the media, Ohio State typically lined up with either Hickman, Young or Batsch on the field – Williams is not participating in contact drills this spring as he continues to recover from the torn ACL he suffered last preseason – along with four other defensive backs and just two traditional linebackers. Sometimes, that hybrid player was lined up in the box like a linebacker, but they were often deployed as a second deep safety.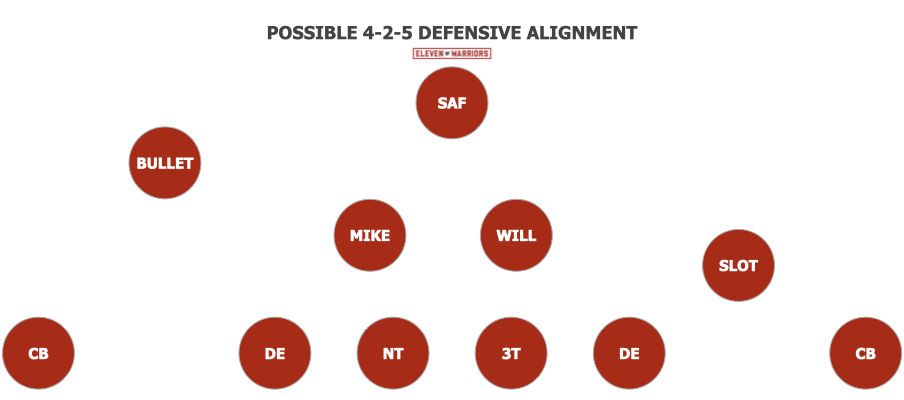 In a sport that has increasingly become defined by spread offenses with high-powered passing attacks, particularly among the teams that typically play in the College Football Playoff, a shift to a 4-2-5 base defense could make sense for the Buckeyes. And there have been several indicators the Buckeyes could be moving in that direction.
For one, the Buckeyes are set to have twice as many scholarship defensive backs as linebackers on their 2021 roster – even if you include Young as a linebacker. Ohio State signed six defensive backs and just one traditional linebacker in its recruiting class of 2021 – even though it was set to lose four senior linebackers – and has signed numerous recruits in recent classes who seem tailor-made for a hybrid safety/linebacker role, including Williams in the class of 2020 and Jaylen Johnson in the class of 2021.
Ohio State's decision to make Kerry Coombs the sole defensive coordinator, and not hire a true replacement for former co-defensive coordinator Greg Mattison, could also be an indicator of what's to come for the defense. 
The Tennessee Titans regularly played with at least five defensive backs on the field during Coombs' two years there – 75% of plays in 2018 and 80% of plays in 2019, according to Football Outsiders – and Coombs likely wants to implement more concepts from his time in the NFL now that he has a full offseason with players on campus to install new defensive formations. Meanwhile, Al Washington is now Ohio State's only linebackers coach, whereas Mattison previously coached the Sam linebackers, and the hybrids appear to be working primarily with new secondary coach Matt Barnes.
All of that said, how Ohio State lines up defensively this fall should be determined primarily by what the coaches believe gets their best defensive players on the field. Last year, the Buckeyes had more incentive to play three linebackers – and even four linebackers at times – because they had an experienced linebacker unit and an inexperienced secondary. This year, with much less experience at linebacker, Ohio State could have more incentive to play five defensive backs regularly and even six defensive backs at times – especially if versatile DBs like Hickman, Lathan Ransom and Cam Martinez continue to make the case that they should play bigger roles in 2021.
Day said the Buckeyes will "just try to put the best guys on the field, who can do the most." And Washington said the Sam linebacker position, specifically, is one that they've already changed to fit their personnel during each of his first two seasons at Ohio State.
"If you think about our defense two years ago, think about that guy, that guy first year was Pete Werner. So Pete was a guy that he had some coverage skill and was able to really impact the defense in that way. Then you got Baron, who's a really dynamic rusher (last) year," Washington said last month. "So that position is whatever skill set that guy has, you play to that. So that's one that we kind of mold around the player. And so as things go in spring, we'll have a better idea of that."
Just because Ohio State used a 4-2-5 lineup as a base defense during one practice in April doesn't necessarily mean that's what the Buckeyes will do in September. Spring practice is a time for experimentation, and the Buckeyes aren't likely to confirm their plans for their defensive scheme until they play their first game on Sept. 2 at Minnesota.
With multiple linebackers currently sidelined by injuries (Dallas Gant and Mitchell Melton), practicing with more defensive backs on the field could be a temporary adjustment until the Buckeyes have more linebackers actually on the field to take practice reps. There have been rumors of mutual interest between Ohio State and Henry To'o To'o, a transfer linebacker from Tennessee, and adding him would make more sense if the Buckeyes plan to play three linebackers at a time rather than only two.
Even if Ohio State moves to a 4-2-5 with a hybrid safety as its primary defense in 2021, it's still likely there would be situations in which the Buckeyes would put three or four traditional linebackers on the field, particularly against teams that use more 12 personnel and run the ball more on offense.
But in a spring where the Buckeyes are trying to make up for lost time after having just three spring practices last year, they don't have much time to mess around. So it's unlikely the Buckeyes would use any defensive look for an extended portion of a practice that they didn't expect to use on a regular basis this season. When the Buckeyes shifted to a single-high safety, three-cornerback base defense two years ago, that change was evident from the first time Ohio State opened a spring practice to the media, so there's reason to believe there's more to the defensive looks Ohio State was using Monday than pure experimentation.
Ohio State needs to try something different this fall after its defense was picked apart by Alabama in last year's national championship game. And without anyone on the roster who quite seems to fit the Werner mold or the Browning mold, replacing the Sam linebacker with a hybrid player could simply be what fits the Buckeyes' personnel best.
Here's one writer's guess at what Ohio State's defensive back seven could look like in 2021, with the pecking order at each position still very much subject to change:
| Position | First Team | Second Team | Third Team |
| --- | --- | --- | --- |
| MIKE | DALLAS GANT | TOMMY EICHENBERG | REID CARRICO |
| WILL | TERADJA MITCHELL | CODY SIMON | K'VAUGHAN POPE |
| CB | SEVYN BANKS | RYAN WATTS | LEJOND CAVAZOS |
| CB | CAMERON BROWN | TYREKE JOHNSON | JAKAILIN JOHNSON |
| SLOT | LATHAN RANSOM | MARCUS WILLIAMSON | CAMERON MARTINEZ |
| BULLET | CRAIG YOUNG | RONNIE HICKMAN | KOURT WILLIAMS |
| SAFETY | JOSH PROCTOR | BRYSON SHAW | JANTZEN DUNN |