Fifteen members of last year's Ohio State football team are now in the NFL after being selected in this past weekend's draft or signing with teams as undrafted free agents.
Now that the draft is over, those 15 Buckeyes must quickly turn their focus toward getting up to speed with their new NFL teams, as the next four months will be crucial to their chances of earning playing time as rookies – or for those who were late-round picks or undrafted free agents, just making their team's regular-season rosters.
Much like recruits when they arrive at Ohio State, the new crop of NFL Buckeyes will now have to prove themselves all over again to earn their new coaches' trust and play significant roles early.
That said, many of the new Buckeyes in the NFL landed in situations where they should have a real chance to earn substantial playing time right away.
As we wrap up a draft in which Ohio State was once again one of the most well-represented colleges, we take a look at how each of the 15 new Buckeyes in the league could fit with their new teams and how likely they are to play significant roles for those teams during the 2021 NFL season.
When the Bears traded up to select Fields with the No. 11 overall pick, the immediate reaction among some was fear that he was going to a so-called quarterback graveyard – an understandable concern, given that the Bears haven't had a legitimately great quarterback in decades.
Realistically, however, the history that previous Bears quarterbacks have underperformed shouldn't be any more reason to bet against Fields than the fact that previous Ohio State quarterbacks have struggled in the NFL. Fields is a different prospect than those quarterbacks, and he's the first one Matt Nagy has drafted since becoming the Bears' head coach in 2018.
Despite trading up to draft Fields, the Bears are currently planning for Andy Dalton (who they signed to a one-year contract in March) to be their starting quarterback in 2021 rather than throwing Fields into the fire immediately. Nagy was the Kansas City Chiefs' offensive coordinator in 2017, when Patrick Mahomes spent his rookie season learning behind Alex Smith, and the Bears want to follow that blueprint again with Fields' development.
Certainly, the Bears should do whatever they believe gives Fields the best chance to develop into an elite NFL quarterback like Mahomes. That said, Smith was one of the NFL's best quarterbacks in 2017, leading the league in passer rating while leading the Chiefs to an AFC West title. Unless Dalton can perform at that level – and there's reason to be skeptical he can, given that the Cincinnati Bengals missed the playoffs in each of his last four seasons as their starting quarterbacks – there are going to be calls for Fields to play sooner than later, and they are leaving the door open for Fields to win the starting job as a rookie.
"When the time is right, I promise you, every single person will know – including Justin – when it's the right time," Nagy said during the Bears' post-draft press conference. "And that's naturally how it happens."
There's really no clear-cut answer on whether it would be best for Fields' development to be the backup for a year or start immediately, as there are plenty of examples of NFL quarterbacks taking both routes to become stars. What the Bears have made clear is they want to prioritize Fields' long-term development during his rookie season, which should bolster his chances of success in 2022 and beyond even if it means waiting to play in 2021.
The Saints always made sense as a potential landing spot for Werner, as evidenced by him being the one Buckeye I actually predicted to land with the correct team in my pre-draft mock draft. My analysis from there on why I thought the Saints would take him if he was still on the board at their second-round pick:
Linebacker is one of the Saints' biggest draft needs, and drafting Buckeyes has typically worked out well for them. His versatility to play multiple spots and cover in space is exactly what New Orleans should be looking for in an early-round linebacker.
While the Saints have one of the NFL's best inside linebackers in Demario Davis, they have no other proven commodities at the position, leaving the door wide open for Werner to vie for a starting job as a rookie. Saints coach Sean Payton said Werner is likely to start out playing Will linebacker in New Orleans, the same position he played for Ohio State last season, but his versatility to play multiple spots will improve his chances of getting on the field early and often.
He'll likely need to beat out every linebacker on the roster other than Davis to earn a starting job, as the Saints typically play with only two linebackers on the field, but he should have a real chance to do so; his top competition will come from 2020 third-round pick Zack Baun, who had just 12 tackles as a rookie.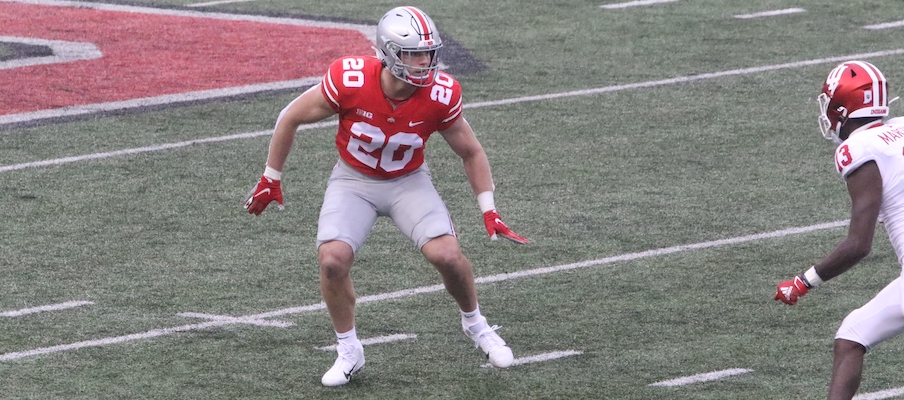 As the Packers' second-round draft pick, Myers will likely be taking the place of fellow former Ohio State center Corey Linsley on Green Bay's offensive line.
With Corey Linsley now playing for the Los Angeles Chargers, the Packers need a new pivot in the middle of their offensive line, and Green Bay general manager Brian Gutekunst confirmed Friday after drafting Myers that the Buckeye rookie would be a candidate to start immediately at that spot – which Myers said "would mean everything" to him – just as Linsley did after the Packers drafted him in the fifth round in 2014.
"I do feel really good about Josh and his potential to do that," Gutekunst said. "Obviously there's a lot of work and earning it ahead of him, but he comes from a place (Ohio State) that there's high demands there. He's handled it very well, he was a team captain there, he's very, very smart, so I think we'll give him every shot to earn that."
The Packers have several versatile veterans on their offensive line – Elgton Jenkins played snaps at all five spots on the line last year, while Lucas Patrick is another lineman who can play both center and guard – so the Packers could also move Myers to guard, which Gutekunst believes Myers can play, if they feel more comfortable starting a veteran in the middle. It sounds, though, like the expectation is for Myers to continue playing the position he played for the Buckeyes for the past two years.
In Green Bay, Myers will play in an offense that frequently utilizes zone run blocking, much like Ohio State's offense has – and that's a theme you'll see with the next couple of picks, as well.
Like Myers, Davis should get the chance to compete for an immediate starting spot on his new team after he was selected by the Vikings in the third round of the NFL draft.
While he played exclusively at right guard during his Ohio State career, he could start at either left or right guard in Minnesota.
"We talked to our coaches – does it matter where they line up, on the left side, on the right side? Coaches don't think it's a big issue where they line up. They can line up on either side," Vikings general manager Rick Spielman said. "He's going to be a guy that's going to come in here and he's going to have to compete."
2020 second-round pick Ezra Cleveland started at right guard last season, so one of them will have to move to left guard if they're both going to start this season. Davis should get every opportunity to win a starting job over Dakota Dozier, who started at left guard last season but was a liability in pass protection.
The Vikings wanted to get bigger up front this offseason, according to director of college scouting Jamaal Stephens, and Davis – who measured in at 6-foot-4 and 315 pounds at Ohio State's pro day – should fit that directive. Minnesota's zone blocking scheme also requires its guards to be mobile pull blockers, but Davis expects that to fit his game well.
"I feel like I'm gonna fit perfectly into that," Davis said. "A lot of the scheme that the Vikings run ... is the same type of scheme that we ran up at Ohio State, especially with the outside zone type of stuff. And I feel like that's an area that I can excel in and look to make an impact in going forward."
The 49ers have no shortage of options at running back. Jeff Wilson Jr. and Raheem Mostert are back as their top two running backs from last season, while they also signed free agent Wayne Gallman and drafted Louisiana's Elijah Mitchell in the sixth round. They wouldn't have traded two fourth-round picks to move back into the third round and select Sermon, though, if they didn't have big plans for the former Ohio State running back in their backfield.
San Francisco has frequently two and even three running backs during Kyle Shanahan's tenure as head coach, so while Sermon might not be an immediate starter, he should have the opportunity to earn a share of the carries right away. And if his lone season at Ohio State was any indication, it wouldn't be a surprise to see Sermon get better and better as his rookie season progresses and emerge as an impact player by the end of the year.
Like Davis and Myers, Sermon is going to an NFL offense that primarily utilizes a zone-blocking run scheme, and he believes that will enable him to make a smooth transition from the Buckeyes to the 49ers.
"I know they love the outside zone a lot, and that was our bread and butter at Ohio State," Sermon said after being drafted. "I feel like this is a great fit for me, and I'm going to be able to have a big impact."
After playing as both a middle and strongside linebacker in Ohio State's 4-3 defense, Browning could potentially play as either an inside or outside linebacker in Denver's 3-4 defense. The Broncos believe he is capable of playing both, though head coach Vic Fangio said Browning will likely start out playing inside and that he wants Browning to be able to settle in at one position.
"Sometimes his versatility has kind of hurt him a little bit in his development," Fangio said after the Broncos drafted Browning. "I think we'll probably try him at inside first, but not for sure, and if it's not working out we'll put him outside and maybe even cross-train him. But I'd like to get him one spot when he first gets here in the base package."
Whether inside linebacker is actually where Browning fits best is questionable. He flashed in limited opportunities to rush the passer off the edge at Ohio State, and Browning himself believes that's where he's at his best, though he's willing to play wherever the Broncos want to line him up.
"I think I'm comfortable outside but at the end of the day, I'll play wherever they need me to play," Browning said after being drafted. "I'll play kicker."
Right now, there is a clearer path to playing time at inside linebacker than there is at outside linebacker, where Bradley Chubb and Von Miller are locked in as the starters. That said, Fangio indicated Browning could line up outside in sub-packages as a situational pass-rusher, though those opportunities could presumably increase in the future with Miller and Chubb in line to take most of those snaps this year.
Even though he fell to the fourth round of the draft, Togiai could still have an opportunity to play a substantial role in his rookie season on the Browns' interior defensive line.
The Browns are replacing both of their starting defensive tackles from last season, Larry Ogunjobi and Sheldon Richardson, leaving the door open for Togiai to push for a starting job as a rookie. Andrew Billings and Malik Jackson are the likely frontrunners to start, while 2020 third-round pick Jordan Elliott will also be looking to earn a bigger role, but it's likely the Browns will rotate at both defensive tackle spots, giving Togiai the chance to play at least some snaps immediately.
Togiai will likely continue to play the same 1-technique nose tackle position in Cleveland's four-man front that he did at Ohio State, and the Browns believe he is a great fit for what they like to do schematically.
"We look for penetrating guys up front," Browns director of player personnel Dan Saganey said. "We think he can do that, which is disruptive in the run game. It's a trait that we look for."
It's easy to understand why the Jaguars drafted Farrell with the first pick of the fifth round, as new Jaguars coach Urban Meyer coached Farrell for three years at Ohio State.
That also makes it easy to predict how Farrell will be utilized in Jacksonville's offense. While it's certainly possible Meyer's NFL offenses could throw more to the tight ends than his Ohio State offenses ever did, Farrell – who some NFL scouts considered to be the best blocking tight end in this year's draft, according to Ohio State offensive coordinator Kevin Wilson – was drafted for the impact he can make as a run blocker, and probably isn't going to be a primary receiver.
"He's not the pass-catching tight end but ... the number one way to help a young quarterback is to have a successful run game," Meyer said after the draft. "That's why we took (veteran free agent) Chris Manhertz and Luke Farrell to be creative in some of the run-game formations."
While Tyler Eifert should be the Jaguars' starting tight end and their top pass-catcher at the position, Farrell will likely play primarily in two-tight end formations, particularly in situations where the Jaguars want to run the ball. He could also add immediate value to Jacksonville's special teams after playing on the field goal and punting units for the Buckeyes.
While Wade believes he is capable of playing any defensive back position in the NFL and that he'll be able to prove that once he is fully healthy, the Ravens are expected to play him at the slot cornerback position he thrived at two years ago rather than the outside cornerback position he struggled at in his final season at Ohio State.
According to Sports Illustrated's Albert Breer, the Ravens view Wade as a "slot CB/safety hybrid" who they hope "brings value in a number of areas, including as a blitzer."
The Ravens already have one of the NFL's best outside cornerback tandems in Marlon Humphrey and Marcus Peters, but their top slot cornerback Tavon Young has battled injuries, which could open up playing time at that position for Wade, while it's also possible he could line up as a deep safety at times.
He probably won't be an immediate starter as a fifth-round pick, but the Ravens have a history of turning lower-round selections into defensive playmakers, which could make Baltimore a great landing spot for his long-term development even if he has to come off the bench as a rookie.
While Cooper was a defensive end at Ohio State, the Broncos drafted him to play outside linebacker in their 3-4 scheme. Although he hasn't played that position before, he's expressed confidence that he'll be able to succeed in that role at the next level.
"Obviously, I've been playing defensive end throughout my whole entire college career. But with all the teams I've basically been talking to, they kind of see me as an outside linebacker/Sam type position, which is my body type," Cooper said after Ohio State's pro day. "I just wanted to make sure I showed the scouts and everybody that I can play linebacker and that I feel really comfortable in space and that I'm ready for the next level."
As a seventh-round pick joining a team that, as aforementioned, already has a pair of sure-fire starting outside linebackers in Chubb and Miller, Cooper will be competing for a roster spot rather than a starting job this summer. Malik Reed will also factor in their outside linebacker rotation after leading the team with eight sacks last season, so Cooper will be vying to secure a backup job behind those three.
How effectively he makes the transition to playing linebacker this summer, as well as whether he's able to make himself valuable on special teams – where he did play regularly at Ohio State – will go a long way toward determining whether he makes the cut and earns a spot on the Broncos' 53-man roster.
Although Hilliard went undrafted, he should have a real chance to make the 49ers' roster. If the 49ers didn't believe he could earn a spot on their roster, they wouldn't have given him a $95,000 base salary guarantee and a $30,000 signing bonus.
The 49ers don't have much proven talent at linebackers aside from Fred Warner and Dre Greenlaw, and they didn't draft any linebackers this year, so a backup job should be attainable in training camp.
The key to earning a roster spot as a backup linebacker is often proving to be valuable on special teams, and that's where Hilliard could have a big leg up on his competition, as he played extensively on special teams – according to NFL Network's Ben Fennell, a whopping 732 snaps – over the course of his six years at Ohio State.
Like Hilliard, Borland will be fighting for a roster spot as a backup linebacker this summer after signing as an undrafted free agent, in his case with the Vikings.
Borland's path to a regular-season roster spot looks like it could be a bit steeper than Hilliard's, as there are likely at least six other linebackers on the roster who will start out ahead of him in the pecking order. That said, the Vikings don't have a clear backup to Eric Kendricks at middle linebacker, so it's possible Borland could earn that role. As with Hilliard, the true key to earning a roster spot for Borland will be demonstrating he can be an impact player on special teams – where he also saw regular playing time at Ohio State, specifically on the punt team.
Even though he didn't get drafted, Haubeil may have landed with the ideal team to have a chance to earn one of the NFL's coveted 32 kicking jobs this year.
The only other kicker on the Titans' current roster is Tucker McCann, a 2020 undrafted free agent out of Missouri who didn't kick in an NFL game last year. That leaves the door wide open for Haubeil to compete for the placekicker job in training camp and the preseason, as he might only need to outperform McCann – who completed 72.6 percent of his career field goal attempts at Missouri, compared to Haubeil's 80 percent at Ohio State – to make the roster.
While Chrisman chose to sign with the hometown team as an undrafted free agent, his path to earning a regular-season roster spot looks more daunting than Haubeil's.
The Bengals already have a well-established punter in Kevin Huber, who ranked seventh in the NFL in 2020 with a career-best average of 47.2 yards per punt, so it would be a surprise if Cincinnati made a change at the position this year.
That said, Huber will turn 36 this summer and is only on a one-year contract with the Bengals. If Chrisman performs well in training camp this summer, he could set himself up to be the Bengals' punter of the future – much like Cameron Johnston did in 2017, when he didn't make the Eagles' roster as an undrafted rookie, but was ultimately brought back to take over punting duties in 2018.
Despite playing only sparingly on offense during his Ohio State career, Hausmann will get a shot to prove he can play in the NFL as an undrafted free agent for the Lions.
Because the Lions didn't select a tight end in the draft, Hausmann has a fighting chance to make their roster as a third-string tight end if he can demonstrate value as a blocker and on special teams. T.J. Hockenson and Josh Hill are the only two tight ends on the roster who have actually played in an NFL game, which should leave a roster spot open for Hausmann, fellow undrafted rookie Brock Wright and second-years Alize Mack and Hunter Thedford to compete for. (Update: Josh Hill reportedly decided to retire on Tuesday, potentially opening up another spot on the Lions' tight end depth chart.