Urban Meyer knows many of the guys who realized their dreams over the past three days better than just about any other NFL head coach.
Just two and a half years ago, he was at the helm of one of college football's most powerful programs. As one of the premier talent accumulators in the sport while at Ohio State, he once recruited and evaluated dozens of 2021 draftees. Thus, he brought a different perspective to the next level when the Jacksonville Jaguars hired him as their next head coach.
In this year's draft, Meyer got his first chance to use his background as a college coach to his advantage. He has first-hand experience with a few players Jacksonville selected between Thursday and Saturday, and he even coached one of them, but he didn't go as far as to fill his entire draft class with guys he has known deeply.
Here's our look at all of the connections between Meyer – from his Ohio State days – and each of the Jaguars' picks:
Trevor Lawrence (QB, Clemson) – 1st round, No. 1 overall
Meyer didn't go after Trevor Lawrence out of high school – the Buckeyes landed Matthew Baldwin as their quarterback that year – but he certainly knew of the Georgia-based No. 1 overall recruit in the 2018 recruiting cycle. So, Meyer watched Lawrence from afar take over as the starter late in his freshman year then began to get more first-hand looks as a Fox Sports analyst.
He had opportunities to the Clemson star in person over the past two seasons, including twice being in the building to watch him against Ohio State. Meyer says owner Shad Khan originally told him he wanted Lawrence, and then he – along with Brian Schottenheimer and Darrell Bevell – gave the go-ahead after spending ample one-on-one time with their new quarterback.
Travis Etienne (RB, Clemson) – 1st round, No. 25 overall
Etienne is another former Tiger, and he's another guy Meyer knows more from watching him play than recruiting him. Ohio State wasn't involved in the recruiting process of Etienne, a Louisiana native ranked as a top-250 prospect out of high school.
Instead, Meyer saw Etienne's breakout season while Ohio State's head coach in 2018 then kept an eye on him the following two seasons while accruing nearly 5,000 yards in his career. That production made his mind race to a few former players of his: "We look at our history — Curtis Samuel, Percy Harvin, Parris Campbell — I love those type of players." This was the first of several instances where Meyer got flashbacks to guys he used to coach and selected Etienne to replicate what past playmakers offered.
Tyson Campbell (CB, Georgia) – 2nd round, No. 33 overall
Unlike Lawrence and Etienne, Meyer actually recruited Campbell. Once upon a time, he wanted the Floridian cornerback – a five-star ranked 12th overall in the 2018 cycle – to be a Buckeye. He landed a pledge from his American Heritage High School classmate Andrew Chatfield before the defensive end decommitted, and a few years prior the Buckeyes had brought Torrance Gibson from the high school to Columbus.
Campbell and teammate Patrick Surtain Jr. – a first-round pick on Thursday – visited Ohio State in April 2017, and Kerry Coombs returned the favor by visiting them the next month. The Buckeyes continued chasing them, but fell behind by the end and didn't bring Campbell in for an official visit. When asked in January 2018 whether he could feel how badly Ohio State wanted him, Campbell told The Athletic "not really." He eventually picked Georgia over Alabama, Miami, Clemson and the Buckeyes. 
Years later after missing on him once, Meyer will welcome Campbell to Jacksonville.
Walker Little (OT, Stanford) – 2nd round, No. 45 overall
Much like Lawrence, Meyer certainly knew Little even if he didn't land him. Why? Because he was a five-star prospect. Coming out of Bellaire, Texas, in the 2017 cycle, Little had scholarship offers from powerhouses spanning the country, including Ohio State. Along with teammate Marvin Wilson, he reportedly scheduled a visit to Columbus in the summer of 2016 but didn't end up taking it. For whatever reason, Ohio State didn't get significantly involved in the top-10 overall prospect's recruitment and he ended up picking Stanford over Texas, handing Tom Herman a major loss on the trail.
Now, he will join Meyer with the Jaguars. The head coach wasted no time getting his third former five-star in his first four picks. Funny how that works out.
Andre Cisco (S, Syracuse) – 3rd round, No. 65 overall
Unlike the first four picks, Cisco was a lightly-recruited prospect Meyer likely didn't know of at the high school level. As the No. 929 overall recruit in the 2018 cycle, the only way he would have caught the head coach's attention was due to the fact he backed up former Buckeye Isaiah Pryor at IMG Academy in 2016. 
Similarly to the Etienne pick, though, Meyer compared Cisco's style of play to a pair of former players, invoking the names one-time Ohio State safety Malik Hooker and one-time Florida safety Reggie Nelson. He wants Cisco to be a rangy center-fielder.
Jay Tufele (DT, USC) – 4th round, No. 106 overall
No player the Jaguars drafted who ended up not playing for Ohio State was pursued quite so vigorously by Meyer as Tufele. The Buckeyes badly wanted the top-50 prospect and No. 3 defensive tackle out of South Jordan, Utah, in their 2017 class. 
They offered him a scholarship on March 1, 2016, he called Ohio State the leader in his recruitment two months later, they made his top-seven in September, then he took an official visit for the all-time great Ohio State-Michigan game in November. He captioned his post-visit photo on social media by tweeting, "Words can't describe how amazing my visit was to Ohio state thanks to coach @OSUCoachMeyer and his staff for everything." Led by Meyer and Larry Johnson, Ohio State did everything it could to get his signature, hoping he could join Haskell Garrett in the class. Johnson even went to church with him in December of that year.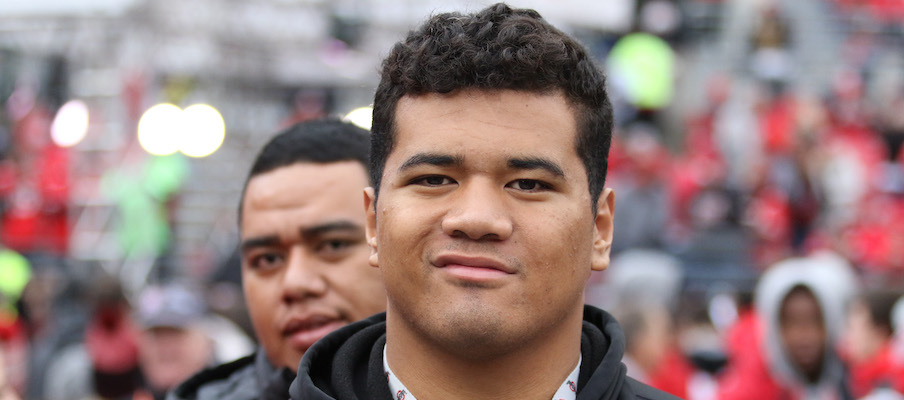 But Tufele went elsewhere. He chose to stay out west, opting for USC.
Think Meyer remembers? Here's what he said on Saturday: "I'm going to break him in half when he gets here for not coming to Ohio State."
And here's what Tufele said the same day: "It's so crazy that you said that because he was – he told me that he thought he had me, he really had me. And you know, things didn't happen the way he wanted (it) to happen, but at the end of the day we're back together and we're family now."
Jordan Smith (DE, UAB) – 4th round, No. 121 overall
All the way back on May 21, 2014, Meyer's Buckeyes offered Smith a scholarship to play defensive end at Ohio State with Herman sharing the news. Over a year later, he put them in his top-10. But that's about the last of anything notable that happened between the two parties. Smith committed then decommitted to South Carolina then signed with Florida.
Smith partaking in a credit card fraud scam with eight Gator teammates led to a suspension that preceded his transfer to Butler Community College. He played one year in Kansas at the junior college level before transferring to UAB where he finished his collegiate career.
Meyer traded up on Saturday to take Smith, somebody in whom he sees potential as a pass-rusher. He had learned the hard way the day before (from a familiar name) of what happens when you wait too long for somebody to drop: "That was the one area we had a need list and I saw him sitting there and that was one of my first experiences of. 'What if we lose him?' Because we did, we lost, everybody does. You see Baron Browning the night before and I said we've got the next pick, can we – boom, he's gone, I really wanted him."
Luke Farrell (TE, Ohio State) – 5th round, No. 145 overall
If you were projecting the 2021 Jaguars draft class would be chock full of former Buckeyes, you ended up being incorrect. But Meyer had to grab one, and he happened to take a guy most projected would go undrafted with the first pick of the fifth round because he sees Farrell as adding "instant depth" to the tight end room.
The Meyer-Farrell relationship dates back to when the then-Ohio State head coach called the in-state four-star tight end, heard the timid voice on the phone, asked if he knew who he was talking to, then offered him a scholarship. Farrell always knew he'd end up a Buckeye, and Meyer ensured that would come to fruition just as he made sure Farrell would move to Jacksonville.
I am proud to announce that I am committed to THE Ohio State University to continue my academic and athletic career pic.twitter.com/HkTc02MGjr

— Luke Farrell (@LukeFarrell89) July 24, 2015
Meyer, talking about drafting Farrell: "He's from my hometown. He's from right outside my hometown. His people are my people, they're all just wonderful people in that area — Perry, Ohio. I love Luke, I love his family. He's a plus-two mentality all the way. He's a worker, a grinder, and to see him where he's at from where he came, he's brilliant by the way and he's tough."
Jalen Camp (WR, Georgia Tech) – 6th round, No. 209 overall
There aren't any real connections between Meyer and Camp, and the head coach doesn't pretend otherwise.
Meyer when asked about Camp on Saturday: "To say that I'm that familiar with him, I'm not."
Jacksonville wide receivers coach Sanjay Lal and the scouting staff studied Camp and told Meyer he has an "incredibly high ceiling." So, he put his trust in them and the Jaguars pulled the trigger.