Over the course of the past few years, we've all heard Ohio State coaches, teammates and opponents talk about the players on the Big Ten powerhouses's roster. None of those opinions mattered this past week, though.
All eyes were on the 32 NFL teams tasked with making 259 selections in the 2021 NFL Draft. By the end, a total of 10 Buckeyes were taken: Justin Fields, Pete Werner, Josh Myers, Wyatt Davis, Trey Sermon, Baron Browning, Tommy Togiai, Luke Farrell, Shaun Wade and Jonathon Cooper.
To explain the thinking behind each of those 10 draft picks, we're going straight to the mouths of the coaches, general managers and scouts who were involved in the decisions. In their own words, here's why each of the former Buckeyes got picked and how the NFL personnel sees their new draftees fitting in.
I'm not going to waste your time. Our own Dan Hope already wrote more than 1,000 words on what about Fields impressed general manager Ryan Pace and the Bears organization. Go check it out here if you're interested.
The New Orleans Buckeyes did it again. They already had Michael Thomas, Marshon Lattimore, Malcolm Jenkins and Nick Vannett, and now they added Werner to the mix.
"Pete Werner, he's a guy that we thought a lot of," said Mickey Loomis, the Saints' general manager. "Very athletic, great instincts, tough, played Will linebacker, but we see him having some versatility. (He's) real good in pass coverage and super smart. Really high, high football makeup. They speak so highly of him there – all of his coaches, all the people involved at Ohio State speak so highly of him. I think he's had 35 starts there in the last three years. I don't think he's missed a game over the last three years. So there's just a lot of things to like about this player and we're excited to be able to get him."
Sean Payton says he expects Werner to start out playing weakside linebacker but has enough flexibility to play middle linebacker as well.
Matt Malaspina, Green Bay's director of college scouting, worked with Ryan Day as part of the San Francisco 49ers organization in the 2010s, so he has plenty of ins with the Buckeyes. Plus, he got an in-person look at Myers at the Big Ten championship game against Northwestern.
So, he and the Packers should have a good idea about what they're getting in Myers.
"He's a great kid," Malaspina said. "He's great, he's smart, he's strong. Typical Ohio State guy. Loves ball. Highly successful kid from a really good lineage in his family. His dad and his brother played at Kentucky. His mom's a Hall of Famer at Dayton for basketball. It's really important for Josh to be another great offensive lineman out of Ohio State, which he is."
Malaspina implied that both Greg Studrawa and Mickey Marotti called him the "perfect representative for Ohio State." Myers, like most early-round offensive line draft picks, will have a chance to win a starting job right away.
"Look, he'll have to earn it like everybody else," Malaspina said. "I mean, nothing's given in this league. But things are stacked in his favor that he's the right kind of guy you want to go out there with. I have full confidence that he'll give his best effort, and we'll see what happens after that, but we anticipate good things."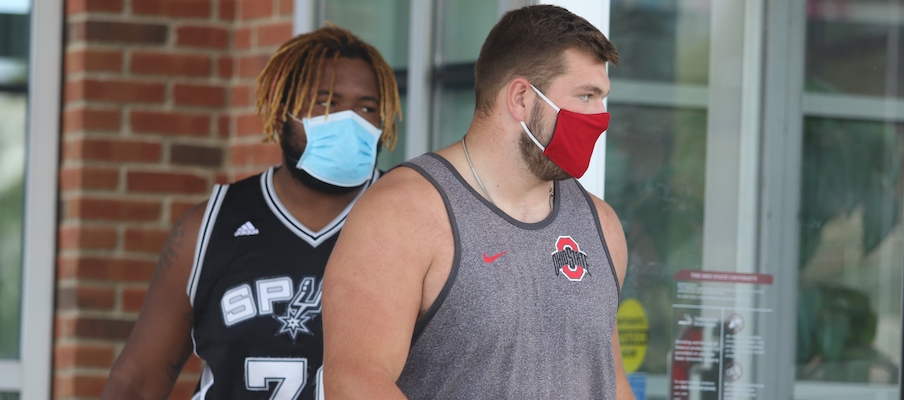 Davis, despite his All-American status as a Buckeye, doesn't have anything guaranteed in Minnesota. Not with such a premium being placed on improving at the line of scrimmage.
"We're going to have a lot of competition up front," Vikings general manager Rick Spielman said. "That's what we needed to do. We needed to get better on the offensive line up front."
Davis is part of that. He was a popular Minnesota pick in mock drafts, and the Vikings made sure to snap him up when given the chance. He'll have an opportunity to be a Day 1 starter if he can show out in the offseason and preseason.
"There was pretty much a directive from Zim going into scouting this fall and throughout the season: Let's get bigger up front. That was a directive. Wyatt Davis definitely fits that mold," said Jamaal Stephenson, Minnesota's director of college scouting. "He's big man. He's long. He can play guard, potentially tackle.So he has some flexibility. And he's another guy who's just a great guy, very smart. He comes from a great pedigree. His grandfather is the great Willie Davis, the former Green Bay Packer. We won't hold that against him. His dad played college football as well, so we're very happy to get him where we got him."
Initially, San Francisco didn't have the No. 121 overall pick that turned into Trey Sermon. But it traded down, added draft capital and selected the Buckeye tailback.
"To be able to move back five spots, pick up 121 that we later use to move up to get Trey Sermon was really an added bonus for us," general manager John Lynch said.
Sermon joins a backfield that includes projected starter Raheem Mostert, Jeff Wilson, Wayne Gallman, JaMycal Hasty, Elijah Mitchell and Austin Walter.
"You look at our backs in the past and I think one common element is the speed. And you may look at his 40 time and say he doesn't really fit, but sometimes 40 times can be deceiving," Lynch said. "I think what speaks to us is like his 10 time was very good. And so you see that burst. You see that ability to stick his foot in the ground, break tackles and hit it in a hurry. And then he's very adept at making the free safety, the second-level defender miss and he's really good out of the backfield in the past game as well. I think he's a good fit for what we do. 
"It was exciting. Kyle (Shanahan) and I started this morning kind of watching the backs and it was fun to be able, and I think the move was prompted by just a growing feeling that Trey was a really good fit for us. And I think we stayed patient, but when we felt like, all right, our luck's about to run out, we made the move and we're happy to be able to do so."
Sitting with the last pick of Day 2 of the NFL draft, Denver received a bunch of calls about potentially moving it. Ultimately, they stayed put and snagged Browning.
"Baron Browning was too special of an athlete to move back," Broncos general manager George Paton said.
Interestingly, Denver appears to be running into a similar quandary with Browning that Ohio State faced the past several years. It has to figure out where to put him in its 3-4 defense. 
Head coach Vic Fangio said Browning's versatility at times "has kind of hurt him a little bit in his development" because he has moved to different positions. But that versatility also means Fangio doesn't know exactly where he'll play. In a bit of a surprise, he's most likely to begin learning inside linebacker, per his new head coach.
"I think he's the type of athlete that in obvious passing situations I think we have some freedom there and flexibility where we put him," Fangio said. "In more of the non-obvious downs such as first and second down, I think we'll probably try him at inside first, but not for sure, and if it's not working out we'll put him outside and maybe even cross-train him. I'd like to get him one spot when he first gets here in the base package and work around the sub-package when we get a better feel for him."
If you've ever lived in Cleveland, you've heard plenty of complaints from native Buckeye fans about the Browns not drafting enough players from their favorite college team. Those comments have some merit. Togiai's selection was just the fourth time since the turn of the millennium that they've taken a former Ohio State player in the draft.
"That is a heck of a program," said Dan Saganey, Cleveland's director of player personnel.
"Those guys are always great to us every time we go down there. I think it is a very good thing they have going there, and I am sure we will be looking at plenty again next year. We are happy to add another Buckeye to the group here and a guy I think has very good upside for us."
The Browns consider Togiai to be a "very good" run defender, Saganey said, and somebody who has "come into his own here in the last year."
"Tommy is quick off of the ball," Saganey said. "Tommy for us is a really good scheme fit. He may be slightly undersized, but I do not know why they would say he is not a good run player. We look for penetrating guys up front. We think he can do that, which is disruptive in the run game. It is a trait that we look for. He did come into his own this year with showing some power and some quickness coming off the ball. When you kind of pair him with the rest of the guys we have in our defensive line group, we are always looking for quick, twitchy, explosive guys, and we think he fits that bill."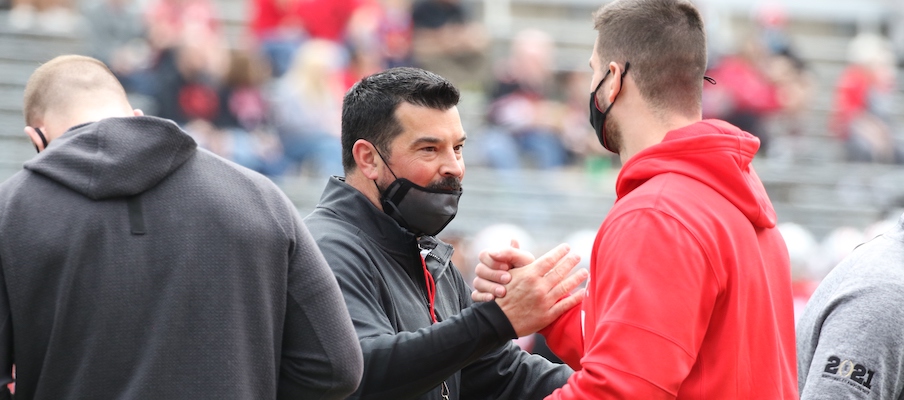 If you thought this might be the first offseason where stories about throwing more to the tight end stop getting written, blame Jaguars general manager Trent Baalke for bringing it up by himself when asked about Farrell's lack of production in the receiving game.
"I think if you talk to Ohio State staff, they'll tell you (he was) underutilized," Baalke said. "If you look at their tight end corps as a whole last year, they have a young man that's on that team right now that's going to be one of the top tight ends in the country. His production, when you look at the stats, isn't great. I think they would say that that's one thing they're going to be working on too. But we had a lot of collaboration obviously with Ohio State and their staff and how he was used, and you went to his pro day and you saw things in him on pro day that made you believe there's some upside as a receiver and he's not limited to just being a blocking tight end."
Given Urban Meyer's Ohio State background and the fact he personally accepted Farrell's commitment more than a half-decade ago, the Jaguars leaned on their first-year head coach in this selection. Meyer says he's "not the pass-catching tight end," but believes his impact will show up elsewhere.
"The number one way to help a young quarterback is to have a successful run game," Meyer said. "Not be one dimensional and let the defensive ends in the NFL (take) swings at you every down. That's why we took Chris Manhertz and Luke Farrell to be creative in some of the run-game formations."
The wait to get taken can't have been easy for Wade, somebody who spent the entirety of last year's offseason hearing himself bandied about as a potential first-round pick. 
One positive of the draft experience, however, could be his landing spot. He's joining a talented secondary and a franchise with one losing season in the last 13 years. It's a place where he perhaps can get back to his prior level of play.
"Shaun Wade, a nickel corner (and) a slot corner, two years ago really excelled as one of the best corners in football," Ravens general manager Eric DeCosta said. "(We're) excited to get him. He's played a lot of good football in a very good conference."
His experience playing several spots in the defensive backfield intrigued Baltimore.
"With the coaching staff that we have here, the way we can use players and how we move players around, it's really easy to go out and try to look for those guys and get excited about a guy when you can see him playing multiple positions," said Joe Hortiz, the team's director of college scouting. "Shaun Wade, he's played inside and outside."
Several reporters asked Paton and head coach Vic Fangio about Cooper's personality. To those who have seen and heard him over the past five years, that shouldn't come as a surprise.
"He's everything you want in a teammate, in a player in representing your organization," Paton said.
On the field, the decision-makers plan to have Cooper playing outside linebacker in their 3-4 scheme. For somebody who had his hand in the dirt and rarely dropped back into coverage, it'll take an adjustment period for him to get used to the new role.
"In the system he played at Ohio State, he wasn't out in space very much, which that's a big transition for a lot of guys, one that we do each and every year with one or two guys from college," Fangio said. "We'll see how he does with it. We obviously like the makeup. You've obviously had a taste of it already. When you have that kind of makeup, you can fight through and make the transition and not get too discouraged."