Thirty-two players will have their NFL dreams come true on Thursday night, 259 players will be drafted over the next three days and hundreds more will also get opportunities to compete for roster spots as undrafted free agents.
The 2021 NFL draft is nearly upon us, and Ohio State should be well-represented again, with as many as 14 former Buckeyes having a chance to hear their names called at some point between Thursday's first round and Saturday's seventh round.
Justin Fields is Ohio State's only sure-fire first-round pick this year, and most draft experts aren't expecting any other Buckeyes to be selected in the first round. Nevertheless, I've continued my annual ritual of projecting who all 32 first-round picks will be this year, with hopes of predicting enough picks correctly – though mocking this year's first round feels as hard as it's ever been due to the impact COVID-19 had on the college football season and the draft process – to continue my very gradual improvement in The Huddle Report's mock draft scoring contest. 
Below that, I've also made my best guesses for where each of Ohio State's non-first-round picks could end up. That's even more difficult than predicting the first-round picks correctly, if my predictions last year were any indication, but I've taken my best shot at sifting through the rumors and connecting the dots for where each Buckeye could go.
1. Jacksonville Jaguars: Trevor Lawrence, QB, Clemson
This pick could have been made official as soon as the Jaguars clinched the No. 1 overall pick. Lawrence has been pegged as the top pick in the 2021 NFL draft since he led Clemson to a national championship as a freshman, and Urban Meyer and the Jaguars' front office haven't tried to disguise their intention to draft him. Meyer took the job in Jacksonville knowing he'd have the chance to build around a new franchise quarterback, and Lawrence will be that quarterback.
2. New York Jets: Zach Wilson, QB, BYU
This pick also looks like a done deal. While there are still plenty of people who believe the Jets are making a mistake by not drafting Fields, all indications since they traded Sam Darnold to Carolina have been that they've zeroed in on Wilson as their new quarterback. It would be a huge surprise if Wilson isn't the pick here.
3. San Francisco 49ers (from Houston Texans via Miami Dolphins): Mac Jones, QB, Alabama
I don't think this is what the 49ers should do, but the objective of this exercise is to predict what teams will do, and Jones has been linked to this pick ever since the 49ers traded up for it. Like many others, I think drafting Jones over the more physically gifted Fields would be a mistake – I'd have less beef with the 49ers drafting North Dakota State quarterback Trey Lance, who reportedly is still under consideration for the pick along with Jones – but most NFL insiders believe the 49ers traded up with the intention to draft the quarterback who led Alabama to the national championship this past season.
4. Atlanta Falcons: Kyle Pitts, TE, Florida
The quarterback run could continue at this pick, as the Falcons could draft Fields or Lance for themselves or trade this pick to the highest bidder. But with Matt Ryan's contract likely keeping him in Atlanta for at least one or two more years, the Falcons might be inclined to instead take advantage of the opportunity to pick whoever they regard as this year's best non-quarterback. Pitts, one of the most coveted tight end draft prospects ever, looks like the top candidate to fit that description.
5. Cincinnati Bengals: Ja'Marr Chase, WR, LSU
This pick is expected to be one of two players: Chase or Oregon offensive tackle Penei Sewell. After the Bengals failed to adequately protect Joe Burrow last year, there's a strong case to be made that Sewell should be the choice. But the Bengals would also like to add a true No. 1 receiving weapon for Burrow and might not be able to pass up the opportunity to reunite him with Chase, his top target from his Heisman-winning season at LSU.
6. Miami Dolphins (from Philadelphia Eagles): DeVonta Smith, WR, Alabama
Like the Bengals, the Dolphins could also use their top-six pick to pair their second-year quarterback with one of his top receivers from college. Pitts and Chase are believed to be their top targets, but if they're both off the board, either one of two Alabama wide receivers could be the selection here. Some believe Jaylen Waddle will be drafted above Smith, but I'm going to roll with the Heisman winner, whose playmaking ability Ohio State fans are all too familiar with.
7. PROJECTED TRADE: New England Patriots (from Detroit Lions): Justin Fields, QB, Ohio State
This is where I expect Fields' draft wait to end. The Patriots are in the market for a franchise quarterback, they're reportedly interested in Fields and the next two teams in the draft order are both candidates to draft Fields if he's available. In an offseason where they've already been atypically aggressive in free agency, I believe the Patriots will give up what it takes – likely next year's first-round pick and another pick in this year's draft – to move up from No. 15 to No. 7, ahead of the Panthers and Broncos, and draft Fields as their quarterback of the future.
8. Carolina Panthers: Penei Sewell, OT, Oregon
While the Panthers could pounce on Fields if he's available, they're reportedly not as interested in Lance. They'd also likely receive offers in this scenario from teams trying to jump ahead of the Broncos for the last of the top five quarterbacks. The Panthers need to upgrade at left tackle, though, which would make it tough to pass on Sewell if he's still on the board at the 8th pick.
9. Denver Broncos: Trey Lance, QB, North Dakota State
Drew Lock hasn't looked like a franchise quarterback in his first two years in Denver, so the Broncos probably shouldn't pass up the opportunity to draft any of the five quarterbacks who are widely projected to be top-10 picks. In this projection, Lance is the last of those quarterbacks available, and based on Broncos general manager George Paton saying they "want to bring in competition" at QB, I don't think they'll pass on Lance's upside. (They did trade a sixth-round pick for Teddy Bridgewater shortly before I published this mock draft, but they'll reportedly still consider drafting a quarterback on Thursday.)
10. Dallas Cowboys: Patrick Surtain II, CB, Alabama
Dallas had one of the NFL's worst defenses last year, and with so many offensive players expected to come off the board early, there's a good chance the Cowboys will be able to draft any defensive player they want with the 10th pick. Specifically, the Cowboys need a boost at cornerback, and Surtain is widely regarded as the best cornerback in this year's draft.
11. New York Giants: Jaylen Waddle, WR, Alabama
If either of the two Alabama wide receivers fall outside of the top 10, there's a good chance the Giants will snap him up at pick 11. Their passing offense was one of the NFL's weakest last season, so even though they already signed Kenny Golladay in free agency, there's still reason for them to select one of the top three receivers if any of them are still on the draft board.
12. Philadelphia Eagles (from San Francisco 49ers via Miami Dolphins): Jaycee Horn, CB, South Carolina
After trading down to No. 12, the Eagles are widely projected to select whoever's the best cornerback or wide receiver left on the board since those are their two biggest needs. With the top three receivers and Surtain gone in this scenario, that would likely lead them to Horn, who's also a candidate to potentially be the first cornerback drafted.
13. Los Angeles Chargers: Rashawn Slater, OT, Northwestern
Some NFL insiders believe the Chargers could trade up for a chance to draft Sewell or Slater, so they'd surely love to see one of them fall to the 13th overall pick. Upgrading at left tackle is their biggest need entering this year's draft, and based on The Athletic's consensus big board, Slater is the best player available in this scenario.
14. Minnesota Vikings: Christian Darrisaw, OT, Virginia Tech
The Vikings are another team that's widely projected to target an offensive lineman with their first pick. With Sewell and Slater off the board, the next offensive tackle selected will likely be Darrisaw, who was one of college football's best offensive linemen last season at Virginia Tech and fits the NFL mold for a left tackle with excellent athleticism for 6-foot-5 and 314 pounds.
15. Detroit Lions (from New England Patriots): Micah Parsons, LB, Penn State
It's possible the Lions could draft Parsons even if they don't trade down – according to Sports Illustrated's Albert Breer, Parsons is one of the players they've been "connected" to as a potential No. 7 overall pick – so landing him while picking up additional draft picks in the process could be a dream scenario in Detroit. His rare athleticism at 6-foot-3 and 246 pounds and proven playmaking ability at Penn State make him the best player available here.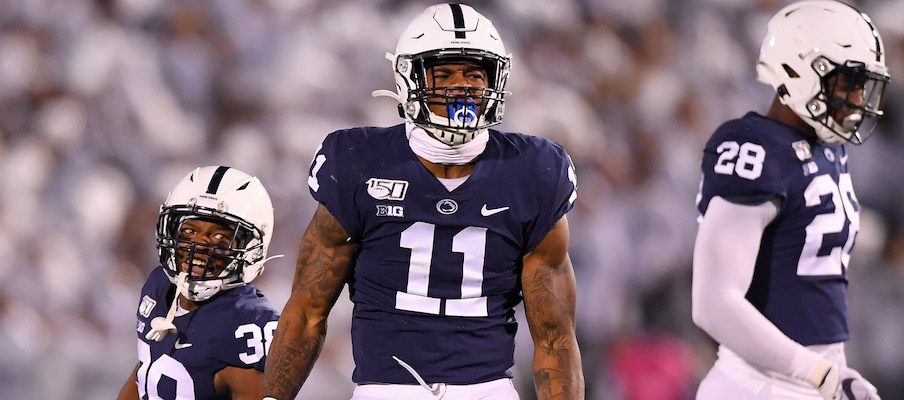 16. Arizona Cardinals: Greg Newsome II, CB, Northwestern
Alabama is a sure bet to be the first college to have two players drafted this year, but Northwestern might be second. Newsome, who played a significant role in Fields having his worst game as a Buckeye in last year's Big Ten Championship Game, has emerged as a strong candidate to be the third cornerback selected, and the Cardinals are in the market for one after Patrick Peterson signed with the Minnesota Vikings this offseason.
17. Las Vegas Raiders: Alijah Vera-Tucker, G/T, USC
Las Vegas traded away three veteran offensive linemen this offseason and Vera-Tucker has been projected by many as a top-15 pick, so it would make sense for the Raiders to draft him if they get the chance. After playing both tackle and guard at USC, Vera-Tucker could fill a need at either right tackle or guard in Las Vegas.
18. Miami Dolphins: Kwity Paye, DE, Michigan
Paye didn't have a ton of production in Ann Arbor – just 11.5 sacks in four seasons as a Wolverine – but there's no Chase Young or Nick Bosa in this year's draft. At 6-foot-2 and 261 pounds, Paye has rare athleticism – he earned the No. 1 spot on Bruce Feldman's "Freaks" list last year – that gives him plenty of untapped potential. The Dolphins could use an impact player off the edge, and Paye is likely to be the first pass-rusher selected.
19. Washington Football Team: Jeremiah Owusu-Koramoah, LB, Notre Dame
The winner of the 2020 Butkus Award as college football's best linebacker while playing the rover position (Notre Dame's equivalent of Ohio State's bullet position) for the Fighting Irish, Owusu-Koramoah combines the downhill playmaking ability of a linebacker with the range and coverage skill of a safety. He'd add a big boost of athleticism at one of the weakest positions on Washington's roster.
20. Chicago Bears: Caleb Farley, CB, Virginia Tech
Farley was in the running to be the top cornerback drafted until he underwent a second back surgery last month, which prevented him from participating in a pro day and leaves questions about his health after he opted out of his final season at Virginia Tech. That makes it uncertain whether he'll even be drafted in the first round, but he's a top-15 talent, and could be a perfect replacement for fellow former Virginia Tech cornerback Kyle Fuller if the Bears are willing to roll the dice.
21. Indianapolis Colts: Teven Jenkins, OT, Oklahoma State
Indianapolis is in need of a new left tackle following Anthony Castonzo's retirement this offseason, and Jenkins is a potential top-20 pick who's widely regarded as one of the top five offensive linemen in this year's draft. The Colts have had one of the NFL's best offensive lines for the past few years, but they need to adequately replace Castonzo to keep it that way.
22. Tennessee Titans: Elijah Moore, WR, Mississippi
After losing Corey Davis and Jonnu Smith in free agency, the Titans don't have many receiving weapons other than A.J. Brown. Moore, Brown's former teammate at Ole Miss, led the Football Bowl Subdivision in receiving yards per game last season and is regarded by many NFL teams as the fourth-best receiver in this year's draft, according to ESPN's Todd McShay.
23. New York Jets (from Seattle Seahawks): Jaelan Phillips, DE, Miami (Florida)
The No. 1 overall recruit in the class of 2017, Phillips briefly retired from football after battling injuries in two seasons at UCLA, but reminded everyone why he was such a highly touted recruit in his lone season at Miami, where he was a first-team All-American in 2020. His past could be viewed as a red flag by NFL teams, but he's an elite talent. New Jets head coach Robert Saleh is expected to target a pass-rusher in the early rounds, and Phillips could be this draft's best pass-rusher if he stays healthy and committed to his craft.
24. Pittsburgh Steelers: Najee Harris, RB, Alabama
Harris was ranked one spot behind Phillips as the No. 2 overall prospect in the 2017 recruiting class, and he's one spot behind Phillips in this mock draft, too. Harris is the most complete running back in this year's draft – a decade ago, he might have been a top-10 pick – and the Steelers ranked dead last in the NFL in rushing yards last season. Add in that their leading rusher from the last three seasons, James Conner, is now playing for the Cardinals, and Harris should be a clear-cut choice if he's still on the board.
25. Jacksonville Jaguars (from Los Angeles Rams): Tre'von Moehrig, S, TCU
With four picks in the top 45, Meyer has plenty of ammunition to add talent to his roster in his first draft as an NFL coach. That gives the Jaguars flexibility to go in a variety of different directions with their second first-round pick, but one of their biggest needs other than quarterback is at safety, and Moehrig is considered by most draft analysts to be this year's top safety.
26. Cleveland Browns: Jamin Davis, LB, Kentucky
The Browns' biggest need is for more athleticism at linebacker. Davis, who proved his elite speed by running a 4.37-second 40-yard dash at Kentucky's pro day, would fit the bill.
27. Baltimore Ravens: Zaven Collins, OLB, Tulsa
It's rare for a non-Power 5 player to win the Bronko Nagurski Trophy and Chuck Bednarik Award as college football's best defensive player, but that's exactly what Collins did in 2020. Although he's built like a defensive end at 6-foot-4 and 270 pounds, he made plays all over the field as a linebacker at Tulsa – including two interception returns for touchdowns last season – which would enable him to line up at multiple spots for the Ravens, who place a premium on versatility in their 3-4 defense.
28. New Orleans Saints: Kadarius Toney, WR, Florida
Aside from Michael Thomas, the Saints don't have any other star pass-catchers, so they could target one with their first-round pick. Toney is an explosive triple threat who led Florida in receiving last season while he can also make big plays as a gadget-play runner and as a kickoff and punt returner. That versatile skill set could be a huge weapon for New Orleans' offense as it enters its first season without Drew Brees. 
29. Green Bay Packers: Liam Eichenberg, OT, Notre Dame
The older brother of Ohio State linebacker Tommy Eichenberg "might sneak into Round 1," Todd McShay wrote this week, and Green Bay would make sense as a landing spot. He'd be a likely upgrade for the Packers at right tackle, allowing them to move Billy Turner back to guard, while also providing some insurance at left tackle with All-Pro David Bakhtiari working his way back from a torn ACL.
30. Buffalo Bills: Travis Etienne, RB, Clemson
Etienne's name has consistently come up as a potential target for the Bills, with McShay reporting the Bills could even look to trade up for him. In this scenario, he's available at the 30th overall pick, giving them the opportunity to add a home-run hitter to their backfield and make their offense – which was already one of the NFL's best in 2020 – even more dangerous.
31. Baltimore Ravens (from Kansas City Chiefs): Rashod Bateman, WR, Minnesota
McShay reported the Ravens "are definitely targeting a wide receiver" with one of their two first-round picks after acquiring this selection from the Chiefs last week; specifically, they're expected to look for an outside receiver, and Bateman is the top outside receiver prospect still on the board in this scenario. The Big Ten Receiver of the Year in 2019, Bateman is a deep threat who ran a 4.39-second 40-yard dash at Minnesota's pro day.
32. Tampa Bay Buccaneers: Azeez Ojulari, OLB, Georgia
In the incredibly rare position of bringing back all 22 starters from last year's team that won the Super Bowl, the Buccaneers should be looking for future upside with the final pick of the first round. Some NFL teams are reportedly concerned about knee issues with Ojulari, according to NBC Sports' Peter King, but he's an explosive athlete who was frequently disruptive off the edge at Georgia. He has the potential to make an immediate impact in Tampa Bay's pass-rush rotation and develop into a star.
---
Although I believe Fields will be Ohio State's only first-round pick this year, I think there are as many as seven other Buckeyes who are likely to be drafted in the first four rounds, while I expect double-digit players from last year's team to be selected before the seven-round draft is over. By the end of the day Saturday, I expect 14 members of last year's Ohio State football team to be on NFL teams as either draft picks or undrafted free-agent signings, and below are my dart-throws for where each of them could end up.
LB Baron Browning: Round 2, No. 48 overall, Las Vegas Raiders
Browning has rare physical upside – per Pro Football Network's Kent Lee Platte, Browning's pro day results gave him the fifth-best relative athlete score out of more than 2,000 linebacker prospects since 1987 – and because of that, I believe a team will bet on his potential in the second round. 
Many mock drafts have projected the Raiders will take a playmaking linebacker in the early rounds, and Mike Mayock and Jon Gruden have tended to favor prospects from power programs like Ohio State, Clemson and Alabama. And not that this actually means anything, but Browning was wearing a Raiders hat at Ohio State's spring game – so presumably, he'd be thrilled to get the call from them.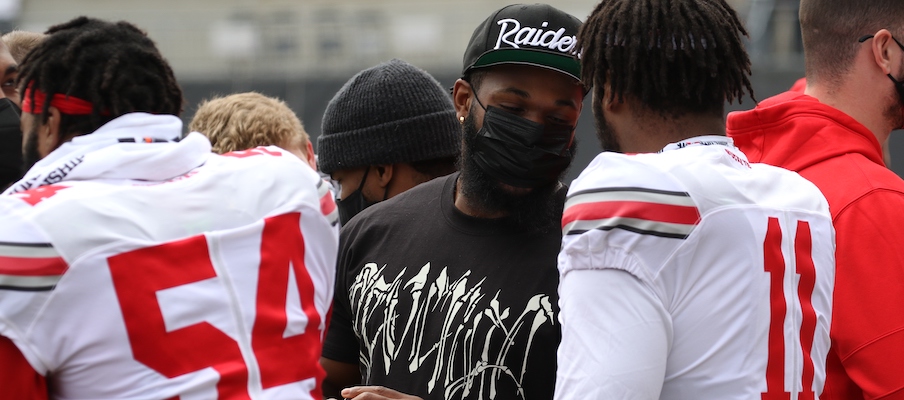 LB Pete Werner: Round 2, No. 60 overall, New Orleans Saints
I'm not quite buying the rumor that Werner could be a first-round pick, but I do believe he'll be selected in the second round. Linebacker is one of the Saints' biggest draft needs, and drafting Buckeyes has typically worked out well for them. His versatility to play multiple spots and cover in space is exactly what New Orleans should be looking for in an early-round linebacker.
G Wyatt Davis: Round 3, No. 69 overall, Cincinnati Bengals
A few months ago, I would have been more likely to guess that Davis would be a first-round pick than a third-round pick, but most project him as a borderline second-round pick now. I won't be surprised at all if Davis goes higher than this, but if he's still on the board at the 69th overall pick, he'd be a great addition for the Bengals – even though they have already drafted two interior offensive linemen from Ohio State in recent years – as they look to provide Burrow better protection.
DT Tommy Togiai: Round 3, No. 79 overall, Las Vegas Raiders
The Raiders have back-to-back picks in the middle of the third round, which is right around where most project Togiai to be selected, so I'm giving them another Buckeye defender. While they did re-sign Johnathan Hankins to a one-year deal this offseason, they'll likely to add another nose tackle through the draft, and Togiai would be a natural fit to rotate with Hankins, who also wore the scarlet and gray in college.
C/G Josh Myers: Round 3, No. 87 overall, Pittsburgh Steelers
The Steelers have needs all across their offensive line, so they'll likely look to draft at least one on Day 2. Myers could potentially slot in at either center or guard in Pittsburgh, and the third round looks like where he's most likely to come off the board.
CB Shaun Wade: Round 3, No. 92 overall, Green Bay Packers
Wade's draft stock is difficult to peg after his disappointing 2020 season, but I still believe a team will bet on him bouncing back and draft him in the top 100 picks. Green Bay should be looking to add to its secondary in the early rounds of this year's draft, and Wade could potentially fit in at either slot cornerback or outside.
RB Trey Sermon: Round 4, No. 107 overall, New York Jets
If Sermon isn't selected on Friday, he shouldn't have to wait long on Saturday. Running back is one of the Jets' many needs in this year's draft, and Sermon's well-rounded skill set should enable him to make an immediate impact in an NFL rotation, which is why I have him coming off the board with the second pick of the fourth round.
LB Justin Hilliard: Round 5, No. 170 overall, Jacksonville Jaguars
Hilliard and his family have specifically credited Meyer with playing a pivotal role in helping him overcome the injuries he battled in his Ohio State career and persevere to get to where he is now, so it would be fitting if Meyer gave Hilliard his chance to play in the NFL. The Jaguars have a late fifth-round pick they acquired from the Browns in exchange for Ronnie Harrison, and that could be the range in which Hilliard is drafted.
DE/OLB Jonathon Cooper: Round 6, No. 205 overall, Tennessee Titans
While I initially would have projected that Cooper would be selected by a team that runs a 4-3 base defense, Cooper said after his pro day workout that many NFL teams had been looking at him as a candidate to move to outside linebacker, which could make him a fit for the Titans' 3-4 scheme. The Titans are expected to look for pass-rushing depth in this year's draft, and Cooper could provide that as a projected late-round pick.   
TE Luke Farrell: Round 7, No. 238 overall, Dallas Cowboys
Farrell hasn't shown up in many national mock drafts, but I believe the blocking prowess he showed at Ohio State – Buckeyes offensive coordinator Kevin Wilson said last month that NFL scouts had told him Farrell "might be as good a blocking tight end as there is coming out in the draft" – will get him drafted. The Cowboys should be looking to add a tight end in this year's draft, and Farrell also brings lots of special teams experience from his Ohio State career.
LB Tuf Borland: Undrafted free agent, Arizona Cardinals
While I wouldn't be surprised to see Borland make an NFL roster because of the same qualities that made him a three-time captain at Ohio State, his lack of speed could keep him from being drafted. That said, I'd expect him to have several free-agent suitors if he goes undrafted; Jacksonville would be an obvious match, knowing how highly Meyer thinks of Borland, but I'll go with another Buckeye connection in Arizona, where Borland could join his former Ohio State position coach Bill Davis, who's now the Cardinals' linebackers coach.
P Drue Chrisman: Undrafted free agent, Philadelphia Eagles
After letting Cameron Johnston leave this offseason, could the Eagles replace him with another former Ohio State punter? It would make sense, as Chrisman is one of the top punters in this year's draft class. I don't know if that will get him drafted, but it should at least put him in position to sign with a team where he'll have a legitimate chance to compete to be the team's regular-season punter, and no team has a clearer opening at punter right now than the Eagles.
K Blake Haubeil: Undrafted free agent, Minnesota Vikings
Like Chrisman, Haubeil is one of the top specialists in this year's draft and should have an opportunity to compete for an NFL team's kicking job even if he isn't one of the draft's 259 picks. One of the best potential opportunities for Haubeil would be in Minnesota, who had the NFL's worst field goal percentage last season and currently has just one kicker on its roster in Greg Joseph, who has kicked just one field goal in the past two seasons.