The first three picks of the 2020 NFL draft could serve as ready-made advertising for the Ohio State football program and its ability to develop players.
Joe Burrow didn't finish his career at Ohio State, but he did start it there before graduate transferring to LSU, and he's now projected to be the No. 1 overall pick by the Cincinnati Bengals on Thursday night. The next two picks, meanwhile, could both be players who spent their entire three-year collegiate careers with the Buckeyes: Chase Young and Jeff Okudah, who both earned unanimous All-American honors while starring on Ohio State's defense in 2019.
In my annual mock draft here at Eleven Warriors (here's last year's mock if you want to laugh at all the ones I got wrong), I'm projecting that those three former Buckeyes will kick off this year's draft festivities, which will begin at 8 p.m. Thursday and will be televised on ESPN, ABC and NFL Network.
My full first-round projections, for which I'll be held accountable as a participant in The Huddle Report's annual mock draft contest, are below, followed my best guesses for where each of the remaining Buckeyes in this year's draft class will end up. 
1. Cincinnati Bengals: Joe Burrow, QB, LSU
This pick should be a no-brainer. The Bengals need a new starting quarterback, and Burrow is coming off one of the greatest individual seasons in college football history. The Athens, Ohio, native has the talent to be a major upgrade over Andy Dalton, and he proved on the biggest stages of college football last season that he can handle the pressure that will come with being the face of a franchise.
2. Washington Redskins: Chase Young, DE, Ohio State
Another pick that should be a no-brainer. Young is widely regarded as the best overall prospect in this year's draft, and the Redskins already have their franchise quarterback after selecting Dwayne Haskins last year. The Redskins shouldn't pass up the opportunity to bring Young back to his home state of Maryland, add a potential superstar pass-rusher and reunite him with his former Ohio State teammates Haskins and Terry McLaurin.
3. Detroit Lions: Jeff Okudah, CB, Ohio State
This isn't as sure of a bet as Burrow and Young being the top two picks, but unless the Lions trade down from the No. 3 overall pick, Okudah is likely to be their pick on Thursday night. They have a major need at cornerback after trading Darius Slay to the Philadelphia Eagles, and Okudah has the skills to step in as a starting cornerback right away with the potential to become one of the NFL's best at his position.
4. New York Giants: Isaiah Simmons, LB, Clemson
If the top three picks go as expected, this is where the draft could really start to get interesting, as projections are much more varied for what the Giants will do with the fourth overall pick. Most recent mock drafts have them selecting an offensive tackle, either Alabama's Jedrick Wills or Iowa's Tristan Wirfs, but Simmons offers rare athleticism and defensive versatility that could ultimately make him too talented to pass up.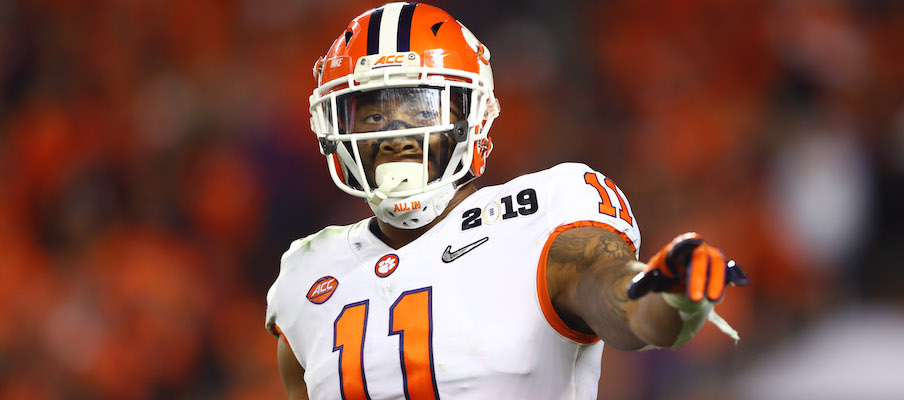 5. Miami Dolphins: Tua Tagovailoa, QB, Alabama
The Dolphins have been rumored to be interested in Tagovailoa since last year's NFL draft, when they passed upon the opportunity to draft Haskins, and now it looks like they'll have the chance to take him. The hip injury that ended Tagovailoa's final season at Alabama makes him a risky top-five pick, but they'll take that risk if they believe Tagovailoa can be the franchise quarterback they desperately need.
6. Los Angeles Chargers: Justin Herbert, QB, Oregon
The Chargers also have a major need at quarterback after moving on from Philip Rivers this offseason, making this a likely landing spot for either Herbert or Tagovailoa as long as one of them is still on the board. Herbert doesn't have the national championship or Heisman finalists credentials that Burrow and Tagovailoa do, but he was a productive four-year starter for the Ducks who has the traits to be highly successful in an NFL offense.
7. Carolina Panthers: C.J. Henderson, CB, Florida
There have been rumors about the Atlanta Falcons trading up into the top 10 to draft Henderson, but their NFC South rivals could kill that plan by drafting him themselves. The Panthers have a big need at cornerback after losing James Bradberry in free agency, and Henderson is widely considered to be the second-best cornerback in the draft – by a significant margin over everyone else – behind Okudah.
8. Arizona Cardinals: Tristan Wirfs, OT, Iowa
The Cardinals are loaded with weapons at the offensive skill positions, especially after trading for DeAndre Hopkins this offseason, but could use an upgrade at offensive tackle – particularly right tackle – to provide better protection for Kyler Murray. Wirfs, an All-Big Ten right tackle at Iowa who made his case for being the 2020 draft's best tackle with a spectacular performance at the NFL Scouting Combine, would fit the bill.
9. Jacksonville Jaguars: Derrick Brown, DT, Auburn
Brown is a candidate to come off the board as early as the No. 3 overall pick, should the Lions choose to go in a different direction than Okudah, so the Jaguars would likely snap him up if he's still on the board at pick nine. They need to bolster their interior defensive line after moving on from Calais Campbell and Marcell Dareus this offseason, and Brown – the SEC Defensive Player of the Year last season – was a dominant defensive tackle at Auburn with the traits to continue to be in the NFL.
10. Cleveland Browns: Andrew Thomas, OT, Georgia
The Browns upgraded at right tackle by signing Jack Conklin last month, but they still have a major hole at left tackle. Thomas, a unanimous All-American as Georgia's left tackle last season, is arguably the safest choice in this year's draft to step in and protect Baker Mayfield's blind side.
11. New York Jets: Jedrick Wills, OT, Alabama
The Jets could face a choice between multiple Crimson Tide products with this pick. Jerry Jeudy and Henry Ruggs would each be strong choices to address their need at wide receiver, but they have an even bigger need at offensive tackle. If Wills is still on the board at this spot, he'll be tough to pass up.
12. Oakland Raiders: CeeDee Lamb, WR, Oklahoma
The Raiders are expected to target a wide receiver with this pick, and they have three great options in this scenario with Lamb, Jeudy and Ruggs. Any of them would be a good choice here, but Lamb has the best combination of size, athleticism and college production among them, and according to NBC Sports' Peter King, Raiders general manager Mike Mayock "loves" Lamb and "thinks he's the most complete receiver in the draft."
13. San Francisco 49ers (from Indianapolis Colts): Javon Kinlaw, DT, South Carolina
After acquiring this pick from the Colts in exchange for DeForest Buckner, the 49ers could very well use this pick to draft Buckner's replacement. Nick Bosa and the rest of the 49ers' defensive line led their run to the Super Bowl last year, so ensuring they continue to have an elite defensive line will remain a priority, and Kinlaw offers a similar skillset as Buckner without the $21 million-per-year contract.
14. Tampa Bay Buccaneers: Mekhi Becton, OT, Louisville
The Buccaneers have plenty of weapons (including just-acquired Rob Gronkowski) for Tom Brady to throw the ball to, but they need to beef up their offensive line to adequately protect the 42-year-old quarterback. Becton, who has measurables (6-foot-7, 364 pounds) that rival those of Ohio State's Dawand Jones, has eye-popping athleticism for a massive left tackle and could help the Buccaneers accomplish that paramount priority.
15. Denver Broncos: Jerry Jeudy, WR, Alabama
It's been rumored that the Broncos could trade up to ensure they have the opportunity to draft Jeudy, so they'd presumably be ecstatic if he's still on the board at the 15th overall pick – though his Alabama teammate Henry Ruggs would also warrant strong consideration in this scenario. Either one of them would be a great get at this spot for the Broncos, who are in the market for another weapon at wide receiver.
16. Atlanta Falcons: K'Lavon Chaisson, DE, LSU
Whether they trade up or not, the Falcons are expected to look for a difference-maker on defense with their top pick. Chaisson, who's expected to be the first edge defender not named Chase Young off the board on Thursday, could be the impact pass-rusher they've been searching for.
*PROJECTED TRADE* 17. Minnesota Vikings (from Dallas Cowboys): Henry Ruggs, WR, Alabama
The Cowboys could add another weapon to their offense by using this pick to draft Ruggs themselves, but after signing Amari Cooper to a five-year, $100 million deal this offseason, they'd be better off trading the pick to someone with an actual need at wide receiver. Enter the Vikings, who have two first-round picks after trading their top receiver from last season, Stefon Diggs, to the Buffalo Bills. Ruggs, who ran a 4.27-second 40-yard dash at the NFL Scouting Combine, has elite speed that makes him exactly what the Vikings need to replace Diggs.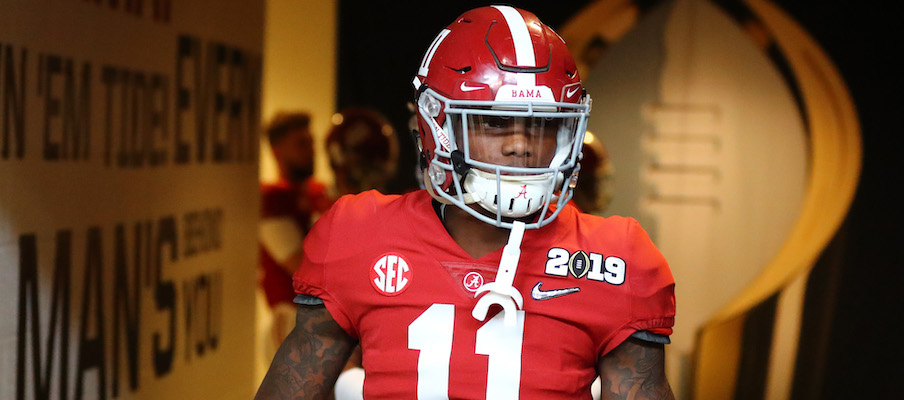 18. Miami Dolphins (from Pittsburgh Steelers): Xavier McKinney, S, Alabama
The Dolphins would probably love to have a chance to draft Jeudy or Ruggs as a target for their college quarterback Tagovailoa, but they could use this pick on another one of Tua's Crimson Tide teammates even if the receivers are off the board. Safety is the Dolphins' biggest position of need on defense, and McKinney is considered to be the top safety in the draft.
19. Las Vegas Raiders (from Chicago Bears): Kristian Fulton, CB, LSU
Cornerback remains one of the Raiders' top needs after their free-agent contract with former Ohio State cornerback Eli Apple fell through, so there's a good chance this pick will be whomever they grade as the top cornerback after Okudah and Henderson. There's no consensus on who that is among draft analysts, but the Raiders typically favor players from top college teams, and Fulton is a strong candidate from the defending national champions.
20. Jacksonville Jaguars (from Los Angeles Rams): Justin Jefferson, WR, LSU
The Jaguars should be in the market for another wide receiver after releasing Marqise Lee earlier this week, and Jefferson is arguably the best prospect available at this point. Coming off a massive senior season at LSU, Jefferson is as polished as any receiver in the draft and would form a strong 1-2 punch in Jacksonville with former LSU teammate D.J. Chark.
21. Philadelphia Eagles: Denzel Mims, WR, Baylor
Philadelphia will likely be hoping Jefferson falls one more spot, but even if that doesn't happen, the pick here could be the top wide receiver available on their board. That could be Mims, who has an elite combination of size (6-foot-3) and speed (4.38-second 40) and had over 1,000 receiving yards in two of his final three seasons at Baylor.
22. Dallas Cowboys (from Buffalo Bills via Minnesota Vikings): Cesar Ruiz, C, Michigan
Ruiz has been generating buzz as a potential first-round pick in the days leading up to the draft, and the Cowboys need a center after Travis Frederick's retirement earlier this offseason. He would have been a reach at the 17th pick, but after trading down to pick up some additional value from the Vikings, the top interior offensive lineman in the draft would be a smart choice for Dallas.
23. New England Patriots: Kenneth Murray, LB, Oklahoma
Yes, the Patriots need a quarterback after the departure of Tom Brady this offseason, but there are enough people who think highly of Jarrett Stidham in Foxborough to make me think they won't draft one in the first round unless Tagovailoa or Herbert falls far enough for them to trade up. The Patriots also have a major need at linebacker after losing Kyle Van Noy and Jamie Collins this offseason, and Murray is a great athlete who put up huge numbers at Oklahoma. Trading down is also a strong possibility here, as New England has been known to wheel and deal in the draft.
24. New Orleans Saints: Patrick Queen, LB, LSU
This pick is also a potential landing spot for Utah State quarterback Jordan Love, but like the Patriots, the Saints could end up choosing a linebacker instead. Drew Brees is still in New Orleans, so linebacker is a much bigger immediate need, and Queen is a local product who is also arguably the best player available in this scenario.
25. Minnesota Vikings: Jeff Gladney, CB, TCU
If the Vikings use their first pick to get a wide receiver, they should use their other first-round pick to address another major need at cornerback. There are several potential options who could fit the bill at the 25th pick, but Gladney has been linked to the Vikings in several mock drafts and is arguably the best available here.
26. Miami Dolphins (from Houston Texans): Josh Jones, OT, Houston
J.K. Dobbins watch likely begins at this pick, as the Dolphins brought him in for a pre-draft visit just hours before the NFL shut down all visits due to COVID-19, but they can afford to wait until the second round to draft a running back. They might not be able to afford to wait to address their need at offensive tackle, and Jones is a potential top-20 pick who would be a strong value selection at this spot.
*PROJECTED TRADE* 27. Indianapolis Colts (from Seattle Seahawks): Jordan Love, QB, Utah State
The Seahawks will probably be looking to trade down, considering they've done so with their first-round picks in each of the last eight drafts, which could make this a trade-up spot for anyone looking to move up into the first round and draft its quarterback of the future if Love is still on the board. That team could be the Colts, who signed Philip Rivers to a one-year deal this offseason but don't have any quarterbacks under contract for 2021. They could hope Love falls to them in the second round, as they acquired the No. 34 overall pick in a trade with the Redskins, but they likely won't be the only team considering trading up for Love if he falls this far.
28. Baltimore Ravens: Yetur Gross-Matos, OLB/DE, Penn State
The Ravens are famous for drafting the best player available regardless of positional need, and in this scenario, that might be Gross-Matos. The athletic edge defender from Penn State could potentially play both defensive end and outside linebacker in Baltimore's hybrid defense, and the Ravens could use another dynamic pass-rusher up front.
29. Tennessee Titans: Isaiah Wilson, OT, Georgia
The Titans need a new right tackle after losing Jack Conklin to the Browns, and Wilson – a 6-foot-6, 350-pound behemoth who started at right tackle for Georgia for each of the past two years – has been increasingly projected as a first-round pick in the days leading up to the draft. 
30. Green Bay Packers: Tee Higgins, WR, Clemson
Wide receiver is the Packers' biggest need entering the draft, and Higgins is one of the best available in the scenario. The 6-foot-4, 216-pound pass-catcher had more than 2,000 receiving yards and 25 touchdowns for Clemson over the past two seasons, and his size and playmaking ability is exactly what Green Bay should be looking for in another weapon for Aaron Rodgers. 
*PROJECTED TRADE* 31. Dallas Cowboys (from San Francisco 49ers): Grant Delpit, S, LSU
Because the 49ers currently don't hold any picks in the second, third or fourth round, they're expected to trade down from at least one of their first-round picks. The Cowboys, meanwhile, have an extra pick to work with in this scenario after moving down from the 17th pick. They're also in the market for a safety, and while Delpit's draft stock has fallen – whether this happens or not, Thursday night will support the argument from Ohio State fans that Okudah should have won the Jim Thorpe Award – he still has the potential to be a future star if he can become a more consistent tackler.
32. Kansas City Chiefs: A.J. Terrell, CB, Clemson
This is a potential landing spot for both J.K. Dobbins and Damon Arnette, giving Ohio State fans reason to watch all the way to the end of the first round, but Terrell could be the choice over both of them if he's still on the board. Cornerback is a more pressing need for the Chiefs than running back, and most mock drafts have Terrell coming off the board before Arnette.
---
Now that you've seen my full projections for Thursday night's first round of the NFL draft, here are my projections for the 14 other Buckeyes who are expected to either be selected in this year's draft or signed as an undrafted free agent.
J.K. Dobbins, RB: Miami Dolphins, Round 2, No. 39 overall
If the Dolphins don't draft a running back with one of their three first-round picks, they'll likely target one with their first of two picks in the second round, given that they ranked dead last in the NFL in rushing yards last season. Given the interest they've shown in Dobbins, there's reason to believe he'll be their target with the 39th overall pick.
Damon Arnette, CB: Atlanta Falcons, Round 2, No. 47 overall
The Falcons already drafted one Ohio State cornerback by selecting Kendall Sheffield in the fourth round last year, but they're expected to target another cornerback in the early rounds this year. If they miss out on trading up for Henderson in the first round, Arnette would be a strong fallback option in the middle of the second round.
DaVon Hamilton, DT: Miami Dolphins, Round 3, No. 70 overall
If you haven't noticed yet, the Dolphins have a lot of early-round draft picks, but they also have a lot of needs, one of which is to add another defensive tackle to their rotation. If Hamilton is still available early in the third round, his versatility to line up at both nose tackle and 3-technique would make him a good fit.
Malik Harrison, LB: Cleveland Browns, Round 3, No. 74 overall
The Browns need to draft a linebacker after the departures of Joe Schobert and Christian Kirksey this offseason, and they could find one from the school just a couple hours down I-71. Harrison's versatility to play either middle or outside linebacker would make him a good fit as a potential starter if he's still available 10 picks into the third round.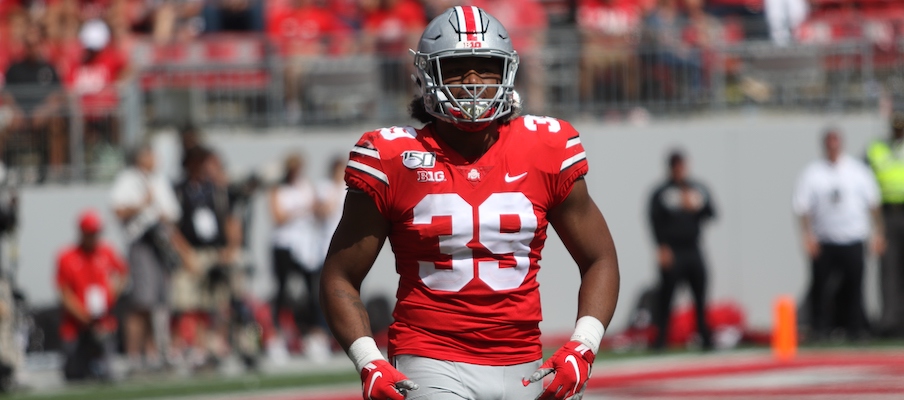 Jonah Jackson, OG: Los Angeles Rams, Round 3, No. 84 overall
The Rams could be looking for an upgrade at left guard – Austin Corbett, who lasted just one year in Cleveland after the Browns selected him in the second round in 2018, is currently penciled in as the Rams' starter at that position – and Jackson, if his one season at Ohio State was any indication, could be just that if he's still available in the back half of the third round.
K.J. Hill, WR: Tampa Bay Buccaneers, Round 4, No. 117 overall
Although the Buccaneers already have plenty of playmakers for Tom Brady to throw the ball to, they could still use an upgrade at slot receiver, a position that was utilized prominently in Brady's New England offenses. Hill is a natural slot receiver who could prove to be a middle-round draft steal, and the polished route-runner should be able to contribute right away in the NFL after his record-breaking career at Ohio State. 
Jordan Fuller, S: San Francisco 49ers, Round 6, No. 210 overall
You won't find many bigger fans of Fuller than former Ohio State secondary coach Jeff Hafley, who previously worked for the 49ers with many coaches who are still on their staff, including head coach Kyle Shanahan and defensive coordinator Robert Saleh. The 49ers are likely to add some safety depth in this year's draft, and Hafley's recommendation could move them toward Fuller as a late-round option.
Binjimen Victor, WR: Miami Dolphins, Round 7, No. 246 overall
Victor is firmly on the draft bubble, but the big-play ability he showed at Ohio State could entice a team to take a flier on him in the late rounds of the draft. Given that the Dolphins have 14 total picks, they should be targeting high-upside players with their seventh-round selections, and they could use another weapon like Victor at wide receiver.
Austin Mack, WR: New Orleans Saints, Undrafted Free Agent
Considering the success they've had with former Ohio State players in recent years, it certainly wouldn't be a surprise to see the New Orleans Saints to add another Buckeye this year, and Mack could be a good fit as a late-round pick or undrafted free agent. While he never quite became the second coming of Michael Thomas that some thought he could be at Ohio State, the Saints need receiver depth and Mack's special teams experience would give him a chance to earn his way onto the roster.
Robert Landers, DT: Cleveland Browns, Undrafted Free Agent
The Browns have suspect defensive tackle depth, which – along with its relative proximity to Columbus and his hometown of Dayton – could make Cleveland an attractive destination for Landers if he ends up as an undrafted free agent with a choice to make. He'd have a chance to make the Browns' roster as a backup to Sheldon Richardson and Larry Ogunjobi.
Branden Bowen, OT: Denver Broncos, Undrafted Free Agent
Offensive tackle is an area of need for the Broncos, and Bowen offers the versatility to play both tackle and guard, which will significantly improve his chances of making a roster as a backup offensive lineman in the NFL, where teams typically carry less than 10 linemen on their 53-man roster. If Bowen goes undrafted after Ohio State's pro day was canceled, he should have several teams to choose from as a free agent.
Rashod Berry, TE: Arizona Cardinals, Undrafted Free Agent
Tight end is one offensive skill-position where the Cardinals could use more talent, and Berry could be a promising undrafted free-agent option. His 17 catches as a Buckeye might not be enough to get him drafted, but his physical traits give him the potential to be a hidden gem.
Jashon Cornell, DT: Tennessee Titans, Undrafted Free Agent
Like the Browns, the Titans have a need for defensive tackle depth after trading Jurrell Casey to the Broncos this offseason, particularly at the 3-technique spot that Cornell plays. Joining Mike Vrabel's squad could be an enticing option for Cornell if he hits the undrafted free-agent market.
Liam McCullough, LS: Jacksonville Jaguars, Undrafted Free Agent
Truthfully, I'd be lying if I pretended I had any idea which NFL teams could most use an upgrade at long snapper, but if McCullough goes undrafted – as long snappers usually do – he'll be looking to sign with a team where he believes he has a chance to beat out their returning snapper and earn one of the league's 32 roster spots at his position. And he's good enough to do it if he lands in the right spot.