Ohio State's 2019 college football team was loaded with talent, capturing the eyes of talent evaluators throughout the country who were looking for prospects for the 2020 NFL draft.
One of those talent evaluators was Jim Nagy, who was an NFL scout for 18 years until June 2018, when he was hired as the executive director of the Senior Bowl. 
Five Buckeyes participated in this year's Senior Bowl – wide receivers K.J. Hill and Austin Mack, offensive guard Jonah Jackson, defensive tackle DaVon Hamilton and linebacker Malik Harrison – where Nagy got an even closer look at them after identifying them as some of the best senior NFL draft prospects at their respective positions. Damon Arnette also received an invitation to the Senior Bowl, but chose not to participate due to the broken wrist he played with during his senior season at Ohio State, while a couple other Buckeyes were also close to getting invites to this year's all-star showcase in Mobile, Alabama.
Because Nagy also works as an NFL draft analyst for ESPN, he's spent time studying the top juniors who entered this year's draft class as well, including former Ohio State stars Chase Young, Jeff Okudah and J.K. Dobbins.
With all of those players to watch, Nagy said it would take a long time just to study the tape of one Ohio State game this year – not that that's anything new.
"The most players I've ever scouted at a school was back in that 2004 class, Ohio State had 14 guys drafted that year," Nagy said. "So I mean, they've been doing it forever. From Coach (Jim) Tressel through Urban (Meyer), they've been loaded. So it's always one of those schools that you know every year, you're gonna get some really good players out of."
Given that this year's class is no exception, with double-digit Buckeyes who could potentially be selected in next week's draft, Eleven Warriors caught up with Nagy to get a former NFL scout's perspective on each of Ohio State's top prospects, why he thinks they can succeed at the next level and where he thinks they could come off the board.
Chase Young "A Notch Above" Nick Bosa
Young is projected to be the first Ohio State player selected in Thursday's first round of the NFL draft, likely by the Washington Redskins with the No. 2 overall pick. What makes Young such an elite prospect in NFL scouts' eyes? To Nagy, "the thing that really sticks out is just how powerful the guy is," to go along with his athleticism.
"He's loose and powerful. A lot of powerful guys are a little more tightly wound, but he's really got a nice, loose body and he's really powerful, and he's impactful in every game," Nagy said.  "I know some people have kind of knocked him for late in the year he didn't have sacks, in the last three games, but you put those games on, he's still a handful. Wisconsin was much smarter the second time around with how they blocked him. Michigan did a nice job against him. But he still had an impact. He's still a factor. He still created a lot of things. He created a lot for other people (with) his disruption. So I don't buy that he tailed off late in the year. I didn't really see that. I don't think you can look at stats and accurately gauge how a player played. He's a great prospect."
Nagy didn't scout Joey Bosa as a Buckeye, as Ohio State was not one of the schools he scouted at the time for the Seattle Seahawks, but he did watch Nick Bosa before last year's draft. Nagy believes Young is an even more impressive prospect than Bosa, who was the No. 2 overall pick in last year's draft and went on to be the NFL Defensive Rookie of the Year, coming out of Ohio State.
"I think he's more explosive off the ball," Nagy said. "He's a little twitchier, a little more powerful, so he's probably a notch above where Nick was off Ohio State tape, and we all saw what Nick did this year and had an immediate impact. So yeah, he's really kind of an easy guy to slot in the draft."
Jeff Okudah, Damon Arnette Impressive at Cornerback
When Nagy was watching film of Arnette to scout him as a potential Senior Bowl participant, he couldn't help but be distracted by the cornerback playing opposite Arnette, as Okudah – who is projected to be the first cornerback selected on Thursday as a potential top-five overall pick – caught his eye with his excellent play during his final season at Ohio State.
Nagy expects Okudah to "be able to step in right away and start right away, be a No. 1 corner really early in his career" in the NFL.
"I'm watching all these other guys, I'm watching Damon Arnette and you can't help but notice Okudah athletically," Nagy said. "When he does get out of position, his ability to recover, he really shows his athleticism there. But the other thing that really sticks out when you actually start diving into Okudah is the competitor. And just talking to friends in the NFL, that's why they're so sold on him, is that at a position where you see some other corners in this class are getting knocked a little bit for run support, tackling, toughness, those aren't issues at all with Jeff Okudah. He's hyper-competitive, they really like that in him, and the athlete's there, the ball skills are there. He's really a hard guy to really poke holes in. He's really an all-around corner."
That said, Nagy was also impressed by Arnette, who he expects to be drafted no later than the second round.
"I thought compared to his junior tape, I thought he really tightened up and cleaned up a lot of things. Just had a much cleaner year on the field in terms of just being dialed in and playing more consistent," Nagy said of Arnette's play in his final season at Ohio State. "I think he could have helped himself by coming down here because I think he would have looked really good in all the one-on-ones and stuff like that. But no, I wouldn't expect Arnette to come off after the second round. After Okudah and (Florida cornerback) C.J. Henderson, there's about 10 (cornerbacks in the draft) that you could put all their names in a hat or throw darts at a dart board. The league is all over the place on that next group of corners that Arnette's in."
K.J. Hill A Safe Bet at Slot Receiver
For the second year in a row, an Ohio State wide receiver stood out at this year's Senior Bowl, as Hill earned practice player of the week honors for his performance over the course of the week in Mobile. He didn't necessarily bolster his draft stock as much as Terry McLaurin did one year earlier, but Nagy said that's because Hill was already more well-known by NFL scouts coming in after his highly productive career at Ohio State.
"In terms of pure slot receivers for this year's draft, he's gonna be one of the first two or three guys (selected)," Nagy said of Hill. "He's got a really nice feel in there, he's tough, he's got great hands. He made some unbelievable one-handed catches down here in Mobile. And the intangibles are really good. Coach Hartline loves the kid. So I think that you know what you're getting.
"To me, you draft K.J. Hill, you know he's gonna be your starting slot receiver, you're gonna feel good about him, you got that position locked up for a bunch of years," Nagy added. "I think he's gonna play right away for somebody."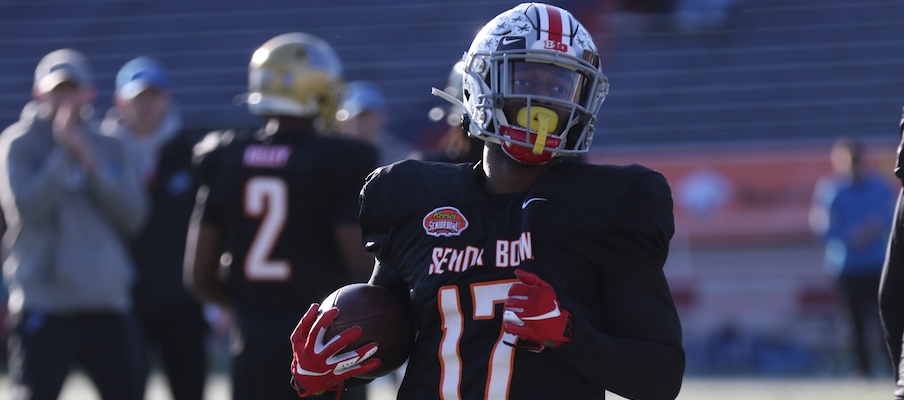 DaVon Hamilton's Stock Soared in Senior Season, Senior Bowl
Hamilton also earned practice player of the week honors for his position group at the Senior Bowl, where he proved he's a much better prospect than Nagy thought Hamilton was going into his senior year. Before the 2019 season, Hamilton wasn't near the top of the Senior Bowl's board for defensive tackles to invite, but with his play in his final year at Ohio State and his performance in Mobile, Hamilton convinced Nagy that he's one of the best defensive tackles in the entire draft.
"In September, started getting a lot of phone calls from buddies in the league about him," Nagy said. "Really probably more than any player in the Midwest this year, we got more calls on, 'Hey, have you guys checked out DaVon Hamilton yet?' There was a handful of players that were better players once they got here than we even realized and we gave them credit for, and DaVon Hamilton falls into that category.
"He's got really good initial quickness and power, he can just overwhelm people when he comes off the ball with his hands. He's got really good in-line power. He's really good against the run, he can stack up double-teams, and he's strong, he can throw people. But a lot of times those guys can't play on third down, they don't have any (pass-rush) value. I don't know if it will be immediate with DaVon, but he's got an ability to push the pocket."
While Auburn's Derrick Brown and South Carolina's Javon Kinlaw are viewed as the clear-cut top two interior defensive linemen in this year's draft class, Nagy believes Hamilton belongs right near the top of the next tier at that position.
"In the fall, you kind of thought DaVon was going to be a fifth- or sixth-round pick, and now it would not surprise me if he goes somewhere in the second round," Nagy said.
Jonah Jackson Another Senior-Year Riser
After watching Jackson's film from his junior year at Rutgers, Nagy didn't anticipate sending him a Senior Bowl invite. But after seeing Jackson's development in his lone season as a Buckeye, Nagy was much more impressed – and he was even more impressed once he spent a week with him in Mobile.
"We watched him last spring at Rutgers, and I was even honest with him when he came down here for the game, I wasn't a huge fan," Nagy said. "I felt like his tape this year was a lot better, and Jonah's definitely one of those guys that I talked about that was a better player than we initially gave him credit for watching him in the fall.
"He got down here (at the Senior Bowl), and I thought he was a good player – I liked Jonah, we obviously invited him for a reason – but he got down here and I was like 'Wow, this guy's gonna start right away, this guy's a year one NFL starter.' Again, I thought probably middle rounds with Jonah, but now, he's going to be one of the first interior guys off the board," Nagy added. "What stood out down here, he really has got a great feel for the game. He's extremely patient. In the one-on-one drills, his patience was awesome. You never saw him overstep people, get himself in trouble. He just really has a nice feel in pass protection, and really a cool kid, too. Spending time around him, he is the type of dude you want in the locker room."
Malik Harrison A "Thumper" Who Can Move
At 6-foot-3 and 247 pounds, Harrison fits the profile for what Nagy described as a "classic big-body linebacker," but he's also more athletic than most linebackers you'll find at his size. Like Hamilton and Jackson, Nagy thought Harrison's play improved significantly in his senior season at Ohio State, and he was also impressed by what he saw from Harrison at the Senior Bowl, particularly in coverage drills.
"When you call a guy a thumper, which he definitely is, I mean this dude's really, really got a ton of pop on contact; a lot of times when you call a guy a thumper, you're thinking of a classic, old-school, two-down inside linebacker. And that's not the case with Harrison," Nagy said. "Malik, he runs better than you maybe think when you first start watching tape. He's a little more athletic getting through traffic than you'd probably give him credit for initially. He's just one of those guys, the more you watch him, the more you like him.
"You're talking about a three-down linebacker that you're gonna be able to keep on the field and just a really good football player. This linebacker class isn't being talked about a lot. I think it's one of the deeper groups in the draft. So for Malik, I would think probably third round is probably the sweet spot for Malik. That's where I would think he would go right now, based off everything he's done."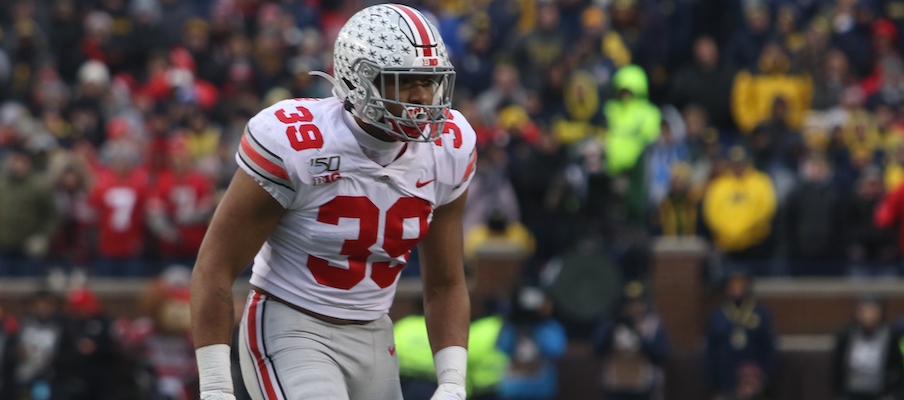 Austin Mack "A Really Good Route-Runner"
A late invitee to the Senior Bowl, Mack isn't as highly regarded as a draft prospect as the other Buckeyes who made the trip to Mobile, but Nagy believes he has NFL upside. In particular, Nagy is impressed by how skilled Mack is at running routes, especially for a wide receiver who weighed in at 6-foot-1 and over 210 pounds at the Senior Bowl.
"A really good route-runner. That sticks out the most. For a guy that is 6'1-plus, he really gets in and out of breaks," Nagy said. "Getting open isn't easy at the next level. I think Austin has the ability to do it."
The biggest question NFL scouts have on Mack, at least based on what Nagy has heard from his connections who work for teams, is his durability after he missed nine games due to injuries during his final two seasons at Ohio State. And because he likely won't be drafted before the late rounds, Mack will need to carve out a role on special teams in order to earn a roster spot as a fourth or fifth receiver. If he can do that, though, Nagy believes Mack could stick around at the next level.
"If you're gonna be a fourth or fifth guy in the league, you're gonna have to play in the kicking game somewhere. So it's gonna be up to Austin to take on that mindset of being that guy who's gonna be able to run down and make tackles and do all those things," Nagy said. "But he's definitely talented enough to play in the league for a long time."
Fuller, Victor Also Made an Impression
With only about 120 roster spots for the annual all-star game, the Senior Bowl has to make some tough choices about which players to invite at each position, but two other Buckeye seniors that Nagy said were close to making the cut for this year's game were wide receiver Binjimen Victor and safety Jordan Fuller.
Nagy said he was intrigued by Victor's physical traits, and that he and Mack "were really close together on our board."
"When you get into Day 3 of the draft as a scouting staff, you're just looking for physical traits that you can hit on with a player, and Victor has length and kind of a bounciness to him as an athlete that's pretty cool," Nagy said. "So I think Binjimen Victor's got a good chance of getting drafted and sticking in the league. He's just got really unique physical traits for the position."
As for Fuller, Nagy said the Senior Bowl actually invited him to come to Mobile during the middle of the week of practices after another safety had to drop out due to injury. Fuller opted to turn down that last-minute invitation, but Nagy believes Fuller will get drafted and will "definitely make somebody's team next year."
"From talking to guys on the (Ohio State coaching) staff, they really like his football intelligence," Nagy said. "Just a really solid player. Nothing really stood out good or bad, just a really good, solid player. So I think he definitely gets drafted. It was a really deep safety class. He was like the next man up at safety. We had a couple small-school guys in that group that we wanted to get in the game – really high-ceiling small-school guys that deserved a chance to be down here. And that's part of the function of our game is to bring those guys down here so the league can properly evaluate them on something other than small-school tape."
J.K. Dobbins Among the Top Running Backs
Dobbins, like Young and Okudah, wasn't eligible to play in the Senior Bowl as an early NFL draft entrant, but Nagy is a fan of him, as well. He considers Dobbins to be "one of the top two or three" running backs in this year's draft class.
"My favorite one's Clyde Edwards-Helaire at LSU, but I really like Dobbins' run style," Nagy said. "He's got a ruggedness to him, he's got a toughness to him. He runs hard. He kind of makes you tackle him. Doesn't go down easy.
"He can find holes on his own. He's got nice vision. And then after contact is where Dobbins stands out," Nagy added. "A lot of these college guys in spread offenses, you see them get out in space and do things, but at the moment of truth, at that point of contact, Dobbins is really good. So he's got nice balance, nice power. I think he's gonna be a good pro."
Joe Burrow's "Ascension" Was Incredible
Of course, no conversation on former Ohio State players in this year's draft is truly complete without talking about Joe Burrow, projected to be the No. 1 overall pick on Thursday night. While LSU is the school that will be announced with his name next week, he spent the first three years of his college career at Ohio State, which helped him get to where he is today.
At this point a year ago, though, no one thought Burrow would end up all the way at the top of the board as the premier quarterback in this year's draft. Nagy, who was in touch with Burrow about potentially playing in the Senior Bowl before he ultimately chose not to participate, said he has "never seen anything like it" in terms of a player's draft stock soaring from one year to the next.
That said, Nagy believes in hindsight that Burrow already showed the traits to be an elite quarterback even before his Heisman-winning, national championship season at LSU in 2019. It just wasn't as obvious in 2018 because the rest of the offense around him wasn't nearly as good.
"I thought Joe was like a third-round pick a year ago," Nagy said. "So what I did after the Senior Bowl game was go back to rewatch the junior stuff to make sure like 'Wow, what happened? What was this meteoric ascension as a player?' And what I realized was I just undervalued him as a junior. His junior tape was pretty darn good. What happened at LSU was they got a lot better around Joe.
"I think one of the false narratives is that Joe just came out of nowhere and was kind of a really average player as a junior. Going back and looking at it, it wasn't far off from this year's tape. He was pretty darn good as a junior. So it was pretty amazing to watch. It was really a lot of fun. Like, I'll never forget the fall of 2019 watching Joe's ascension. It was awesome."
Burrow is expected to get a call from the Cincinnati Bengals just a few minutes after 8 p.m. on Thursday, when the 2020 NFL draft – set to be televised on ABC, ESPN and NFL Network – is scheduled to begin.