Justin Hilliard has received a lot of praise over the past couple of months for his performance in his final season at Ohio State and at the Senior Bowl.
But he's not satisfied yet.
After spending most of his six years at Ohio State either sidelined by injuries or playing primarily on special teams as a backup linebacker, Hilliard played the best football of his college career in his final three games as a Buckeye. He recorded 25 total tackles with five tackles for loss, an interception and two fumble recoveries between the Big Ten Championship Game against Northwestern and the College Football Playoff games against Clemson and Alabama.
He followed that up with an excellent week practicing and playing in front of NFL scouts at the Senior Bowl, which prompted Senior Bowl executive director and former NFL scout Jim Nagy to declare last week that no player in the 2021 draft class helped himself more over the past two months than Hilliard.
No player in 2021 draft helped himself more over past two months than @OhioStateFB LB Justin Hilliard (@JHilliard47). Former 5 overcame string of injuries to excel in CFP and was one of top performers Senior Bowl week. This drop & drive is exactly what NFL is looking for at LB. pic.twitter.com/9TMF7sgG8W

— Jim Nagy (@JimNagy_SB) February 11, 2021
Hilliard has legitimized himself as a potential 2021 NFL draft pick, and just getting to that point can be labeled a success after all he has had to overcome. That included biceps injuries that sidelined him for most of his first two years at Ohio State and a torn Achilles in 2019.
That said, Hilliard has never lowered his own goals for himself. A five-star prospect in the recruiting class of 2015, Hilliard still wants to achieve greatness. And he knows he still has a long way to go if he's going to achieve that as an NFL player.
"I'm still nowhere where I want to be," Hilliard told Eleven Warriors this week. "I'm still shooting to be the best linebacker in the country, and I'm not there yet, so I'm still working."
Hilliard said it was rewarding to play the way he did down the stretch of his final season at Ohio State, especially in the Sugar Bowl win over Clemson, a game he says he will "always remember" because of all the work the Buckeyes put in throughout 2020 with their sights set on revenge against the Tigers. He wasn't surprised by that success, though, because of the work he put in to make it happen.
"It was probably the coolest game I've ever been a part of, and one of the most rewarding games I've been a part of. But at the same time, those are the games I've always envisioned myself to have," said Hilliard. "Those are the games I always prepared myself to have. So when that came, I wouldn't say I was surprised, but it's a good feeling seeing all those years of hard work paying off."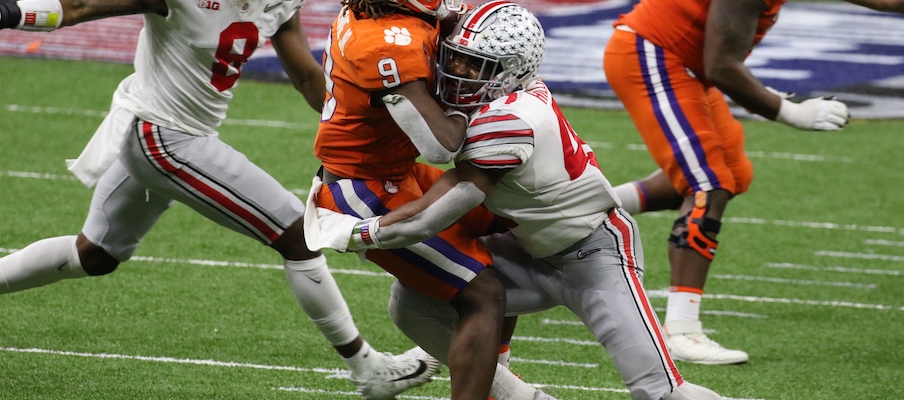 As for getting to this point, Hilliard credits two of his former Ohio State coaches in particular – Urban Meyer and Greg Mattison – with helping him persevere through the obstacles he faced to ultimately finish strong with the Buckeyes. Meyer never gave up on Hilliard even when he was injured, and neither did Mattison even though Hilliard hadn't yet received his sixth year of eligibility when he tore his Achilles in what could have been his final season as a Buckeye.
"Basically, Coach Meyer kind of rewired how I think, and those two years where he stayed on me stayed with me the rest of my life, because after I made it out of that, I felt like I was far more positive, much tougher and those two years he poured into me and stayed on me, I feel like that just kind of set me off on the trajectory that I went on the next four years," Hilliard said.
Hilliard said Mattison, who served as his primary position coach for the past two years, is "definitely going to be missed" at Ohio State after he retired last month (though Hilliard also said Al Washington is "a beast" who will have "no problem" coaching the Sam linebackers).  
"That man poured everything in the last two years to get me to where I am now," Hilliard said of Mattison. "Before he got there, I had the skill, I was pretty solid but I would say I was raw, and I wasn't using my hands as good as I am now at all. I wasn't seeing things as good as I am now at all.
"I've watched film with him many times, and the way he watches film is just probably something I want to pick apart and use for the rest of my career. He's taught me so much. I could go on for days."
Still, Hilliard thinks he has a lot of room to get better. While Hilliard spent time at all three linebacker positions at Ohio State, he's working now on improving his skill set as an inside linebacker – specifically, the different reads a linebacker has to make inside – after playing outside the box at Sam linebacker for the past two years. 
"I'm still shooting to be the best linebacker in the country, and I'm not there yet, so I'm still working."– Justin Hilliard
Hilliard was lined up inside the box for much of his week at the Senior Bowl, and he relished that opportunity.
"It was honestly such a cool experience," Hilliard said. "That's always been a goal of mine, especially these last two years was getting to the Senior Bowl, and so first of all to get that invite was really cool and kind of inspiring for me just to keep going. And once I got there, I think the goal for me kind of getting in there was just to show that I can still play at a high level. I can play out in space, I can cover, I can rush the passer. I think I was able to do that."
Hilliard is now training at Sports Academy in Los Angeles, where he's working on improving his mobility and flexibility and preparing to perform his best at Ohio State's pro day next month. He hasn't set any specific goals yet for the pro day, which is scheduled for March 30, though he said he is "expecting to run pretty fast" in the 40-yard dash.
Ultimately, though, Hilliard believes his game film will show the biggest reason why an NFL team should take a chance on him.
"Every practice rep, every game rep, I'm the guy who's constantly going," Hilliard said. "And I think it'd be pretty much virtually impossible to find any rep – special teams, me at linebacker, any position – where I took a rep off. And I think playing that way is contagious. So any organization that I go to, they'll know they're getting a guy who's gonna be constantly going hard, and I believe that's infectious, so that'll only help a team."