At a place like Ohio State, seemingly known commodities often get overlooked by fans, and for understandable reasons. Every incoming freshman who walks in the doors of the Woody Hayes Athletic Center – most of whom were four-star or five-star recruits – might end up becoming the next stud. The next Joey Bosa, Billy Price, Ezekiel Elliott, Malik Hooker or Jeff Okudah. 
The unknown fascinates people because of the endless possibilities.
Today, however, we're looking at the known. Or, actually, what some view as the known.
Over the past few years, the Buckeyes have had several veterans peak late in their careers as seniors, often unexpectedly. In 2019, fifth-year Damon Arnette went from a handsy cornerback who had a tendency to make fans mad to a first-round NFL draft pick. That same year, fifth-year DaVon Hamilton turned into a third-round defensive tackle after an exceedingly average career up to that point. The prior season, fifth-year Terry McLaurin posted 11 touchdown receptions and was picked in the third round. Jonathon Cooper had his best season as a Buckeye, by far, in 2020 as a redshirt senior. Even Haskell Garrett – who'll return next season by using the NCAA's extra year of eligibility – fits into this category since he went from having an unspectacular career to an All-American season as a senior.
Plenty of others didn't have wild breakthroughs but still saw their play get better with a degree of suddenness late in their time as Buckeyes. Branden Bowen and Jashon Cornell are among them.
All of those guys were, before breaking out, known commodities in the eyes of many. As it turns out, sometimes known commodities have room to grow.
Second-year cornerback Cameron Martinez's mom Kiesha Guy used to call the lure of Ohio State during the recruiting process the "bright, shiny." Today, we're avoiding the "bright, shiny" to look at which players might be in line for late-career leaps in 2021.
Antwuan Jackson/Jerron Cage
For all intents and purposes, Jackson and Cage are viewed about the same way. They've both been solid, perfectly fine players whose impacts haven't been major – yet.
How many times have we seen defensive tackles who played a good bit but weren't impact interior linemen turn into something special? Under the tutelage of Johnson, it has happened on a number of occasions. Heck, all anybody needs to do it go back the past two years with Hamilton and Garrett.
That's certainly not to say Jackson or Cage will become stars. But it is possible for them to take their game to another, previously unseen, level.
Jackson will be a sixth-year defensive tackle now several years removed from landing in Columbus as the top-rated junior-college prospect in the country. Cage, a fifth-year from Cincinnati, started the national championship game due to Tommy Togiai's absence. Both Jackson and Cage should see plenty of snaps at nose tackle this year.
Tyreke Smith
Perhaps no senior has more untapped potential than Smith.
He came to Ohio State in 2018 as the 34th-best player in the country and a near-five-star recruit. Since then, he has seemingly teetered on a breakthrough that has never come. In total, the 6-foot-4, 267-pound edge rusher has accounted for five sacks in three years. No season better encapsulated his years playing college football up to this point than 2020 when he recorded only two sacks yet had the second-best pressure percentage against Power Five offensive lines, per Pro Football Focus. He's been close, but he hasn't gotten all the way yet.
Maybe Smith's season to remember comes in 2021 as a fourth-year senior.
The No. 1 commonality of past Buckeyes who have broken out late in their careers is they were on the field a lot before they finally had a standout season. In other words, the coaches clearly trusted them and believed they had the talent to perform at a high level. Smith, who played the third-most defensive end snaps in 2019 and second-most defensive end snaps in 2020, has Larry Johnson's trust. Now, it's a matter of turning that into the production Ohio State always imagined it would see from him later this year as a senior.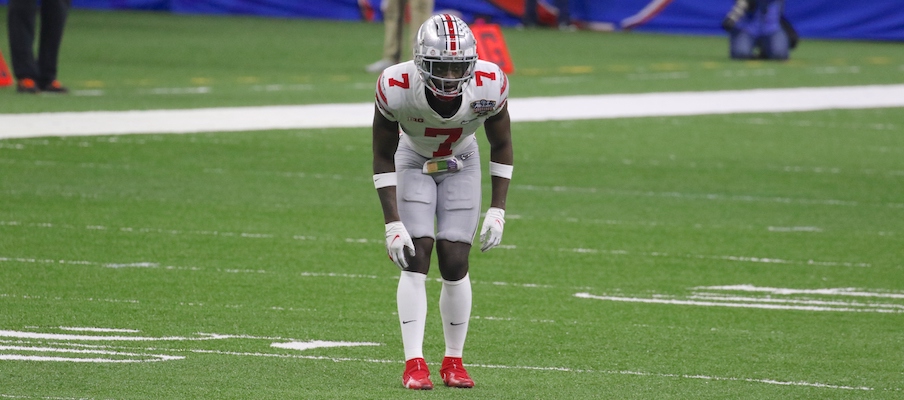 Sevyn Banks
Eyebrows raised in the days before the Rose Bowl on New Year's Day in 2019 when then-defensive coordinator Greg Schiano told reporters he believed Banks had the tools to turn into Ohio State's next great cornerback.
The next year, he and Cameron Brown served as backup outside cornerbacks, with Banks playing 170 snaps as a reserve. Finally, he got his chance to start in 2020 and was...fine. Not great, not terrible. Just fine.
Banks gave the NFL some thought but ultimately made up his mind to stick around for his senior season in 2021 when he might be in line for his best season yet as a Buckeye.
The 6-foot-1, 200-pound cornerback will rise to No. 1 cornerback status for an Ohio State team that loses Shaun Wade. Banks' ability to take his game up a notch would do a lot for a defensive backfield that had numerous issues last season.
Tyler Friday
Friday missed three games – including two in the postseason – for undisclosed reasons in 2020. In the games he did play, he didn't account for a single sack. So, his junior season didn't go the way he probably hoped. Yet he still has (at least) one more go-round as a Buckeye.
Now a fourth-year senior, Friday will be intent on turning into the disruptive defensive end the Buckeyes need him to be in 2021.
He doesn't flash the ridiculous athleticism of a Zach Harrison or have the crazy get-off and power of a Tyreke Smith, but the 6-foot-3, 265-pounder who came into the program nicknamed "Baby Tyquan" after Tyquan Lewis has shown flashes of pass-rushing acumen that could lead to an impactful season. He's not particularly flashy, but if he can bump up his production as a senior, that won't matter a bit.
Teradja Mitchell
For years, calls from the fan base to get Mitchell more playing time have been heard loud and clear. In 2021, their hopes should become a reality.
Ohio State loses four linebackers to the NFL – Pete Werner, Tuf Borland, Baron Browning and Justin Hilliard – who will get replaced by a slew of players, including Mitchell. As the returner with the most experience last season (95 defensive snaps), whether he plays weakside linebacker or middle linebacker, the rising senior is in line to start in one of the two inside spots at the second level of the defense as a fourth-year senior in 2021.
Mitchell, once a top-50 recruit, has three years of experience largely as a backup. Sure, his career didn't go the way many who expected a larger role early in his time in college might have imagined. But has a chance to make up for lost time later this year.