Changes are coming.
Al Washington had what was arguably Ohio State's most experienced unit in 2020. Tuf Borland, Pete Werner, and Baron Browning came into the season as the team's starting linebackers, and sixth-year senior Justin Hilliard was perhaps the defense's best player over the final three-game stretch.
Borland was always a solid run-stopper who was limited athletically. Browning was moved all over the place before finally settling in and flashing his own athleticism. Werner was the steadiest of the three and should be drafted somewhere between rounds two and four. Hilliard battled through a number of injuries but always seemed to make plays when given the opportunity. 
As the season reached its culmination, the quartet had 19 years of college experience under their belts. There's the potential for any player to take advantage of the extra year of eligibility, but the expectation is for Washington to be without all four of the veterans for the upcoming season. Needless to say, things are going to look a heck of a lot different at linebacker.
The Buckeye linebackers won't be all that young in 2021, but the expected contributors just haven't seen a ton of action due to the players ahead of them on the depth chart. Right now, the best bet is that we'll mostly be seeing some combination of Teradja Mitchell, Dallas Gant, Craig Young, K'Vaughan Pope, and Cody Simon. That would be three seniors, a third-year player in Young, and a redshirt freshman in Simon.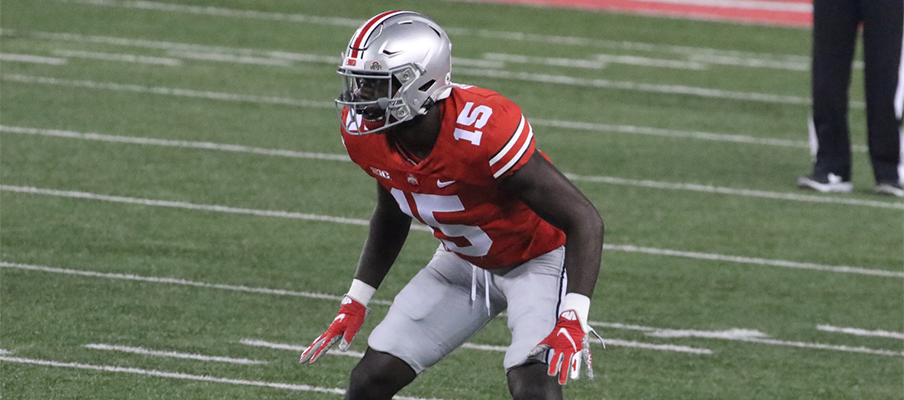 Mitchell looks more like an inside backer and has often been viewed as the run-stopping "thumper" type. But the 6-foot-2, 240-pounder actually spent time backing up Pete Werner at the WILL position. It will be interesting to see if he's penciled in as a starter in a similar role or if he'll shift to the inside in three-backer sets. Mitchell saw 95 snaps as a junior in 2020. 
Upon his arrival in 2018, Toledo's Dallas Gant was viewed as an outside linebacker. He's moved around a bit since that time and helped to replace Tuf Borland who missed this past season's game against Michigan State. Gant saw time in the middle as the Buckeyes utilized a four-linebacker set versus the Spartans. He saw special teams action in addition to his 80 snaps at linebacker. 
K'Vaughan Pope is a bit of a wild card in all of this, and I don't think anyone knows what to expect from him next season. Pope played a few snaps against Rutgers and Nebraska, but later in the season put out some ominous tweets that seemed to indicate displeasure with his spot on the depth chart. Things seem to be trending in the wrong direction for the Virginia native as he saw just 17 snaps as a junior in 2020. 
A sophomore in 2020, Craig Young took 39 snaps at linebacker during the first three games before battling injuries throughout the rest of the season. He didn't play in any of the team's final four games but still saw more action than Pope on the season (39 snaps to 17). Perhaps that's somewhat telling and may give us an idea as to where things stand. Either way, Young should be a big part of Ohio State's plans for the upcoming year. 
Cody Simon and Tommy Eichenberg should provide some depth in 2021. As a true freshman, Simon saw 14 snaps at linebacker while his redshirt freshman counterpart managed just six; all of which came late in the game against Michigan State. 
The Buckeyes' 2021 recruiting class is almost wrapped up with just a few uncommitted targets still out there. Ohio State is set to bring in just one new linebacker for the class, but it's a big addition with Ironton four-star Reid Carrico. Cincinnati's Jaylen Johnson is listed as a safety but ultimately could grow into a linebacker. 
There have also been a few rumblings regarding the transfer portal. Once a five-star target of the Buckeyes, former USC linebacker Palaie Gaoteote entered the portal just about a month ago, and his social media activity has been curious to say the least with a number of Buckeye-related tweets and likes. His brother just signed with Michigan State for the 2021 class. Gaoteote is the cousin of Ohio State All-American Haskell Garrett. 
It's going to be strange not seeing the likes of Tuf Borland, Pete Werner, and Baron Browning taking the field, but several players have been waiting in the wings for some time now. Al Washington has plenty of options in what will be a fairly inexperienced unit for the 2021 season.