Ohio State has consistently been one of the most well-represented teams in the NFL draft for the past five years, and that isn't going to change in 2021.
Since 2016, when the Buckeyes had a whopping 12 players drafted, Ohio State has had at least seven players selected in five consecutive drafts. In total, Ohio State has had 45 NFL draft selections over the past five years, the second-most of all schools behind only Alabama.
NFL teams will have another deep group of Ohio State draft prospects to choose from this spring.
Led by one of the top prospects in the entire draft in Justin Fields, Ohio State has 14 players entering the 2021 NFL draft who should at least garner consideration as potential selections.
The class isn't as deep as it could have been, and that's good news for the Buckeyes. Senior left tackle Thayer Munford and defensive tackle Haskell Garrett chose to utilize their additional year of eligibility from the NCAA. Wide receiver Chris Olave, tight end Jeremy Ruckert and defensive end Tyreke Smith were among the draft-eligible underclassmen who chose to stay at Ohio State for another year. NFL teams will have to wait for the chance to draft those prospects until 2022.
Still, with a solid group of seniors plus five early entrants in Fields, Wyatt Davis, Shaun Wade, Josh Myers and Tommy Togiai, there are plenty of Buckeyes in the draft pool who should draw interest from the league.
Now that the deadline for underclassmen to declare for the 2021 NFL draft has passed and we know which Buckeyes will be going pro and who will return to Ohio State for one more year, let's take a look at which now-former Ohio State players will be on the radars of NFL teams this spring.
QB Justin Fields
Ohio State has had the No. 2 overall pick in each of the last two drafts (Nick Bosa and Chase Young), and Fields could extend that streak to three years. While it's widely presumed the Jacksonville Jaguars will select Clemson quarterback Trevor Lawrence with the No. 1 overall pick, Fields is one of the leading candidates to be the New York Jets' selection at No. 2.
Fields, quite simply, is the best NFL quarterback prospect Ohio State has ever had. Combining top-notch arm strength and accuracy with excellent athleticism and running ability, Fields has all the physical tools needed to thrive at the next level. He also has the intangibles NFL teams look for in a franchise quarterback, too, as a proven leader who has demonstrated undeniable toughness and a constant desire to improve at his craft.
All of that gives him the potential to be a star at the next level, and because he plays the most important position in the sport, it would be a shock if he isn't a top-five pick on April 29. 
OG Wyatt Davis
A two-time All-American right guard for the Buckeyes, Davis could be the first interior offensive lineman off the board in this year's draft. Davis was dominant as both a run blocker and pass blocker in his two seasons starting in scarlet and gray, and at 6-foot-4 and 315 pounds, he has the size, power and athleticism to continue to dominate in the NFL.
As the grandson of Pro Football Hall of Fame defensive end Willie Davis, Wyatt will look to continue his family's legacy of NFL greatness.
As a five-star recruit who did exactly what he was supposed to do at Ohio State and pairs an elite physical skill set with excellent leadership and character, Davis should be ready to compete for an immediate starting guard spot on an NFL offensive line and is more than capable of being a star at the next level.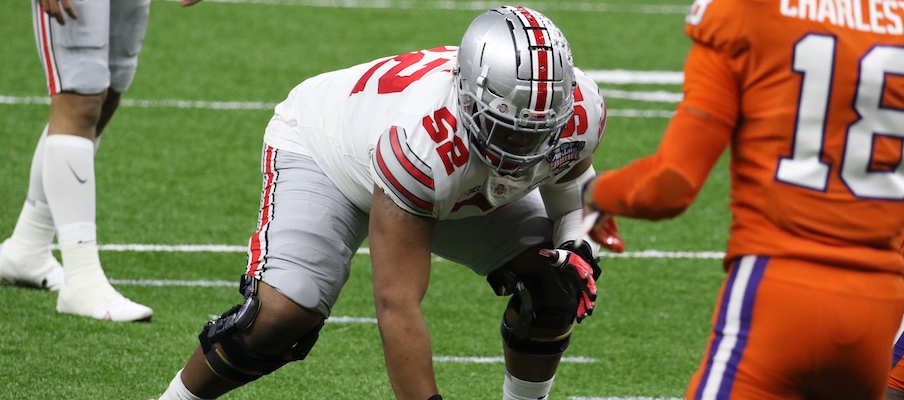 DB Shaun Wade
Wade's decision to return to Ohio State for the 2020 season and solidify himself as a first-round pick by making the move to outside cornerback didn't quite go as planned. Though he was named as a first-team All-American by multiple media outlets, Wade was inconsistent throughout the 2020 season – giving up too many big plays for someone who was supposed to be a lockdown cornerback – and his draft stock has gone down rather than up as a result.
Now, it seems more probable Wade will be selected in the middle rounds of the draft than in the first round. It's also likely he'll be drafted to play slot cornerback or safety rather than outside cornerback, but that's not necessarily a bad thing.
Given that Wade likely would have been an early-round pick last year based on his play at slot cornerback in 2019, it's still possible he could be. While this past season showed he'll have to continue to improve in order to play outside cornerback at the next level, his best fit was already believed to be playing inside, and this past season cemented that. In the right role, Wade has shown he can thrive as a playmaker against both the pass and the run, and he still has the potential to be an excellent NFL player if he is utilized in a role that plays to his strengths.
C Josh Myers
Although he was often overshadowed by Davis over the past two seasons, Myers also projects to be an early-round draft pick. A Rimington Trophy finalist this past season as one of college football's best centers, Myers should be able to play any interior offensive line spot in the NFL and is likely to come off the board in the second or third round.
At 6-foot-5 and 312 pounds, Myers also fits the prototype for an NFL offensive lineman with excellent strength to win one-on-one battles at the line of scrimmage along with good quickness for a man of his size. He consistently opened up holes in the running game while providing sound pass protection in the middle of Ohio State's offensive line, and as a team captain, he was known for being one of the Buckeyes' top vocal leaders and someone who everyone else around him felt they could rely upon.
Whether it be as a center or guard, Myers should be ready to compete for a starting spot on an NFL offensive line as a rookie.
DT Tommy Togiai
While Togiai was only a one-year starter for Ohio State, that one season was likely enough to make him a second- or third-round pick in this year's NFL draft.
Both a dominant run stopper and a disruptive interior pass-rusher from his nose tackle spot for the Buckeyes in 2020, Togiai has the tools to continue to be an every-down player at the next level. Known for being Ohio State's strongest player during his years with the Buckeyes, Togiai also has excellent athleticism for his size at 6-foot-2 and 300 pounds.
Ohio State hasn't had a defensive tackle selected in the first two rounds of the draft since Johnathan Hankins in 2013, but Togiai might be the best prospect the Buckeyes have had at the position since.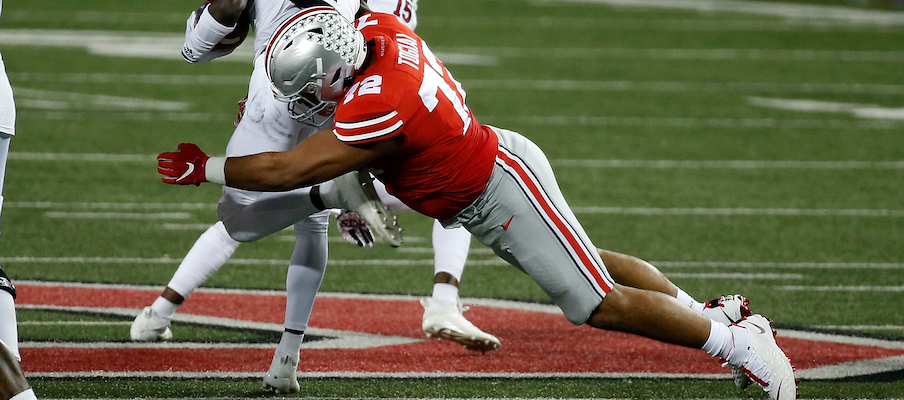 LB Pete Werner
Werner might be Ohio State's most underrated draft prospect. While you won't see him in a lot of early mock drafts, don't be surprised if Werner ends up being an early-round draft pick come April.
Though Werner didn't make a ton of flashy plays for the Buckeyes, he was a consistent performer who fits the modern mold for an NFL linebacker. At 6-foot-3 and 242 pounds, Werner runs well for his size and can pick up tight ends and slot receivers in coverage while he's also big and strong enough to take on blocks around the line of scrimmage and make plays against the run.
ESPN's Todd McShay named Werner in December as his "favorite prospect who probably won't be picked on Day 1," and he'll likely have plenty of fans inside coaching and scouting circles, too. McShay is correct that Werner probably won't be a first-round pick, but he could come off the board anywhere between Rounds 2-4.
RB Trey Sermon
By running for an Ohio State-record 331 yards in the Big Ten Championship Game against Northwestern and following that up with 254 yards from scrimmage in the College Football Playoff semifinal against Clemson, Sermon likely made himself a lot of money in just two games.
Sermon's only season at Ohio State got off to a slow start, and he unfortunately missed the opportunity to have another big game on a big stage when he suffered a shoulder injury on the first play of the national championship game against Alabama. That injury will also prevent Sermon from playing in the Senior Bowl, where he was slated to be among the participating Buckeyes next week.
But when Ohio State needed Sermon to be at his best in two of its biggest games of the year, he delivered in spectacular fashion and certainly looked the part of an NFL running back. A downhill runner with good size and burst at 6-foot-1 and 215 pounds, Sermon's ability to run through contact and cut away from defenders make him dangerous in the open field, while he's also both a strong pass blocker and a capable pass-catcher.
LB Baron Browning
Browning never quite developed into the future first-round pick he was expected to be when he arrived at Ohio State as a five-star recruit, but he's still an intriguing NFL prospect. There's no question he has the physical attributes to play in the league, at 6-foot-3 and 240 pounds with an explosive burst and the speed to make plays all over the field.
He wasn't a consistent star for the Buckeyes, but he still made his share of big plays, and those flashes could entice an NFL team to bet on his potential in the middle rounds of the draft.
Browning played his best football as a Buckeye in 2020, when he moved to strongside linebacker after previously playing middle linebacker, and that could be where his future lies in the NFL. He's better attacking downhill than he is dropping back into coverage and making plays in space, but could be an intriguing outside linebacker prospect for teams who run 3-4 defenses, as many of his most impressive flashes at Ohio State – like his strip sack and fumble recovery in the national championship game – came when he was used as a situational pass-rusher.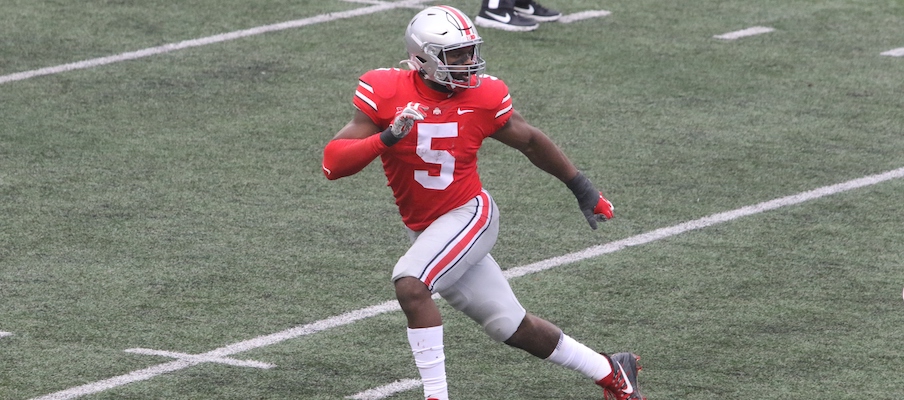 LB Tuf Borland
While Browning's athletic upside will boost his draft stock, Borland's limited athleticism will hurt his stock. Given that he already came off the field for nickel packages at Ohio State, it's highly unlikely Borland will be an every-down linebacker in the NFL.
That said, Borland is a player who coaches will probably like more than scouts. His athletic limitations are well-documented, but so is his ability to be a team leader as a three-time Ohio State captain, and he's a strong between-the-tackles run defender who has excellent instincts and is built for the physicality of the NFL game.
He won't be selected before Day 3 of the draft, but his intangibles and ability to make plays in the box will give him a chance to be a late-round pick. He consistently played on special teams throughout his Ohio State career, too, and that will help his chances of sticking on a roster as an NFL role player.
LB Justin Hilliard
Hilliard legitimized himself as a potential NFL draft pick with his play down the stretch of his sixth and final season as a Buckeye. In Ohio State's final three games of the season alone, Hilliard recorded 25 total tackles with five tackles for loss, an interception and two fumble recoveries.
Injuries prevented Hilliard from playing up to his potential for most of his Ohio State career, but the five-star recruit from the class of 2015 was finally able to showcase his playmaking ability in 2020. By the end of the year, Hilliard was arguably the Buckeyes' best linebacker, showing excellent range and closing speed to make plays all over the field.
That earned Hilliard an invitation to next week's Senior Bowl, and it could get him drafted. His injury history could deter teams from picking him before the late rounds, but he has the talent to at least be a role player in the NFL and could prove to be a draft steal.
DE Jonathon Cooper
Cooper made his decision to take a redshirt in 2019 pay off by playing the best football of his Ohio State career in 2020, improving his NFL draft stock in the process. The fifth-year senior was both a strong run defender and the Buckeyes' best pass-rushing defensive end this past season, leading Ohio State with 3.5 sacks and leading all defensive linemen with 24 total tackles in the Buckeyes' eight-game season.
Though he never quite became a dominant player at Ohio State like Young or Bosa, Cooper has NFL size at 6-foot-4 and 257 pounds and is a strong, technically sound player who will also draw high marks for his leadership and character.
He wasn't a sack machine for the Buckeyes and might not be in the NFL either, but he has the potential to be a rotational defensive end at the next level and should be in the mix for a Day 3 draft selection, with the chance to improve his stock alongside Borland, Browning and Hilliard at next week's Senior Bowl.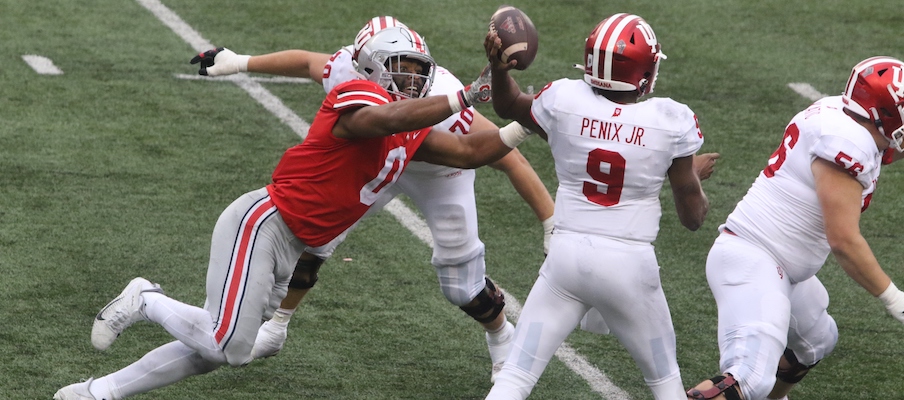 TE Luke Farrell
Farrell was known for his reliability and excellence as a blocker at Ohio State, and those traits could get him selected on the third day of the NFL draft. While he didn't make many big plays as a receiver for the Buckeyes, he was one of the best blocking tight ends in the country, and that ability should translate to the next level.
He has NFL size at 6-foot-6 and 258 pounds, and quietly played a crucial role in Ohio State's success in the running game over the past three years. He finished his Buckeye career with just 34 catches for 380 yards and four touchdowns and never had a catch of more than 24 yards, but he is a sure-handed pass-catcher who typically caught the balls that came his way and can be a weapon in red-zone and short-yardage situations.
Farrell was also a staple on special teams for the Buckeyes, and his ability to contribute in that phase of the game as well as his blocking could enable Farrell to carve out a lengthy career in the league.
P Drue Chrisman
Much like Cameron Johnston before him, Chrisman was a rock-solid four-year punter for the Buckeyes, averaging 44 yards per punt on 185 career punts, including 83 punts downed inside the 20-yard line. Now, Chrisman will look to follow in Johnston's footsteps by earning one of the NFL's 32 punting jobs.
There aren't usually many punters selected in the NFL draft – only two were selected in each of the past two drafts – but regardless of whether he's a late-round pick or undrafted free agent, Chrisman should get a chance to go to training camp with an NFL team and compete for a roster spot as one of the best punters in the 2021 class.
K Blake Haubeil
Haubeil, like Chrisman, faces the challenge of trying to make it in the NFL at a position where teams typically only roster one player, but he's also considered to be one of the best at his specialty in the 2021 draft class and should at least get an opportunity to compete for a job as an undrafted free agent.
By making 80 percent of his field goal attempts (28 of 35) over the past three seasons, Haubeil finished his Ohio State career with the second-best field goal percentage in school history behind only Mike Nugent. He also never missed an extra point as a Buckeye, going 146-for-146 on those kicks, and proved he had an NFL-caliber leg when he drilled a 55-yard field goal – tied for the second-longest in Ohio State history – against Northwestern in 2019.