The Buckeyes never win the natties we expect them to.
We've had decades to realize that having the greatest expectations is bad juju, and yet a lot of us cough cough still consistently forecast Ohio State to reach the mountaintop each season.
Woody Hayes' greatest team was the 1969 one, which was barred from returning to the Rose Bowl due to the no-repeat rule. It blew the chance to celebrate a national title in November on Michigan's field. His 1970 one gagged on a layup redemption natty by losing to a Stanford team in Pasadena that was trying to avoid a three-game losing streak.
The 1973 team didn't lose anything...except a piece of the national title. The lesson learned was beating Michigan makes everything a lot less complicated. Don't lose. Don't tie. Win.
Speaking of Michigan lessons, pick an undefeated-into-November John Cooper team. No, not that one. That one. Or the other one. No decade presented us with colder Novembers.
Jim Tressel's 2006 team was destined to go wire-to-wire. Urban Meyer's 12-0 debut was forced to forfeit a relatively cushy path (Nebraska rematch, Notre Dame) to the crystal football. His 2013 team of destiny lost its footing and its secondary glue. His 2015 team that could only beat itself did exactly that. And Ryan Day's 2019 debut...nope, still can't talk about that one.
So many Ohio State teams have been equipped to, expected to and proceeded to not win national titles. The Buckeyes only seem to reign over the sport when they're longer shots - like when sophomore QB Rex Kern took the reins of a team that had gone 10-8 over the prior two seasons in 1968. They ruined everything in their path. Natty.
ten Buckeyes have been taken in each of the past two NFL drafts, a talent drain that's nearly unprecedented.
Or when junior QB Craig Krenzel did it in 2002 with a listless program that had gone 21-15 over the previous three. Fourteen up, 14 down. Natty. Or in 2014 when the last QB on the bench, previously only known for a bad tweet, finished a script that would have been rejected for being too implausible by even the drunkest Hollywood director. Nat-tay.
It's now 2021 and ten Buckeyes have been taken in each of the past two NFL drafts, a talent drain that's nearly unprecedented in the college game. This team is breaking in new linebackers and a new punter. The incoming center has a history of snapping troubles.
The secondary's performance has been symptomatic of a unit depleted by NFL poaching and coaching turnover. And worst of all, this QB room has zero career passing attempts.
So can forget about natties this season. A better question: Will this team gain bowl eligibility?
Welcome back, thirsty comrades! Let's get Situational.
OPENING: FINAL DESTINATION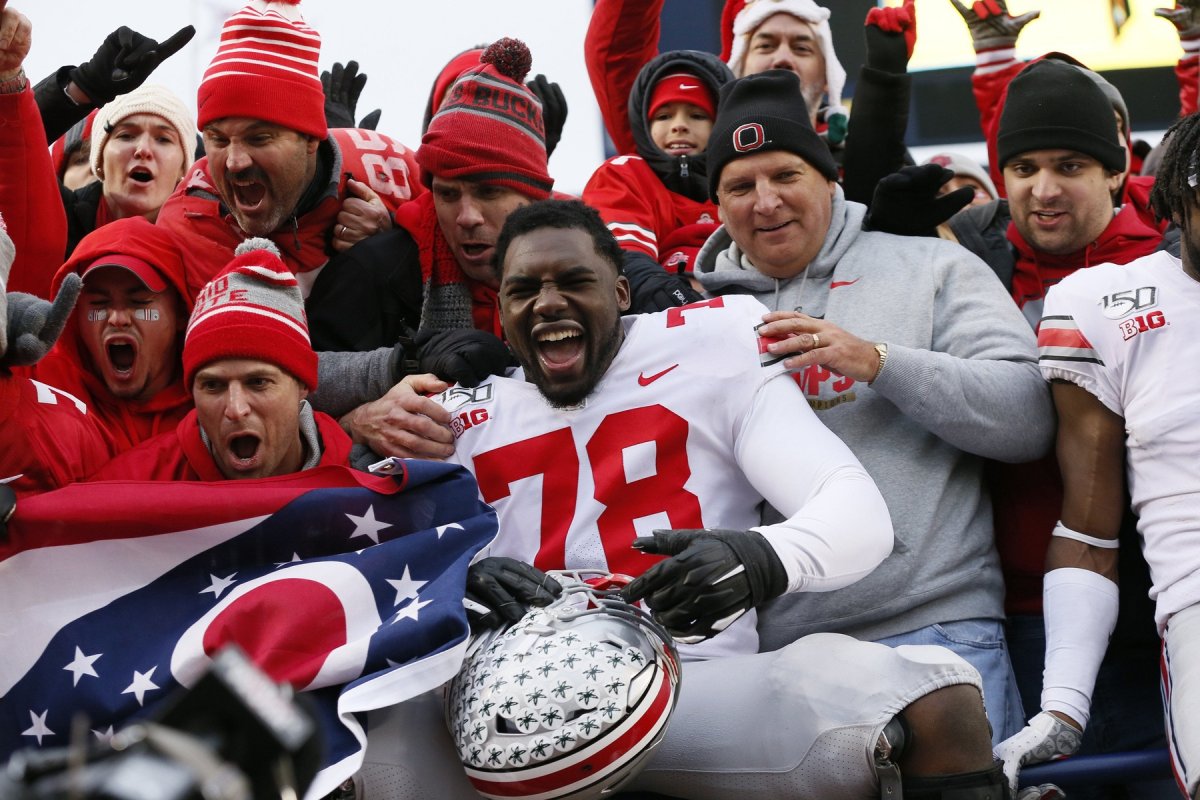 Ohio State's streak of double-digit win seasons was snapped in 2020 when the Buckeyes only managed to win six games entering bowl season. In precedented times, that would initiate a coaching search or at least a bipartisan congressional investigation.
But precedented times no longer exist. All we're left with is fond memories of boredom, like when you could predict with decent accuracy exactly where the Buckeyes would spend the postseason based on a forecasted win total.
Here's what that has looked like post-Woody.
OH, THE PLACES THEY WENT (SINCE 1979)

| WINS | SEASONS | B1G CHAMPS | THE GAME | DESTINATIONS |
| --- | --- | --- | --- | --- |
| 13 | 2002, 2019 | 2002, 2019 | 2-0 | BCS CG Fiesta, CFP Fiesta |
| 12 | 2006, 2012, 2013, 2014, 2018 | 2006, 2014, 2018 | 5-0 | BCS CG Fiesta, DQ, BCS Orange, CFP Fiesta, NY6 Rose |
| 11 | 1979, 1995, 2007, 2010, 2015, 2016, 2017 | 1979, 2007, 2010*, 2017 | 6-1 | Rose, Citrus, BCS CG Sugar, BCS Sugar, NY6 Fiesta, CFP Fiesta, NY6 Cotton |
| 10 | 1996, 1997, 1998, 2003, 2008, 2009 | 1996, 1998*, 2008*, 2009* | 3-3 | Rose, Sugar, BCS Sugar, BCS Fiesta, BCS Fiesta, BCS Rose |
| 9 | 1980, 1984, 1986, 1993, 1994, 2005 | 1984 | 3-3 | Fiesta, Rose, Cotton, Holiday, Citrus, BCS Fiesta |
| 8 | 1981, 1982, 1983, 1985, 1989, 1991, 1992, 2000 | 1981 | 2-5-1 | Liberty, Holiday, Fiesta, Citrus (2) Hall of Fame/Outback (3) |
| 7 | 1990, 2001, 2004 | -- | 2-1 | Hall of Fame/Outback (2), Alamo |
| 6 | 1987, 1999, 2011, 2020 | 2020 | 1-2-0 | None, None, Gator, CFP Sugar |
| 5 | N/A | N/A | N/A | N/A |
| 4 | 1988 | -- | 0-1 | N/A |
Put on your monocles - here's what you're seeing.
Fwd: Fwd: Fwd: Beating Michigan makes everything a lot less complicated.
Being unblemished - and not on probation - is the path of least natty resistance. Go undefeated, it's easier!
Ten-win Ohio State teams are pure chaos: A squandered natty, a few plays from facing Washington State for a natty, another squandered natty, the pre-cursor to 2015 Too Good syndrome, a team that combined for 9 points in two horrible losses, Purdue Harbor. Ten wins at Ohio State is a muted celebration of triumph draped in regret.
Only one double-digit winning OSU team has ever failed to receive an elite-tier postseason invitation, and it was arguably the most exciting one of the 20th century (don't click on that link).
If the Buckeyes get all 12 of their games in - and win them - their floor is already on their travel agent's speed dial; Arizona, New Orleans and add in Pasadena or Atlanta for the current NY6 rotation. Win 13 and they'll kick off the postseason in either Miami or Arlington.
But winning six again just isn't going to get it done this time. Right? *gazes skyward* RIGHT?
INTERMISSION: THE SOLO
Since this is a safe place I'll disclose Just Like Heaven was my karaoke debut many years ago.
It's one of my favorite songs, but I cannot stress this enough: When karaoke returns to society, choose literally any other song. Here's why: It's instrumental for like the entire first minute, so you're just standing there being stared at with an 80s beat thumping - which can only lead to unfortunate dancing. You don't want this.
Then finally when Robert Smith (not that Robert Smith) would kick in the door in the non-karaoke version and start singing, you abruptly learn - along with everyone watching - there are very few people who can properly pull off Just Like Heaven's breathless vocals. And you're not one of them.
If Old Testament God is watching the room stays silent and your humiliation is complete. But if the bar is blessed with New Testament God, everyone is shouting along and your dignity is mostly spared. Thankfully, New Testament God was passing through Columbus on the only night I've ever made that mistake.
Just Like Heaven is a masterclass in music composition, though. Not a single emotion is spared - and then right in the middle of it all, a one-fingered piano solo (!) appears out of nowhere.
Let's answer our two questions.
Is the soloist in this video actually playing the piano?
This one-fingered masterpiece comes courtesy of a man named Lol. Lol Tolhurst was the Cure's original drummer who switched over to keyboards for a stretch during the 1980s. He's not visibly playing them in the video, which is disappointing because it's impossible to not look cool crushing a one-fingered piano solo. VERDICT: We'll give Lol the benefit of the doubt.
Does this one-fingered piano solo slap?
You can learn it in three minutes even if you're musically illiterate. It doesn't even matter which finger you use. The point is we can't all be Ohio State's starting QB...but we can all be rock stars. Don't ever sing Just Like Heaven. Play it. VERDICT: Slaps.
THE BOURBON
There is a bourbon for every situation. Sometimes the spirits and the events overlap, which means that where bourbon is concerned there can be more than one worthy choice.
Ohio State doesn't kick off for another eight days, but this weekend we've got Illinois and Nebraska ripping the shrink wrap off a brand new college football season.
The Illini and Cornhuskers will be shining their light on the rest of America, as Bret "Bert" Bielema makes his triumphant return to B1G football. Over on the other sideline, Scott "The B1G's Other Harbaugh" Frost, rides into Year Four where he's definitely not expected or allowed to finish 5th again.
The bourbon for this game needs to be new and yet strangely familiar. There cannot be any shame in enjoying it. It needs to have potential.
I know next to nothing about Beacon, but it showed up over the summer without so much as a courtesy card containing a mash bill or a distilling backstory. It is a warm Butterfinger bar on the front end that ignites with a rye fire on the finish. I liked it immediately, however mysterious and yet strangely familiar it felt.
And that's arguably the most important rule of bourboning: Drink what you like. I think Beacon is going places, especially if it produces juice like this cask strength offering consistently. Good luck to both Bert and Corn Harbaugh this weekend.
CLOSING: THIEVES OF JOY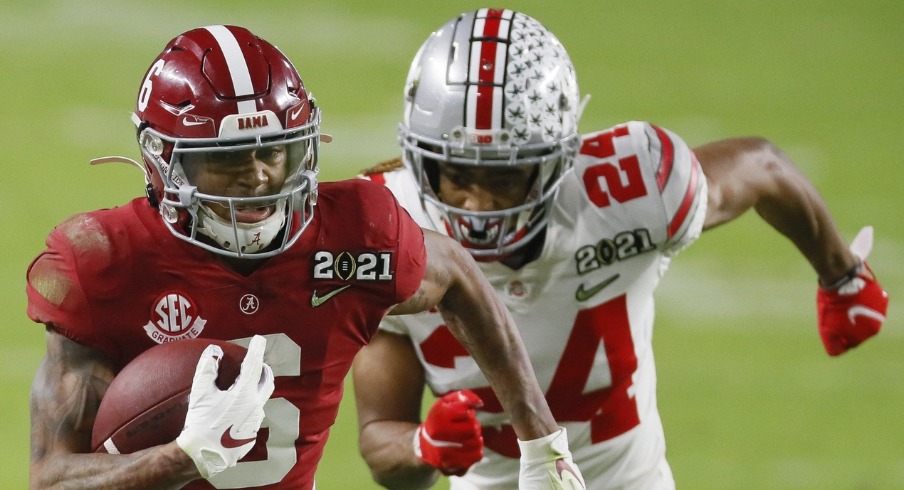 One of our shared ailments is entering every college football season dreaming of how it will end.
I've suffered from this sickness for decades. Too much looking forward, but also way too much painful reminiscing, sending me into dimly-lit places that so many of us who are over-invested in college football go whenever our expectations were too great.
For example, earlier this year I believed that in about two decades or so barely anyone would remember that Ohio State had faced Nick Saban's most talented team ever with only half a defensive line, among numerous other COVID absences and without Trey Sermon.
It would have been daunting with full deck after just seven games. Well, I was off by over 19 years.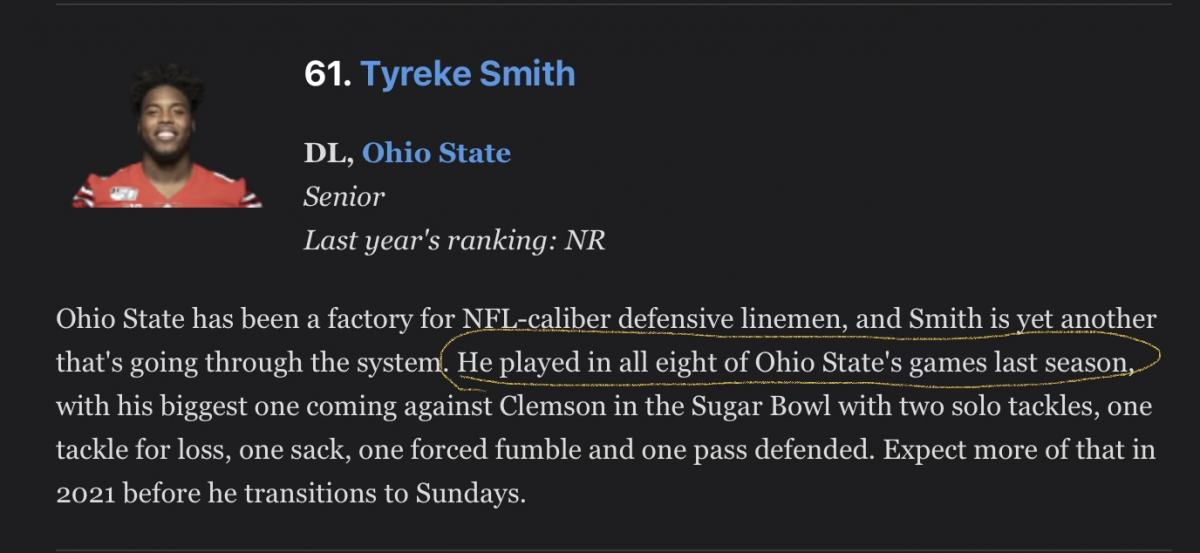 Crimson-washing Alabama's commanding win over the Buckeyes to include difference-makers who weren't even allowed in the stadium that night was probably unintentional, but I can't allow myself to be consumed by it anymore. Tyreke Smith and Tommy Togiai jamming up Bama's offense just enough to keep it close isn't a useful fantasy.
Neither is Sermon getting more than one play in. Add Roy Hall showing celebratory restraint with Ted Ginn in Glendale to that lengthy list, which I'm setting on fire and will try to avoid thinking about anymore. Looking backward - and forward - with angsty feelings just isn't worth it, and it took the jeopardized and then abbreviated COVID season for me to finally grasp how unproductive that is.
That realization was solidified when Maryland canceled its game with the Buckeyes, and cemented when Ohio State paused everything and canceled its trip to Illinois to preserve a shot at another pair of Gold Pants. A shot that never happened.
January can wait. Just play Minnesota.
Expectations are the thieves of joy, especially in this joyous corner of our lives. It's rare for a team to be allowed to play its best hand in any game. Cardale might still be best known for a bad tweet if the Buckeyes were insulated from unwanted setbacks. Kenny Guiton wouldn't be a legend.
This pandemic has inspired me to care less about what I previously believed were sports catastrophes, which used to paralyze my ability to feel joy. Losing is still terrible, but canceled games are far worse. Inside of our bubble here that's about as bad as it gets. Outside? There's a ventilator shortage and hospitals over capacity.
Existential threats abound. I don't need to manufacture more things that make me less happy.
So taking a game - any college football game - for granted while dreaming of postseason destinations seems a little too entitled now, especially with the experience of knowing how a DNP against the Terrapins, Illini and Wolverines feels. I love national championships. It's humbling to know what it feels like when my team wins one.
But now that I know what canceled, uncanceled and abbreviated seasons and Saturdays also feel like, every game that actually kicks off is a celebration. What-ifs will get shrugs from now on, at least from me. And January can wait. Just play Minnesota.
Thanks for getting Situational today. Go Bucks. Take care of each other.