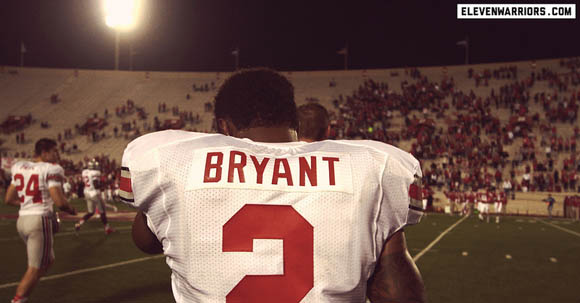 Senior Day is a cherished highlight of every player's career. National championships, conference titles and wins over rivals are spoken of long after they depart Old State U. The final home game is also a memory that stands the test of time.
At Ohio State, it doesn't matter if the last game in Ohio Stadium comes against Indiana or Michigan, the crowd is early arriving and players are showered with thunderous ovations. Christian Bryant's experience will differ from his teammates' Saturday. He'll embrace Urban Meyer and his parents under the power of crutches after suffering a broken ankle in late September. Bryant wants to walk, though he won't be fitted with a walking boot for another two weeks.
"It will be one of those emotional days for me," Bryant said Monday. "It could possibly be my last game in the Shoe. Just walking out and seeing the fans' reaction to me walking out of the tunnel for the last time in the 'Shoe, I feel like it's probably going to be a great experience."
There remains a chance Bryant, a co-captain, could return for a fifth year of eligibility if Ohio State appeals to the NCAA and wins, granting Bryant a medical redshirt – if he doesn't return for the bowl game, which is also an option. But the senior safety is entering Saturday as if it's his last hurrah, even if he's standing on the sideline. Bryant confessed he wouldn't be upset if a fifth year isn't in his future.
The Buckeyes' win over Wisconsin remains their biggest win of the season. However, it doubles as a night the defense was permanently changed. Bryant's injury came in the final seconds, leaving Meyer anguished at his postgame press conference — he slammed the podium in frustration — and for multiple weeks thereafter.
"I couldn't even begin to understand the feelings [Bryant] probably has because he's such a competitor," fellow senior captain Jack Mewhort said. "It's going to be emotional for all of us knowing he wants to be out there with us and he can't. We appreciate him and we love him and I know we'll be thinking about him."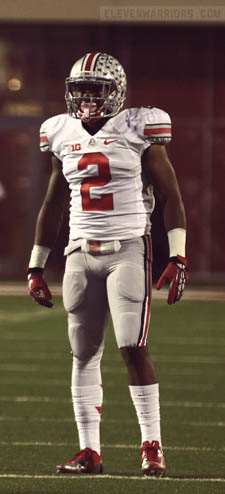 While he can't make an impact on the field, Bryant has continued being a presence at the football facility, in the locker room and on game days. Not remaining involved in the everyday comings and goings of the program wasn't an option, Bryant said. He was the vocal leader before his setback and continues to carry that torch. Motivation is never lacking on the sideline with Bryant constantly in the defense and secondary's ear.
"He's still the spark plug on our defense. He has a tremendous value," co-defensive coordinator and safeties coach Everett Withers said. "He's still the guy that everybody on that defense looks to. He's the guy that if something isn't going well, he's going to let everybody know that it isn't going well and why it isn't going well. If it's going well, he's going to be a positive role model on that sideline.
"He has a tremendous role, and I think our players feel good when he's there. He provides a glue to our football team."
In the immediate aftermath of the injury, the reality of the situation quickly set in for Bryant. He believed it was a fluke but that didn't lessen the pain. As his teammates prepared for a primetime game at Northwestern, Bryant moped, the victim of an emotional funk.
But a support system quickly formed around Bryant that included his family, friends, teammates and coaches. His spirits were raised and his loose exterior reemerged.
"As soon as it happened, my mind was racing just because I couldn't quite understand why it may have happened," Bryant said. "I was probably in that hole about a week. But my teammates, my family, the coaches – everybody stood by me.
"Everybody was positive about the whole situation. With positive people around me influencing me, I had no choice but to be positive about the whole situation. Right now, that's where I'm at with the whole process."
The uplifting moments only continued when Ryan Shazier sought Bryant's approval to a question before practice one day. Could he wear Bryant's No. 2, the linebacker asked. Bryant didn't flinch, hesitate or waver. His answer was a resounding yes.
"That really put the icing on the cake. That means the world to me," Bryant said. "I feel like everyone knows that my spirit is still out on the field even though I'm not physically out there. It was a great, humbling experience for me."
So with their undisputed leader on the sideline, the Silver Bullets look to Shazier to provide that extra boost. He's done Bryant proud while wearing his digit. In Saturday's win at Illinois, Shazier tallied 16 tackles, including 1.5 sacks and a safety. That output netted Shazier Big Ten and national defensive player of the week honors.
"I think it just pushed him a little bit, knowing he had to be out there making plays for me and him," Bryant said. "He knows how many plays I'd be out there making."