Hey, remember Purdue Harbor?
It is one of the recurring nightmares that keeps Buckeye football paranoia buzzing. Losing to Purdue has been inexcusable since 1967, when Purdue was every bit of the program Ohio State was. Since then, they have...separated themselves.
That makes the events of Purdue Harbor inexplicable. Welcome to Fear Itself. Here's our premise:
Buckeye football nightmares are justified anxiety for the simple fact that they're syndicated. These terrible events have actually happened - numerous times - so we know they can and will exist.

The threat is real and it is to be feared.
Our brand of psychology makes us especially fragile as a fan base, despite our beloved team's rolling triumphs throughout most of our lifetimes. Our collective fear turns every Ohio State non-win or fragment of adversity into a shocking catastrophe.
As we head into the oppressive, overheated days of the offseason's back-nine I'm going to speak directly to the monsters that live under our beds, which everyone knows is the best way to keep them from striking.
Today we're starting in West Lafayette.
PURDUE HARBOR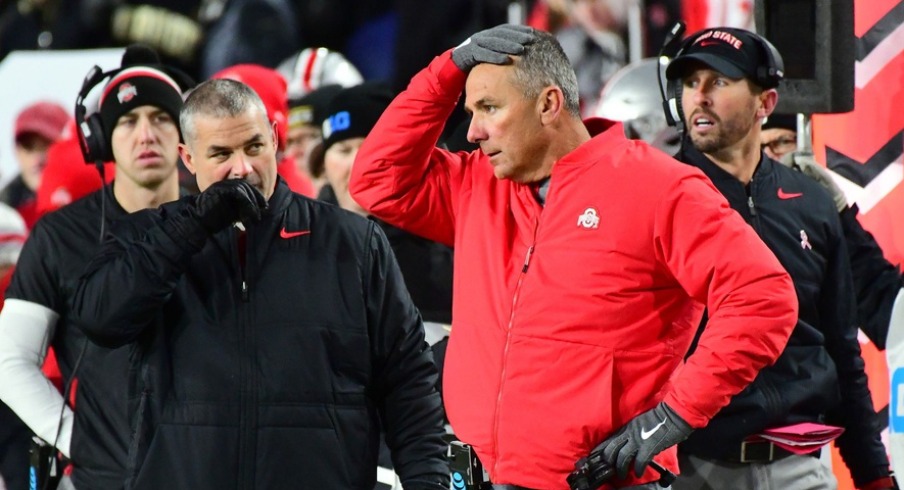 Purdue Harbor isn't just losing to Purdue. That happens a lot. There's only one Purdue Harbor.
So it wasn't this Ohio State loss, though the confusion is understandable. The Buckeyes turned it over five times that afternoon in West Lafayette. It's hard to win when that happens.
Purdue Harbor was not this disaster, either. They lost to Purdue that year and still went to the Rose Bowl. That was almost 40 years ago, a somewhat mediocre era for the program in which the Buckeyes were still the winningest team in the conference.
Troy Smith, TERRELLE Pryor and Braxton Miller led the Buckeyes to one win at West Lafayette, combined. They own 11 Gold Pants.
Ohio State just navigated the past 10 years without dropping more than two games in a single season - same winningest-program territory as when Earle was on the sideline, though in a whole different stratosphere. That's how you grow numb to winning and, instead, become haunted by the thought of losing.
Anyway, you may be thinking Purdue Harbor was this one or that one but it's neither. Those were just garden variety shocking losses to the Boilermakers. Shocking, and yet still The Usual. When you're numb to winning every loss is a shock. Even if the villain and outcome are just a little too familiar.
Perhaps this Purdue loss popped in your head, which was the year Ohio State started the future Heisman winner at QB and still left Ross-Ade Stadium with fewer points than the home team. That also wasn't Purdue Harbor. We're getting closer, though.
This was Purdue Harbor. It happened back in 2009, and you knew after the second play of the game what kind of an afternoon this was going to be for the road team.
That's Ryan Kerrigan destroying Terrelle Pryor. Purdue's entire roster in 2009 eventually produced a grand total of four NFL draft picks. They had like eight guys that season you needed to scout and Kerrigan was five of them.
Great job all around by the Ohio State football program. Hey, it's only Purdue, what's the worst thing that could happen.
PURDUE HARBOR | STARTING QUARTERBACK COMPARISON

| QUARTERBACK | REPUTATION | PASSING | YDS | RUSH | TD | TO |
| --- | --- | --- | --- | --- | --- | --- |
| TERRELLE PRYOR | Generational athlete & alien | 17/31 | 221 | 34 | 2 | 4 |
| JOEY ELLIOT | Lead singer of Def Leppard | 31/50 | 281 | 31 | 2 | 1 |
Yeah it was rhetorical but so are all recurring nightmares. Troy Smith, Pryor and Braxton Miller led the Buckeyes to one win at West Lafayette, combined. They own 11 Gold Pants.
An easy way to separate Purdue Harbor from all of the other losses to Purdue is that it was that time Ohio State lost to Purdue and still went to the Rose Bowl (Presented by Citi). Here is the 11W game preview from 2009, which predicted a Buckeye romp. Key passage:
Kerrigan has done his part with 32 tackles and a team-high four sacks. He will be a pest for Mike Adams and JB Shugarts to contain on Saturday and is the biggest threat to containing Terrelle Pryor inside the pocket.
Coach Tressel didn't have time to read blogs. He was too busy not getting a free Gmail account.
Our game preview did not predict the five Ohio State turnovers, which as we learned (or didn't learn!) in previous losses to Purdue - it's hard to win whenever you do that. If I were the Buckeyes that afternoon in West Lafayette I simply would have not turned over the ball five times.
To a 1-5 opponent, no less. In fact, I would never turn over the ball. Not sure why turnovers even exist in 2021. I would not have blocked Kerrigan, however - I would have had someone else do that. Apparently that was Ohio State's game plan but they never decided on who owned that task.
Ohio State's return trip came two seasons later. Here's the 11W Roundtable for that week, where we didn't even bother making score predictions (it was a weird season). Purdue also won that one, after blocking an extra point that would have won it in regulation for the Buckeyes. They settled for a field goal in overtime.
The home team scored the game-winning touchdown in their half of the OT and then the crowd stormed the field, which was weird considering how often Ohio State loses there. Act like you've been there before, Purdue (they've been there before).
PURDUE visitS Columbus in November and right now IT'S projecting to be a six-win/borderline bowl-eligible gadget team. THAT IS TERRIFYING.
And then of course there's this loss, which is the Buckeyes' most recent trip to West Lafayette back in 2018; relevant photo above. It's still Ohio State's most recent conference loss. Numb to winning? Fear of losing? Wild, can't figure out how we got this way.
In 2018 Ohio State lost to Purdue and - everyone all together, sing it in unison - still went to the Rose Bowl (Presented by Northwestern Mutual) though in this decades-long tapestry of inexplicable losses to the Boilermakers that particular trip lands in the era of the Devalued Pasadena consolation prize.
As those on the receiving end of something awful are often heard mumbling to themselves, it could always be worse. Were it not for this play Purdue would have kept the Buckeyes out of the BCS Title Game. That undefeated Ohio State team was very wobbly and voters just needed a reason to knock it out. Kind of like the 2009 one. Or the 2018 one.
It's Purdue and Purdue alone that creates anxiety for whenever the Buckeyes are double-digit favorites against a B1G West opponent. Yes, Wisconsin has beaten the Buckeyes before but earth's population has grown by a billion people since that last happened. Yes, that Iowa beatdown happened. Yes, Juice Williams happened.
Once. Or rarely. Meanwhile, Purdue shockers happen with alarming regularity. Purdue shockers are syndicated. The Boilermakers visit Columbus in November and right now they're projecting to be a six-win/borderline bowl-eligible gadget team.
And as an Ohio State fan, I find that absolutely terrifying.