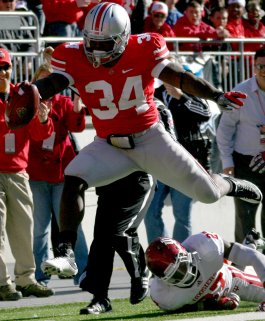 After a lackluster but not entirely surprising performance in the win against Indiana, the Buckeyes kept themselves in the hunt for a potential berth in the B1G championship game. This week, they take on the Boilermakers in the great metropolis of West Lafayette, a city that hasn't been kind to the Buckeyes in seasons past. Ohio State has lost three of the last five meetings in the Dubya-L including the 26-18 stinker in 2009.  
The struggles on the road against Purdue are not lost on the team or the staff. This week, we've heard plenty about how Purdue is so tough at home. True, they have a 4-1 record but the wins in Ross-Ade are against Middle Tennessee (by 3), SE Missouri State, Minnesota and Illinois. That doesn't take away the fact Purdue has definitely given OSU fits in recent years but let's not pretend they're very good. 
After a week filled with the horrific scandal in Happy Valley and the impending Failure to Monitor charge facing the Buckeyes seizing the headlines, let's take a break from that stuff and talk about some actual football..
It sounds like Jordan Hall is still a bit gimpy. Considering what Hyde showed last week at RB and that Smith wasn't horrible in the return game, would you play Hall at all this week? Why or why not?
Jeremy: The ONLY reason I think Hall is in any way necessary this weekend is because of the advantage he gives Ohio State in the return game. Devin looked comfortable back deep on kickoffs, but Jordan is a phenomenal returner and he provides a spark to the offense when he's back there. All that aside, if we can't beat Purdue with Boom, El Guapo and Rod Smith toting the rock, Jordan Hall won't help anyway.
Jason: Fortunately, Ohio State has the luxury of not playing Hall this week and giving him time to heal. With as well as Boom is playing and with Hyde providing more than enough in a supporting role, there's just no sense in rushing him back when the last two weeks of the season could be crucial to Ohio State's conference championship hopes.
Ramzy: Save him for the stretch run in private, but tell El Guapo that he'll never be as good as Hall is. Then let El Guapo play angry and he'll be a nuclear wrecking ball. It's strategic.
Speaking of Hyde, is it safe to say he should, without a doubt, be Ohio State's clear cut back up to Boom, allowing Hall to focus on contributing mostly in the return games and in the slot? Why or why not?
Corey: Yes, Hyde has earned the backup duties. He has 183 more yards on 9 more carries than Hall does and 5.5 YPC. I have always loved Hall, but he is better served in the return game and slot or motion out of the backfield.
Jason: While it's easy to plug the guys that are performing the best into spots, you do so at the risk of team chemistry. Every coach must strike a balance between playing his best players and honoring the upperclassmen that have put in the hard work to help build/maintain the program or he can easily lose the locker room. 
Elika: Especially with Hall not being 100%, I feel completely confident with Hyde as the clear cut back up to Boom. Hyde's been playing great anyway, and I'm not sure I would put Hall as the #2 even if he was perfectly health. With that in mind, why risk further injury?
Alex: Hall still sees the holes better, is a better blocking back, and has more in-game experience. For those reasons alone, I keep Hall at #2, but I think there is a role for each of their skill sets in the Ohio State offense that should be very run heavy over the next three games.
With Braxton's struggles through the air last week combined with Purdue sporting the 9th ranked rushing defense in conference yielding 221 rush yards per game, it sure feels like there's a good chance the Buckeyes attempt less than 10 passes. How do you see the run/pass mix unfolding and are you okay with another unbalanced offensive performance?
Jeremy: As long as the game ends with Ohio State having one more point than their opponent, I don't give a flying walrus what the run/pass mix is.  For the sake of prognostication, though, I will submit that we will see 12 passes from Ohio State.
Corey: We are definitely going to see another heavy dose of running plays this weekend. We are on the road and OSU has ran for 825 yards the last 3 games. We have seen OSU lean heavily on the run game during November over the last few years and with a freshman under center, don't expect more than 13 passes. 
Jason: If Ohio State doesn't need to put the ball in the air more than 10 times to secure a win -- and that may be the case given how well they've run the ball lately -- I'm entirely fine with that. While Braxton does need additional work throwing the ball, the "W" is still more important.
Ramzy: I have reached a place of great peace. Jim Bollman does not call plays based on circumstance, defensive strengths, defensive weaknesses, wind, climate, horoscope or anything that might point to logic. He scratches his ass, a play pops into his head and that's what gets run. Sometimes he scratches the same spot repeatedly and you get what you've seen all year. 
Special teams could ultimately play a big role Saturday if the recent trend of Purdue playing Ohio State close in Ross-Ade continues. Purdue boasts the top KO Return team in conference play averaging 31 yards a pop thanks to Raheem Mostert's league leading 34.2 yards a return while the Buckeyes have the #2 KO Coverage team in B1G games. Any concerns about OSU losing the field position battle on KO's?
Elika: It was a concern for me early on against Indiana last week, as I think that early lead they got from great field position contributed to the game being closer than anticipated, so it's certainly still a concern until I see otherwise.
Jeremy: Ohio State has done an AMAZING job in kick coverage this year, allowing only 17.76 yards per return (no team has averaged more than 23 against OSU). I am always concerned about losing the field position battle because of the nature of the Buckeye offense, but I am not any more worried about it this weekend than any other.  Ebner and Shazier are very nice security blankets. Also of note, Purdue allows 27.33 a return for the year - more than they chalk up. Ohio State, even without the normal return team of Hall and Berry, should be able to threaten the Boilers on the return front.
Alex:  I think the field position game is a very important one this weekend. Look what happened last week when OSU gave Indiana great field position on a kick-off out of bounds and then a fumble in their own territory--a 10-0 lead for the Hoosiers early. The Bucks' defense is a little more "bend but don't break" this year as compared to others, so keeping Purdue out of good starting field position is important. As for the Bucks, the return game definitely needs to be strong, as it's hard to run 80 yards down the field every time out without much of a passing game.
Ramzy: It's Ohio State in 2011. I'm concerned about everything.
Purdue's offensive attack is nothing to write home about. They ranked 89th in passing offense behind Caleb TerBush and 44th in rushing thanks to the two pronged attack of Ralph Bolden and Akeem Shavers (both 4.6 ypc). TerBush will also run it but he's certainly not as effective as Tre Roberson. Looking at Purdue's offense, how do you think Fickell/Heacock will scheme to stop it?
Corey: I don't think they change much from what we've seen in previous weeks. They have been getting great pressure from the front four and that should continue this Saturday. Purdue has averaged 300 yards offense in the last 2 games, while giving up an average of 550 yards to Whisky and Michigan. OSU's defense should dominate in this one, but we've all seen crazier things in West Lafayette. 
Jason: While TerBush has shown flashes of competency, I'm not sure he's gone up against a front like he'll see on Saturday. Meanwhile, Bolden and Shavers have been adequate, but nothing spectacular. If I'm Heacock/Fickell, I sit in Ohio State's base defense, blitzing when needed and wait on Purdue to make mistakes. Unfortunately, this may mean more man coverage than some fans would like to see, but the odds of Purdue stringing multiple 15-play drives together have to be low. 
Ramzy: Against Indiana and Wisconsin Ohio State showed that they basically concede the underneath and quick slant routes. Purdue will attack that opportunity with gusto, because it's an astronaut school and its students are known for (takes off sunglasses) making plays in space. YEEEEEEEEEAAAAHHHHHHHH! 
With a sack last week and three TFL's, Simon is now tied for 2nd in conference in both of those categories. His 10 total tackles agaisnt Indiana represented a career high. Based on what you've seen, has he been the best defensive lineman in conference this year? If not, who has been?
Jeremy: Yes, without a doubt, Simon has been "the man" this year for the Buckeyes, but his numbers don't tell the whole story with him. His impact on the Buckeye defense is far greater than just sacks and TFL's.  He's the straw that stirs the drink, and as long as he's not suffering from emotional cramping, there's not a better DL in the conference in my opinion.  Just imagine how good his numbers would be if he wasn't grabbed more than a crotch at a Michael Jackson impersonation convention.
Alex: I think so. Whitney Mercilus may have the numbers, but the only person I have seen play this year that comes close in the B1G is Jerel Worthy. I think Worthy and Simon are the clear cut best in the conference and I would put those two up against most players in the country.
Jason: I'm obviously biased, so it's either Simon or Penn State's Devon Still. I'll give the slight edge to Simon, though, based on quality of opponents.
Ramzy: Name a better defensive lineman in the conference. (crickets) AW COME ON DEVON STILL STOP MAKING CRICKET NOISES. (He's one of the two best defensive linemen in the conference, with Still)
Personally, I think Simon's been the clear cut MVP on defense for Ohio State. I assume you all agree. That said, who's been the 2nd most valuable player on the defensive side of the ball thus far and why do you think so?
Corey: I keep coming back to Hankins and his play over the last few weeks. He has 50 tackles on the year and his conditioning has allowed him to play 60+ plays a game. The Simon/Hankins combo has been the driving force behind an improved D. 
Jason: I have to go with Hankins here. The linebackers have all looked anywhere from mediocre to good at various times this year and the secondary still has a lot of questions, but Hankins has put in work every week and continues to impress.
Elika: Big Hank, is there any question? I find myself impressed with the guy every Saturday, not sure where the team would be without either of those guys. In fact, I'd rather not think about it, so let's move on... 
With a maximum of five games left in the Jim Bollman era, have you given any thought as to how you will celebrate after the bowl game (assuming no NCAA donkey punch)?
Jeremy: I will sit in the dark with a bottle of whiskey and a sock, while "The Crying Game" theme song loops in the background behind me.
Jason: I'll just stick to celebrating the fact that Ohio State is allowed to play in a bowl game if that's the case. 
Elika: I'll be organizing a parade in Columbus, and inviting Cie Grant to sing Carmen Ohio.
Ramzy: I'll poke a giant beach ball around with my nose, dive into a swimming pool and then emerge to spray dozens of people with my hilarious projectile spitting prowess OY OY OY OY OY.
I don't want to use this forum to discuss the heartbreaking and infuriating situation in State College but the fact remains football games will be played. Based on their schedule and the ripple effect of the Sandusky scandal, exactly how will PSU fare in their final three regular season games against Nebraska, @ Ohio State and Wisconsin?
Ramzy: Defensively they're going to be a tough out. Offensively it doesn't matter how angry, distressed or inspired you are when you have what amounts to terrible crony coaching (sounds familiar). I see them beating Nebraska on Senior Day and losing their two road games to end the season.
Alex: Before the Sandusky thing came out, I thought there was a really good chance Penn State would lose their final three games and finish 8-4 on the season, where I predicted they would be at the start of 2011. I think it will be interesting to see if the players try to rally around Joe Pa getting fired or if this scandal effects them similarly to how OSU was effected with all the negative attention surrounding the program earlier this season. My gut is still leaning towards 0-3, but I can definitely see them pulling out one win....just hoping it's not next week in Columbus.
Jason: I'll preface this by saying that I have no idea how they'll show up this weekend or for the other games on their schedule. That said, I have to assume they'll come out flat Putting myself in their shoes -- or at least envisioning being in the shoes of a Penn State football player -- the loss of Joe Paterno would have to be weighing heavily on me. You also have to wonder about how the episode has taken away from game preparation.
Elika: Scandal distractions or not, I see them losing 2 or all 3 of those games... I did last week, before the news broke, and still do now. Even if all of this were to have an effect on the on-field product they produce, I can't imagine the "rallying" effect will outweigh the distraction those players must be going through right now.