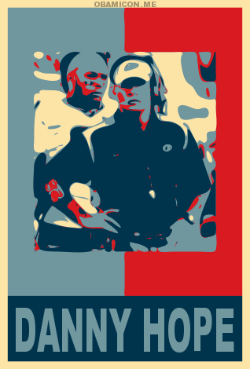 Hope was the theme coming into the 2009 season for the Purdue Boilermakers but staring down a 1-5 record with an avalanche of miscues, the mood anything but these days. True, they're a handful of plays away from flipping their mark to 5-1 or even better, but Danny Hope's squad has seemingly found a way to lose games just about every week of the season.
Speaking of Danny Hope, the new Boilermaker head man takes over a position that Joe Tiller manned for the last twelve seasons. While he has not started in West Lafeyette with the success he had as head coach at Eastern Kentucky (32-8 from '03-'07), as pointed out above, Purdue's 1-5 record is a bit deceiving. In their five losses, the Boilers have lost by an average of less than a touchdown per game, including heartbreaking losses at Oregon (38-36) and at home against Notre Dame (24-21). Inconsistency has been an issue for the Boilermakers all season long and if they want any type of success against the Buckeyes in the teams' 52nd meeting, they'll have to lock some things down.
The Buckeyes lead the all-time series 37-12-2 and 12-6 in Ross-Ade Stadium (a venue that's been quite friendly for visiting Ohioans as of late), but enter the game with their own set of consistency problems. After putting up 33 points against the Hoosiers in Bloomington, the Buckeyes followed that up at home by putting up just one offensive touchdown against the Badgers last week in one of the more unusual laughers you'll ever witness. The defense has continued to carry the team throughout the '09 campaign, and last week they dialed it up with two pick-sixes. The Buckeyes have a chance this week to tie the conference record with 17 consecutive Big Ten road wins and if they want ensure that they get there, they will have to get both units on the same page.
It will be a battle of Purdue's offense against Ohio State's defense and if history and trends repeat themselves things should point to the Buckeyes' defense coming out on top. Don't snooze on the Boilermakers, though, as they have played in some battles so far this year and are on the verge of putting things together as they try to get an upset brewing against the Bucks. That, and they always seem to play Tressel's Buckeyes tough.
Opponent
Despite the less than stellar record, the Boilers do have some positives to look back on, specifically their offense which has averaged 410.2 yards per game this season. Where they have been hurt has been in the turnover category. Purdue has turned the ball over 20 times so far, 13 of those turnovers going for opponent scores. To make matters worse, it seems a majority of the turnovers occur deep in their own territory, thus burying their defense with little chance to succeed.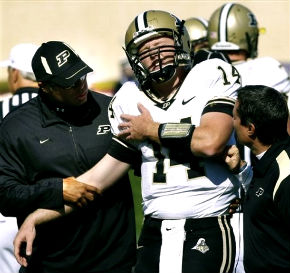 Three players that have shone on the offensive side of the ball are Joey Elliott, Ralph Bolden, and Keith Smith. Elliott, who is in his senior season and first as the Purdue starter at quarterback, has found some early success this year. He leads the Big Ten in passing (262.5/game) and total offense (283.7/game), but as previously mentioned, has thrown some passes that have stunted the flow of the Boilermaker offense throughout their games. After facing the conference's leading rusher last week, the Buckeyes will have to face the second leading Big Ten rusher in Bolden, who is averaging 99.8 yards per game. Bolden has had some big games this year and while his size (5-9/194) can be deceiving, his shiftiness could give the Buckeyes problems. Finally, Smith is a receiver to keep tabs on, as he is second in the conference averaging seven receptions and 97.5 yards receiving per game. If the Bucks can't get pressure on Elliott, expect Smith to be the guy the defensive backs will be chasing throughout the day.
On the defensive side of the ball, Purdue has let itself down lately in fourth quarter meltdowns against the Irish and more recently Northwestern. They have allowed at least 24 points in all of their games so far and rank last in the conference in scoring defense (30.5 points per game). Once again, giving up 31 to Toledo isn't something for a Big Ten team to hang its hat on. To top things off they rank 10th in the conference in rushing defense (167.3 yards per game) and that is certainly an area the Buckeyes will look to expose with Pryor, Saine and Hall.
The players looking to turn things around for the Boilermakers are linebacker Jason Werner, defensive end Ryan Kerrigan, cornerback David Pender, and safety Torri Williams. Werner leads all Purdue defenders with 50 tackles this year and has been a force in the backfield as well, contributing three sacks. One of the guys who lets Werner roam around to make plays, Kerrigan has done his part with 32 tackles and a team-high four sacks. He will be a pest for Mike Adams and JB Shugarts to contain on Saturday and is the biggest threat to containing Terrelle Pryor inside the pocket. Pender is a player who is continually around the ball, and with 26 pass break-ups in his career ranks among the top ten in Purdue history. Pender will most likely draw DeVier Posey in this week's game and his 6-1/175 size should help him stay with the sophomore wide out. Finally, Torri Williams captains the defense from the safety position and has not disappointed this year with 42 tackles and an interception. Williams needs to help prevent the Buckeyes from stretching the field as they did against Toledo and will try to keep everything underneath as Indiana attempted to do a few weeks ago.
The Buckeyes will typically have a special teams advantage no matter who their opponent is, but they will be tested against return man Aaron Valentin. Valentin leads the conference in all-purpose yardage (145.2/game), including an impressive 13.7 yard average on punts. Sophomore kicker Carson Wiggs has been placed on the Lou Groza Watch List for his play early in the season. Wiggs is 4-6 on field goals with a long of 59, showing he can boot it from a distance if the Buckeye defense prevents Purdue from getting too far into their side of the field.
Buckeye Breakdown
Defense has been the catalyst for the Buckeyes this year, but it won't be enough to get them through the rest of their schedule unscathed. Purdue's lack of production on defense could be just the cure for the Buckeyes' offensive woes and the trigger for any and all pending explosions. The Buckeyes rank just 86th nationally in total offense and 108th in passing offense and have failed to find a consistent offensive rhythm so far this year. Time is running out for Jim Tressel and the coaches to figure out the team's identity as a tough November slate awaits just around the corner.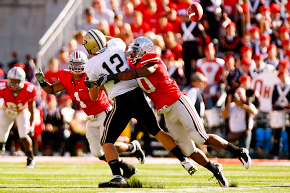 The offense will take a little bit of a hit in the running game as Boom Herron has been ruled out against the Boilermakers after reaggrevating his ankle injury against Wisconsin. This means that Brandon Saine will once again get the bulk of the carries with Jordan Hall spelling him. Saine has run hard this season and is finally healthy, proving to be the valued commodity the staff brought in with the 2007 recruiting class. Look for the Buckeyes to expose the Big Ten's 10th ranked rushing defense early by using both Saine and Hall in order to set up some play action passes later in the game. Don't look for anything out of Berry however, as he won't be making the trip.
On defense you can expect another solid performance from Jim Heacock and Luke Fickell's crew. The defense has given up just four touchdowns in the last 19 quarters of play and has forced 14 turnovers on the season thus far (10 INTs, 4 Fumbles). Senior captain, Kurt Coleman, continues to be a star, as he notched a career high 14 tackles against the Badgers, but it was Ross Homan who was the Big Ten's Defensive Player of the Week with 15 tackles, two sacks, and a forced fumble. Homan is certainly coming into his own in his fourth year in the program and has stepped his game up a notch in the last few weeks. Further, Spitler seems to be recovering nicely from an early season injury. There aren't many units better than the Buckeyes' front seven and they are the main reason why OSU has given up just 27 points in four games since the loss to USC.
The OSU secondary has kind of hidden behind the monstrous defensive line this season, but Wisconsin was able to expose some weaknesses when Scott Tolzien had time to throw. I don't expect Elliott to have too many plays where there isn't pressure of some sort coming at him, but if he gets time to stay in the pocket, expect him to spread the ball around and keep the Buckeye secondary on their toes. Chekwa is proving to become a complete cornerback this year and Devon Torrence has done a good job of playing a physical brand of football, but the pair could be up for a challenge this week against a high powered Purdue passing attack.
Prediction
It's easy to predict an Ohio State romp over Purdue this upcoming week, but something about the 13.5 point spread seems a little fishy. Maybe Vegas knows the Buckeyes will fail to find their offensive stride yet again, but for now we'll keep their Scarlet colored glasses on and hope for the best.
Purdue has struggled against less than stellar defenses all year long and the fact that the Silver Bullets are coming to town certainly won't help their turnover issues. Expect the defense to create some more Purdue mistakes this week and the offense to get by, even with the growing pains and identity quest the young team is going through. All signs point to the Buckeyes returning from West Lafayette with a smile on their face, plus Anthony Gonzalez as the honorary captain is a good omen.
Ohio State 30, Purdue 10