The Worst is our series about the biggest antagonists in Ohio State history; players, venues, games, decisions, or even single plays that stick out in our collective psyche as being particularly bad and awful.
They are, simply, The Worst.
Tim Biakabutuka didn't just ruin one of the most promising Ohio State seasons in history, he also became a symbol for the abject frustration and anger that Buckeye fans built up during the entire decade of the 1990s.
Every John Cooper failure against That Team Up North throughout his Ohio State coaching tenure is perfectly encapsulated in a single, 313 yard game that a relatively unknown running back was able to register against Ohio State. The Buckeyes to that point had been slicing through the college football world like a hot knife through cold cheese, but nope! Everything during and after that game was absolute garbage and ruined pretty much everything forever until a guy named Jim Tressel showed up and made things fun again.
But we're getting ahead of ourselves.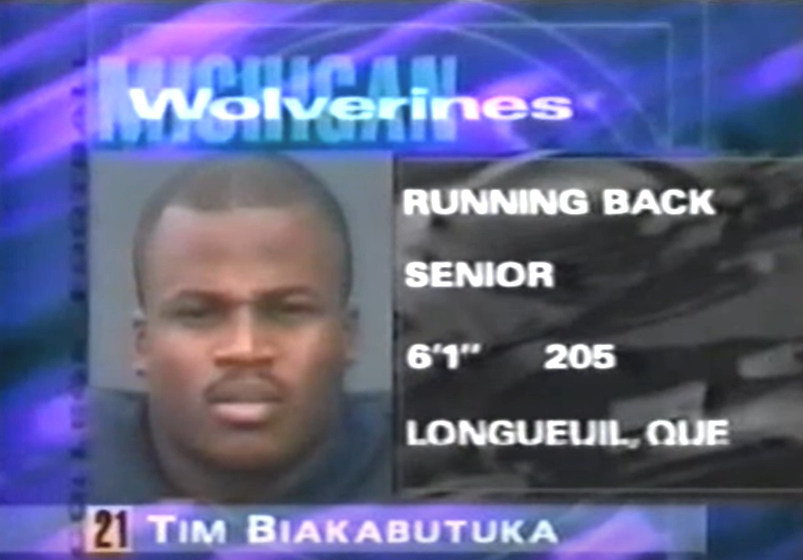 Tshimanga Biakabutuka had an interesting life story up until the point that he made me hate him forever. Born in Zaire, his family moved to Montreal when he was just four years old (and in fact, he's got a nephew aiming for the 2020 NHL Entry Draft). He got into football late as a result, but was promising enough for the Wolverines to take a flyer on the dude.
Despite kicking a decent amount of ass in mop-up duty in 1994, Biakabutuka was a backup behind Tyrone Wheatley, who by that point he had probably surpassed. But Wheatley was a senior and still skating by on street cred for his 7.3 yards-per-carry sophomore season, so on the bench Tim sat.
The 1995 Michigan Wolverines were... fine. Their season had started out in promising fashion after taking out two ranked teams in back to back weeks, but loses against Northwestern, at Michigan State, and at Penn State had sealed their fate as an also-ran by the time The Game rolled around. Biakabutuka was one of the bright spots for Michigan, having a season that at that point was already one of the best by one of their running backs, ever, but he was overshadowed in the Big Ten by, well...
Look, the 1995 Ohio State football team has an argument for being one of the most talented in Buckeye history, but they were more than just Eddie George tearassing his way through the college football world en route to a Heisman. Bobby Hoying, Terry Glenn, Orlando Pace are all Buckeye legends for a reason, and the 1995 Buckeyes were undefeated and rolling.
But it was the 90s, and this is The Game, so you know what happens next.
And really, there isn't a whole lot to tell other than just a few hours of just complete, abject frustration and stupidity. Tim Biakabutuka ran for a record 313 yards against a vaunted Buckeye defense that was totally helpless to stop him. Michigan spread Ohio State out with three and four wide sets, and then just handed the ball off. That's it.
You can watch the whole game on YouTube if you're a masochist, but one single image pretty well sums up the entire afternoon.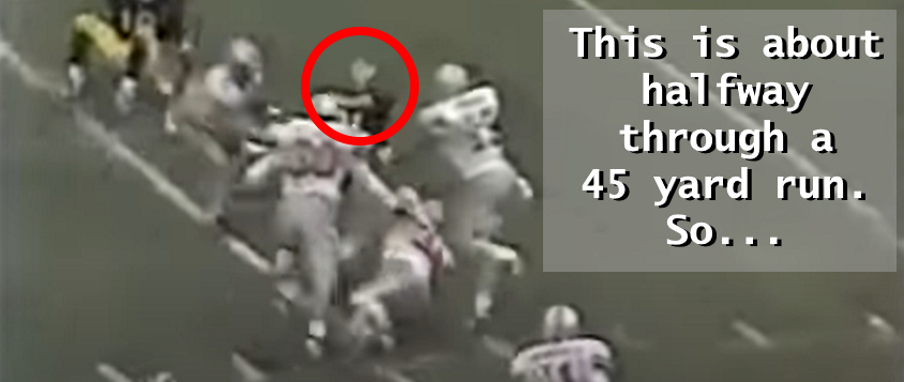 That's Rob Kelly who simultaneously has a fistful of Biakabutuka's jersey and is also eating shit, and he'd later say this about the game:
"We didn't tackle. I didn't tackle," Kelley (sic) said. "I'm sorry for the seniors, I'm sorry for the fans. I apologize. It was a disgrace out there today."
Ohio State actually had a shot to tie the game late in the 4th quarter, but Charles Woodson (a future subject for this series) sealed the deal with his second interception of the game, and that was it. 31-23 Wolverines, and my childhood was ruined.
Neither team did much afterwards. The Buckeyes got skunked by Peyton Manning and the Tennessee Volunteers in the Citrus Bowl, and Texas A&M beat Michigan in the Alamo Bowl (and also held Biakabutuka to under 100 yards rushing).
After the season, Tim Biakabutuka rolled the dice with the NFL Draft and won. Selected by the Carolina Panthers with the 8th pick of the draft, he had a promising but injury-plagued six seasons with the team before calling it quits. The 1995 edition of The Game remained the high water mark of his football career. Biakabutuka now lives in North Carolina and from the most recent reports I can find, is the owner of several successful Bojangles restaurants. Great! Awesome! Good for him.
Nothing represents the futility of Ohio State football against Michigan in the 1990's more than a relative unknown at running back slicing up an undefeated Buckeye squad. Biakabutuka's performance was emblematic of John Cooper's inability to win big games, and it was somehow both a shock and utterly predictable. 
For these reasons, Tim Biakabutuka, you are The Worst.