Understandably, Justin Fields could barely watch the first weekend of college football.
"We were just all hurting," he said last week.
As a star quarterback coming off a season in which he took Ohio State to the College Football Playoff as a Heisman Trophy finalist, Fields didn't know if he'd be out there at the time. All he saw were teams kicking off their seasons while he had no answers about when the Big Ten would kick off its upcoming season. At the helm of a national championship contender, he didn't even know if he'd ever take the field again for the Buckeyes.
Fields' feelings represented many thoughts going through the heads of Big Ten fans who weren't sure whether they'd see their favorite teams play this fall. Much of the conversation in the conference's footprint was naturally about college football games elsewhere getting played. Yet somewhat lost in the conversation about when and if the Big Ten would start were the issues many programs had with their games getting canceled due to coronavirus concerns.
"As you all know, I think there's somewhere around 12-13 games that have been postponed as a result of COVID," Ohio State athletic director Gene Smith said last week. 
Smith actually undershot it.
The Associated Press' Ralph Russo last week put together a list of 16 FBS games that have been either canceled or postponed since Aug. 26. It included Baylor-Houston, Virginia Tech-Virginia, TCU-SMU and Army-BYU.
In Smith's mind, if the Big Ten's plan – which, most importantly, includes daily rapid coronavirus testing – works as the conference intends, the issues of games getting canceled won't be nearly as widespread. James Borchers, Ohio State's team physician, co-chaired the conference's medical subcommittee and helped Smith see this plan as workable.
"We're hopeful with this path, this runway in this pause that we dealt with and what we've learned that we might be in a position where we can continue to play," Smith said. "The daily testing that Dr. Borchers has talked about. I assume you all paid attention to his comments on the Big Ten Network. They're significant. That science has evolved. We're at a point now where we need to move forward and try and ultimately get to those protocols being in place."
Many of the game cancellations and postponements outside of the Big Ten stemmed from contact tracing and the virus spreading from player to player.
The idea of the Big Ten's rapid testing is to deal with positives on a case-by-case basis without letting the virus' reach grow within a team. By utilizing a rapid-testing method every single day – or, at least, almost every day – teams should be able to quickly identify those who are positive for COVID-19 and keep them away from their teammates before they practice, work out or play a game. Thus, the conference hopes, the impact of contact tracing will be greatly minimized and the virus won't spread within the team, which will allow a team to practice or two teams to compete without worrying about transmitting COVID-19 from player to player.
"Our ability to test consistently and uniformly amongst the conference and to provide that was really important," Borchers said. "I think we have been very comfortable with the idea that we'll be able to provide daily rapid testing that will give us great surveillance of our student-athletes and those individuals involved in those competitions – coaches and staff – and be able to respond to that with confirmatory molecular testing and PCR testing so we can quickly remove individuals that may be at risk of infecting someone else."
Big Ten teams will use point-of-contact testing six or seven times per week, Borchers said, and the results will be known within 15 minutes. Anybody who tests positive will get pulled out to take a polymerase chain reaction test – which requires a minimum of 24 hours to see results – to confirm the result. If they're positive, they'll be forced to get clearance from a cardiologist, test negative for coronavirus and sit out for at least 21 days before competing again.
The ability to test daily and get results back within 1/4 of an hour, Ohio State president Kristina Johnson said, was what got the Big Ten over the hump to play football this fall. Head coach Ryan Day said it was the "game-changer."
By testing daily and removing anybody who test positive right away, Ohio State's decision-makers believe it will allow the Big Ten to have "clean playing fields" that don't include any participants who have COVID-19. Smith said he's "not concerned" about athletes competing with the virus.
"You're doing something that's both highly accurate in specificity and sensitivity," Johnson said. "You can guarantee a clean playing field."
Borchers agreed with the school's president.
"We know that if we can test daily with rapid testing in these small populations of teams, we're very likely to reduce infectiousness inside practice and game competitions to near 100 percent," he said. "We can never say 100 percent, but we feel very confident that with that approach, we'll be able to make our practice and competition environments as risk-free as we possibly can with this testing approach."
Another part of averting widespread game cancellations will be ensuring programs don't hit the percentile benchmarks set by the conference. Big Ten teams have a uniform set of guidelines to follow when it comes to whether or not to cancel games, which will especially be important to avoid since – without any bye weeks – the conference doesn't have any opportunities to postpone them and make them up at a later date.
If 5 percent of all players and 7.5 percent of all players, coaches and staffers on a team receiving daily testing have COVID-19, then a team must stop practicing and playing games for a minimum of seven days. To make certain a team doesn't have a spike in positive cases, it must eliminate intra-team spreading and minimize contact-tracing issues. 
How will they go about doing that? By keeping players away from each other and potentially infecting each other until they undergo their daily rapid tests. 
"I think the strategy, being honest, is one where we're trying to rapidly identify anyone that may have the virus and immediately remove them from their population, whether that be practice or competition," Borchers said.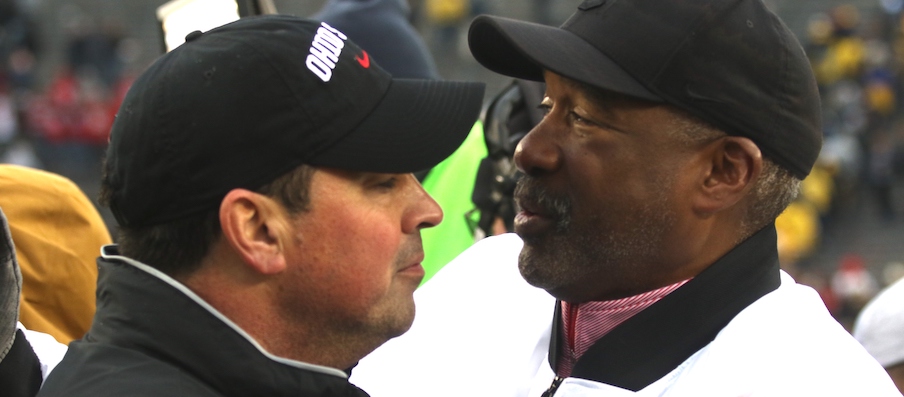 If Big Ten programs can prevent the virus from spreading within teams due to their rapid-testing capabilities, COVID-19-positive people will be identified as singular cases before they intermingle with others.
The prevalence of individual coronavirus cases will, to some degree, be out of a team's control. All coaches and administrators can do when athletes are out of the facility is implore they follow protocols and stay safe at classes and in public spaces. So far, Johnson said, the football team has had "very low" positive rates – though it has not released specific numbers to the public.
In order for the Big Ten's plan of rapid testing to work, leading to fewer cancellations and postponements, that has to continue at Ohio State and throughout the other 13 conference institutions.
"Will a student-athlete – in different places – become positive? No question about it," Smith said. "But we have a way to deal with that. What's nice about our environment is that our student-athletes that you know, they're self-policing. They have created a bubble for themselves. I'm highly confident that our team will continue to do what we've been doing and we'll work through that. I'm hopeful that all the teams in our league can minimize the number of positives that they have."
Borchers added: "We can't emphasize enough that what we're putting forward still requires prevention. It requires accountability from everyone involved – from our student-athletes to coaches to staff – to be doing the things to prevent getting this infection, and our progress will be measured by their efforts but also, we hope, by the efforts to provide a clean competition and practice environment and to be able to be data-driven, to be able to assess appropriately, to be able to provide repetitive surveillance through testing and ultimately, as was mentioned here, to provide the health and safety guidance that is needed to allow these student-athletes to return to competition."
None of this is foolproof. 
As Smith said, nobody in the Big Ten or at Ohio State believes a season will come and go without any athletes testing positive for COVID-19. The limit of 5 percent of athletes and 7.5 percent of the total population of Tier 1 individuals in the building is low enough that teams won't need many individual cases before they find themselves in trouble.
But right now, the Big Ten has a plan. While the path to reach this point was anything but smooth, the conference thinks that with the protocols and rapid testing it now has in place, it won't have the number of cancellations that other conferences have had.
That'll get put to the test beginning the weekend of Oct. 24.