A trio of wide receivers who'd caught 357 passes for 4,722 yards and 44 touchdowns across 13 combined seasons ended their Ohio State careers in December with a loss to Clemson, and yet nobody has sounded any alarms.
Why? Just look around.
The Buckeyes don't have a boatload of experience at wideout. None of Brian Hartline's receivers are seniors, and the only two redshirt juniors – Jaylen Harris and Ellijah Gardiner – have combined for six career catches and barely topped 100 collective snaps in 2019. Their four freshmen outnumber the three upperclassmen at the position.
But as far as natural ability? They don't lack in that department.
"We're very, very talented out there," Day said of the wide receivers on his Thursday radio show. "Still inexperienced and young, but as talented as I've ever been around."
Importantly, because of the Big Ten's reversal-of-course to play beginning on Oct. 24, they'll be catching passes from Justin Fields. The combination of his passing prowess and their down-the-field skills could turn Ohio State's already impressive through-the-air game up a notch.
The receiving corps begins with Chris Olave, a third-year from California who's developed into a possible first-round NFL draft pick despite being one of just two one-time three-star recruits at his position. He became a true No. 1 receiver last year, developing quick chemistry with Fields to record 49 receptions for 849 yards and 12 touchdowns. Now back for a second year with the Heisman Trophy finalist, Olave will be counted on to take an even bigger workload as an outside wideout. Day said he's in "great shape" right now and is "ready to roll" for the preseason.
"It's a good group (of wide receivers). That mixed in with our tight ends, we think we've got a really strong passing attack."– Ryan Day
Garrett Wilson's move to slot receiver, which Day called a "great opportunity for him," adds another dangerous element to the Buckeyes' passing attack. Having built a brand as a traditional wide receiver, he's far from the Urban Meyer H-back who manned the inside position for years in the retired head coach's offense. Instead, he'll give Day and Hartline a bevy of options as to how they can utilize him. Wilson, since he's now playing out of the slot, might be the odds-on favorite to lead the team in catches.
Jameson Williams, who'll either rotate with Olave up at Z-receiver or potentially start at X-receiver, was the third veteran who Day brought up unprompted. A speedster from St. Louis, he couldn't find a spot in the regular rotation as a freshman, snagging six catches for 112 yards and one touchdown. This season, he won't have any concerns. Williams is a breakout candidate who'll provide Fields with a big-play threat.
"Those guys are talented as can be," Fields said on Friday. "The thing that they've shown in practice, I think our chemistry, we're getting better each and every day. Hopefully we see a lot of touchdowns this fall and a lot of wins on the field."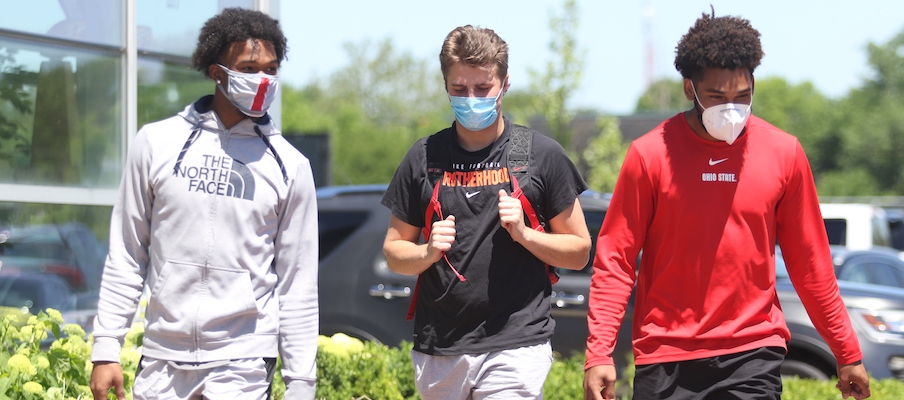 Harris and Gardiner could factor into Hartline's plans, too. In particular, Harris – who's 6-foot-5 and 215 pounds – will have plenty of opportunities in the preseason to earn a spot in the rotation. Demario McCall, Day said, is still bouncing back and forth between slot receiver and running back as his perpetual search for a positional home continues.
Beyond the veterans, though, a quartet of intriguing freshmen has everybody's attention – including Day and Fields.
"The young guys, they've really shown out," Day said. "Seeing some of those guys come in and step in. You've got Julian Fleming and Jaxon (Smith-Njigba) and Gee Scott and Mookie Cooper – four young guys."
All four were once top-100 overall recruits who signed National Letters of Intent with the Buckeyes in December. All four earned rave reviews in the spring, with Day saying they were "better than expected," but for a month, it seemed as though they might not get to make their college football debuts this fall. 
Yet all four, now that the decision has been made by the Big Ten to play a nine-game season this fall, will have shots to earn spots in Hartline's rotation, which returns only Olave and Wilson among the five receivers who played regularly last season.
"The freshmen, they've been phenomenal," Fields said. "Just the talent between Jaxon Smith, Julian, Gee, Mookie. I mean, those guys are just really probably the most polished freshmen I've seen with my own eyes. Just seeing what they can do on the field and what plays they can make and how talented they are, that of course gets me excited. Coach Day knows that. Coach Hartline knows how great of players they are. We're all just excited about the opportunity we have to play and what we get to show on the field this year."
So much of the conversation in the lead-up to the season will rightly center on Fields, who's chasing legendary status that could propel him to become viewed as the greatest quarterback in Ohio State history.
Nobody should overlook the complete turnover of his receiving corps, though.
Truly, only one player – Olave – remains in the same role. He'll be an outside receiver, again serving as Fields' go-to target. Everybody else is either moving around positionally, will have a significantly larger workload or are entering their first seasons as Buckeyes.
Don't count Day and Fields as too concerned about the changes, though.
"It's a good group (of wide receivers)," Day said. "That mixed in with our tight ends, we think we've got a really strong passing attack."