The biggest question surrounding college football is the same that has been ever-present for months.
Will the 2020 season actually be played? And if so, will it go forward with everything as scheduled?
Within the next couple of weeks, those answers should be trickling – or pouring – out all over the country. But for now, we're treating the season as if it'll happen as normal, or at least as normal can be during a pandemic. Ohio State returns a core including Justin Fields, Wyatt Davis, Shaun Wade, Chris Olave, Josh Myers and Pete Werner that's aiming for redemption after falling short in a devastating Fiesta Bowl loss to end last season.
Together, they'll be relying on the coaching staff hired by Ryan Day to put them in the best position to get another shot in the College Football Playoff. So, what is the most pressing question for each of Day's 10 assistants to answer in the lead-up to the 2020 season? We're here to answer that question.
Quarterbacks coach Corey Dennis
Who'll be the backup to Justin Fields?
It must be nice for Dennis to walk into his first-ever full-time assistant position with a Heisman Trophy finalist returning as the starter. The mission: Don't screw Fields up. OK, it's more complicated than that...sort of.
But elsewhere at quarterback? Now that's where the intrigue picks up.
Those who tune into Ohio State games know as well as anyone how much backup quarterbacks can affect games – or seasons if they're needed as long-term fixes. Nobody hopes the Buckeyes will have to rely on somebody other than Fields taking snaps behind center. But it can't be ruled out. So in order to prepare for a worst-case scenario, Dennis – along with Day – has to figure out who'll be the primary backup to open the season.
Gunnar Hoak, a redshirt senior, is entering his second season at Ohio State after transferring from Kentucky. The veteran certainly has the edge in experience over CJ Stroud and Jack Miller, but the pair of freshmen is the future at the position beyond 2020. Are either of them ready to be the backup right away after an unconventional offseason? It's up to Dennis to find out.
Running backs coach Tony Alford
What's the most effective way to use Trey Sermon and others?
Only three weeks after Master Teague suffered an Achilles injury, Alford went out and landed Sermon out of Oklahoma. The two had a relationship dating back to when Alford targeted him out of high school.
Now, they'll reunite in Columbus for one year only.
As a graduate transfer, it's assumed that Sermon will start. He rushed for more than 2,000 yards across three seasons as a Sooner before a knee injury left him available for only 385 yards and four touchdowns as a junior last year. Now healthy, he's the elder statesman in a running back room beset by injuries and harmed by a couple of recruiting misses over the past few cycles.
How much the Buckeyes rely on Sermon remains in question, however. Will he be the sole back to take most of the meaningful carries? Will others – including Teague and Crowley, if healthy, along with Steele Chamber, Miyan Williams and Demario McCall – mix in to comprise a rotation? What would the split in carries look like?
Alford needs to determine how the backfield touches will shake out sooner than later.
Wide receivers coach Brian Hartline
How ready are the freshmen for major roles?
Chris Olave will be a stud, and Garrett Wilson could join him. But whoever else adds to Fields' arsenal of weapons won't have much experience.
The returns consist of C.J. Saunders (27 career catches), McCall (19 career catches), Jameson Williams (6 career catches), Jaylen Harris (5 career catches), Elijah Gardiner (1 career catch) and Kamryn Babb (0 career catches). That's not a ton of experience. Naturally, it opens the door to a quartet of freshmen, all of whom were top-100 overall recruits.
Julian Fleming, Jaxon Smith-Njigba, Gee Scott Jr. and Mookie Cooper each bring different skillsets to the field, which makes them intriguing options to play immediately. Hartline has a ton of talent in his room, but he'll need to figure out how to deploy it. The four first-year receivers will weigh heavily in his mind.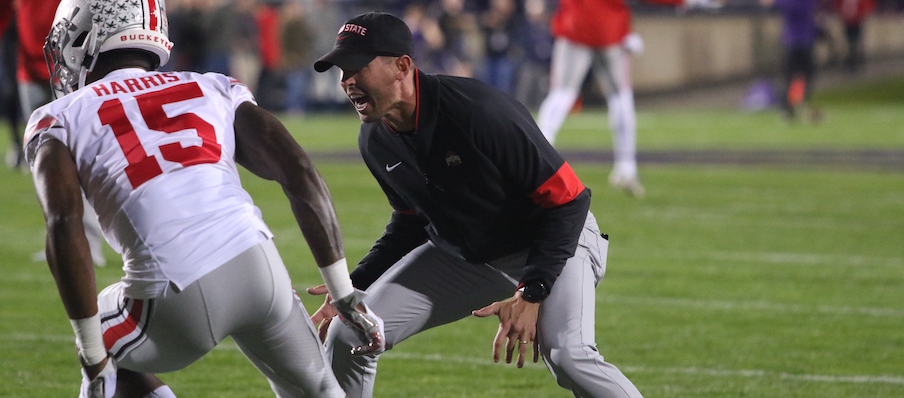 Offensive coordinator/tight ends coach Kevin Wilson
How can he and Ryan Day fit the offense to its personnel?
National outlets have pegged the Buckeyes as a College Football Playoff entrant again in 2020. Locally, fans expect this team to challenge for a title. With Fields among the returning players, it's easy to understand why those expectations exist.
But it's a bit more complicated than just trotting Fields onto the field and saying, "Go get 'em."
Wilson and Day need to determine the best way to attack defenses with the personnel surrounding Fields. J.K. Dobbins, K.J. Hill, Austin Mack and Binjimen Victor are gone, which forces the Buckeyes to undergo significant turnover among its offensive weapons. How will it affect the Buckeyes' offense? That's for Wilson to figure out, along with Day, as the offensive coordinator.
Offensive line coach Greg Studrawa
Who's the best option to start at right tackle?
By now, everyone knows the names. 
Nicholas Petit-Frere. Paris Johnson. Dawand Jones.
We also know Petit-Frere should be viewed as the presumptive favorite to secure the starting right tackle job. But Studrawa doesn't have a winner yet. Because spring camp got cut short, it'll remain an open competition whenever preseason practices begin. 
Since Petit-Frere has been in the program for two-plus years and managed to get his weight above 300 pounds, he has an edge. Can Johnson or Jones overtake him? Not being able to participate in more than three spring practices didn't help either of them. But they're both physical specimens who can't be overlooked, even though Petit-Frere is two years removed from being the top offensive line recruit in the nation.
It's up to Studrawa to fill out what has a chance to be the best offensive line in the country with a bookend at right tackle.
Defensive line coach Larry Johnson
How can his linemen generate consistent penetration and disruption?
How many times have you read that the Buckeyes have to figure out how to replace Chase Young? Four billion times? Seven billion? Probably somewhere in the middle.
Well…the Buckeyes have to figure out how to replace Chase Young. Add it to your personal count.
Johnson's first-rate recruiting and top-level development of defensive linemen should allow him to turn the page to the next wave better than most coaches. He'll have Zach Harrison, Jonathan Cooper and Tyreke Smith at his disposal at defense end and Tommy Togiai, Taron Vincent and Haskell Garrett at defensive tackle. But are they enough to create the amount of disruption, tackles for loss and sacks that he wants?
They're talented, yes. But the potential far outweighs their collective production thus far. It'll be up to Johnson to prepare them for the spotlight.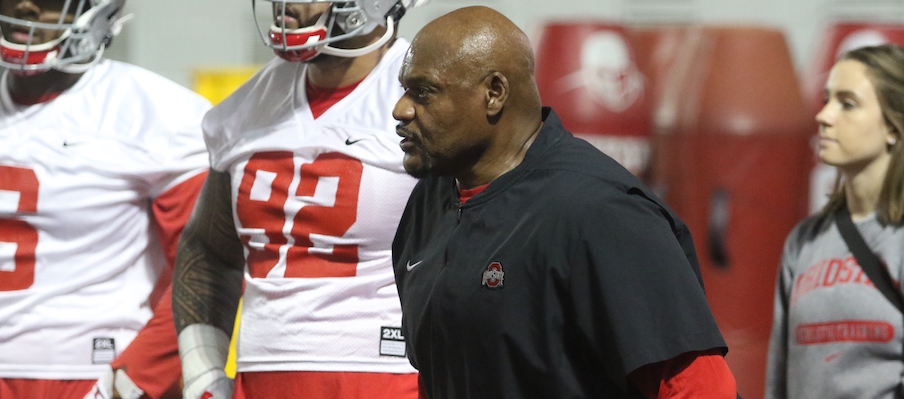 Linebackers coach Al Washington
Is there a way to rotate all seven of the upperclassmen?
There are veteran-heavy units, and then there's whatever you want to call Ohio State's linebacker room. Washington has seven upperclassmen to fit into his lineup: Tuf Borland, Justin Hilliard, Pete Werner, Baron Browning, Teradja Mitchell, Dallas Gant and K'Vaughan Pope.
Earlier this year, Washington spoke about the benefit of having so many different juniors and seniors with varied skillsets. He talked about how it can allow the coaches to put players in advantageous positions, maximizing their opportunities to succeed.
Might that, however, be easier said than done?
In an ideal world, it sounds great. But in the flow of a game, it will likely be significantly harder. Washington needs to figure out how much he can run through all seven upperclassmen before game action begins. 
Co-defensive coordinator Greg Mattison
What's the best way to use Pete Werner?
Spring practice offers coaches the opportunity to experiment. This year, the test subject happened to be Werner.
A starting strongside linebacker each of the past two years, Werner was unexpectedly moved to weakside linebacker. Since spring camp abruptly concluded in mid-March, it was hard to get a great look at how he performed in those reps. But the shift from Sam to Will – if it actually happens – would be significant.
Werner's versatility at Sam essentially killed the need for the Bullet last year, which is why the coaches testing him out at Will – which, along with middle linebacker, is thought of as one of the two inside linebacker spots in this defense – is a bit perplexing. Who would play the majority of snaps at Sam? Hilliard? Pope? A defensive back acting as a Bullet?
Since there's no easy answer, Werner sticking at Sam would appear to be the most likely scenario. Either way, since Mattison is in charge of the strongside linebackers, he needs to determine how the Buckeyes could best use Werner.
Defensive coordinator Kerry Coombs
What's the best way to configure the back seven?
Much has been made of Coombs' return and what it means for a group of cornerbacks that loses two first-round picks in Jeff Okudah and Damon Arnette. And yes, it's true that he'll play a massive role in maintaining BIA status at the position.
This time, though, he's not just in charge of the cornerback. He's in charge of the entire defense.
Because of the Buckeyes' immense losses on that side of the ball – Young, Okudah, Arnette, Jordan Fuller, DaVon Hamilton, Malik Harrison, Jashon Cornell and Robert Landers – it's a tougher job than some might realize to revamp what was quite possibly college football's best defense. His money will be back in 2020 on the back end.
Does he maintain a two-cornerback, one-nickelback, one-safety, three-linebacker defense? Does he employ more man-to-man coverage? Does he use two safeties more often? Coombs has a lot of ways he can go with a malleable defense, and he'll have to have a plan of attack before the season opens.
Special teams coordinator/assistant secondary coach Matt Barnes
Who'll be the starting slot cornerback?
This is a bit of a stretch. 
In reality, Coombs will have total control over the secondary. Barnes will assist him while also focusing much of his attention on special teams. But there just aren't many questions among the kicking, punting and return units. Kicker Blake Haubeil and punter Drue Chrisman return, so replacing outgoing long snapper Liam McCullough might be the biggest special teams uncertainty. 
The more important questions to get answered before the season kicks off all pertain to the defensive backfield.
Specifically, Coombs and Barnes need to determine the starter in the slot. Wade manned that position a year ago, but he's moving primarily to the outside. Will he play some snaps at nickelback? It's conceivable, but he won't be there all the time. The coaches have to find someone else.
Marcus Williamson will be an option. At 5-foot-10 and 186 pounds, the senior is built differently from everyone else at his position. If it's not him, it'll likely be either Cameron Brown or Sevyn Banks, both of whom have primarily played on the outside. One of them could conceivably move inside if Barnes and Coombs want to get both of them, along with Wade, on the field all the time.
One way or another, this shouldn't be an unanswered question that drags into the season.