Outside of Chase Young, Ohio State didn't have many players who brought quarterbacks down every game last season.
Rather, the Buckeyes put forth a pass rush centered around Young, with a variety of others – defensive ends, defensive tackles, linebackers and more – complementing him. And it worked. Young broke the program's single-season record with 16.5 sacks despite sitting out two games while serving a suspension, helping Ohio State set the school record by racking up 54 sacks. 
Never before had the Buckeyes collectively accumulated more than 47 sacks in a season.
As they look forward, in order to have a similarly productive pass rush in 2020, they'll need quite a few players to step up now that Young, DaVon Hamilton, Malik Harrison and Jashon Cornell are gone to the NFL. In total, Ohio State loses players who piled up 33.5 sacks – more than half of the year's total – in 2019.
Lost Production

| NAME | POSITION | CAREER SACKS | SACKS IN 2019 |
| --- | --- | --- | --- |
| CHASE YOUNG | DE | 30.5 | 16.5 |
| DAVON HAMILTON | DT | 7 | 6 |
| MALIK HARRISON | LB | 10 | 4.5 |
| JASHON CORNELL | DT | 7 | 4 |
| BRENDON WHITE | LB/S | 1 | 1 |
| JAHSEN WINT | LB/S | 1 | 1 |
| ROBERT LANDERS | DT | 2.5 | 0.5 |
| TOTAL | — | 59 | 33.5 |
Young, a Heisman Trophy finalist, drew the majority of the headlines for good reason. But Hamilton, Harrison and Cornell aren't minor losses, either. 
Nobody who's back for the 2020 season had more than five sacks last year. Together, those returning had 20.5 sacks in 2019.
Returning Production

| NAME | POSITION | CAREER SACKS | SACKS IN 2019 |
| --- | --- | --- | --- |
| BARON BROWNING | LB | 6 | 5 |
| ZACH HARRISON | DE | 3.5 | 3.5 |
| TYREKE SMITH | DE | 3 | 3 |
| SHAUN WADE | CB | 2 | 2 |
| TYLER FRIDAY | DE | 3 | 2 |
| JAVONTAE JEAN-BAPTISTE | DE | 1.5 | 1.5 |
| DALLAS GANT | LB | 1.5 | 1.5 |
| JONATHON COOPER | DE | 6.5 | 1 |
| TUF BORLAND | LB | 5 | 1 |
| TOTAL | — | 32 | 20.5 |
Undoubtedly, there's ample talent among the returners, beginning with Baron Browning and Zach Harrison – a pair of one-time five-star recruits. But none of them have yet to come close to reaching their ceilings as pass-rushers.
Larry Johnson, Al Washington, Greg Mattison and the rest of the defensive coaching staff has to get quite a few of them to make significant developments to get after the quarterback as well as they did in 2019. Today, we're taking a look at what needs to happen for Ohio State to again put together a fearsome pass rush.
Zach Harrison, Tyreke Smith Break Out
No one expects Harrison or Smith to do what Young accomplished in 2019, putting together arguably the best season by a defensive player in Ohio State history. But they're the two players most likely to turn into star pass-rushers this fall.
Harrison, whose potential Mickey Marotti compared to a 12-foot basement ceiling, impressed Johnson enough to start across the line from Young as a defensive end in the Fiesta Bowl. Sure, it might seem unfair to put certain expectations on him. But Young and the Bosa brothers blazed the trail he appears to be walking through.
Could Harrison turn in a season similar to the one Young had as a sophomore in 2018, when he reached 10.5 sacks? It's possible, and it's undoubtedly what he's aiming for.
Smith, once a high-end four-star prospect, was a breakout candidate in 2019, but injuries slowed him down. He's instead aiming to reach new heights this fall. Along with Harrison, he's especially key to Ohio State maintaining an effective pass rush.
A Taron Vincent Explosion
Whenever Johnson talks about what he wants in his 3-technique defensive tackles, he refers to their pass-rushing abilities. He thinks they can be game-changers if quarterbacks have to fear pressure up the middle. Dre'Mont Jones, who had 8.5 sacks in 2018, was the most recent example of a player with that type of ability at the position.
Taron Vincent could be next.
"We want Taron to be a great pass rusher at the 3-technique," Johnson said. "You guys know how I feel about the pass rush at the 3-tech position – that's the guy who's the key to our defense a lot of times."
Vincent didn't play a single snap last season after being on the field for 98 snaps as a true freshman because of a torn labrum. Yet if the former five-star recruit can get healthy – and stay healthy – he could be a better interior rusher than anybody on the Buckeyes' roster a year ago. He'd also help take some pressure off of the defensive ends.
As we mention Vincent, it's also worth noting the potential of Tommy Togiai. The third-year nose tackle will become a full-time starter, and while most of his impact will be as a run-stopper, anything he can offer as a pass-rusher would be beneficial. Hamilton showed with six sacks in 2019 that 1-techniques can get after quarterbacks, too.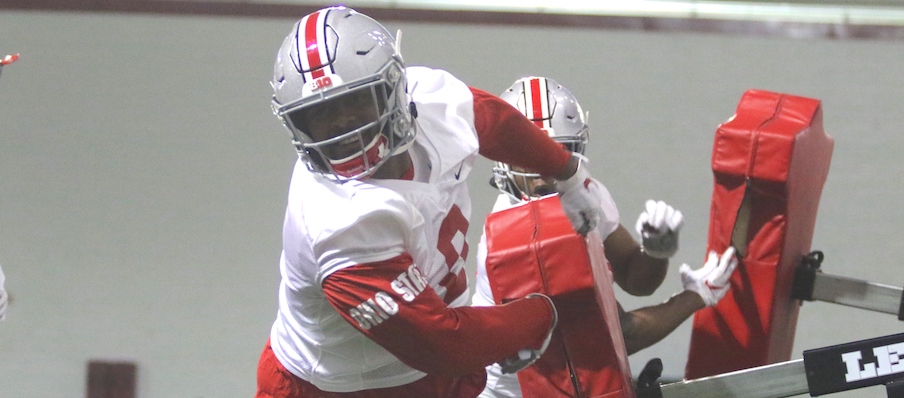 Tyler Friday, Javontae Jean-Baptiste Take Next Step
As defensive ends, Friday and Jean-Baptiste are about as different as can be.
Friday was nicknamed "Baby Tyquan" during the recruiting process due to the similarity between him and Tyquan Lewis. At 6-foot-3 and 265 pounds, he's a stockier end who could potentially shift over to play defensive tackle at times in the Rushmen package. Conversely, Jean-Baptiste is a 6-foot-5, 250-pound athletic specimen whose ceiling as an outside rusher is about as high as can be.
Together, though, they're looking to becoming meaningful contributors after recording 3.5 combined sacks in 2019. Johnson has to figure out how to get more out of the pair of defensive ends now that they're entering their third year in the program.
Jonathon Cooper Has Late-Career Surge
In so many ways, Cooper has been a model Ohio State Buckeye. He became a team captain last year, serving as a leader both off the field – representing the team at Big Ten media day – and on the field, where he mentored a talented group of underclassmen. Coaches and teammates tout his positivity and relentless work ethic.
As an edge rusher, however, he has yet to reach his potential. 
2016: 1 sack, 1 tackle for loss
2017: 2 sacks, 3 tackles for loss
2018: 2.5 sacks, 6.5 tackles for loss
2019: 1 sack, 1 tackle for loss
Getting prepared for the fifth year at Ohio State that he never anticipated playing, Cooper is a dark horse candidate to turn into an impactful pass-rusher. 
Most onlookers have pointed to Harrison and Smith as the most likely defensive ends to go off in 2020. They've shown impressive flashes and, provided they stay healthy, could be in for special seasons. With Cooper, there's a sentiment from some that we know what to expect. But...what if we don't?
He only played 121 snaps last season, and he did so while hindered by an ankle injury that led to a redshirt. By the time the 2020 season starts, Cooper will have gone about 20 months since playing a game while fully healthy. A late-career surge from him is a distinct possibility. Every year, Ohio State has one or two fifth-year seniors break out. Last season, it was Hamilton and Damon Arnette.
Might Cooper be the one to have his best season yet? Don't rule it out.
Rushmen Package Returns
For years, Ohio State hyped up the Rushmen package – a third-down look usually featuring four defensive ends on the line – as a way to get to the quarterback on passing downs. A few seasons ago, one of the iterations featured Nick Bosa, Sam Hubbard, Tyquan Lewis and Jalyn Holmes all pass-rushing together. 
Last year, though, the Buckeyes largely went away from the all-defensive end look. There weren't any grandiose announcements or reasons put forth. They just didn't use it all that often.
With Harrison, Cooper, Smith, Friday and Jean-Baptiste all between their redshirt sophomore and redshirt senior seasons, it wouldn't be a surprise to see Ohio State go back to its vaunted Rushmen package. Maybe, they could have Harrison and Smith come off the edge while Cooper and Friday rush from the interior. Baron Browning could get involved, too, as a rush linebacker.
Based on personnel alone, it would make a lot of sense for the Buckeyes to dust off the Rushmen package.
Third-Down Creativity
Remember this?
Ohio State on that third down had Rashod Berry on the defensive line, Zach Harrison at defensive tackle and Baron Browning off the edge as a rush linebacker. pic.twitter.com/Fmc1XcRLu2

— Colin Hass-Hill (@chasshill) November 9, 2019
Ohio State got a little bit funky at times late in the 2019 season. A few snaps, it even stood Young up to essentially act as the middle linebacker. It seemed as though the defensive coaching staff preferred to move players around rather than go with a four-defensive end Rushmen package. Since all of the defensive coaches return except for Jeff Hafley, it would make sense that they continue to showcase some of their creativity to generate pressure.
This will be especially important if the defensive ends that Ohio State needs to take strides don't develop as quickly as Johnson hopes.
Baron Browning Gets Let Loose
No, he's not a defensive end who's rushing the quarterback every play. Yes, he's a potential starting linebacker.
But neither of those facts should prevent the coaches from unleashing Browning as a pass-rusher as often as possible. He's the leader among returners with five sacks in 2019, and he managed that total while taking advantage of limited opportunities getting after the quarterback.
If Ohio State can set Browning loose more often off the edge, it's difficult to imagine that not leading to more sacks and pressures. If we're being real, it would be a misuse of resources not to do so. Al Washington has a remarkably deep room of linebackers, which includes six upperclassmen, who should ably fill in while Browning gets put into the game as a pass-rusher. 
Browning, if given ample opportunities, has the kind of talent that could allow him to lead the team in sacks this fall.