If BTN's All-Decade selections this week had included a program of the decade award, there's no question which team would have come out on top.
By any metric, Ohio State was the Big Ten's dominant program of the 2010s. The Buckeyes won four Big Ten Championship Games, were the only Big Ten team to win a national championship and the only Big Ten team to make multiple College Football Playoffs. They won at least 11 games in every season but one; no other Big Ten team did that more than five times in the decade.
And Ohio State certainly had the most star players of the decade. The Buckeyes have had 69 NFL draft picks in the last 10 years; no other Big Ten school had more than 44. Twenty different Ohio State players earned first-team All-American honors over the course of the decade, and 50 different Ohio State players earned first-team All-Big Ten honors.
So it was no surprise that Ohio State had the most players selected to BTN's All-Decade team, yet Ohio State fans were also left feeling that several other Buckeyes were snubbed because only seven Ohio State greats of the past 10 years (plus Urban Meyer as coach) were chosen for the first-team squad.
That got me thinking: If Ohio State's All-Decade team of the past 10 years went up against the All-Decade team of all of the other 13 Big Ten teams combined, could the Buckeyes actually have the stronger lineup?
Using both our own selections from January of Ohio State's best players of the decade at every position and BTN's All-Decade selections for the entire conference, I've put together lineups for a hypothetical matchup between the best Buckeyes of the 2010s and the decade's best players of the decade from every other Big Ten school.
For Ohio State's lineup, I stuck with our original All-Decade picks except in cases where BTN constructed its lineup with different positional designations, allowing us to draw directly from BTN's first- and second-team choices – since their analysts are more qualified than I am to select the Big Ten's best players of the decade from the other 13 schools – for the opposing team.
At the bottom of the article, you'll have the opportunity to vote for which team you think would win a hypothetical matchup.
Quarterbacks
Ohio State: Dwayne Haskins
Big Ten: Russell Wilson (Wisconsin)
We could argue whether Dwayne Haskins, our All-Decade quarterback selection, or J.T. Barrett, who BTN chose as the quarterback of the decade, should be Ohio State's quarterback. You could also argue that Ohio State's quarterback should actually be Braxton Miller or even Justin Fields.
Why is it so tough to pick between them? They might legitimately be the four best Big Ten quarterbacks of the 2010s, having won seven of the last eight Big Ten Quarterback of the Year awards. Every single one of them would give Ohio State a chance to win this hypothetical matchup, so you really can't go wrong with any of them.
Wilson, who was the 2011 Big Ten Quarterback of the Year in his lone season at Wisconsin, gets the nod as the decade's best Big Ten quarterback who didn't play at Ohio State (since Barrett and Haskins were BTN's first and second-team selections, we had to make our own pick here). Considering what Wilson has gone on to do in the NFL, he might be the better quarterback in this matchup now, but based solely upon what they accomplished in college, each of the four Buckeye quarterbacks had (or in Fields' case, is in the midst of having) more prolific Big Ten careers.
All-Purpose Offensive Player
Ohio State: Braxton Miller
Big Ten: Denard Robinson (Michigan)
BTN included Miller on its All-Decade team as an all-purpose offensive player, and he makes an excellent addition to Ohio State's All-Decade team. Offering much more running ability than Haskins, it's easy to imagine him playing a situational quarterback role in an offense with Haskins as the starting quarterback, while Miller also showed at the end of his Ohio State career that he could be a weapon at H-back as well.
Robinson, who made BTN's second team in the all-purpose category, adds a similar athletic weapon to the Big Ten offense. Miller was a better passer than Robinson, but "Shoelace" was a highly productive running quarterback for the Wolverines who also saw some playing time at tailback and wide receiver near the end of his collegiate career.
Running Backs
Ohio State: Ezekiel Elliott, J.K. Dobbins
Big Ten: Saquon Barkley (Penn State), Jonathan Taylor (Wisconsin)
Taylor and Barkley are both legitimate choices for the Big Ten's best two running backs of the decade – Taylor was a two-time Doak Walker Award winner, while Barkley was a two-time Big Ten Offensive Player of the Year – but Elliott and Dobbins certainly weren't far behind.
Elliott, who was selected to BTN's second team, established himself as an all-time great with two spectacular seasons as the Buckeyes' starter in 2014 and 2015, highlighted by his three consecutive 220-plus-yard games in Ohio State's 2014 run to the national championship. Dobbins was beat out for a spot on the second team by former Wisconsin running back Melvin Gordon, but he certainly established himself as one of the decade's greats last season when he broke Ohio State's school record by rushing for 2,003 yards.
Wide Receivers
Ohio State: Michael Thomas, Curtis Samuel
Big Ten: Tyler Johnson (Minnesota), Allen Robinson (Penn State)
Johnson led all Big Ten wide receivers in the 2010s with 3,305 receiving yards and 33 receiving touchdowns while Robinson was the only two-time Big Ten Receiver of the Year of the decade, so it's hard to argue about them being the conference's best receivers of the decade based solely on college production.
Factoring in NFL production, though, there's no question that Thomas would be the first selection among Big Ten receivers of the past decade for a team trying to go win a game right now after he broke the NFL's single-season receptions record in 2019. Samuel, meanwhile, was one of the Big Ten's most dynamic playmakers of the past decade, gaining more than 2,500 combined rushing and receiving yards and scoring 24 touchdowns to cement himself as the quintessential H-back of the Meyer era at Ohio State.
Tight Ends
Ohio State: Jeff Heuerman
Big Ten: Jake Butt (Michigan)
In terms of college production, Butt is the clear winner here: Butt had 138 catches for 1,646 yards and 11 touchdowns at Michigan, while Heuerman had 52 catches for 792 yards and seven touchdowns for the Buckeyes. Of course, that's largely because of how minimally Ohio State has used its tight ends as receivers in its offense; neither player has gone on to make a major impact in the NFL yet, and they're currently set to compete going into the 2020 season for what could be just one roster spot between them with the Denver Broncos.
Butt caught the most passes of any Big Ten tight end in the 2010s and was a two-time conference tight end of the year, but second-team BTN all-decade selection T.J. Hockenson – or his former Iowa teammate Noah Fant – would arguably be the best choices for an All-Big Ten team to go win a game (especially against Ohio State if the 2017 Iowa game was any indication) as both were first-round NFL draft picks.
Offensive Line
Ohio State: Jack Mewhort, Andrew Norwell, Pat Elflein, Billy Price, Taylor Decker
Big Ten: Taylor Lewan (Michigan), Michael Deiter (Wisconsin), Stefen Wisniewski (Penn State), Dan Feeney (Indiana), Brandon Scherff (Iowa)
It speaks to how many excellent interior offensive linemen Ohio State has had over the past decade that Wyatt Davis made BTN's All-Decade first team yet wasn't even on our Ohio State All-Decade team. He's certainly a worthy All-Decade choice after earning first-team All-American honors at guard last season, but Elflein and Price were also both first-team All-Americans and Rimington Trophy winners while Norwell has gone on to be an NFL All-Pro.
Both of these teams are full of studs in the trenches, as Mewhort and Decker were also first-team All-Americans at Ohio State while Lewan, Deiter, Wisniewski, Feeney and Scherff were all first-team All-Americans at their respective schools. Wisniewski, a second-team All-Decade guard selection by BTN, slides over to center – where he was an All-American at Penn State – where Price and Elflein were BTN's first- and second-team selections.
Defensive Line
Ohio State: Chase Young, Joey Bosa, Nick Bosa, Michael Bennett
Big Ten: Ryan Kerrigan (Purdue), J.J. Watt (Wisconsin), Shilique Calhoun (Michigan State), Maurice Hurst (Michigan)
Since BTN didn't split up its defensive line selections by ends and tackles, that allows us to put both Bosas on Ohio State's All-Decade lineup in addition to Young, BTN's only unanimous All-Decade selection at any position. Bennett was Ohio State's most accomplished defensive tackle of the decade, earning first-team All-American honors during the Buckeyes' 2014 national championship season.
Kerrigan and Watt, who joined Young and Joey Bosa on BTN's first team, give the Big Ten squad a pair of superstud defensive ends, too. Calhoun was a three-time first-team All-Big Ten selection at Michigan State. Hurst, a disruptive 3-technique, was the only defensive tackle included on either the first or second team by BTN's panel of voters.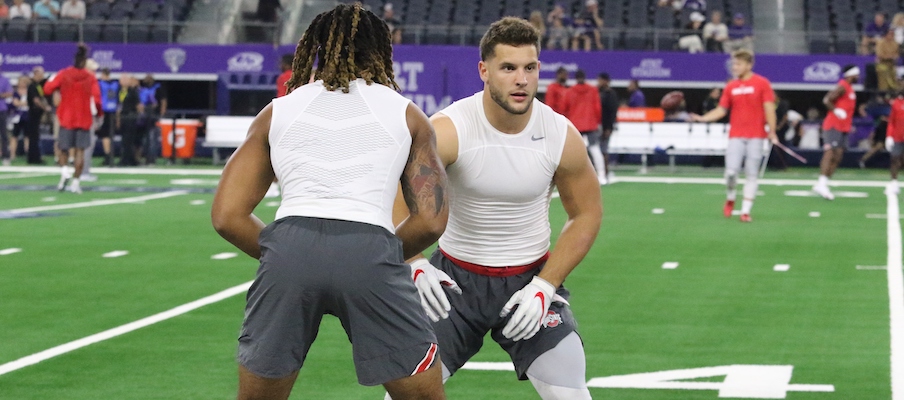 Linebackers
Ohio State: Ryan Shazier, Raekwon McMillan, Darron Lee
Big Ten: Chris Borland (Wisconsin), Devin Bush (Michigan), Josey Jewell (Iowa)
Perhaps the biggest snub from BTN's All-Decade first team among Buckeyes, Shazier could be considered the Big Ten's best linebacker of the 2010s, let alone one of the top three. A tremendous athlete who made plays all over the field for the Buckeyes while earning All-American honors in 2013 and twice earning first-team All-Big Ten recognition, Shazier is an asset for Ohio State in this matchup even though Borland, Bush and Jewell received more votes from BTN's panel.
Jewell, Borland and Bush were all Big Ten Defensive Players of the Year, so they give the conference-wide squad a strong trio of accomplished linebackers, but McMillan is no slouch for the Ohio State squad at middle linebacker while Shazier and Lee were two of the decade's top playmaking linebackers in the Big Ten.
Cornerbacks
Ohio State: Jeff Okudah, Denzel Ward
Big Ten: Darqueze Dennard (Michigan State), Desmond King (Iowa)
Dennard and King were both standout cornerbacks in college, winning the Jim Thorpe Award while each earned first-team All-Big Ten honors twice, so it's hard to argue against them being BTN's All-Decade team selections at the position. King was also a weapon in the return game for the Hawkeyes, and he's since gone on to be an NFL All-Pro.
That said, Okudah and Ward are the only cornerbacks who have been selected in the top four picks of an NFL draft in the past two decades, which speaks to how dominant they were in their final seasons as Buckeyes. Both were shutdown cornerbacks while earning first-team All-American honors in their junior years at Ohio State, and the only other Big Ten cornerback to leave school as a top-10 NFL draft pick in the past 10 years was fellow Buckeye Eli Apple.
Safeties
Ohio State: Malik Hooker, Vonn Bell
Big Ten: Antoine Winfield Jr. (Minnesota), Amani Hooker (Iowa)
Malik Hooker had one of the best individual seasons of any Big Ten defender of the past decade in 2016, when he earned unanimous All-American honors after providing spectacular center-field play – including seven interceptions and three touchdown returns – for the Buckeyes all season long, which was enough to establish his standing as the conference's best safety of the past 10 years. 
Bell, who made BTN's second team, was also an excellent playmaker on the back end of Ohio State's defense and a first-team All-American in 2015, giving the Buckeyes arguably the two best safeties in this matchup.
Winfield Jr., the son of Ohio State legend Antoine Winfield, certainly earned his spot on BTN's first team with his play in 2019, though, when he was a unanimous All-American and the Big Ten Defensive Back of the Year after a spectacular final season for the Gophers in which he had 88 tackles, seven interceptions, two forced fumbles and a touchdown. Amani Hooker (unrelated to Malik) didn't quite make the name for himself as a playmaker as the other three, but he was the Big Ten Defensive Back of the Year and a second-team All-American in 2018.
All-Purpose Defensive Player
Ohio State: Marshon Lattimore
Big Ten: Jabrill Peppers (Michigan)
BTN included Peppers on its All-Decade team as an all-purpose defensive player, reflecting the 2016 Heisman finalist's versatility as he lined up everywhere from linebacker to safety to cornerback for Michigan's defense while also returning kicks and punts and seeing occasional snaps in several spots on offense.
Peppers' ability to play a vast array of positions in every phase of the game makes him a unique asset for the Big Ten team, but the extra position on defense opens up a spot for Ohio State to add a third stud cornerback to its secondary in Lattimore, who played well enough in 2016 that he was the No. 11 overall pick in the NFL draft despite having just one healthy season for the Buckeyes.

Kickers
Ohio State: Blake Haubeil
Big Ten: Keith Duncan (Iowa)
Both kickers in this hypothetical matchup are still the kickers at their respective schools. Duncan joined Wyatt Davis as one of just two active players on BTN's All-Decade team, making his case for being the Big Ten's best kicker of the past 10 years by making 29 of 34 field goal attempts last year. That said, Haubeil was just as reliable for the Buckeyes last season, making 13 of 15 field goal attempts including a 55-yard field goal at Northwestern that tied for the second-longest field goal in Ohio State history.
Punters
Ohio State: Cameron Johnston
Big Ten: Mike Sadler (Michigan State)
Sadler, who was tragically killed in a car accident in 2016, earned a deserved first-team All-Decade selection after a four-year career at Michigan State in which he was consistently among the nation's best punters while earning first-team All-American honors once and first-team All-Big Ten honors twice. Ohio State wouldn't trade Johnston for anyone, though, after the Australian's excellent four-year college career of his own in which he consistently helped the Buckeyes control the field-position battle.
Coaches
Ohio State: Urban Meyer
Big Ten: Mark Dantonio (Michigan State)
Dantonio, who BTN selected as the Big Ten's second-best coach of the 2010s, is an appropriate foil for Meyer in this matchup, as he was the only coach in the conference to beat Meyer twice during his seven-year tenure at Ohio State. Yet this still might be the clearest advantage either team has in a matchup that appears close to equal in regards to player talent.
While Dantonio had an excellent tenure at Michigan State, leading the Spartans to three Big Ten championships and 114 wins in 13 seasons, Meyer led the Buckeyes to three Big Ten championships and 83 wins in just seven seasons. Possessing three total national championships between his tenures at Ohio State and Florida, and the best winning percentage (.854) of any Football Bowl Subdivision coach who has coached at least 10 seasons in the last 50 years, Meyer was undeniably the Big Ten's best coach of the past decade and is one of the greatest coaches in college football history.
Ohio State's All-Decade Team vs. the Rest of the Big Ten
Position
Ohio State
Big Ten
OFFENSE
QB
DWAYNE HASKINS
RUSSELL WILSON (WISCONSIN)
AP
BRAXTON MILLER
DENARD ROBINSON (MICHIGAN)
RB
EZEKIEL ELLIOTT
SAQUON BARKLEY (PENN STATE)
RB
J.K. DOBBINS
JONATHAN TAYLOR (WISCONSIN)
WR
MICHAEL THOMAS
ALLEN ROBINSON (PENN STATE)
WR
CURTIS SAMUEL
TYLER JOHNSON (MINNESOTA)
TE
JEFF HEUERMAN
JAKE BUTT (MICHIGAN)
LT
JACK MEWHORT
TAYLOR LEWAN (MICHIGAN)
LG
ANDREW NORWELL
MICHAEL DEITER (WISCONSIN)
C
PAT ELFLEIN
STEFEN WISNIEWSKI (PENN STATE)
RG
BILLY PRICE
DAN FEENEY (INDIANA)
RT
TAYLOR DECKER
BRANDON SCHERFF (IOWA)
DEFENSE
DE
CHASE YOUNG
RYAN KERRIGAN (PURDUE)
DE
JOEY BOSA
J.J. WATT (WISCONSIN)
DE
NICK BOSA
SHILIQUE CALHOUN (MICHIGAN STATE)
DT
MICHAEL BENNETT
MAURICE HURST (MICHIGAN)
LB
RYAN SHAZIER
CHRIS BORLAND (WISCONSIN)
LB
RAEKWON MCMILLAN
DEVIN BUSH (MICHIGAN)
LB
DARRON LEE
JOSEY JEWELL (IOWA)
CB
JEFF OKUDAH
DARQUEZE DENNARD (MICHIGAN STATE)
CB
DENZEL WARD
DESMOND KING (IOWA)
S
MALIK HOOKER
ANTOINE WINFIELD JR. (MINNESOTA)
S
VONN BELL
AMANI HOOKER (IOWA)
AP
MARSHON LATTIMORE
JABRILL PEPPERS (MICHIGAN)
SPECIAL TEAMS/COACHING
K
BLAKE HAUBEIL
KEITH DUNCAN (IOWA)
P
CAMERON JOHNSTON
MIKE SADLER (MICHIGAN STATE)
COACH
URBAN MEYER
MARK DANTONIO (MICHIGAN STATE)