Ohio State's most recent decade of football included no shortage of superstars, and now that the 2010s are complete, we've taken our best shot at naming the Buckeyes' best players at every position over the past 10 years.

For the next two weeks here at Eleven Warriors, we'll be taking a look back at the decade of Ohio State sports that was with our 2010s in Review series, and we kick that series off with our All-Decade football team, highlighting the best individual players at every position from 2010-19.
Given that the Buckeyes had 23 first-team All-Americans, more than 60 first-team All-Big Ten performers and more than 60 NFL draft picks in the 2010s, selecting the best players of the decade was no easy task. With so many greats to choose from, even players who set school records and received major individual accolades weren't guaranteed to make the roster, and just about every position features honorable mentions who have valid arguments that they should be on the all-decade team themselves.
That said, we did our best to choose the most impactful and spectacular Ohio State players of the decade at every position, with an emphasis on peak greatness – and which players added the most value to the Buckeyes' efforts to win football games – along with the statistics they accumulated and the awards they achieved.
QB: Dwayne Haskins
We'll start with what was by far the toughest decision to make for this team, as each of Ohio State's last five quarterbacks of the decade could stake a claim for this spot.
Braxton Miller was Ohio State's first superstar of the 2010s, earning Big Ten Freshman of the Year honors in 2011 and Big Ten Offensive Player of the Year honors in 2012 and 2013. J.T. Barrett holds most of Ohio State's career records after starting for the Buckeyes for four years. Cardale Jones led Ohio State's most spectacular three-game stretch of the decade to win a national championship. Justin Fields already had one of the best individual seasons by an Ohio State quarterback in his first year as a Buckeye, and if we were doing this exercise next year, he might be a clear-cut choice if he has the kind of 2020 season everyone expects.
Among all the great Buckeye quarterbacks of the past 10 years, though, Haskins had the best individual season any of them (arguably of any Ohio State quarterback ever) in 2018. He completed a school-record 70 percent of his passing attempts for 4,831 yards and 50 touchdowns – both Big Ten records, and the best single-season Ohio State marks ever by a long shot – and carried the Buckeyes to 13 wins in a season where both their running game and their defense struggled.
He had nine 300-yard passing games in one year, more than any other Ohio State quarterback ever had for an entire career, including five 400-yard passing games – a feat that had previously been accomplished by an Ohio State quarterback only once (Art Schlichter, 1981).
Haskins only started for one year before becoming a first-round pick in the 2019 NFL draft, but he was Ohio State's most prolific passer ever for the time he was a starter, and that puts him atop the competition.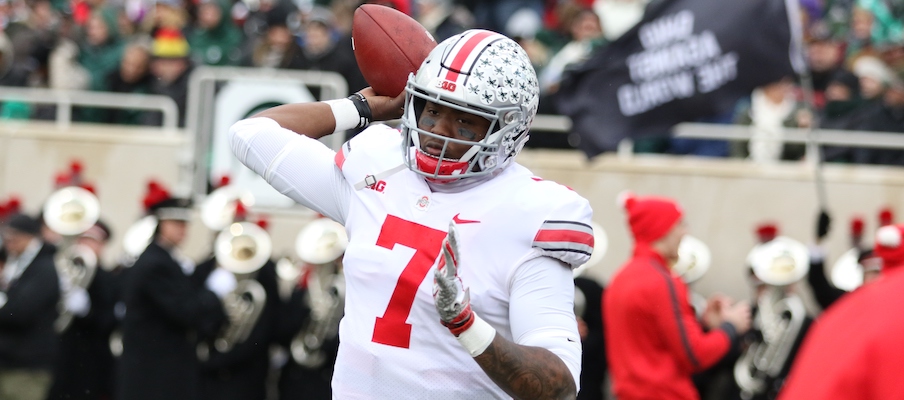 RB: Ezekiel Elliott
J.K. Dobbins has a legitimate argument for this spot after his record-setting final season as a Buckeye – in which he not only broke Ohio State's single-season rushing yards record, but surpassed Elliott's career rushing yards total – but Zeke still stands tall as Ohio State's defining running back of the 2010s.
Elliott was only Ohio State's starting running back for two years, compared to three for Dobbins, but he was spectacular for both of those seasons, running for more than 1,800 yards and at least 18 touchdowns in both of them. He had perhaps the best three-game stretch of any Ohio State running back ever when he ran for 220 yards and two touchdowns against Wisconsin, 230 yards and two touchdowns against Alabama and 246 yards and four touchdowns against Oregon in the Buckeyes' 2014 run to a national championship.
His 6.7 yards per carry is the best mark in school history among Ohio State running backs with at least 200 career carries, and his 44 touchdowns scored are the fourth-most in school history. He's the only Ohio State running back since Eddie George in 1995 to win the Big Ten Offensive Player of the Year and Chicago Tribune Silver Football awards, and he won the 2015 Sullivan Award as the United States' top amateur athlete.
WR: Michael Thomas
WR: Devin Smith
WR: Curtis Samuel
If this team was based solely on statistics, Thomas wouldn't be in the top three. He probably wasn't thrown to as much as he should have been during his Ohio State career – the record-breaking production he's put up in his first four NFL seasons proves that – but he was the most complete Ohio State receiver of the past decade, and would be the first pick among Buckeye pass-catchers of the 2010s if one was building a team to go win a game. He'd be the Z receiver in this offense.
Smith, the X receiver in this offense, led all Ohio State receivers in the 2010s with 2,503 receiving yards, 30 receiving touchdowns and an average of 20.7 yards per catch – all marks that rank in the top five in school history. Smith was Ohio State's best deep threat of the decade, possessing a special ability to track and make plays on the ball downfield.
Picking the H-back/slot receiver for the all-decade team was the toughest pick outside of quarterback. It's hard to leave off K.J. Hill, who set Ohio State's all-time record with 201 career receptions. Parris Campbell, who set Ohio State's single-season record with 90 receptions in his senior season, has a strong case for inclusion, too.
Samuel, though, was a unique weapon as both a receiver and runner – the truest hybrid player that Urban Meyer had in his Ohio State tenure – that brought a different dimension to the Buckeyes' offense. Samuel had more than 2,500 yards from scrimmage and 24 touchdowns in three Ohio State seasons and was a first-team All-American in 2016.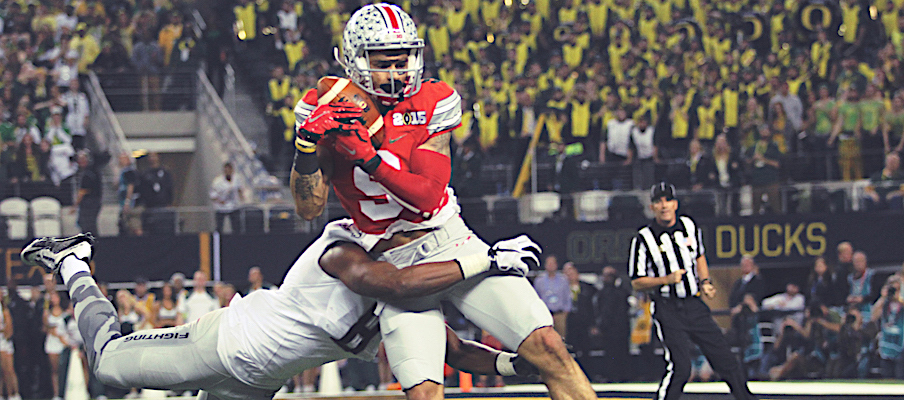 TE: Jeff Heuerman
Ohio State hasn't thrown many passes to its tight ends over the past decade, so there weren't any tight ends who put up huge numbers during the 2010s, but Heuerman was the Buckeyes' best all-around player at the position over the past 10 years. 
Heuerman caught 52 passes for 792 yards, the most among all Ohio State tight ends for the decade, over the course of his four seasons with the Buckeyes, while he was also a quality blocker. He was a three-year starter at Ohio State who was also a team captain for the 2014 national championship season.
LT: Jack Mewhort
LG: Andrew Norwell
C: Pat Elflein
RG: Billy Price
RT: Taylor Decker
Ohio State's offensive line of the 2010s is led by a pair of Rimington Trophy winners, Elflein and Price, who were both also unanimous first-team All-Americans in their senior seasons at center. Price was also a first-team All-American in his junior season, when he played right guard alongside Elflein at center, so that's where we slide him in here.
Norwell, a three-year starter and two-time first-team All-Big Ten honoree at left guard, narrowly gets the nod over Michael Jordan for the third spot on the interior offensive line. Mike Brewster, who earned first-team All-American honors at center to kick off the decade, is another tough omission and honorable mention.
Mewhort, who was a first-team All-American in 2013, and Decker, who was a first-team All-American in 2015, lead the way on the outside as Ohio State's two best offensive tackles of the decade. Both players started their final two seasons as Buckeyes at left tackle, but Decker started his career at right tackle opposite Mewhort, so that's where he makes the roster.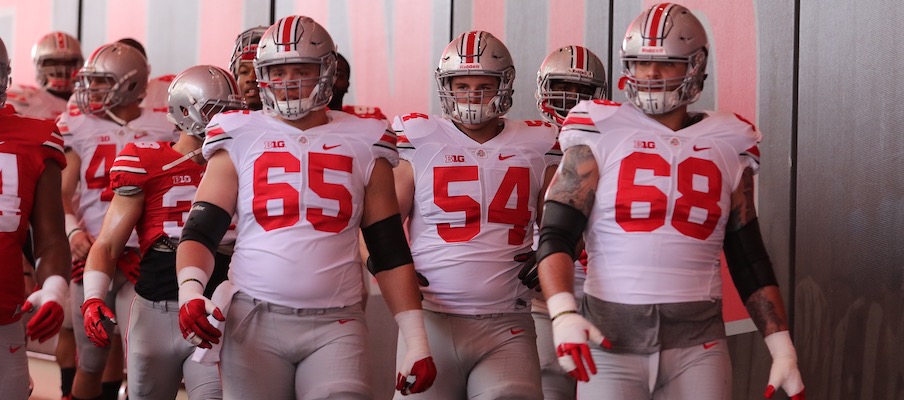 DE: Chase Young
DE: Joey Bosa
Young ensured his place on the all-decade team with one of the most dominant individual seasons by a defensive player in Ohio State history in 2019, when he recorded a school-record 16.5 sacks, won the Bronko Nagurski and Chuck Bednarik awards as college football's best defensive player and became Ohio State's first-ever defensive finalist for the Heisman Trophy. His 30.5 sacks were also the most for an Ohio State player in the '10s and the second-most in school history.
Joey Bosa was a two-time first-team All-American in 2014 and 2015 and led all Buckeyes for the decade with 51 tackles for loss, the fourth-most in school history, including 26 sacks. His 148 total tackles were also the most of the 2010s among Ohio State defensive linemen. 
Had Nick Bosa stayed healthy and had the dominant final season at Ohio State that he was certainly capable of, this would have been a tougher choice, but the younger Bosa wasn't able to put together quite the career that Young and his older brother did – though he, too, has a tree in Buckeye Grove as a first-team All-American – because of the core muscle injury that cut his season short in 2018.
John Simon, Tyquan Lewis and Sam Hubbard also warrant honorable mention recognition after a decade that featured elite defensive end play at Ohio State from start to finish.
DT: Michael Bennett
DT: Johnathan Hankins
Bennett led all Ohio State defensive tackles for the 2010s with 31.5 tackles for loss and 18 sacks, the latter of which are also the most ever by a Buckeye who primarily played defensive tackle. The 3-technique defensive tackle was a team captain and first-team All-American for Ohio State's 2014 national championship squad.
Hankins gets the nod as Ohio State's top nose tackle of the decade after a pair of dominant seasons in the lineup at that position, including a first-team All-American campaign in 2012. He recorded 138 total tackles with 16.5 tackles for loss in his three seasons as a Buckeye.
Adolphus Washington and Dre'Mont Jones also had valid arguments for spots on the all-decade team and can be considered honorable mentions here. 
LB: Ryan Shazier
LB: Raekwon McMillan
LB: Darron Lee
A tremendous athlete who could make plays all over the field, Shazier was Ohio State's biggest star of the 2010s at linebacker. He led the Buckeyes for the decade with 317 total tackles, while his 45.5 tackles for loss were the second-most of the past 10 years. He was a first-team All-American in 2013 and a two-time first-team All-Big Ten performer.
McMillan was Ohio State's best middle linebacker of the decade. A key contributor off the bench in 2014 and the Buckeyes' leading tackler in 2015 and 2016, McMillan was a rock-solid anchor in the middle of the defense and a two-time first-team All-Big Ten selection who finished his career with 275 total tackles.
Lee, who made big plays at the strongside linebacker spot throughout his two playing seasons for the Buckeyes – in which he recorded 146 total tackles, 27 tackles for loss, 11 sacks, three interceptions, three forced fumbles and three defensive touchdowns – gets the nod over Joshua Perry and Malik Harrison for the third linebacker position.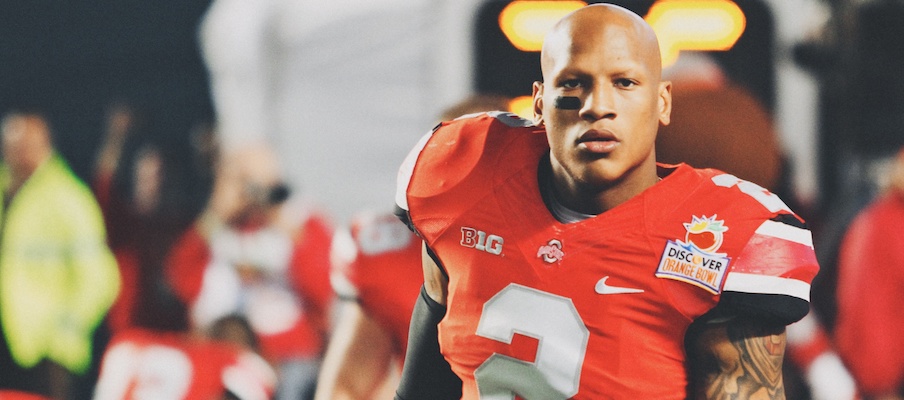 CB: Jeff Okudah
CB: Denzel Ward
Any of the five Ohio State cornerbacks who were already first-round NFL draft picks would be valid choices for the all-decade team, but the first spot goes to the cornerback who will be Ohio State's next first-round pick at the position this year. Of all the great cornerbacks that the Buckeyes had in the 2010s, Okudah had the most dominant season of them all in 2019, earning unanimous first-team All-American honors after consistently shutting down his competition in coverage.
Ward, who was a consensus first-team All-American in 2017 and went onto be the No. 4 overall pick in the 2018 NFL draft, narrowly gets the nod for the second spot over Marshon Lattimore and Bradley Roby. 
Gareon Conley, Eli Apple and Doran Grant are also worthy of honorable mention recognition, but Okudah and Ward – who were both only one-year starters but contributed in the rotation in all three of their years with the Buckeyes – make the team for being arguably the best cornerbacks in college football in each of their respective starting seasons.  
S: Malik Hooker
S: Vonn Bell
Hooker only saw major playing time in one season at Ohio State, but it was perhaps the greatest season ever for an Ohio State safety. Hooker made spectacular plays throughout the 2016 season on the back end of the Buckeyes' defense, becoming the first Ohio State player ever to return three interceptions for touchdowns in a single season while recording seven total interceptions, 74 total tackles, 5.5 tackles for loss and four additional pass breakups. He earned unanimous All-American honors for his efforts.
Bell earned first-team All-American honors of his own in 2015 and also delivered no shortage of big plays in his three-year Ohio State career, in which he recorded nine interceptions – tied for the most of the decade among all Buckeyes – and 15 additional pass breakups, forced two fumbles, scored two defensive touchdowns and accumulated 175 total tackles.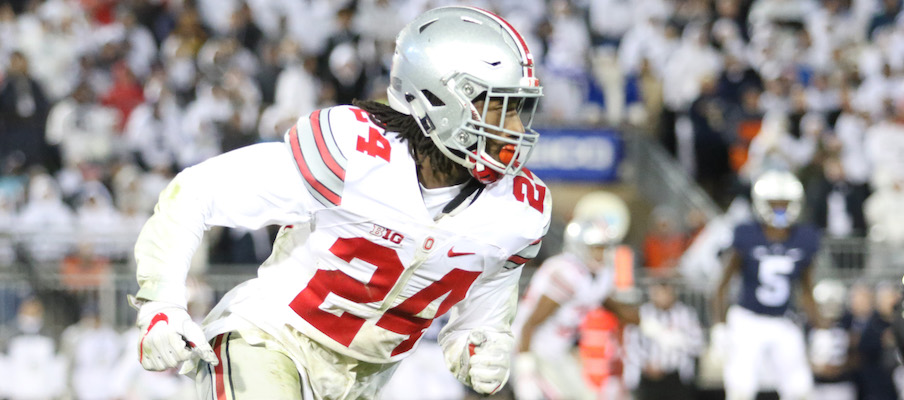 K: Blake Haubeil
There weren't any Ohio State kickers who put up huge field goal totals in the 2010s – in part because the Buckeyes just didn't settle for three points very often – but Haubeil was as good over the past two years as any scarlet and gray kicker of the decade. His 82.1 field goal percentage (23-of-28) is currently the best career mark in Ohio State history, and he is a perfect 122-of-122 on extra points. His 55-yard field goal against Northwestern in 2019 was the longest made field goal of the decade and tied for the second-longest field goal in Ohio State history.
P: Cameron Johnston
Johnston was a major field-position weapon in his four seasons as Ohio State's punter. The rugby-style punter from Australia averaged 44.9 yards per punt from 2013-16 – the second-best career-mark in Ohio State history – and downed 109 punts inside the opponent's 20-yard line, by far the most in school history. He's the only Buckeye to win Big Ten Punter of the Year since the award began in 2011.
LS: Liam McCullough
Long snappers don't usually get included on lists like these, but they deserve some love too, and McCullough was rock-solid as could be in his career as the Buckeyes' snapper from 2016-19. The rare long snapper to receive a full scholarship offer out of high school, McCullough proved worth it with his consistent play over the last four seasons.
KR: Jordan Hall
The rationale here was fairly simple: Since Hall returned a kickoff for a touchdown against Michigan in 2010, no Ohio State kickoff returner has reached the end zone since. His 683 yards on 26 returns in 2011 are an Ohio State record for the most in a single season, and his 1,308 yards on 49 returns were also the most of the decade. 
PR: Jalin Marshall
Marshall's 662 yards on 52 punt returns were by far the most for an Ohio State punt returner in the 2010s, his 12.7 yards per return were also the most among Buckeyes who had double-digit returns in the decade and no Buckeye has returned a punt for a touchdown (excluding punt block returns) since his 54-yarder against Indiana in 2014. Marshall's punt returns could be an adventure, as his ball security wasn't always great, but he provided a spark in that phase of the game that Ohio State hasn't had since.
Coach: Urban Meyer
No All-Ohio State team of the 2010s would be complete without Meyer, the man responsible for recruiting and coaching nearly all of the players listed above.
More than any individual player, Meyer – whose Buckeyes won 83 of the 92 games he coached from 2012-18 – was the Ohio State football program's defining figure of the decade, bringing the Buckeyes back from the scandal that ended Jim Tressel's tenure and building the foundation upon which Ryan Day brings the Buckeyes into the 2020s. In just seven years, Meyer cemented his legacy as one of Ohio State's all-time greats by leading one of the Buckeyes' most successful decades of football ever.