The way Ryan Day first described Trey Sermon, it was as if he was talking about someone who doesn't really ever come off of the field.
He spoke of the 6-foot, 221-pounder as a do-everything running back with few flaws. Someone with every trait necessary to thrive as a full-time starter.
"He can do a lot of things," Day said in April. "He's big, strong, powerful, got good feet in the hole. He can break tackles. He can run routes out of the backfield. He can pass protect. Again, he's another versatile guy. He's strong, powerful and he's very intelligent, just talking to him and understanding his football IQ."
With that type of scouting report, it seems completely possible that Sermon could play the majority of snaps and receive the brunt of the carries this fall. But is that actually what will happen?
At this point, it's fairly clear that Sermon will start. Sure, neither Day nor running backs coach Tony Alford likely promised him the starting gig. He, like Justin Fields a year ago, will have to actually earn it during practices. But everyone involved in the transfer – including Sermon, Day and Alford – also saw the opening Sermon can fill that was created by J.K. Dobbins' decision to head to the NFL and injuries to Master Teague and Marcus Crowley. It would be a surprise if he doesn't take the majority of handoffs from fields in 2020.
Yet, it remains unclear whether Sermon will serve as a bell-cow running back who gets most of the touches or if he'll just be the main part of a committee approach. 
Alford, who has used both styles in his five years at Ohio State, hasn't spoken to reporters since April. He only got to work with the running backs for three practices in the spring, with only one scholarship running – Steele Chambers – healthy enough to participate in the latter two. 
Sermon and Alford haven't been able to work together on the field yet. So in April, Alford didn't have an answer as to how he plans to deploy Sermon and the other running backs.
"I said this when J.K. was here even with Mike Weber and things like that. We don't have any preconceived ideas of, well, we're just going to run one guy so we're going to get this guy ready," Alford said in April. "They're all going to get ready to play. They're all going to be prepared to paly. We're going to do whatever we need to win games. If that's with a committee approach, then that's fine. If it's not, then it's not. To say what's that going to be right now, I think that's premature on my part. I think we're just going to go through and see how we do, and we'll do what we need to do to win games, whatever that looks like."
Either Alford didn't feel like telling the public what he intended to do in the fall, or he legitimately didn't know at the time.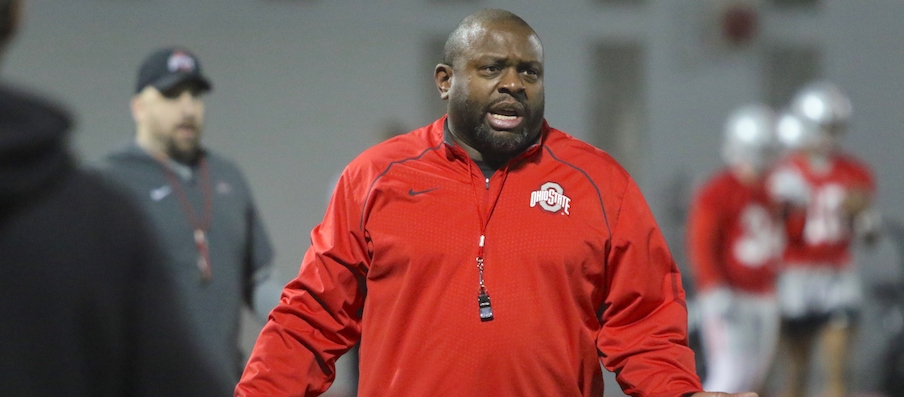 Either way, how heavily he relies on Sermon might partially be out of his hands. Outside of the Oklahoma transfer, there are a number of questions about the rest of the running backs on the roster.
Had Teague been healthy, Ohio State might not have even targeted Sermon, or even if Alford wanted him, Sermon might have opted to go to a different situation with more of a likelihood that he'd start. Teague finished seventh in the Big Ten with 789 rushing yards last year, and he had the inside track to start as a redshirt sophomore in 2020. However, he suffered a torn Achilles during the first practice of the spring, which has forced him to spend the subsequent months rehabbing.
Will he be back for the beginning of preseason camp in the first week of August? Or maybe the first game of the year against Bowling Green on Sept. 5? Could he return at some point during the season? Will he be hindered even when he returns? Those are all legitimate questions without answers yet, even though Alford said he's "on schedule" in April, and Day called him a "genetic freak" earlier that month.
The status of Marcus Crowley, who some once viewed as a dark horse to start in 2020, is also in question. Earlier this year, Day said he was recovering from an ACL injury, and he also showed up to a basketball game in January with a hefty sling. Day, however, said in April that he expects to have Crowley back for this upcoming season.
If either or both Teague and Crowley are fully healthy when the season begins, Alford will have the chance to split carries. If not? Sermon would likely be given the bulk of the rushes. Chambers is the only other returning running back on the roster, with Demario McCall being a potential situation option and Miyan Williams as an incoming freshman.
Sermon, in three years as a Sooner, never toted the ball as much as he might be asked to do so this fall. He hasn't played a season in which he plays more than six games with double-digit rushes.
Here's what his three seasons looked like in Oklahoma:
2017: 121 carries, 744 yards, 6.1 yards per carry, 5 touchdowns
2018: 164 carries, 947 carries, 5.8 yards per carry, 13 touchdowns
2019: 54 carries, 385 yards, 7.1 yards per carry, 4 touchdowns
In Alford's five seasons coaching Ohio State's backfield, he has yet to have a season where a running back had fewer than 182 carries. The only years a running back had fewer than 200 carries were when J.T. Barrett was at quarterback, running well over 150 times in 2016 and 2017.
More likely than not, Sermon will flirt with 200 rushes in 2020, even accounting for Fields potentially rushing more than last year, when he had 137 carries.
"We're anxious to get started with him, and we're happy to have him," Alford said earlier this year. "We're expecting him to come in here and compete and help this football team the best that he can."
Despite being yet to practice or play in a game as a Buckeye, Sermon's already one of the offense's most indispensable players. For Day to maximize an offense led by a Heisman Trophy finalist quarterback, one of the nation's best offensive lines and a talent-rich receiving corps, it needs him to come through.
The health of Teague or Crowley could determine whether or not the Buckeyes can unleash their full stable of running backs. But whether he's the full-timer or just the head of a rotation, Sermon's imminently important to Ohio State's 2020 plans, and he'll be relied upon heavily as a weapon in the backfield.