After Master Teague suffered an Achilles injury during the opening day of spring practice in March, Ryan Day knew Ohio State needed another running back.
Marcus Crowley was already sidelined for the spring, recovering from an ACL injury, leaving redshirt freshman Steele Chambers and incoming freshman Miyan Williams as the Buckeyes' only scholarship running backs not recovering from major injuries. So Ohio State, he thought, had to find another running back who could play immediately this fall.
That's why Ohio State quickly kicked the tires when former Oklahoma running back Trey Sermon entered the transfer portal less than two weeks after Teague suffered his injury. And after Day started talking to Sermon and people who could vouch for Sermon as a football player and person, he was sold that the graduate transfer would be a good fit to join the Buckeyes' 2020 running back room.
"Master getting hurt here in the spring put us behind the 8-ball a little bit in terms of depth, and then Marcus Crowley coming off the ACL, so when Trey became available, we did a lot of research, made a lot of calls," Day said during a teleconference with reporters on Wednesday, shortly after Ohio State officially announced the roster addition of Sermon. "The people at Oklahoma had such great things to say about him. We played against him and we saw what he could do on the field. He's a really good player. But off the field, just again, the people who know him have such great things to say about him."
Running backs coach Tony Alford has known Sermon since he was in high school, when the Buckeyes were a major player in his recruitment before J.K. Dobbins committed to Ohio State in the same recruiting class. Day and the Buckeyes saw what Sermon could do firsthand when he had 85 yards from scrimmage and a touchdown – in just his second game as a true freshman – in Oklahoma's 31-16 win at Ohio Stadium in 2017.
After watching the film from Sermon's three seasons at Oklahoma, in which he rushed for 2,076 yards and 22 touchdowns and caught 36 passes for 391 yards and another three touchdowns, Day was left with little doubt that Sermon could make the Buckeyes' running back room better.
"He can do a lot of things," Day said. "He's big, strong, powerful, got good feet in the hole. He can break tackles. He can run routes out of the backfield. He can pass protect. Again, he's another versatile guy."
The difficult part of recruiting Sermon was that his entry into the transfer portal came after the NCAA instituted a dead period for recruiting due to the coronavirus pandemic, meaning Ohio State could not have any in-person contact with Sermon. Nonetheless, Day became comfortable that Sermon would also be a good fit for Ohio State off the field by talking to him through phone calls and FaceTime.
"I've been very, very impressed with our conversations with him," Day said. "It's great to get a mature young man like Trey in the program, and I know our team's gonna take him with welcome arms. And I've just been very impressed too with the running back room and how they've already taken him in. And that goes to show you the culture of our team."
Day and the Buckeyes also communicated with members of Oklahoma's staff to gather information not only on Sermon's character, but also on his injury history, as he is coming off an LCL injury in his left knee that cut his 2019 season short. Everything the Buckeyes heard back on Sermon was positive, though, and Day praised the Sooners for their willing assistance in gathering information.
"Oklahoma was very, very forthcoming and was great communication with everybody there," Day said. "We had to ask some questions about a lot of things. And everything that came back, really positive, so we felt really good about this."
Oklahoma head coach Lincoln Riley publicly praised Sermon when asked about his decision to leave the Sooners during a teleconference last month.
"He was a great Sooner, really, really good teammate," Riley said, according to Kegan Reneau of Sooners Wire. "Loved the three years we had him. Hated it ended the way it did for him. The middle of last season I know he was frustrated and then obviously the injury was just a horrible way for it to end. Hate that it ended on a sour note for him because he did a great job here.
"I think Trey saw a situation competitively that he felt like there was going to be a better opportunity to play a little more somewhere else," Riley added. "I get it. I respect it. It's part of the world we live in. Certainly nothing but positives to say about him—the kind of person he is, the kind of player he was, represented us well. Loved every second with him and we definitely wish him the best."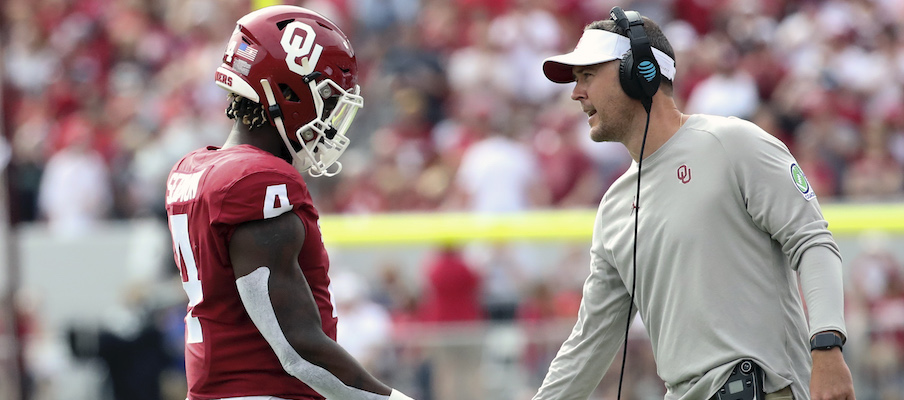 Sermon is set to enroll at Ohio State this summer, is immediately eligible to play and has one remaining season of eligibility. 
Day didn't comment on where Sermon might stack up on the depth chart during Wednesday's teleconference, but he's expected to be the frontrunner to start at running back, though that will remain up in the air until Ohio State is able to return to the practice field and hold a competition. Day has expressed optimism that Crowley will be able to play this season, and that Teague will be able to return in 2020 as well, but Sermon will have a chance to win the starting job regardless.
Ohio State significantly upgraded its 2019 offense by adding Justin Fields and Jonah Jackson from the transfer portal last year, and now, the Buckeyes will hope Sermon can achieve similar success.
"We're fired up he's a Buckeye," Day said.