Another new group of Buckeyes are about to officially become NFL players, so we're taking a look back at the best highlights from their Ohio State careers in From the Shoe to the Show.
Ohio State is set to be one of the most well-represented schools in the NFL draft once again in 2020, with more than a dozen players who are expected to either be drafted or sign as undrafted free agents when this year's draft is held later this month (April 23-25).
From the Shoe to the Show
Jonah Jackson starred at Ohio State for only one season, but that was enough for him to solidify himself as one of the best guards in college football and now, a projected early-to-middle round pick in the 2020 draft. He likely would have been drafted even if he finished out his career at Rutgers, but by graduate transferring to the Buckeyes in 2019, he had the opportunity to play under a bigger spotlight – and he shined.
Because he played only one season in scarlet and gray and plays a position where even great plays often get unnoticed, Jackson's Ohio State highlight reel is smaller than most of the other Buckeyes who are about to play in the league. That said, his one season as a Buckeye is certainly worthy of another look, so we've rounded up some of his most impressive blocks and other memorable moments from his year with the 2019 Big Ten champions.
Becoming a Buckeye
When Jackson entered the transfer portal in January 2019, he already had a small list of potential destinations in mind, and ended up considering only two schools: Ohio State and Oklahoma. Ohio State showed immediate interest in Jackson, who had been an All-Big Ten honorable mention in his final season at Rutgers, to fill its vacancy for a starting left guard, and Jackson ultimately chose to be a Buckeye over a Sooner.
After four years at Rutgers in which the Scarlet Knights never won more than four games, Jackson came to Ohio State with visions of winning more frequently and competing for championships.
"I gave everything to the university (Rutgers) and that will forever be my alma mater. That's a place I'll consider home," Jackson said in his first interview session at Ohio State. "But I wanted to see what else was out there."
Jackson experienced more winning than he ever did at Rutgers in his lone season at Ohio State, as the Buckeyes won their first 13 games last season – including all 12 regular-season games and the Big Ten Championship Game – and made the College Football Playoff. Now, Jackson is a sure bet to be drafted, and he's full of gratitude for Ohio State helping him get to this position.
"If you told me this a year ago that this would all be happening, I'd probably laugh at you, but now being able to live in it and experience all this, it's like no other," Jackson said during his week at the Senior Bowl in January.
Knockdown king
Jackson took over as Ohio State's starting left guard from his first practice as a Buckeye, and he thrived immediately in his first game in Ohio Stadium. In Ohio State's season opener against Florida Atlantic, Jackson was credited with a whopping nine knockdown blocks, the most among all Buckeye offensive linemen in that game and the highest count of his career.
A few of those knockdowns:
Jackson's nastiness and power continued to be on display all season long. One standout example came in the following clip from Ohio State's second game in the season against Cincinnati; while Justin Fields took a sack after holding onto the ball too long, Jackson did his job to perfection, pummeling a defensive end to the ground and driving him into the dirt.
For the season, Ohio State credited Jackson with 79 knockdowns – though he said at the NFL Scouting Combine that didn't include the Clemson game, so he really had around 84 or 85. Exact total aside, it isn't hard to find film of Jackson imposing his will on defenders, which has surely caught the eyes of NFL scouts.
Leading the way for J.K.
While offensive linemen don't get to rack up box-score statistics of their own, all five of Ohio State's starting offensive linemen from last season deserve their share of credit for J.K. Dobbins' record-breaking year – as Dobbins regularly attested himself – in which he became the first Buckeye to ever rush for 2,000 yards in a single season.
Throughout the season, there were no shortage of examples of Jackson opening up holes for Dobbins to break through the line for big plays.
The following block against Northwestern sprung Dobbins for a 68-yard run and was one reason why Jackson earned Ohio State's offensive player of the game honor that week:
In the clips below, Jackson makes path-clearing run blocks on back-to-back plays, first to spring Dobbins for a long run and then to lead Fields for a touchdown:
In his only appearance in The Game, Jackson hit several key blocks to help lead Dobbins to a 211-yard, four-touchdown day in Ohio State's 56-27 win over Michigan, including the following two touchdown runs on which Jackson blocked two separate defenders on each play.
A reunion with his former teammates
While Jackson chose not to play his final season of college football at Rutgers, he had one final opportunity to play at SHI Stadium in November, and got to be on the good end of an Ohio State blowout win over the Scarlet Knights for once. 
The most memorable moment of that game in Piscataway for Jackson came after the game, though, when he had the opportunity to catch up with many of his former Rutgers teammates, which he described as an "awesome" moment.
Rutgers-turned-Ohio State offensive lineman Jonah Jacksons a popular man. pic.twitter.com/BMmNWAwyRI

— Colin Hass-Hill (@chasshill) November 17, 2019
"I basically grew up here for four years of my basically adult life, and to be able to see the guys I grew up with and the coaches and the staff and everything, it was a great experience," Jackson said after the game.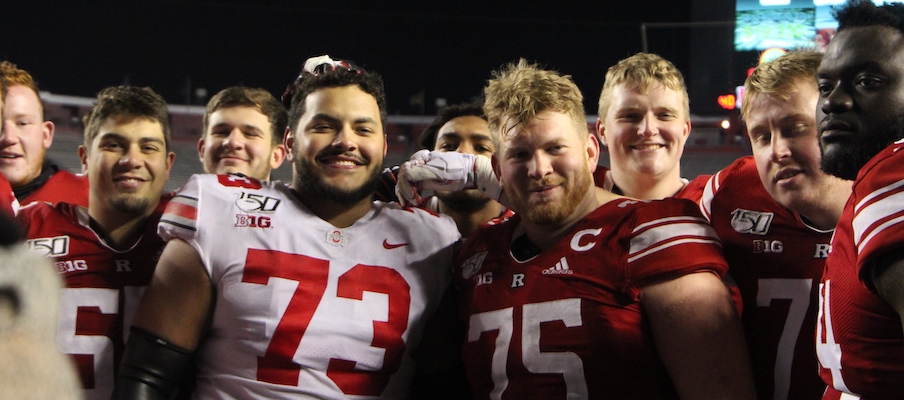 While Jackson is proud to have finished his career as a Buckeye, his years as a Scarlet Knight have helped him to get where he is now too, and he hasn't forgotten that as he's going through the NFL draft process.
"I graduated from Rutgers so I'm an alumni of there, and I'm a soon-to-be graduate of Ohio State," Jackson said at the NFL Combine. "I'm definitely repping both the Scarlet Knights and the Buckeyes."
First-team All-Big Ten, third-team All-American
In recognition of his excellent season at Ohio State, Jackson earned first-team All-Big Ten honors from the conference's coaches and was also named as a third-team All-American by the Associated Press.
Had Jackson stayed at Rutgers, which won just two games in 2019, Jackson probably wouldn't have gotten that level of recognition. At Ohio State, though, he was exactly what the Buckeyes needed to team up with Josh Myers and Wyatt Davis and form what was arguably the best interior offensive line in the country last season – and next week, he'll reap the rewards by being selected in the NFL draft.