Where Are They Now is a weekly series where we catch up with former Buckeyes to discuss their Ohio State experience and beyond.
Brian Rolle came to Ohio State from a small town in Florida and played linebacker for the Buckeyes from 2007-2010. As a senior, he was a captain, led the team with 76 tackles and had two interceptions. He was selected in the sixth round of the 2011 NFL draft by the Philadelphia Eagles.
After two seasons in the NFL, Rolle made the move to the Canadian Football League, playing for the Toronto Argonauts from 2015-2016. In 2016, he retired from football.
I had the opportunity to talk with him more about some of the highlights of his time at Ohio State, what he's up to in his professional life and his iconic interception against Navy.
What was it like to be coached by Jim Tressel?
BR: Oh, man, I always tell people that he was the ideal player's coach because he was hard on you but he showed compassion. He let you know the why behind why he was so tough on you. It was a breath of fresh that someone believed in me as much as he did and he poured himself into each player and I think that's probably the biggest thing.
I know he's the head coach but he allowed the individual coaches to do their job and at the same time, he imparted his wisdom. And also, as I said, poured himself out to every player as well.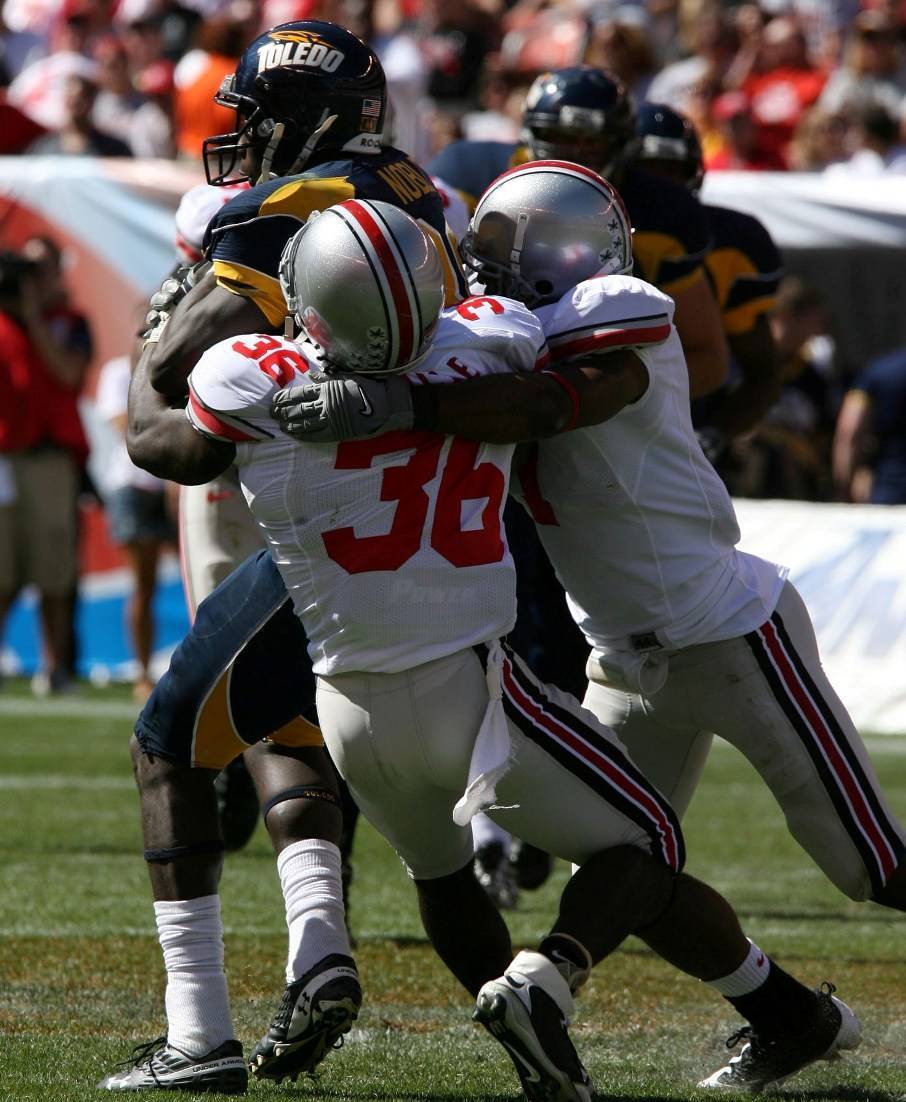 You very quickly became a household name and a fan-favorite. So if you would, tell me a little bit about what that was like.
BR: It was very humbling. I tell people because not a lot of people know where I'm from, people didn't know who I was unless you were from where I was from. And to come to Ohio State as the kid from a small town, but then to make plays on special teams which Coach Fickell told me I had to use it to play, and things kind of came into fruition the way they said. It was very humbling to walk around campus or to walk into a store or something and someone recognizes who you are. It was a blessing. It was humbling for the opportunity, and I appreciate my foundation for it.
Looking back, what would you say was the most memorable event from your career at Ohio State?
BR: Oh my goodness there are so many. Oh God, it's so many things. Probably one of the most memorable times I would say would be spending it out at the Rose Bowl, you know, "The Granddaddy of Them All," the Tournament of Roses. Everyone in the Big Ten and the Pac-12 are scrapping to play in that game, if not the national title.
That had to be one of the best experiences because you watch guys, you know, like Reggie Bush and then have the opportunity to step on that same field with so many legends, that was a great experience. It was probably the highlight of my career at Ohio State.
I know you spent some time playing football professionally, but what are you up to now? 
BR: So recently, over the last 57 weeks, I was a part of a leadership development program with a large infrastructure, life safety construction company and actually as of last Monday I finished the program. And once I finished, I had seven job offers from the seven companies that visited underneath our umbrella. I chose a position to work in Cincinnati, Ohio for a company called 3S Incorporated and they're an engineered fire protection company. So, they specialize in special hazards, high value, high hazard fire protection.
How would you say that your football career transferred over to your professional life?
BR: I think the big thing that you take from your sports background regardless of football, or what have you, is just the work ethic. I always tell guys that I run into who are part of our company that we're just different. No knock on guys in the military or anything like that, but you know you come from the sports arena you understand work ethic, you understand time-management.
You understand, you know, there's going to be a grind day in and day out. I think coming from football into the professional world has allowed me to go places and do things that not a lot of people have the opportunity to do.
What was it like to return that two-point conversion against Navy?
BR: Oh, man. I remember before the play, we called a timeout. So previously in camp, we had prepared for Navy for so long, even that one play where I intercepted the ball. And on the sideline before the play, Luke Fickell told me, he said "if the quarterback rolls, I want you to blitz. If he doesn't roll out, I want you to stand still and he's going to throw you the ball" and I'm like, okay, that seems simple enough and I did exactly what he said.
The quarterback didn't even roll, he didn't move, and so I didn't move and he threw it right to me and I remember running down the sideline. In my mind, I just thought I can't believe it like really I could not believe it and it seems like a blur how fast I got from one end to the other end. And then once I watched it on film the day after, it really hit me like wow dude I just had a freaking huge play. And that was freaking crazy and like for me, it was expected.
So that's why I guess you see me on the sideline, I didn't have a huge reaction because like I said, I was expecting a big play like that. You come to Ohio State, you expect to make plays like that. And then when I saw it on film, that's when it really hit me how big of a play that was especially with the momentum swinging.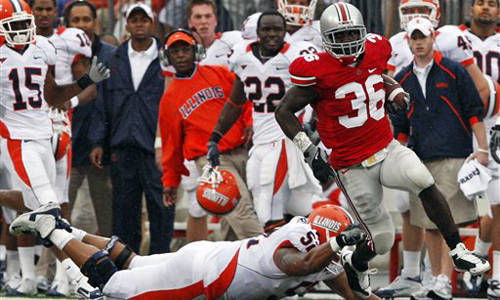 What does it take and what was it like to be a leader on an Ohio State football team?
BR: I'll tell you what, it's kind of cliche but you know you just have to do the work. It's easy, I think, to come in as a young guy or get to a junior level and then talk when it's really about putting in the work. Guys are going to see what you do as opposed to what you say. You know, I think about guys like James Laurinaitis and Malcolm Jenkins, guys like that when I came in. Those guys were big talkers, but they were big doers as well.
As a kid, you hear that actions speak louder than your words, but you see it. You witnessed it with those guys and you know, they had awesome careers at Ohio State, awesome careers in the NFL. So, if there are any young guys at Ohio State that are listening or reading this, even kids in high school or middle school, just put in the work, just work hard, because everybody can talk.
Talking is the easy part, but putting in the work, getting up early, being the first one in and the last one out, things like that is what it takes to make it at Ohio State because we are a cut above the rest. We are The Ohio State, and there's no other school that you can compare to Ohio State.