The statistic elicited a simple "Wow" from Ryan Day.
When Nick Bosa was named the AP NFL Defensive Rookie of the Year for the 2019 season on Saturday evening, he became the third former Ohio State player in four years to win that award, following his older brother Joey Bosa in 2016 and Marshon Lattimore in 2017.
February 1, 2020
It wouldn't come as a surprise if another Buckeye makes it four out of five next year.
Ohio State could have the top two frontrunners for the 2020 NFL Defensive Rookie of the Year award in Chase Young, who is widely projected to be the first defensive player drafted and the No. 2 overall pick come April, and Jeff Okudah, who is a popular choice to be the No. 3 overall pick in this year's draft.
Young is likely to land with the Washington Redskins, where he should be an immediate starter at defensive end as the Redskins shift to a 4-3 defense under new head coach Ron Rivera. While the Redskins already have two starting-caliber pass-rushers on their rosters in Ryan Kerrigan and 2019 first-round pick Montez Sweat, Young is far too talented for any team that drafts him to keep him off the field. Even at the next level, he'll immediately be one of the league's most physically gifted players.
Count the younger Bosa, who knows how talented Young is from playing alongside him and knows firsthand what it takes to achieve immediate success in the NFL, among those who expects Ohio State's latest superstar defensive end to make a big impact right away for his new team.
"I think he'll be Defensive Rookie of the Year next year, or even more," Bosa told reporters in Miami last week before the Super Bowl. "His potential is as good as anybody's, just with his physical attributes. He's 6-5, 270, runs like a receiver, strong. We're gonna have to get together and work, get him right. It's a little different playing NFL tackles, but once he gets the hang of it, he's gonna be the real deal."
Like Nick Bosa, Young arrived at Ohio State as a top-10 overall recruit, and he'll likely soon join Bosa by becoming Ohio State's second consecutive No. 2 overall pick. In the process, he'll also become the third Ohio State defensive end in a five-year span to be a top-three overall pick, joining Joey Bosa, who went No. 3 overall in 2016.
Nick Bosa says that's a testament to Ohio State defensive line coach Larry Johnson.
"He knows how to develop players, so if you give him a five-star, he's probably gonna be a top-five pick," Bosa said.
Both Bosas performed up to the hype as NFL rookies, in part because of how well-prepared they were by Johnson, and Young is more than capable of following in their footsteps and doing the same.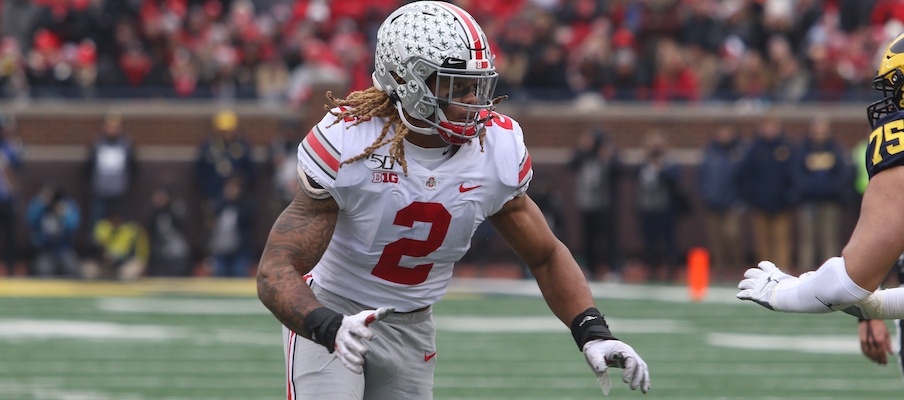 Okudah, who joined Young in earning unanimous All-American honors in his final season at Ohio State, should also be in line to start immediately for his new NFL team – whoever that might be – and is likewise capable of quickly emerging as one of the league's best cornerbacks, just as Lattimore did in 2017 and Denzel Ward – who didn't quite earn Defensive Rookie of the Year honors, but was a Pro Bowler as a rookie – did in 2018.
Whereas Lattimore and Ward were coached by Kerry Coombs for their entire Ohio State careers, Okudah had three different position coaches in his three seasons as a Buckeye, but his 2019 season was arguably the most dominant season that any of them had at Ohio State, and his final year of coaching from Jeff Hafley – who was previously an NFL secondary coach for seven years – should have him well-prepared to translate his game to the league.
If the Detroit Lions select Okudah with the No. 3 overall pick, he would team up with their current top cornerback Darius Slay, and it sounds like both of them would be happy with that outcome:
Much love big homie @_bigplayslay23 https://t.co/762tlcWS2c

— Jeff Okudah (@jeffokudah) January 29, 2020
Even if the Lions go in a different direction, Okudah could still be a top-five overall pick, and it would be shocking if he doesn't go in the top 10. Other possible landing spots for Okudah include the New York Giants' No. 4 overall pick, the Carolina Panthers' No. 7 overall pick and the Jacksonville Jaguars' No. 9 overall pick.
Regardless of where he ends up, Okudah will bring a polished skill set and elite physical traits that give him the potential to excel in the NFL right away.
Young and Okudah aren't the only players from Ohio State's 2019 defense who could make an impact at the next level in 2020. Malik Harrison and Damon Arnette are both potential early-round draft picks who should have a chance to play significant roles as rookies after starting for multiple seasons at Ohio State. DaVon Hamilton solidified his standing as a middle-round pick with a big week at the Senior Bowl, so he'll have a chance to earn key early playing time on an NFL team's interior defensive line. Jordan Fuller is projected to be a late-round draft pick, but it wouldn't come as a surprise if he becomes a productive player in the league after starting for three years on the back end of the Buckeyes' defense. Robert Landers and Jashon Cornell will also have the chance to earn their way onto NFL rosters as either late-round draft picks or undrafted free agents.
The Buckeyes have also had several offensive players make big impacts as rookies in recent years, including Ezekiel Elliott and Michael Thomas in 2016 and Terry McLaurin in 2019, and they'll have numerous rookies on that side of the ball looking to make their mark on the league in 2020, as well. J.K. Dobbins is a potential first-round pick who could immediately be a starting running back in the league, Jonah Jackson will likely contend for a starting guard spot with whichever team drafts him and K.J. Hill has the skills to contribute right away in a receiving corps.
No trend has been more consistent with Ohio State's NFL rookie classes over the past four years, though, than how the Buckeyes have produced early first-round draft picks who have gone on to become instant stars at the next level year in and year out. And with Young and Okudah leading the way not only among Ohio State's prospects for the 2020 NFL draft, but among the draft's entire crop of defensive prospects, there's reason to believe that at least one or two rookie Buckeyes from that side of the ball will be first-year standouts in the league once again next season.