Had Ohio State played for a national championship on Jan. 13, Mickey Marotti might have finally found some worthy competition for what he calls his second favorite day of the year – behind only when the team goes through mat drills.
A loss to Clemson in the Fiesta Bowl so devastating that the team has a sign depicting the game's score in the weight room ensured that didn't happen, though. So when the annual teamwide meeting came around this January, putting the 2020 Ohio State Buckeyes in the same room together, Marotti again found himself in his personal heaven. 
In his eighth year as the team's strength and conditioning coach, he has become something of an institution in the Woody Hayes Athletic Center. Yet what has become a yearly tradition hasn't aged at all in his mind.
"More so than football games and championship games, it's the meeting because now you have a new team and you almost kind of restart," Marotti said on Wednesday. "You hit Control-Alt-Delete, start over. Blank sheet of paper. And you really map out what the next seven, eight weeks are going to be about and how you can change and how you can improve and how you can enhance and what you need to do. And in that meeting, it's like an Academy Award-winning deal for me. It's the biggest thing ever."
In the minds of freshman wide receivers Julian Fleming and Gee Scott, both of whom he remembers afterwards saying, "That was the best meeting ever," whatever Marotti said must have worked.
"We'll see in February when…" said Marotti, his voice trailing off.
He didn't need to finish that thought to send a mighty clear message, though.
Nothing that happens between January and Sept. 5, the season opener against Bowling Green, will come easy. Not for the veterans, and not for the early enrollees. And that begins with winter workouts, which began last week at the Woody Hayes Athletic Center under the instruction of Marotti and his staff.
As the rest of the coaches traverse the country in pursuit of the nation's top recruits, Marotti will lead the players who were once the targets of those trips through rigorous workouts. Those will take place over the course of the next month-and-a-half until spring practices start on the first week of March.
"Obviously every winter, it's about development," Marotti said. "It's like, what is the offseason for? It's not for that, it's not for this. It's for development. It's for individual development. So that takes precedence over everything. And then as you slowly (progress), it's a new team."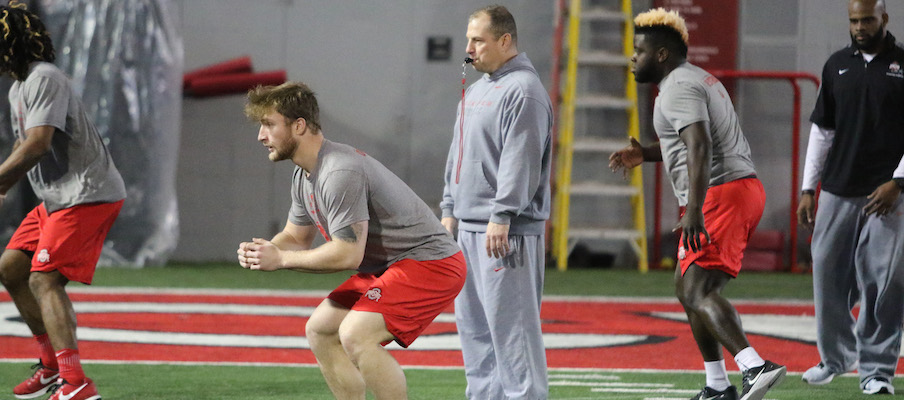 To kick that process off, Marotti first spent some time with each player outside of the weight room and the training room. Individually, he met with everybody on the roster in their first week back on campus.
"We talk about goals and we talk about how you can help the team, we talk about what your value is, what you need to do this offseason," Marotti said. "We write it down. We have objective goals, we have the subjective goals and we talk about all different things."
Those subjective goals? They're new, and they're open for everybody in the program to see.
In what Marotti described as "a little bit different" than what has been done in the past, each player filled out a "six-question self-evaluation project." The first question asked what specifically motivates them. The second question had everybody list three personal goals, which could be anything from off-field academic ventures to on-field intangibles. The other four questions were centered on what each player's units and teammates can expect of them, Marotti said.
Once everybody filled them out, Marotti had them placed on the front of each player's locker in the Woody Hayes Athletic Center with the understanding that nobody will be able to hide from their goals.
"So if someone needs help, then a leader grabs them and says, 'This isn't your goal. You're not doing it.' Or they need help, whatever it is. We're trying to be very transparent, more than we've ever been," Marotti said. "We're trying to help each other. If somebody does something right or wrong, we're calling it out. We're teaching them. I'm just trying to make it as focused and as focused as they can be."
With that exercise completed, the month-and-a-half-long workouts began.
January, Marotti said, is filled with what he described as "general training."
Players are separated into three groups, each of which have "different needs," especially in the first few weeks as everybody gets integrated. There's an "advanced group" that's mostly filled with experienced upperclassmen who have played substantial amounts of snaps, such as Jonathon Cooper, Josh Myers and Wyatt Davis. The other returners, most of which are underclassmen who haven't had significant roles in prior seasons, get put into the "developmental group." The third group features the 15 midyear enrollees in their first semester of college.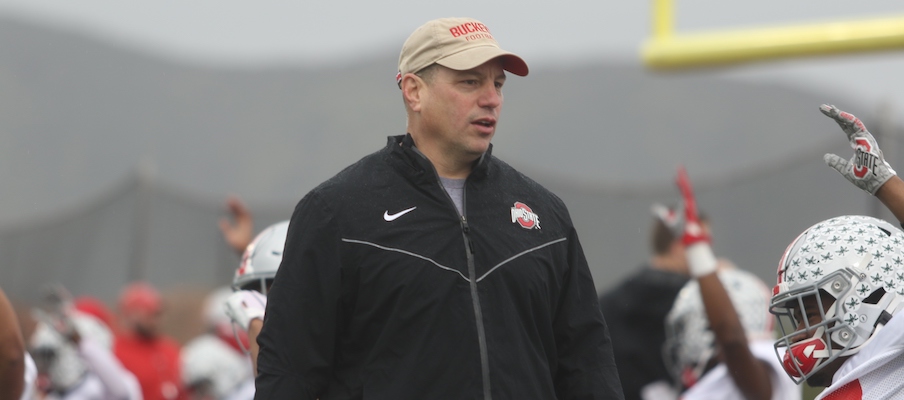 Every winter, Marotti says, the early enrollees get separated before getting slowly integrated into groups based on "fitness levels." With 14 freshmen and walk-on graduate transfer tight end Corey Rau, Marotti's largest group of mid-year enrollees ever, that's certainly not changing this year. 
Thus far, from a talented group that features five-star offensive tackle Paris Johnson, a pair of four-star quarterbacks and four wide receivers ranked in the top 100 of 247Sports' composite rankings, Marotti has found himself impressed.
"From a togetherness, serious standpoint, these guys are ready," Marotti said. "They came mentally ready for what's coming. They came focused. They're into it. It's a really good group. We just had a meeting and everybody in our department talked about how well the freshmen were doing just taking care of their business."
By splitting them off from the rest of the players, Marotti says the strength staff gets to spend more time teaching technique in the weight room and on exercises, giving the freshmen an opportunity to learn in a less chaotic environment. With such a large group, he also expects more opportunities for "positive leadership" to shine.
But don't discount another reason for the separation, which Marotti aptly deemed as being "fun."
"You guys all understand recruiting and the things that happen in recruiting," Marotti said. "Everybody's got to be nice to everybody. I don't have to be nice to anybody. Some of the things that I had to go through when they're on campus recruiting and all the fun stuff, now it's real."
It might get even more real in a couple weeks.
Workouts ramp up even further in February, which is only six days away. The second month of the year, Marotti believes, makes champions.
"The month of February's kind of the month that we hold our hat on around here," Marotti said. "That's when it's dark and it's early and it's hard and it's adverse and it's everything that you'd want out of it."
Two days after February ends, spring practices begin.
"I call it perpetual development," Marotti said. "From the time they walk in that door from the first day to the time they leave to go play in the Senior Bowl, it's perpetual development. You're trying to get better every day you're in here, every month, every year as you go through."