Justin Fields had a job to take care of on Monday night.
So, too, did Jameson Williams, Greg Mattison, Jeremy Ruckert, Jerron Cage, Mookie Cooper, Matt Barnes, Master Teague, Amir Riep, Marcus Crowley, Brian Hartline, Zach Harrison, Harry Miller, Antwuan Jackson, Greg Studrawa, Noah Potter, Wyatt Davis and every other player or coach at Ohio State. The description of what they had to do just wasn't the one any of them preferred.
As recently as 16 days before Monday, they had preliminary plans to spend that evening in New Orleans playing for a national championship. They bought in, fully believing that would happen. Instead, because of Fiesta Bowl loss to Clemson that still stings inside the Woody Hayes Athletic Center and will continue to sting as everybody in Columbus slowly picks away at the scab, the team was back in Columbus.
At some point before Monday, Ryan Day told every player and coach, wherever they happened to be that night, to tune in to the national title game between LSU and Clemson.
Like all of them, he would have done anything to have his team suiting up against Joe Burrow's Tigers, and who knows what would've happened had they faced off.
"It would have been fun to play them," Day said.
But with that no longer a possibility, the head coach wanted his players and coaches to think, to feel, to imagine. 
What if? What if they were actually playing? More importantly, Day saw it as a motivator for 2020 as Ohio State begins to pick up the pieces of a successful season that fell short of the ultimate goal.
"That was hard to watch. I'm not going to lie. It was very difficult," Day said on Wednesday afternoon. "I told the team and the coaches that I wanted everybody to watch that game, as hard as it was going to be, from beginning to end and then think about the things – how bad do they want to get back into that game next year, or back into that situation and get to that game, and then what are they willing to do and sacrifice to get back there. When I was watching that game, that's the same thing I was thinking."
In response to one of the most demoralizing postseason losses in program history, Day has to figure out how to walk the proverbial tightrope with his messaging to the team.
Day doesn't want to decimate the confidence of a group that just suffered a horrific loss, one that he says he now thinks about "every other second" of the day "as opposed to every second." Yet at the same time, he believes the coaching staff also has to find a way to turn what happened in the Fiesta Bowl into fuel.
"It's hard to let go. I'm just telling you, it's hard. And we're not going to let go," Day said. "I think you do have to move on with your life, but at the same time – we talked to the team – we're not just going to flush this. This is going to be here for a long time. And it's the way it should be. We felt like we had a chance to go win the whole thing. We didn't do it. So it's going to stay fresh in our minds."
Internally, Day and everybody else on the 2019 Ohio State team believed they could win a national championship. Remember when Damon Arnette said in September that he thinks the Buckeyes were going to "win the natty?" He was speaking for himself, but it was a belief shared by many others inside his locker room.
Now, they have to find a way to regroup and eventually rebound.
"When you come off of something like this it's easy to say, let's just get back to that," Day said. "But there's so many things that need to be done to even start with that first game against Bowling Green next year. And we've got to go to Oregon, and that's going to be a long trip. You have to rebuild this thing again and you start with one game at a time. And, again, the easy thing right now is to think about how do we get back to the semifinals. But so many things have to go well to get to that point. 
"And that's why I want to make sure our guys understand that a lot of things did go well, and we did play really well to get to that point. And that isn't just going to happen. We have to make sure we take it one game at a time and build."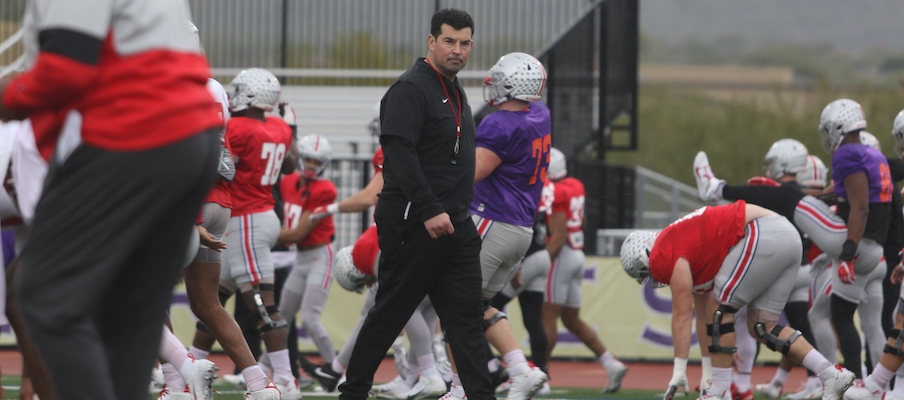 The philosophy worked well a year ago.
No, the Buckeyes didn't end the 2018 season with a catastrophic loss. But their legendary coach, Urban Meyer, made an unexpectedly early retirement, and Day had to come in as a first-year head coach and right the ship.
One day at a time in winter workouts, spring practices and fall camp, the Justin Fields-led offense and a revamped defense came along. And once the season began, one game at a time, Ohio State dominated nearly every opponent it faced.
The Buckeyes won each of their first 10 games by at least 24 points, beat Penn State by 11 points, crushed Michigan, came back to beat Wisconsin in the Big Ten title game and then suffered the season-ending loss to Clemson that could have had a different result had one or two plays gone differently.
"When you go 13-1 and you win your conference championship, you win the rivalry game, that's a hell of a season now," Day said. "Doesn't matter where you are, it's a hell of a season. But, again, we didn't reach all of our goals. So that keeps us wanting more."
They'll just have to wait a while to get more. 
There are 234 days until the season opener, 318 days until the Michigan game, 325 days until the Big Ten championship game and 362 days until the 2021 national championship game. To an outsider, that feels like quite a while. But you can guarantee Day already has those dates ingrained in his mind.
And as the the days pass, those games in the fall will become much more real as the devastating loss to Clemson moves further into the past.
"I don't know if we've moved on yet. I don't think that's probably the word," Day said. "But it's still kind of sitting there. We're thinking about it a lot. And it's going to keep motivating us moving forward. But at some point you do have to take the next step."