Chase Young walked the path Zach Harrison embarked on a year ago.
Like Harrison, Young once stepped onto Ohio State's campus as a five-star defensive end who had the physical appearance of an NFL defensive end rather than the typical look of a freshman who needed to make the customary last-minute run to the Target across the Olentangy River to pick up everything his dorm room needed before beginning classes. He, too, was a muscle-bound, 6-foot-5, freakishly athletic 18-year old on a plan to wreck quarterbacks for three years and then become a first-round NFL draft pick. It worked out for Young, like it worked out for Nick and Joey Bosa before him. It's Harrison's turn now.
Because of those similarities, Harrison and Young bonded in 2019. And neither of them, in the only season they'll play together, ever dismissed any comparisons. Heck, between the two of them, it was an open conversation.
"Me and Chase talk about it at times," Harrison said a few weeks ago. "We joke about it, like he's better than me. It's good having him around. It's something I can chase. So we always talk about his freshman year and I feel I've had a better freshman year than he had."
After the record-setting junior season that Young put together before surprising positively nobody by announcing his plan to leave school for the 2020 NFL Draft, any comparisons to him have to be carefully evaluated for hyperbole. But Harrison isn't pulling a fast one on anybody.
He played more snaps (284 to 196) and had more tackles (24 to 18) than Young did as a freshman, and they had the same amount of tackles for loss (5) and sacks (3.5) in their respective first seasons. Harrison even started multiple games during his freshman season, including opening the Fiesta Bowl against Clemson across the line from Young. 
"Next year I have to do better," Harrison said. "I can't have the same year next year that I had this season. I've got to keep improving and make more plays next year."
Under Larry Johnson's tutelage, the foundation for Harrison has been set. The only question is what comes next.
If he continues down the trail Young and the Bosa brothers paved, his second year could be special. In their respective sophomore seasons, Young had 10.5 sacks, Nick Bosa had 8.5 sacks and Joey Bosa had 13.5 sacks. Because Ohio State, by losing Young, has to compensate for the loss of the nation's best defensive player who happened to lead the country with 16.5 sacks, the most in a single season in program history, Harrison turning into a fearsome pass rusher is exactly what it needs. 
"Some of those plays, he's chasing a guy 20 yards, 30 yards down the field. We're like dang, dude is really fast. It's stuff like that that you see and you're like, aw man, this dude's going to be special."– Tyreke Smith on Zach Harrison
After a freshman season in which he played more than he ever anticipated, it's a real possibility.
"I still have a bunch of stuff to learn," Harrison said. "I have a lot of steps to take before I'm a finished product. That's the exciting part for me."
Harrison has all the physical gifts any feared pass rusher could want. He now stands 6-foot-6 and weighs 255 pounds. In high school, the Olentangy Orange product clocked a 4.47-second 40-yard dash, which is faster than all but one edge rusher ran at the 2019 NFL combine. 
The next step is filling up Johnson's proverbial toolbox, what he calls the moves and counter moves that he teaches.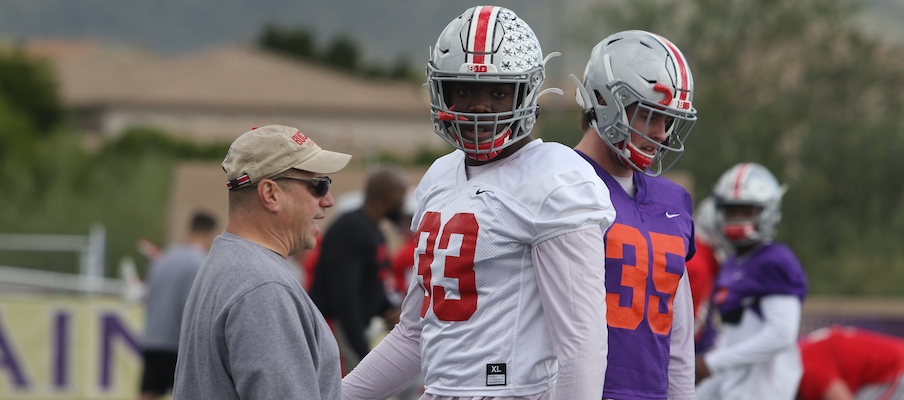 Coming into college, most viewed Harrison as an athletic wonder who might need a bit more time than some recruits ranked as highly as him. As it turns out, that evaluation sold him short. Aided by the early season blowouts that allowed him plenty of snaps, Harrison picked up Johnson's teachings quickly, earning enough trust to play meaningful snaps in competitive games as the season progressed.
"He's caught on real fast," Tyreke Smith said. "It's just coach Johnson, his teaching. I think he's honed his skills and he's gotten better every game every practice. He always shows us something new that we didn't know he had. His athleticism and the way he's using it with his technique is really good. I think he has a high ceiling."
Getting him closer to that ceiling as quickly as possible would allow the Buckeyes to breathe easier about losing Young to the NFL. 
At the moment, they don't have a proven premier pass rusher readying for the 2020 season. Yes, they have a few options, and yes, Johnson has proven himself to be such a high-level coach that any preseason concern about the defensive line goes largely ignored because he has proven he can fix it. No returning defensive lineman had more than 3.5 sacks last year, though, so there's worthwhile wonder about who can step up and become a feared edge rusher.
It might be Smith, who played through injuries in what many expected to be a breakout sophomore year that ended with three sacks. It could turn out to be Jonathon Cooper, who took a redshirt after an injury riddled season. There's even a chance it'll be Javontae Jean-Baptiste, Tyler Friday or Noah Potter.
Harrison, though, is the most tantalizing option.
Before ever taking a snap, stories from his teammates of the one-time top-15 recruit chasing ball carriers down from behind nearly became folklore. Now that he's spent a year under Johnson and has eight more months to improve before his sophomore season begins, he has a chance to pair that athleticism with technical advancements.
"Some of those plays, he's chasing a guy 20 yards, 30 yards down the field," Smith said. "We're like dang, dude is really fast. It's stuff like that that you see and you're like, aw man, this dude's going to be special."
Nobody disputes the premise that Harrison will be great. That's essentially a foregone conclusion at this point. 
Can he be special by the fall, though? His second Ohio State offseason will go a long way to determining that possibility.