SCOTTSDALE, Ariz. – Chris Olave stared ahead, arms straight ahead and elbows locked as he gripped the sides of his locker, holding himself up. His head was bowed as he stood, with K.J. Hill sitting to his left and assistant wide receivers coach Keenan Bailey looking into the abyss on his right. Josh Myers stood alone in the middle of the locker room giving off a mixture of emotions, sadness and incredulity chief among them.
The game, a 29-23 loss to Clemson in the Fiesta Bowl, had ended barely a half-hour before, and most of the Buckeyes had exited the locker room for the final time this season. The dozens of bags of equipment from each player were stacking up in a continually, quickly widening pile. 
The season had concluded 30 minutes prior, and inside the locker room: silence. Some hugs, some handshakes, only a few words.
"Probably one of the worst feelings I've ever had in my life," said Myers, a lifelong Ohio State fan living his dream as the starting center. "I don't even know how else to express it."
Ohio State's players mourned because they lost. They mourned because they hadn't had that feeling the entire season. They mourned because their season had ended. But they also mourned because they all realized what could have been and what almost happened.
A national championship appearance, the first since 2014, awaited just 23 yards and 37 seconds away in a scarlet-painted end zone. The self-inflicted mistakes and calls that went Clemson's way had added up, but by going 57 yards on seven plays in a little over a minute on what turned out to be the final drive of the season, with the momentum in its favor, Ohio State put itself in position to potentially win. One more touchdown would've sealed a title berth and sent the Buckeyes to New Orleans to face their former quarterback, Joe Burrow, in a storybook championship game on Jan. 13. 
Then, in a single pass, an interception due to a miscommunication between Justin Fields and Olave, everything came to a screeching halt.
"I just know when two great teams get together, it comes down to a few plays, and it did again tonight," Day said after the game. "But this was a very strange game. I thought our guys played really well. I thought we played well. Clemson, give them credit. They have a really good team, and the defending national champs. They do a great job. [Trevor] Lawrence came down and had a great drive at the end of the game, and they did a good job on defense. 
"But again, I'm very, very disappointed we weren't able to win this game."
Way back in mid-September, Damon Arnette stood at a podium in the Woody Hayes Athletic Center and told reporters he thought Ohio State would win the "natty." At the time, he sounded nuts. All the Buckeyes had done at that point was beat Florida Atlantic, Cincinnati and Indiana. They hadn't even gotten out of the first month of the season.
Plus, on its face, the Buckeyes had an abundance of potential pitfalls. Day, a 40-year-old first-time head coach, had taken over for Urban Meyer, one of the best of all-time, and was supposed to keep the program rolling. He had five new assistant coaches, including a pair of co-defensive coordinators charged with reworking the entire defensive scheme and reinvigorating the players. Justin Fields was in his first year as a starter, and he was playing behind an offensive line that had replaced four starters. On the other side of the ball, Ohio State returned nine starters, but they had made up a historically bad defense the year prior.
Yet as the season dragged on and the blowouts added up, Arnette's words seemed more and more prescient.
Quelling many of the preseason concerns, the Buckeyes entered their first off week with a 6-0 record, having won every game by at least 24 points. They followed that up by decimating Northwestern and beating Wisconsin by 31 points to earn a No. 1 ranking from the College Football Playoff selection committee as they entered their second off week. With two more beatdowns of overmatched teams, an 11-point win against Penn State, a 56-27 road decimation of Michigan and a 13-point comeback victory versus Wisconsin to capture a Big Ten championship, Ohio State entered the bowl season with a conference title, 13 wins that all came by double digits and the nation's best average margin of victory.
With unadulterated dominance, the Buckeyes had positioned themselves as a national championship contender in a way they hadn't since beating Alabama and Oregon to win it all in 2014. Along with Clemson and LSU, they were clearly one of the three best college football teams this season.
It wasn't supposed to end the way it did Saturday night, with heads down as players and coaches sulked back through the tunnel, orange confetti shot into the air above as Clemson celebrated.
"Just a lot of tears. A lot of disappointment," Day said. "A lot of people angry in that locker room right now. There's a lot of throwing helmets. A lot of just 'Can't believe it's over.' So what do you say to a bunch of guys like that, other than you love them?"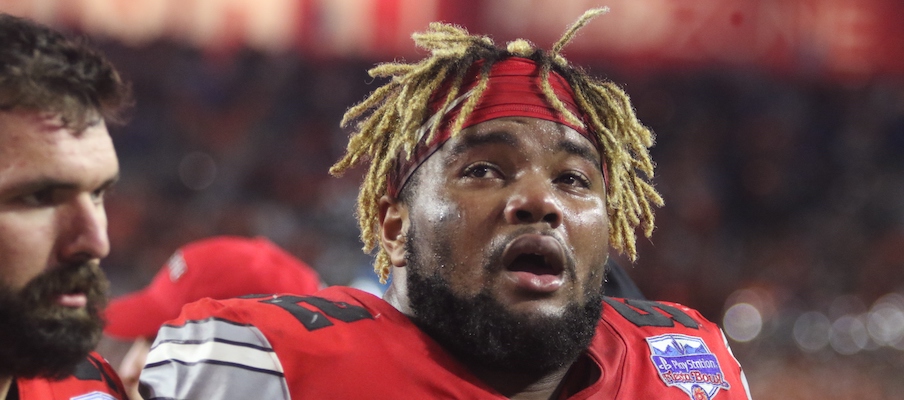 Day said he thought his team played well enough to win. He believed the Buckeyes were "right there." His team made enough big plays to win, Day said. Ultimately, it didn't happen.
"That's the way it goes," Day said.
The emotions in his mind, he said, were pride, sadness and anger. None will go away anytime soon.
The pride stems from the understanding that this team was special. From realizing that a group with a first-year head coach, five new assistant coaches, a first-year starting quarterback, four first-year starting offensive linemen and a defense that underwent a massive offseason renovation coming one drive away from a national title so rarely happens, even with a team teeming with such talent.
The sadness is rooted in a realization that everything Ohio State had worked for this season ended one game before everybody inside that locker room anticipated. 
The anger comes from the belief that the Buckeyes did enough to win and, for reasons they can both blame themselves and the referees, they instead would have to fly back to Columbus with a season-ending loss.
"Tough to go into a locker room with such a great team who played their hearts out and not be able to celebrate a victory," Day said.
Day quite literally doesn't know that feeling. He had never lost a game as a head coach until Saturday. Up until then, he had won every single game by somewhere between 11 and 71 points.
And even though Day has never coached in a national championship game before, he realizes the Buckeyes had everything it takes to win it all, and it won't happen. They came up 23 yards shy of their dreams.
"The older guys, the seniors have left a legacy, and the younger guys have to learn from it," Day said. "Wake up in the morning, the sun will come up and we'll regroup."
But for the first time in 2019, that regrouping won't entail preparation for another step on Ohio State's path to a national championship, and that's what hurts most.