Look back through the box scores of the first five years of the College Football Playoff, and one trend you'll see: The team that runs the ball more effectively typically wins the game.
Of the 15 playoff semifinal and national championship games played from 2014-18, 12 of them have been won by the team that finished the game with more rushing yards, and 12 of them have been won by the team with more yards per carry. While great quarterback play is a necessity to win a national championship in the modern era of college football – and that's never been more clear than this year, in which the four playoff teams are all led by elite quarterbacks – how effectively each team runs the ball often makes the difference in the biggest games of the year.
That was certainly the case during Ohio State's title run in the inaugural College Football Playoff in 2014, when Ezekiel Elliott and his band of "Slobs" up front led the way to 281 rushing yards against Alabama and 296 rushing yards against Oregon. 
It was also certainly the case in Ohio State's 31-0 loss to Clemson in 2016, when the Tigers held an Ohio State team that averaged more than 245 rushing yards per game for the season to just 88 rushing yards.
Ohio State's passing game is far more dynamic this season than it was three seasons ago, so the Buckeyes won't necessarily live or die by its run game in this year's game against Clemson. Yet a game in which the Buckeyes are able to regularly move the chains on the ground still looks like the recipe that would be most likely to lead to an Ohio State win in the teams' second CFP meeting at the Fiesta Bowl.
Ohio State's rushing offense has consistently been one of the best in the country all season, as the Buckeyes rank fifth nationally with 272.2 rushing yards per game (behind only the service academies and Kentucky, which ran the ball almost exclusively with Lynn Bowden at quarterback) and sixth with 5.67 yards per carry. They've done that all the while going up against some of the best rushing defenses in the country, including Penn State, Michigan, Michigan State and Wisconsin, who all rank in the top 20 in rushing yards per carry allowed this season.
Excluding the Big Ten Championship Game against Wisconsin, in which the Buckeyes had 172 rushing yards and one touchdown on the ground, Ohio State rushed for at least 200 yards and two touchdowns in all 12 of its regular-season games. The Buckeyes rank fourth nationally in first downs gained on the ground, again behind only the service academies.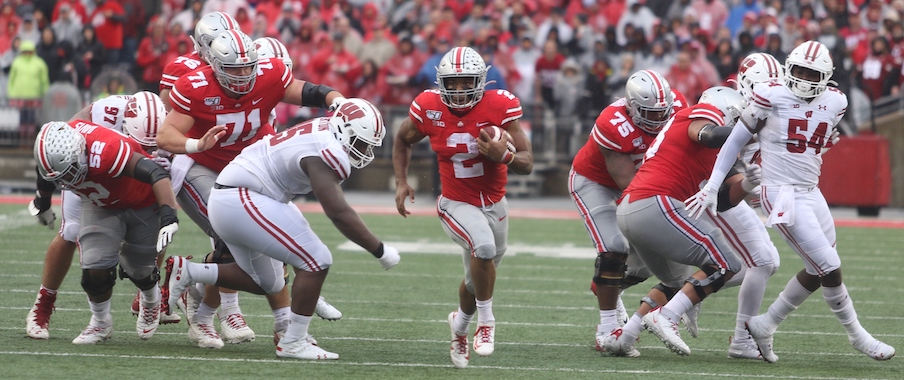 Clemson's rushing defense has also been statistically excellent this season, ranking ninth nationally in both rushing yards allowed per game (106.2) and yards allowed per carry (2.97). But Ohio State's rushing offense has proven up to the challenge when it's faced highly ranked rushing defenses over the course of the year, and the Tigers haven't faced anyone who can run the ball quite like the Buckeyes. No team Clemson has played ranks in the top 20 nationally in yards per rushing attempt, and only Boston College (sixth, 267.8) ranks in the top 20 in rushing yards per game.
The Tigers also no longer have Christian Wilkins, Dexter Lawrence and Clelin Ferrell – the first-round NFL draft picks who led their defensive line for the last three years – leaving some lingering doubts about their defensive front as they prepare to take on the best offensive line they've faced all season.
On this week's episode of Real Pod Wednesdays, Eleven Warriors scheme analyst Kyle Jones and Brad Senkiw, a host for 105.5 The Roar (the flagship radio station of Clemson athletics), both said they believe the defensive front could be an area of vulnerability for the Tigers against the Buckeyes, particularly in the running game.
"Everyone knows how good that defensive line had been," Jones said. "They don't have that luxury anymore. I think Ohio State's going to line up and try to knock the snot out of them off the line."
As effectively as Justin Fields has thrown the ball this year, Clemson won't be able to sell out to stop the run like it did in 2016. And if it does, it could pay the price. The Tigers have shifted to using more personnel packages this season in which they put extra defensive backs on the field and only three defensive linemen – which has enabled them to rank as the nation's No. 1 passing defense (138.5 yards allowed per game) even without dominant pass-rushers up front – but they might not be able to get away with that against the Buckeyes.
"I actually think this is going to be a fairly vanilla game plan for Ohio State where you're gonna see a lot of J.K. Dobbins, you're gonna see a lot of maybe even under-center looks, a lot of two-tight end looks, and then when Clemson feels like, 'OK, we cannot stop the run with this cutesy 3-2-6 look,' you're gonna see Justin Fields take shots downfield," Jones said.
Because Clemson's passing defense has been elite, holding opponents to completing just 50.3 percent of its passes, Ohio State doesn't want to have to rely too heavily on Fields' arm to beat the Tigers. Although its defensive line has taken a step back, Clemson defensive coordinator Brent Venables still does an excellent job of dialing up blitzes and scheming up creative looks to generate pressure – the Tigers rank sixth nationally with 102 tackles for loss – and Ohio State's offensive line hasn't been as dominant in pass protection as it has been in the run game.
The Buckeyes' blockers know they need to be at their best to have a chance to beat Clemson.
"From the film I've seen they've run a ton of different looks, a ton of different blitzes and I'm gonna have to be prepared for all of it," said Ohio State center Josh Myers. "So it's going to put a lot of pressure on me but to be honest with you, they're all looks that I've seen before. There hasn't been a whole lot that we haven't seen this season. We've had so much stuff thrown at us, which is beneficial."
Clemson's rushing offense is excellent too, leading the Football Bowl Subdivision with 6.46 yards per carry this season, so Ohio State's run defense – ranked sixth nationally with 2.82 yards allowed per carry – will also face its biggest test of the year. That run defense is coming off its worst performance of the season against the best rushing offense it's played all year, allowing 200 rushing yards to Wisconsin in the Big Ten Championship Game, so the Buckeyes' defensive front will need to be at its best to slow down Clemson's offense.
Ohio State's offense can help its defense out if it can establish the run early and often, though, and if Dobbins, Fields and their blockers can execute as well in the ground game as they have all season, the Buckeyes just might be able to find the advantage they need to find to swing the game in their favor.
"They're a very, very good football team," Myers said of Clemson. "So yeah, I think the way our offensive line plays will be huge to the outcome of this game."