Mission accomplished. Ohio State fixed its defense.
Everybody in Columbus just hoped the guy who Ryan Day brought in to accomplish the mission would be around longer. 
Instead, Jeff Hafley will move on after spending one year reuniting with Ryan Day in Columbus to spark a defensive renovation as the team's co-defensive coordinator and secondary coach. Martin Jarmond, Boston College's athletic director and a former deputy director of athletics at Ohio State, is reportedly finalizing a deal to hire him as the head coach of his university's scuffling football program this weekend.
In Hafley, Boston College will gain – and Ohio State will lose – an energetic, forward-thinking 40-year-old riser in the coaching ranks who, along with co-defensive coordinator Greg Mattison, spearheaded the Buckeyes' defensive renaissance. Day had hired them to head a sputtering defense that trended in the wrong direction in Urban Meyer's last season.
"On defense, we'll be aggressive, with multiple fronts, sound and simple for the players so that they will have the ability to play fast," Day said on Dec. 4, 2018, the day that he was announced as the program's next head coach.
A month after making that comment, Day hired Hafley and Mattison to run that stated style of defense. A month later, he called the duo a "home run." Less than a year later, he was proven correct.
The Buckeyes went from having arguably the worst defense in program history in 2018 to trotting out possibly the nation's top defense this fall, and Hafley played no small part. Within one year, Ohio State went from 50th to second in the country in fewest points allowed per game, 71st to second in fewest yards allowed per game and 118th to third in fewest plays of 30 or more yards allowed. 
Hafley helped solidify Jeff Okudah as the top cornerback prospect in the 2020 NFL Draft, turning him into a Jim Thorpe Award finalist, and convinced Damon Arnette to return to school for a fifth year, which has been the cornerback's best yet as a Buckeye. Shaun Wade became arguably the most important piece of the secondary, and Jordan Fuller remained as reliable as ever as the safety valve. The defense, including the secondary, played together with remarkable cohesiveness.
Despite having never been a coordinator before and spending the past seven years in the NFL, he also aced the recruiting trail. Hafley played a large role in landing four-star prospects Clark Phillips, Lathan Ransom, Kourt Williams, Ryan Watts, Lejond Cavazos and Cameron Martinez.
It's essentially impossible to poke holes in Hafley's one-year resume. But after the College Football Playoff, he'll leave Columbus.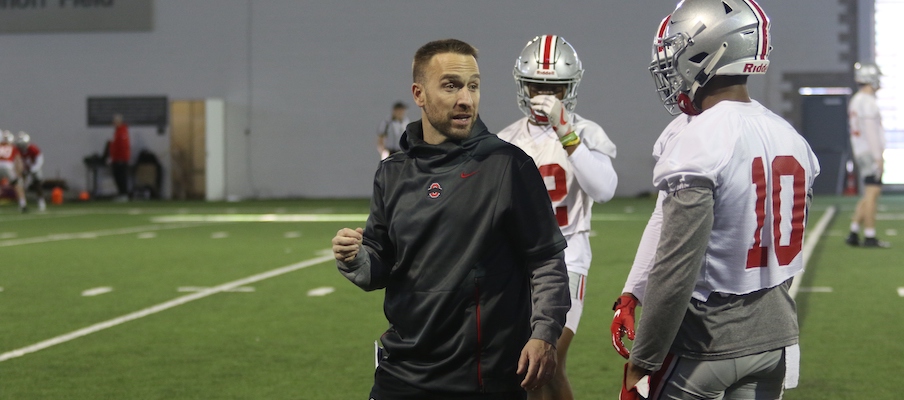 Hafley did everything Day hoped, thriving within his role and returning the defense to national prominence, and then he left earlier than Day preferred. Welcome to college football. It happens.
Now it's time to see what Day can do in response. 
The first hire came easy. Just listen to what Day said when he made it official.
"When I had an opportunity to get Jeff, that was a no-brainer to me," Day said on Feb. 6. "Really talented. Six or seven NFL teams are after him to be a coordinator. He wanted to come back. Kind of same way I did, I wanted to come back in college, and for him and his family had the same reasons."
A no-brainer, he called it. Day, dating back to his days working together within the San Francisco 49ers organization, knew he'd target Hafley whenever he became a head coach, even before Gene Smith chose him to run the Ohio State football program. He probably also knew he'd have to make him at least a co-coordinator to pull him from the professional ranks.
What comes next for Day isn't quite as simple.
In the immediacy, he's tasked with keeping intact a top-five 2020 recruiting class that features a multitude of highly rated prospects that Hafley landed. While holding the group together, he also has to host C.J. Stroud on an official visit, accompany Chase Young and Justin Fields to the Heisman Trophy ceremony and continue preparation to face Clemson in the College Football Playoff in two weeks. Staying busy, huh?
Among all that hoopla, Day now will have to find time to figure out how to replace Hafley, who's expected to remain a coach through the end of the playoff. 
Along with recruiting and the development of players, the hiring of assistant coaches ranks near the top of responsibilities for head coaches. Great hires can prolong a team's success, and poor hires can cause turmoil. Ohio State experienced that first-hand a few years ago, the last time it replaced a Broyles Award finalist, when Meyer picked Tim Beck to succeed Tom Herman. 
Day, having been hired as Beck's replacement in 2017, knows as well as anyone that he cannot afford to miss on hiring Hafley's replacement. Whichever coach he lands, though, will walk into a potentially difficult job, beginning with the need to comfortably coexist with Mattison and Matt Barnes, the assistant secondary coach, and continuing with the projected roster.
Arnette will be gone. Fuller will be gone. Okudah and Wade will likely be gone, too. The Buckeyes have a talented crop of current backups, including Josh Proctor, Cameron Brown, Sevyn Banks, Amir Riep and Tyreke Johnson. But next season they won't have as much top-end talent or experience as the defensive backfield that Hafley inherited.
With such roster turnover, Day certainly would have preferred to have Hafley return in 2020. But that won't happen, and it's up to Day to nail another hire. The second hire, however, is often trickier than the first, and that appears to be the case this time, especially since Hafley will exit after only one season.
The cliche is that it's always more difficult to stay at the top than to get to the top.
Day inherited a program there, and Hafley helped get the defense there. With Hafley gone, Day's newest mission will be figuring out how to keep both the program and the defense in the upper echelon.