It took 13 games, but Ohio State finally faced some true adversity.
In Saturday's Big Ten title game, Ohio State trailed Wisconsin by 14 points after halftime before ratting off 27 straight points in the final two quarters to beat the Badgers, 34-21, to win the conference championship. The Buckeyes improved their record to 13-0 and will now face Clemson in the Fiesta Bowl, a semifinal game in the College Football Playoff this year.
Let's get into this week's stock report.
Stock Up
K.J. Hill
Hill knew he'd break Ohio State's single-season receptions record one way or another. That's one of the reasons he opted for another year in Columbus.
However, he couldn't have guessed it would have come on a go-ahead touchdown reception in the second half of the Big Ten championship game. Hill will forever have a place in the program's record books. Yet on Saturday, that took a back seat to what he did to aid his team to a victory.
Hill grabbed a team-high seven receptions for 83 yards and two touchdowns, both of which came in the second half. He has a knack for coming up with plays in big-time games.
Jeff Okudah
Against Michigan, everybody watching learned how the loss of Shaun Wade could affect a team. On Saturday, they saw how much Okudah means to Ohio State's secondary. 
He missed a good bit of the first half and looked like he wouldn't return to the game since he didn't have his helmet on the sideline. However, he reentered the starting lineup and played a key role in a rejuvenated second-half defense. 
In the past three weeks, the Buckeyes have matched up against three of the best wide receiving corps they've faced the entire season. Clemson, though, will challenge them with more talent than anybody else has thrown their way. It'll be pertinent for Ohio State to have Okudah, Damon Arnette and Shaun Wade all as healthy as possible in three weeks.
Jeremy Ruckert
All Ruckert apparently needed was one hand. His only catch came on a 16-yard touchdown early in the third quarter to pull the Buckeyes within a touchdown of the Buckeyes.
Momentarily. the ball looked out of reach for Ruckert, possibly another overthrown pass from Fields. But Ruckert stuck his right hand into the air and snagged the football with his palm, bringing it down for a much-needed score.

Drue Chrisman
It began with Matt Barnes. The special teams coordinator brought an idea for a fake punt to Ryan Day's attention, and he gave him the green light to implement it. Having seen Chrisman take snaps as a quarterback in early 2018, Day believed in the play. Soon enough, he had shown Gene Smith. 
But even Smith didn't believe it when he saw Day call the fake in the second quarter from Ohio State's own 28-yard line.
The play worked to perfection. Chrisman had a sizable window, wasn't rushed and hit Luke Farrell to convert a first down in a 4th-and-9 situation. 
FAKE PUNT @OhioStateFB converts on 4th and 9 to keep their offense on the field! pic.twitter.com/OwnCvQOUjD

— FOX College Football (@CFBONFOX) December 8, 2019
J.K. Dobbins
Dobbins just keeps trucking. Again and again, he has taken the brunt of his team's carries while showing no signs of tiring. 
He had 33 carries, marking the third game in a row with more than 30 rushes, accumulating 172 yards and scoring a touchdown. With Justin Fields banged up, he accepted a large role in the run game and thrived.
Paul Chryst's Game Plan
The Badgers didn't expose any major flaws on either side of the ball. They didn't do anything too out of the ordinary. They simply played smart, disciplined football and tried to hit Ohio State in its weaker spots, though those are understandably hard to find.
Knowing Fields was limited, Wisconsin got pressure on him as often as possible. It forced a turnover on downs, punt and fumble on Ohio State's first three drives. The Badgers rarely allowed themselves to block Chase Young with a single lineman on passing downs. They hit the Buckeyes in the seams of their defense when possible. They targeted younger cornerbacks when Jeff Okudah went out, working to get their top wide receiver – Quintez Cephus – the ball.
Ultimately, Ohio State managed to pull away in the second half. But for two quarters, Chryst's team had the Buckeyes reeling.
Jonathan Taylor
In the first meeting with Ohio State of his Wisconsin career, Taylor rushed 15 times for 41 yards. His second game against the Buckeyes earlier this fall, he had 20 rushes for 52 yards.
On Saturday, Taylor racked up 148 yards and a touchdown on 20 carries. He had rushes for 44 and 45 yards despite Ohio State having allowed only one rush for more than 40 yards in the prior 12 games.
Dobbins certainly has a strong argument for being the top running back in the Big Ten. Taylor, though, made sure nobody forgot about him this weekend. With at least 1,900 rushing yards in three straight seasons, he'll go down as one of the most productive running backs in college football history. And on his third and likely final try, he finally got something going against Ohio State.
College Football Fans
Ohio State vs. Clemson? Yes, please. LSU vs. Oklahoma? Don't mind if I do. The winner of those two games in the national championship? I'm in, and you should be too.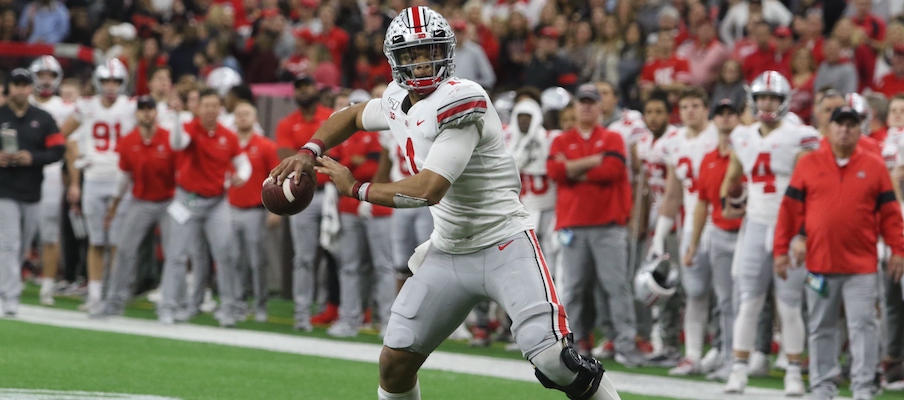 Stock Down
The Ease Of Ohio State's Playoff Path
There's something cool about Ohio State facing Clemson, an undefeated defending national champion, and then possibly taking on LSU, the undefeated SEC champion, in the national title game. Nothing, though, will be easy about this path.
The Tigers have the same three aspects that make the Buckeyes special – a top-level quarterback, remarkable completeness and a deep roster teeming with talent – along with a proven head coach and strong staff. 
Had the Buckeyes not fallen behind by two touchdowns, there's a decent chance that they'd be preparing to face Oklahoma in the Sugar Bowl. But that didn't happen, and now Clemson awaits on Dec. 28. 
Keeping Justin Fields Upright
The day after the Big Ten title game, Day said the coaches had made a decision not to call runs for Fields due to his sprained MCL. With a College Football Playoff appearance a likelihood regardless of Saturday's result, the risk of a major injury wasn't worth it.
That didn't, however, keep Wisconsin defenders from teeing off.
The Badgers had five sacks and a quarterback hurry on Saturday, getting to him with more regularity than Ohio State would have preferred. Because of Fields' propensity to scramble and hold onto the ball longer than most quarterbacks, his style leads to some of the sacks. The protection wasn't always as strong up front as it will need to be on Dec. 28 in the Fiesta Bowl, though. With a hobbled quarterback, that'll surely be a focus.
The next three weeks allow Fields some time to heal his knee. But it likely won't get back to 100 percent, meaning Day and Mike Yurcich will have to devise a plan to keep him as healthy as possible while maintaining as much freedom to make plays outside the pocket as possible.