The Ohio State football team hasn't taken anything for granted all season. Never have the Buckeyes played down to their competition; instead, they've played elite-level football week in and week out, winning all nine of their games by at least 24 points.
Ryan Day doesn't want that to change this week.
Realistically, Ohio State doesn't need to play its best football, or even close to it, to beat Rutgers on Saturday. The Buckeyes are favored to beat the Scarlet Knights by more than 50 points, a historically large spread for a Big Ten game. Rutgers is 2-7 and has lost all six of its conference games this year by at least 28 points, and there's no good reason to believe that will change against the No. 2-ranked team in the country.
But Day doesn't want the Buckeyes thinking that way.
"If we're going to take anything for granted, think we're just going to show up in Piscataway and we're going to win a game, that's not going to happen," Day said. "We have to do a good job. Those guys are going to play really, really hard."
Considering the mismatch Saturday's game appears to be, it can effectively be viewed as the Buckeyes' final preseason game before they begin the true defining stretch of their season. Ohio State will play Penn State and Michigan in its next two games, and as long as it wins its next two games, it will play in the Big Ten Championship Game one week later.
Provided the Buckeyes take care of business the way they should in the first half in Piscataway, Saturday should be another opportunity for Ohio State to give its backups extended playing time – perhaps the last such opportunity of the season – and for a final tune-up in what should be its final game against an unranked opponent this year.
That doesn't change the mentality that Day and the rest of the Buckeyes' coaches want their team to have this week.
"At the end of the day, the focus is it comes back to us, and what is our standard. We have to make sure we're holding up that standard," Day said. "We got a lot at stake here. We can't put any of that stuff to risk. That's something that the coaching staff has been hammering home with the players, and to this point, they've respected that. And they have to continue to."
Rutgers Breakdown
Going into former Ohio State defensive coordinator Chris Ash's fourth season as Rutgers' head coach this fall, it was made clear that the Scarlet Knights needed to show clear signs of progress for Ash to keep his job.
That decidedly did not happen. Ash was fired after Rutgers suffered a 52-0 loss to Michigan in its final game of September to fall to 1-3 for the season.
Things haven't gotten much better under interim head coach Nunzio Campanile. The Scarlet Knights' only wins this season have come against a pair of mid-major independents, UMass and Liberty. In each of their seven losses, they've failed to score more than 16 points, including three games in which they were shut out.
Simply put, Rutgers has performed poorly in just about every phase of the game this season. The Scarlet Knights offense has averaged just 14.7 points per game, the third-lowest mark among all Football Bowl Subdivision teams, and also ranks in the bottom five nationally in yards per game (280.3). Defensively, the Scarlet Knights have allowed their opponents to score 36.7 points per game, more than all but five other FBS teams.
2019 Statistical Comparison
 
OFFENSE
51.0
1st
POINTS FOR
14.7
128th
295.2
3rd
RUSHING OFFENSE
136.4
99th
240.7
56th
PASSING OFFENSE
143.9
121st
535.9
5th
TOTAL OFFENSE
280.3
126th
.582
1st
3rd DOWNS
.361
98th
.902
27th
RED ZONE
.773
102nd
DEFENSE
8.6
1st
POINTS ALLOWED
36.7
125th
88.2
8th
RUSH DEFENSE
198.7
107th
126.6
1st
PASS DEFENSE
232.6
76th
91.3
1st
PASS EFFICIENCY DEFENSE
142.5
90th
214.8
1st
TOTAL DEFENSE
431.2
96th
.258
2nd
3rd DOWNS
.435
97th
.588
2nd
RED ZONE
.886
110th
SPECIAL TEAMS
8.9
46th
PUNT RETURN
2.7
123rd
22.7
38th
KICKOFF RETURN
20.9
62nd
41.1
25th
NET PUNTING
42.6
8th
MISCELLANEOUS
+1.3
3rd
TURNOVER MARGIN
-1.3
127th
5.8
43rd
PENALTIES
6.4
75th
17
EDGE
1
Rutgers is on its third starting quarterback of the year, Johnny Langan, after McLane Carter was forced to retire for medical reasons and Artur Sitkowski opted to take a redshirt year. Langan has completed just 53.9 percent of his attempted passes (48 of 89) for 498 yards and three touchdowns with six interceptions; his 98.6 passer rating is second-worst, ahead of only Northwestern's Aidan Smith, among Big Ten quarterbacks.
The Scarlet Knights' top offensive playmaker, Raheem Blackshear, also opted to take a redshirt this season, leaving Rutgers with few weapons who will pose threats to a team as talented as Ohio State. Their most productive offensive player has been running back Isaih Pacheco, who has rushed for 541 yards and six touchdowns on 123 carries.
Rutgers' top players on defense include linebacker Tyshon Fogg, who ranks third in the Big Ten with 81 total tackles, and cornerback Damon Hayes, who leads the Scarlet Knights with two interceptions and six pass breakups. Overall, though, there's not much intimidating about Rutgers' defense; the Scarlet Knights have just 35 tackles for loss, tied for the third-fewest in the FBS this year, and six takeaways, tied for the second-fewest.
Truly, the Scarlet Knights' only real strength this year has been their punter, Adam Korsak, who is a three-time winner of the Ray Guy Punter of the Week award this season. He has averaged 44.6 yards per punt with 24 punts inside the opponent's 24-yard line, and the Scarlet Knights rank eighth nationally with 42.6 net yards per punt, with only 87 return yards allowed on 53 punts.
Ohio State enters this game with a clear advantage on both offense and defense, which should lead to another lopsided game in the Buckeyes' favor. Day made it clear this week, though, that he has a lot of respect for Campanile; Nunzio's older brother, Vito Campanile, was one of Day's coaches at the University of New Hampshire, so Day has known Rutgers' interim head coach for many years.
"He comes from a really good football family," Day said. "Lot of respect for he and his family. They really know football."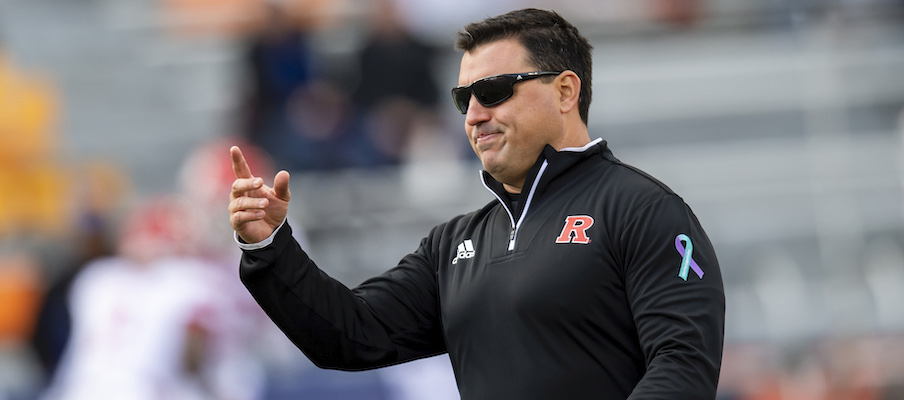 Ohio State co-defensive coordinator and secondary coach Jeff Hafley, a New Jersey native, also knows Campanile well from his days as an assistant coach at Pittsburgh and Rutgers – Campanile previously coached at a pair of powerhouse New Jersey high school programs, Don Bosco Prep and Bergen Catholic, before joining the staff at Rutgers in 2018 – and holds him in high regard.
"Nunz and his whole family, I'm very close with that family and all those guys," Hafley said. "Those are kind of the guys I grew up with."
No one on the Buckeyes knows Campanile better than defensive end Javontae Jean-Baptiste, who was coached by Campanile as a high school player at Bergen Catholic.
"Going back to see Coach Nunz, it's going to be great," Jean-Baptiste said. "I think he gets a bond with his players that makes them love each other, and players want to play for him."
All of that said, Campanile has had his work cut out for him in his current role, and even coming off a bye week that gave the Scarlet Knights an extra week to prepare, it's hard to envision them realistically having a chance of keeping Saturday's game competitive with how much they've struggled this year.
Buckeyes Breakdown
Ohio State further established itself as the most complete team in college football this year last weekend, when it dominated Maryland – a team that beat Rutgers 48-7 – by a score of 73-14. The Buckeyes gained 705 yards on offense while allowing just 139 yards on defense and exerted complete control of the game from the beginning, a huge difference from Ohio State's 2018 game at Maryland, when they escaped with a 52-51 win in overtime.
While the Buckeyes dropped from No. 1 to No. 2 in this week's College Football Playoff, no team has been more consistent week in and week out than Ohio State, which has an average margin of victory of more than six touchdowns (42.4 points).
That all goes back to the standard that Day constantly emphasizes to his team about upholding.
"That's what I've talked to our team about all week," Day said. "We always respect our opponent, but at the end of the day, it's going to come down to how well do we play, and what kind of standard do we hold ourselves to."
"At the end of the day, the focus is it comes back to us, and what is our standard. We have to make sure we're holding up that standard. We got a lot at stake here. We can't put any of that stuff to risk."– Ryan Day on his expectations for his team
Based on the way the Buckeyes have played through their first nine games of this season, and the fact that they've put themselves in position to make the playoff if they can keep winning, that standard has been set extremely high. That's why anything less than another display of complete dominance on Saturday would likely be viewed as an underwhelming performance.
That's true even without star defensive end Chase Young, who will miss his second game of an NCAA suspension this week before being reinstated to return to the field next week against Penn State. Ohio State shouldn't need Young against Rutgers' sputtering offense, though, and if the Buckeyes can take complete control of the game in the first half like they have in most of their games this season, they'll probably give their starters the second half off anyway to keep them fresh for a much tougher test next week against the Nittany Lions.
Given that, Saturday should be another prime opportunity for Ohio State to give its backups extended playing time, just as it did in the second half of last week's game. The Big Ten only allows schools to travel 74 players to road games, so the Buckeyes won't be able to play quite as deep into its depth chart as they did last week, but if this game plays out the way it should, expect just about everyone who makes the trip to see some snaps.
Those players who could be in line to see more playing time than they would in a competitive game include backup quarterback Chris Chugunov, who completed 8-of-11 passing attempts for 103 yards and a touchdown for the first 100-yard game of his Ohio State career against Maryland last week.
Ohio State is preparing the same way for Rutgers as it does for every game, so Chugunov doesn't know how much playing time he'll get, but he is excited to have the opportunity to return to his home state and play in front of what he expects to be a large contingent of family and friends.
"They can't always make it out here to Ohio for games, so I'm excited to have them there to see me play," said Chugunov, who said he has received ticket requests from more than 60 people for Saturday's game.
Chugunov is one of 10 players from Ohio State's roster from either New Jersey or New York, which has been a fruitful recruiting region for the Buckeyes in recent years. Safety Jordan Fuller, Jean-Baptiste and fellow defensive end Tyler Friday are among the other New Jersey natives who will be on the field for the Buckeyes in Piscataway, while New York natives who will also be playing close to home include tight end Jeremy Ruckert and linebacker Jahsen Wint.
Saturday will also be an opportunity for Ohio State left guard Jonah Jackson, who transferred from Rutgers to play his final collegiate season with the Buckeyes, to play one more game at his former school and reunite with his former teammates.
"He's a prideful guy, so I don't think this will be easy for him," Day said. "He's having one heck of a year, and I know there's going to be certain feelings going back and doing those things, but I'm so happy for him to see him enjoy his senior year. He's been through some tough times and he's been through some injuries, he's been through a lot of stuff, and to see him come here and flourish has been great."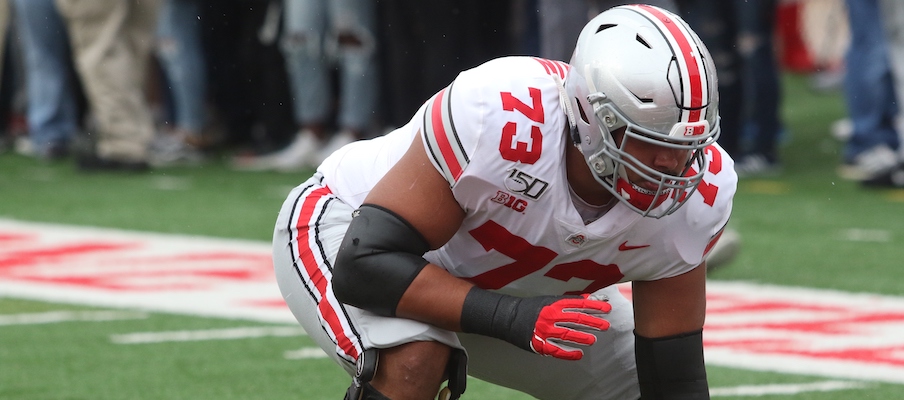 Game Forecast
Although there's a lot that needs to happen for a team to cover a spread of more than 50 points – as of Friday morning, the line was set at 53 points – it wouldn't be any surprise to see Ohio State do it on Saturday.
The Buckeyes have already won three games by at least 49 points – Miami (76-5), Northwestern (52-3) and Maryland (73-14) – and while none of those teams were great opponents, Rutgers is the worst team Ohio State has played yet. The Scarlet Knights are currently ranked 138th in Jeff Sagarin's college football ratings; for perspective, that's behind 20 Football Championship Subdivision teams and more than 50 spots behind any team Ohio State has played this year.
If last week's game against Maryland was any indication, the Buckeyes will likely be aggressive and score as many points as they can for a half, then put their backups in and let them play for the third and fourth quarters. That could keep this game from getting as ugly as it could be, but not necessarily; after all, even Ohio State's backups outscored Maryland 31-14 last week after its starters took a 42-0 lead into halftime.
Ohio State's Previous Games Against Rutgers

| YEAR | LOCATION | RESULT |
| --- | --- | --- |
| 2018 | Columbus | Ohio State 52, Rutgers 3 |
| 2017 | Piscataway | Ohio State 56, Rutgers 0 |
| 2016 | Columbus | Ohio State 58, Rutgers 0 |
| 2015 | Piscataway | Ohio State 49, Rutgers 7  |
| 2014 | Columbus | Ohio State 56, Rutgers 17 |
Ohio State has won all five of its previous games against Rutgers by at least 39 points, including three straight games by at least 49 points, and because of how well things have gone for the Buckeyes this year and how poorly things have gone in Piscataway, this could be the most lopsided matchup between the two teams yet.
The Buckeyes are likely to keep their game plan vanilla, and the most important objectives for Saturday are simply to return home with a 10-0 record and with a healthy roster for next week. Ohio State has played with a desire to dominate its opponents week in and week out, though, and considering how consistently the Buckeyes have done that this season, there's no reason to expect that to change this week.
---
ELEVEN WARRIORS STAFF PREDICTION: Ohio State 73, Rutgers 3