Before each week's Ohio State game, Eleven Warriors catches up with a media member who covers the opposing team to get his or her perspective on the Buckeyes' upcoming opponent.
As Wisconsin prepares to head to Columbus for a highly anticipated showdown with Ohio State this week, Colten Bartholomew of the Wisconsin State Journal joins us to share his perspective on the Badgers following their shocking 24-23 loss to Illinois and ahead of one of the biggest games of the year for the Buckeyes.
The Badgers are 6-1 this season and still lead the nation in just about every major statistical category on defense, but they're a 14.5-point underdog for Saturday's noon game at Ohio Stadium after last week's loss to the Fighting Illini, who are just 3-4 this season.
What went wrong for the Badgers last weekend, and how have they responded? That loss aside, what has made their defense so dominant this year and where does Jonathan Taylor rank among Wisconsin's all-time greats? And what do the Badgers need to do to have a chance to upset the Buckeyes on Saturday?
Read on for Bartholomew's answers to those questions and more.
Q: First of all, what happened at Illinois? What went so wrong that led to a loss as a 30.5-point favorite? Do you think it was just a fluky result from Wisconsin looking ahead to Ohio State, or were the Illini able to expose weaknesses that other teams could take advantage of?
Bartholomew: I think it was a combination of things. Wisconsin outside linebacker Zack Baun said he didn't think the team had the same energy that it'd shown in earlier games, which could've been a symptom of looking ahead. But I think it was just poor execution in the red zone and poor tackling. Two of Illinois' touchdowns were the result of missed tackles, and then when the Badgers failed to score touchdowns in the red zone, it gave the Fighting Illini life to come back into the game.
I think what the loss did show was that Wisconsin's secondary is still a little shaky and susceptible to deep passes — not a great thing to have on tape when you've got to play this Buckeyes offense.
Q: How have the Badgers responded to that loss? Do you think it has motivated them to come back stronger this week?
Bartholomew: It seems as though they've bounced back some, but I think the biggest thing players expressed was that they still have their goals on the table. They can still win the Big Ten West and potentially a Big Ten Championship. I think the coaches are especially motivated this week after catching some heat for some play-calling and some mistakes against Illinois.
Q: Even with the loss at Illinois, Wisconsin's defense still leads the nation in just about every major statistical category. What's made the Badgers so dominant on defense this year? What makes them so tough to score on?
Bartholomew: The defense's biggest strength has been the front seven creating pressure. I mentioned the secondary is a bit shaky at times, but that group hasn't been tested often because of the pressure the front is generating. Zack Baun is having a breakout year, as is senior inside linebacker Chris Orr. Orr's probably the most important player defensively this week because he'll likely be the one responsible for shadowing Justin Fields and not letting him scramble. I also believe defensive coordinator Jim Leonhard's been better at being aggressive in early downs to create third-and-longs and get his unit off the field.
Q: Wisconsin has had a lot of great running backs over the past couple decades. How does the legacy Jonathan Taylor is building stack up in Madison with the likes of Ron Dayne, Melvin Gordon and Montee Ball?
Bartholomew: To me, Taylor is the second-best back in Wisconsin history behind Dayne. Dayne's records are safe because all signs point to Taylor going to the NFL after this season, but when you consider what Taylor has done given his QB situation throughout his career, it's pretty remarkable. However difficult it is against Ohio State, Taylor could use another breakout game Saturday, because he's been slowed a bit in recent weeks.
Q: Outside of Taylor, who are some of the other Wisconsin players that Ohio State and its fans need to be aware of entering this game?
Bartholomew: The two that jump out to me are Orr, because he's the heart and soul of Wisconsin's defense this year and playing extremely well, and left tackle Cole Van Lanen. Van Lanen is having a great year as well, and obviously has one of the nation's best edge rushers in Chase Young to match up with on Saturday. OSU is smart and moves Young around, but the snaps on which it's Young vs. Van Lanen will be very fun and will be included in every tape NFL scouts watch of both players.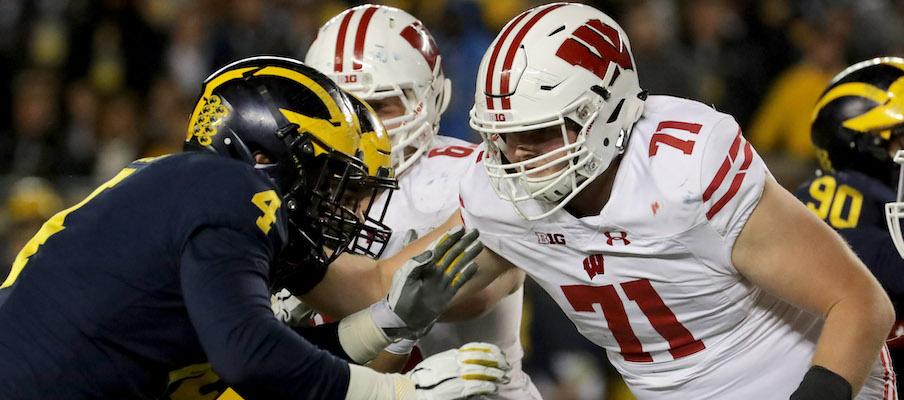 Q: What do you think are the keys to the game for Wisconsin on Saturday, and how do you see the game playing out? 
Bartholomew: It's a key for the Badgers every week, but this week especially: ball control. Ohio State's defense has been great, but to be in this game Wisconsin is going to have to churn out some first downs and run the clock a bit. The best way to get Fields out of rhythm is to keep him on the sideline for long stretches. Easier said than done, but that'd be the Badgers' best chance.
On defense, they have to create a turnover somehow. Fields only has one interception, so that's a tough ask, but stealing a possession might be necessary given how well the Buckeyes are playing.
I see it being close until the third quarter, when Ohio State hits a couple of big plays and pulls away. Won't be a crazy score, but I predict a 28-10 win for Ohio State.