Even though Wisconsin's defense leads the nation in points allowed per game, yards allowed per game and yards allowed per play, Ohio State's offense has reason to be confident going into this weekend's game.
After all, the Buckeyes' offense also ranks as one of the nation's best in every major statistical category. Ohio State currently is third in the Football Bowl Subdivision in points scored per game and fifth in both yards gained per game and yards gained per play.
More than halfway into the regular season, Ohio State has shown a consistent ability to move the ball and score points week in and week out – the Buckeyes have scored at least 34 points and accumulated at least 469 yards in all seven games they've played – so there's no reason for them not to believe they can do the same against the Badgers on Saturday.
"I think we always have a good game plan going in that we feel confident about, and we believe that if we do these type of things, we do have confidence that we should be able to move the ball," Ohio State coach Ryan Day said Tuesday. "That's part of who we are."
That said, there's no question that this week's opponent should present a different level of test. While Wisconsin showed some vulnerabilities in its stunning 24-23 loss to Illinois on Saturday, the Badgers pitched shutouts in four of their first six games of the year and have not allowed an opponent to top 315 yards all season.
Day believes Ohio State's offense is one of the best in the country, but the competition they will face from Wisconsin on Saturday at Ohio Stadium will serve as a measuring stick for just how good the Buckeyes' offense really is.
"I think it's always a good benchmark to figure out where you're at," Day said. "This is the No. 1 defense in the country. … They do a really good job on third down. They do a good job in the red zone. And they're really physical. And they got talent on the edges. So yeah, it's going to be a challenge for our guys, and we gotta answer the bell."
Wisconsin's defense has been impressive at all three levels this season, which means everyone from Justin Fields, to receivers like Olave, to J.K. Dobbins and the running backs, to the offensive line could face their toughest challenges of the year this week. That starts up front, where Day singled out defensive end Isaiahh Loudermilk, inside linebacker Chris Orr and outside linebacker Zack Baun as players who could give the Buckeyes problems.
"They're strong and powerful in there. So they win the line of scrimmage, they have a two-gapping mindset. So they always have an extra gap in there," Day said.
"They got really good rushers on the edge. Baun does a great job in one-on-one situations. He's very active and powerful, especially in third down. And those linebackers do a great job, as well, of adding on or blitzing in different situations."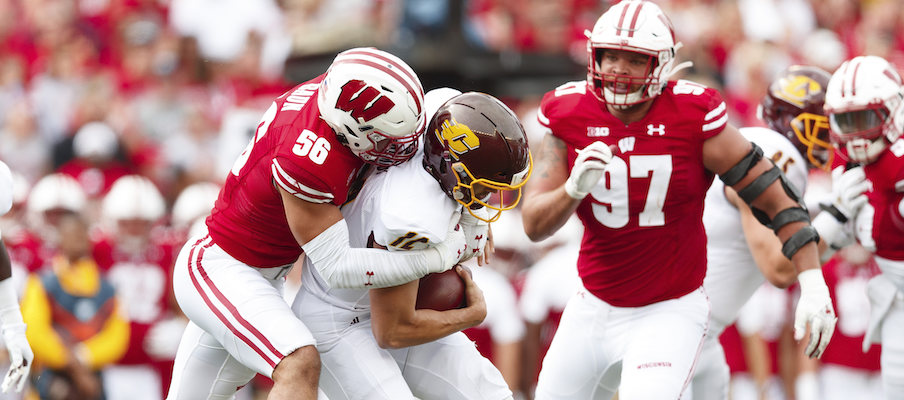 Day also expects his receivers to be challenged by Wisconsin's defensive backs, who are coached by Badgers defensive coordinator and former NFL safety Jim Leonhard; he described the Badgers' secondary as both "very talented" and "very, very well-coached."
"They'll challenge you," Day said. "They're not afraid to get up in your mug in the perimeter and challenge you and make it hard and disrupt the route. And they don't miss. When they get in there, they get a shot at you, they don't miss."
Altogether, Wisconsin leads the nation in both rushing yards allowed per game (58.4) and passing yards allowed per game (135.4). The Badgers also lead in the nation in third-down conversions allowed (16.1 percent) and opponent scoring percentage in the red zone (50 percent), and rank second in the FBS with only 14 plays of 20-plus yards allowed.
Tale of the Tape: Ohio State's Offense vs. Wisconsin's Defense

| Ohio State O | Stat | Wisconsin D |
| --- | --- | --- |
| 49.7 (3rd) | POINTS PER GAME | 7.6 (1st) |
| 526.7 (5th) | YARDS PER GAME | 193.9 (1st) |
| 7.34 (5th) | YARDS PER PLAY | 3.43 (1st) |
| 239.6 (66th) | PASSING YARDS/GM | 135.4 (1st) |
| 9.1 (15th) | YARDS PER PASS | 4.6 (1st) |
| 287.1 (3rd) | RUSHING YARDS/GM | 58.4 (1st) |
| 6.34 (4th) | YARDS PER CARRY | 1.90 (2nd) |
| 56.1 (1st) | 3RD-DOWN CONV. % | 16.1 (1st) |
| 88.6 (39th) | RED ZONE SCORE % | 50.0 (1st) |
| 47 (9th) | 20+ YARD PLAYS | 14 (2nd) |
Knowing that points and big plays will likely be harder to attain this week than in the first seven games, Day said it is crucial for the Buckeyes to execute their plan to win. For the offense, that means avoiding turnovers and executing in the red zone, while their defense and kicking game will also need to be on point.
Wisconsin's offense is no slouch, either – the Badgers have scored 35 or more points in five of their seven games this year, while they've gained more than 400 yards in six of their seven games – so Day says the Buckeyes will need to play their best game of the season all the way around to improve to 8-0 on Saturday in the Shoe.
"They got great players on both sides of the ball, NFL players," Day said. "We have to bring it this week. It's got to be our best game of the year. It's going to be our biggest challenge on both sides of the ball. And we gotta prepare better than we have all year."
Specifically on offense, though, Saturday's game is an opportunity to show that Ohio State truly belongs among the nation's elite, if the Buckeyes can continue to make plays, move the ball and score points in a similar manner to how they have so far this year.
"We're very consistent with the run and pass game," Olave said of Ohio State's offense. "We got two great running backs in the backfield, and we got a tandem of receivers that can do everything. And we've got one of the best quarterbacks in the nation, and one of the best offensive lines in the nation. So we're very balanced, and we can't wait to keep going.
"We believe we're the best in the country. We believe we have the best offense and we're going against the best defense, so we'll see how that goes."