Wisconsin's standing as one of college football's best teams took a big hit on Saturday, but this week's game should still be viewed as the toughest test of the season to date for Ohio State.
After winning their first six games of the season, including four games in which they prevented their opponents from scoring a single point, the Badgers suffered a stunning 24-23 loss this past weekend to Illinois, which had lost four straight games and went into Saturday's game as a 30.5-point underdog.
That result certainly makes Wisconsin look beatable, especially on the road, but it doesn't change the fact that the Badgers will be the best team Ohio State has played this year, if their first six games were any indication.
Wisconsin won its first six games of the season by an average margin of more than 37 points, and its defense ranks statistically as the best in the country. The Badgers also have one of college football's elite running backs, while their passing offense this season has been one of their best of the decade.
In Five Things to Know, we take our first look at why the Badgers still aren't a team the Buckeyes can afford to take lightly, and what else you should know about Ohio State's upcoming adversary.
The Nation's Top-Ranked Defense
Ohio State's defense currently ranks second nationally in points allowed per game (8), yards allowed per game (229) and yards allowed per play (3.57), but that's still not enough to be the top-ranked defense in this week's matchup.
Even after giving up 24 points on 315 yards and 5.63 yards per play to Illinois – all the most the Badgers have allowed this season – Wisconsin still leads the entire Football Bowl Subdivision in all three of those categories with only 7.6 points and 193.9 yards allowed per game and 3.43 yards allowed per play.
Wisconsin did not allow more than 15 points in any of its first six games of the year, and pitched shutouts in its win over South Florida, Central Michigan, Kent State and Michigan State. The Badgers also held each of their first six opponents under 300 yards; in the four shutouts, they did not allow more than 157 yards or 2.92 yards per play. 
Wisconsin was the first FBS team to record four shutouts in its first six games since Oklahoma accomplished that feat in 1967.
In addition to keeping points off the board for its opponents, Wisconsin's defense has also produced points of its own. The Badgers have scored four defensive touchdowns (two on interception returns, two on fumble returns) this season, which ranks as the second-most among all FBS teams this year behind only Missouri.
Wisconsin's defense is led by the linebacker trio of Chris Orr, Jack Sanborn and Zack Baun, who have all been highly productive this year. Sanborn leads the Badgers with 40 total tackles, Orr has 38 tackles and leads the team with eight sacks and Baun has 30 tackles and leads the team with 11 tackles for loss. Safety Eric Burrell has been the Badgers' top playmaker in the secondary, with 18 tackles, two interceptions and a forced fumble, while defensive end Matt Henningsen has two of the Badgers' defensive touchdowns, both on fumble recoveries.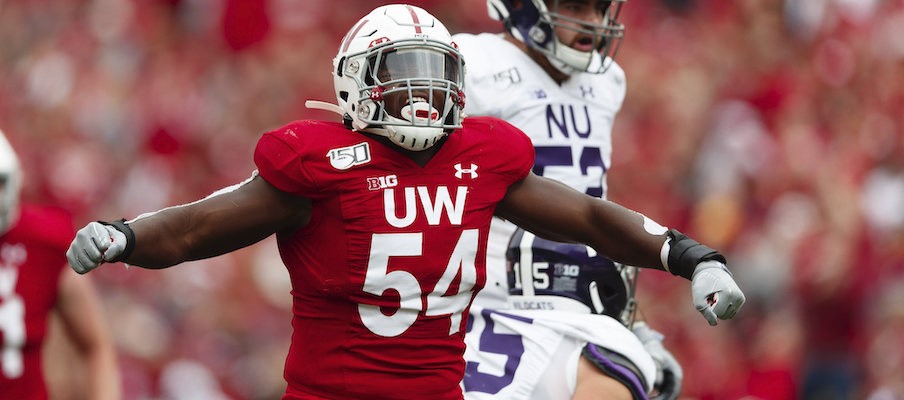 All of that said, Ohio State's offense is substantially better than any that Wisconsin has faced so far this year. While the Buckeyes currently rank in the top five nationally in points scored per game, yards gained per game and yards gained per play, none of the Badgers' first seven opponents rank in the top 50 in any of those categories.
The Nation's Most Consistently Productive Running Back
No collegiate running back has been more consistently productive since the start of the 2017 season than Jonathan Taylor, who has been the star of Wisconsin's offense since he was a true freshman.
In his freshman season in 2017, Taylor burst on the scene by rushing for 1,977 yards – the third-most in the FBS that year – and 13 touchdowns. He was named the Big Ten Freshman of the Year, a first-team all-conference performer and a second-team All-American.
Last season as a sophomore, Taylor went even bigger, rushing for 2,197 yards – enough to lead all FBS players – and 16 touchdowns. He won the Doak Walker Award as college football's best running back and was a unanimous first-team All-American.
Through Wisconsin's first seven games this season, Taylor ranks third in the FBS with 957 rushing yards and is tied for the national lead with 15 rushing touchdowns.
In the first 34 games of his Wisconsin career, Taylor has rushed for more than 100 yards in 28 of them. His least productive of his collegiate career to date, though, came against Ohio State in the 2017 Big Ten Championship Game, when the Buckeyes held him to just 41 yards on 15 carries.
Taylor has legitimate competition from Ohio State's J.K. Dobbins to be the Big Ten's best running back this year – Dobbins has gained just 10 fewer yards on 23 fewer carries – but there's no question that tackling Taylor will be the top priority for the Buckeyes' defense on Saturday.
In addition to his production on the ground, Taylor also has 16 catches for 138 yards and a team-high four receiving touchdowns.
An Improved Passing Game
While a great defense and a strong running game is nothing new for Wisconsin, the Badgers' Achilles heel has typically been their passing offense. The Badgers have made strides in that area this year, though, that improve their ability to compete with the nation's best teams and blow out inferior opponents.
Given how dominant their defense has been and how productive Taylor has continued to be, Wisconsin's passing offense is still its weakness, but not as much as it has been in previous years.
Badgers starting quarterback Jack Coan has completed 76 percent of his passes this season – the second-best completion percentage in the nation, behind only Joe Burrow – for 1,383 yards and nine touchdowns. He's only thrown two interceptions, though his second interception came at a costly time, as it set up Illinois' game-winning field goal on Saturday.
The Badgers don't throw the ball a lot; their 178 passing attempts rank just 110th nationally. When they do, they're typically not long throws; the Badgers have just 13 passing plays of 20 yards or more this season, which is tied for 122nd out of 130 FBS teams. 
With Coan's efficiency, though, they're still tied for 31st nationally with 8.2 passing yards per attempt. His passer rating of 161.0 is the best by a Wisconsin starting quarterback since Russell Wilson in 2011, and the Badgers' 208.3 passing yards per game are their second-most since then.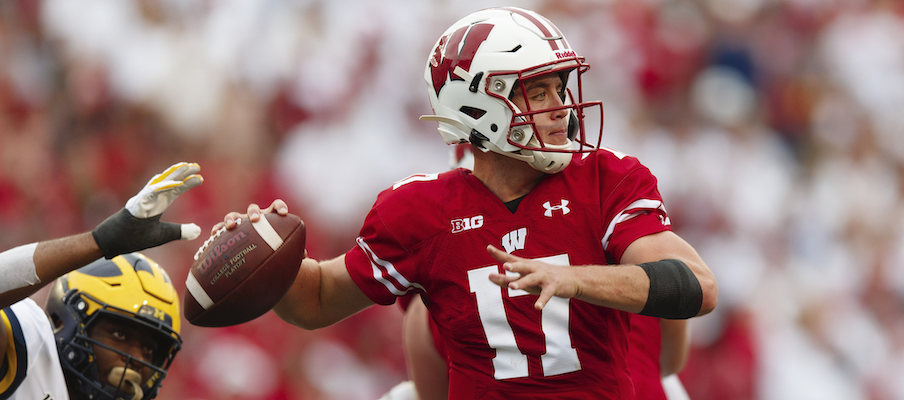 Wisconsin's top receiver is Quintez Cephus, who leads the Badgers with 24 receptions for 353 catches and three touchdowns this season; he was expelled from Wisconsin before last season after being charged with sexual assault, but was reinstated this summer after being acquitted of those charges.
Another player to watch for the Badgers in the passing game is tight end Jake Ferguson, who has caught 20 passes for 242 yards and two touchdowns this year.
The Recent Trend: Close Buckeye Wins
Ohio State has won its last six games against Wisconsin dating back to 2011, when Braxton Miller threw a game-winning touchdown pass to Devin Smith with just 20 seconds to go to lead the Buckeyes to a 33-29 upset victory, but most of those wins haven't come easy.
Ohio State's Last Six Games Against Wisconsin

| YEAR | LOCATION | RESULT |
| --- | --- | --- |
| 2017 | Indianapolis | Ohio State 27, Wisconsin 21 |
| 2016 | Madison | Ohio State 30, Wisconsin 23 |
| 2014 | Indianapolis | Ohio State 59, Wisconsin 0 |
| 2013 | Columbus | Ohio State 31, Wisconsin 24  |
| 2012 | Madison | Ohio State 21, Wisconsin 14 |
| 2011 | Columbus | Ohio State 33, Wisconsin 29 |
Five of the Buckeyes' last six wins against the Badgers have come by seven points or fewer, including a 27-21 win in the 2017 Big Ten Championship Game. Ohio State needed overtime to earn a 30-23 win at Wisconsin in 2016, and the Buckeyes' wins over the Badgers in 2012 and 2013 also each game by just seven points.
The one exception, of course, was an enormous exception, as the Buckeyes throttled Wisconsin for a 59-0 win in the 2014 Big Ten Championship Game, earning them a berth in the first-ever College Football Playoff, which Ohio State would ultimately win.
Haven't Lost Two Straight Since 2016
Whenever a team suffers a shocking defeat like Wisconsin did against Illinois on Saturday, there's always a question of how the team will respond the following week. Recent history would suggest, though, that the loss is more likely to have a motivating effect for the Badgers than cause them to fall apart.
Wisconsin has not lost back-to-back games since 2016, when the Badgers suffered a 14-7 loss at Michigan one week before their 30-23 loss to Ohio State. Even last year, when the Badgers were uncharacteristically mediocre and finished the season with an 8-5 record, they never lost back-to-back games.
Before 2016, Wisconsin hadn't lost two consecutive games since 2013, when it dropped its final two games of the year to Penn State and South Carolina.
Even with their ugly loss to Illinois, the Badgers can put themselves back in the playoff conversation on Saturday if they can upset Ohio State and they still control their own destiny in the Big Ten West, so they still have plenty to play for this weekend in the Shoe.