Ohio State's run defense has been one of the best in the country this season, but it will face its biggest test yet on Saturday.
Playing host to Wisconsin means playing host to one of college football's elite running backs, as Jonathan Taylor – who has consistently been one of the nation's most productive runners since he was a true freshman in 2017 – comes to Ohio State to take on the Buckeyes.
Taylor, who led the nation with 2,194 rushing yards and won the Doak Walker Award as college football's best running back last season, currently ranks third in the Football Bowl Subdivision with 957 rushing yards and is tied for the national lead with 15 rushing touchdowns. He is averaging more than six yards per carry for the third consecutive season, and is tied for second nationally with 34 plays of 10-plus yards from scrimmage.
"You don't get 2,000 yards rushing in the conference that we play in without being an outstanding back," Ohio State co-defensive coordinator Greg Mattison said this week.
What makes Taylor so tough to defend? In the words of Ohio State head coach Ryan Day, just about everything.
"He's strong, fast. He can change direction, he's powerful," Day said Tuesday when asked about Taylor. "Guys bounce off of him, runs with an attitude. A lot of guys who are that big don't have the agility that he has. He has good agility. He can run away. He's good out of the backfield. He's caught the ball. He's kind of an all-purpose back."
Taylor does most of his work running the ball between the tackles, and he's very good at that. The 5-foot-11, 219-pound back is strong and regularly finishes through defenders – according to Pro Football Focus, he had 1,309 yards after contact last season – which means the Buckeyes will need to be sound in their tackling in order to bring him down.
"He runs extremely physical," Mattison said. "He's one of those guys that he looks like he's stopped, and all of a sudden he comes out of the pile, which shows he has great balance."
Taylor also has sprinter speed – he spent a few weeks this past spring running track as part of Wisconsin's 4x100-meter relay team, and was a New Jersey state 100-meter dash champion in high school – which makes him a threat to go for a long run any time he gets into the open field.
"I don't know if people realize that," Mattison said. "He may not look like that all the time until you see him break, and see somebody try to catch him."
As explosive as Taylor can be as a runner, he's also patient, which means the Buckeyes have to play disciplined on Saturday to avoid getting burned.
"Reading your keys are crucial," said Ohio State linebacker Tuf Borland. "A lot of times you see guys thinking they're in the clear and they jump out of their gaps, and he ends up finding that crease." 
While Taylor has been a major running threat since the beginning of his Wisconsin career, he's also emerged this year as a receiving threat out of the Badgers' backfield. After catching just 16 combined passes for 155 yards and zero touchdowns in 2017 and 2018, he's already caught 16 passes for 138 yards and four touchdowns in just seven games this year.
That means defending Taylor will be a priority for the Buckeyes in all situations.
"I think when we saw him two years ago in the Big Ten Championship Game, he was kind of a first- and second-down guy, but now, he's bettered his game in all aspects, all the way to third-down blocking, catching the ball out of the backfield," Borland said. "He's a great player."
"You don't get 2,000 yards rushing in the conference that we play in without being an outstanding back."– Ohio State co-defensive coordinator Greg Mattison on Jonathan Taylor
Taylor actually had his most productive game as a receiver of his first two collegiate seasons against Ohio State in the 2017 Big Ten Championship Game, catching three passes for 30 yards, but had the least productive game of his entire collegiate career as a runner, gaining just 41 yards on 15 carries.
Ohio State has reason to be confident about its ability to match up with Taylor in the ground game again, considering that the Buckeyes are currently ranked ninth in the Football Bowl Subdivision with only 92.7 rushing yards allowed per game and fourth with only 2.56 yards allowed per carry.
The Buckeyes also know, though, how consistently good Taylor has been – he's had more than 100 yards from scrimmage in every game this season and all but five games in his entire Wisconsin career – which means they, in turn, have to play their best run defense of the year.
"He's definitely going to test us," said Ohio State defensive tackle Robert Landers. "They're good at what they do, and he's good at what he does. He's very patient at letting his offensive line develop in those seams and gaps, and when he sees it, he hits it. So we got to make sure we're fundamentally sound and we play our game."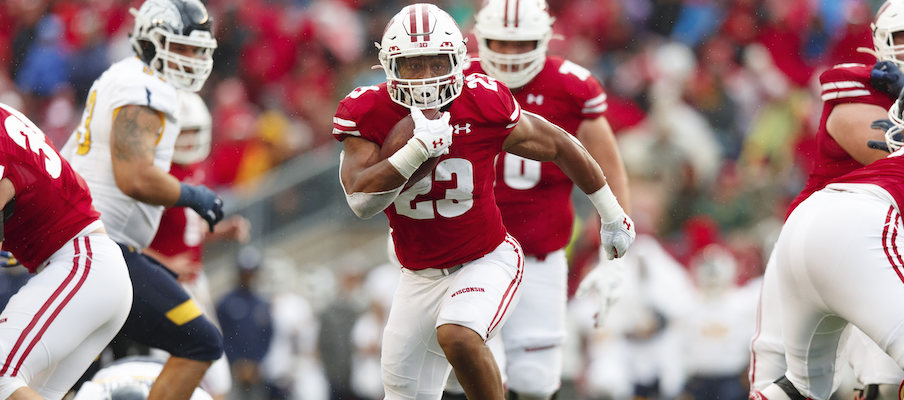 As good as Taylor is, the Buckeyes can't all of their energy on stopping him. Wisconsin's passing offense has taken a step forward this season with Jack Coan – his completion percentage (76.0) is the second-best in the nation, and the Badgers are averaging more passing yards per game than they have since 2015 – and Werner and fellow Ohio State linebacker Malik Harrison both said Wednesday that the Badgers' play-action passing game is better than any Ohio State has faced this season.
"When a running back has 2,000 yards, your first thought might be, 'Boy, you got to load up and we really have to do this and we have to do that.' Well, any time you do that, you take away from one part, you're going to be open to the next," Mattison said. "Any time a team has the ability to run the football with some success, now that opens up the play-action passes … and they've done that against everybody they've played against."
Wisconsin's other playmakers include wide receiver Quintez Cephus, who has 24 catches for 353 yards and three touchdowns this season, and tight end Jake Ferguson, who has 20 catches for 242 yards and two touchdowns.
There's no question, though, that the primary point of emphasis for Ohio State's defense this week is limiting Taylor's impact and forcing Wisconsin's other players to make plays – and if the Buckeyes can do that successfully, their chances of beating the Badgers will improve greatly.
"We just know that if we're going against a premier back, if we stop him, we stop that team," Werner said. "Their offense is based off this dude. We stop him, we're going to win the game."