If Ohio State handles Michigan State, it could go into a bye week having won every game in blowout fashion.
That's the kind of season the Buckeyes have had thus far. They've made it look easy. All five wins have come by such a margin that Chris Chunuov has played at least one series in each of them. 
So, once again, this week's stock report is loaded with positives and light on negatives.
Stock Up
Joshua Alabi
Throughout spring practices, Alabi spent the vast majority of time at left tackle. That continued into fall camp when it became clear the battle to start at right tackle was between Branden Bowen and Nicholas Petit-Frere. In the first month of the season, Alabi consistently worked on the left side of the line, filling in for Thayer Munford when needed.
So when it appeared as though Bowen might miss Saturday night's game, Petit-Frere seemed to be the likely candidate for a spot start at right tackle. Instead, Ohio State turned to Alabi, a fifth-year senior.
Alabi filled in seamlessly. So seamlessly that Ohio State's coaches graded him out as the offensive player of the game.
Provided Bowen returns to the field next week, Alabi will likely head back to the bench where he'll remain as he waits for his next opportunity. As he showed on Saturday, the Buckeyes can trust him if adversity hits and they need somebody to fill in at tackle. For a team that entered the season with some questions about its offensive line depth, that's a relief.
Jeff Okudah
Even though Okudah didn't have a single interception at Ohio State, he already had NFL draft analysts viewing him as a potential top-10 pick. The long, lanky athlete has every physical trait anybody could ask for in a prototypical NFL cornerback.
Finally, he caught his first interception against Miami (Ohio) a week ago, and then he did it again on Saturday.
Here's another look at Okudah's pick.pic.twitter.com/R24LIHAbzV

— Eleven Warriors (@11W) September 29, 2019
And again.
ARE YOU KIDDING US JEFF OKUDAH pic.twitter.com/pR6A0yvGEG

— Eleven Warriors (@11W) September 29, 2019
Now, he's up to three interceptions both this season and in his Ohio State career.
Okudah has a goal for his number of picks, but he hasn't been willing to share it unless he reaches it. With the way he's playing, it's fair to expect to learn what he was targeting at some point this year.
The offensive line and J.K. Dobbins
We might collectively look back at the first game of the season and wonder what happened. Sure, Ohio State won by 24 points, but it wasn't nearly as dominant of a performance as we've seen the past four weeks, and that included Dobbins' contributions.
Dobbins averaged just 4.3 yards per rush on 21 carries in Week 1. Since then? He hasn't averaged fewer than 6.5 yards per run in a game. Against Nebraska, Dobbins had a season-high 24 carries for 177 yards. Though he didn't have a single carry of more than 26 yards, he had eight carries go for at least 10 yards.
Much of Dobbins' strong play can be attributed to his physical running style and finishing of runs, but the offensive line deserves substantial credit too. Though the Buckeyes have four first-year starters up front, they've quickly developed chemistry and have become punishing blockers who've opened up sizable holes for Dobbins and Master Teague. 
Austin Mack
Four days before Ohio State's game against Nebraska, Mack talked about having a "Noah Brown game," referring to Brown's four-touchdown performance against Oklahoma.
Some day, Mack hopes to have a similar breakout. And though that didn't come on Saturday, he had his best game of the season with three catches for 66 yards and a touchdown. Mack nearly had a second score when used a double move to fake an out route before taking off deep.
Nice route by Mack pic.twitter.com/2NVBHTpBPr

— Bill Landis (@BillLandis25) September 29, 2019
Baron Browning
A fairly common trope early in this season has been to question why Browning hasn't had as big of a role on defense as Tuf Borland.
However, if you read the weekly snap counts article that comes out every Tuesday on Eleven Warriors, you'd know that Browning played more snaps than Borland in every game but the Miami (Ohio) blowout. Browning once again played more meaningful snaps than Borland against Nebraska, and I wouldn't expect that to change going forward.
The coaches have seen what you're seeing: Browning is a fast, physical, aggressive linebacker who has made a leap and is playing like the former five-star prospect he was was once recruited as. Against a team that has Nebraska's speed, Browning is a major asset at the second level. On Saturday, he had a team-high seven tackles, including a tackle for loss and 1/2 of a sack.
Ohio State's Defensive Coaches
This is exactly the defense Ryan Day imagined when he hired Greg Mattison, Jeff Hafley, Al Washington and Matt Barnes to join Larry Johnson on the coaching staff.
Fast. Physical. Attacking. Violent.
Ohio State's defensive coaches have found a way to have one of the nation's most talented rosters become one of the country's most productive defenses. The same personnel as last year. Drastically different results.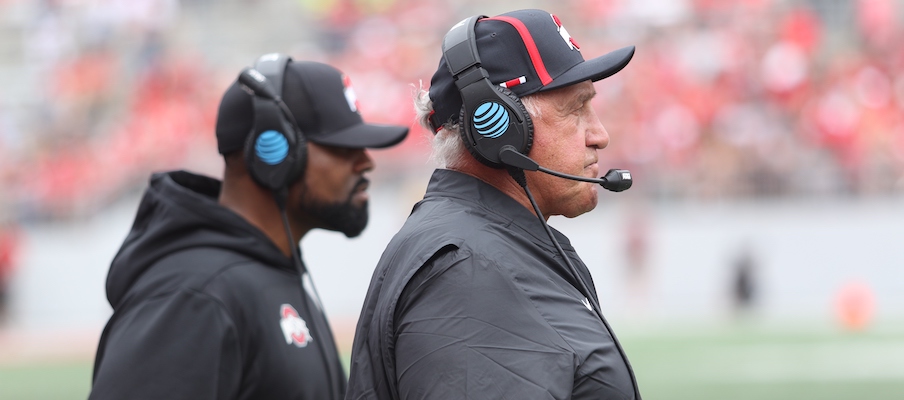 Stock Down
Scott Frost, Year 2
As Frost has preached ever since arriving in Lincoln, Nebraska, as the Cornhuskers' head coach, he needs time to fully turn the program into what he hopes. And clear progress has been made since he arrived.
But, as everybody saw on Saturday, any hopes of a second year similar to what he did in Year 2 at Central Florida have been dashed. The Golden Knights went 13-1 in Frost's second year, a season after finishing 6-7.
Adrian Martinez
Martinez showed enough promise as a freshman to garner Heisman Trophy hype. In the spring, he had similar Heisman betting odds to Justin Fields.
Now? Fields has top-four Heisman odds and Martinez is nowhere to be found. He's a dynamic quarterback, but he showed on Saturday that he's not quite ready to face one of the country's top defenses.
Back-To-Back Punt-less Games In Lincoln
Drue Chrisman didn't have a single punt in 2017, the last time the Buckeyes faced the Cornhuskers in Lincoln, Nebraska, and it seemed possible that he'd take a second trip in a row out west without putting his foot on the ball once.
In the fourth quarter, though, the Buckeyes found themselves in a 4th-and-8 situation and needed a punt from Chrisman, ending any chance of a second punt-less game.