In Ohio State's pregame Skull Session before Saturday's game against Miami (Ohio), quarterbacks coach and passing game coordinator Mike Yurcich made a bold proclamation.
"I heard their coach say something like, when we're going to play Ohio State, it's like recess and they get the first 85 picks. That's a slap in the face, we're dressing 122 today!" Yurcich said, as seen in video captured by cleveland.com. "You'll see 122 Silver Bullets today."
The Buckeyes didn't quite play all 122 of those players, but they came pretty close.
In a 76-5 win where Ohio State's starters played only a half and many of the Buckeyes' walk-ons got a rare opportunity to play in the fourth quarter, a whopping 97 different players were on the field for at least one snap on offense, defense or special teams in Saturday's game, Ohio State's final non-conference game of the year and likely the best opportunity of the year for the team's reserves to see snaps. (By comparison, no more than 77 players participated in any of Ohio State's first three games.)
We counted up how many snaps each of them played in this week's edition of Snap Counts.
All snap counts were compiled by Eleven Warriors and should be considered unofficial. (Note: It is not always possible to identify all players on special teams lineups from TV camera angles, so there might be additional players missing from those units.)
Quarterbacks
Justin Fields: 43
Chris Chugunov: 18
Gunnar Hoak: 14
Fields and the rest of the Buckeyes' starters spent the second half on the sidelines after taking a 49-5 lead into halftime, which allowed Chugunov and Hoak to each play double-digit snaps for the first time in their Ohio State careers. Chugunov was the second quarterback in the game and led the Buckeyes' offense for four possessions in the third quarter, while Hoak checked in for Ohio State's final two possessions of the day.
Running Backs
J.K. Dobbins: 34
Master Teague: 24
Steele Chambers: 10
Marcus Crowley: 6
Amari McMahon: 1
Dobbins was in the game for 34 of Ohio State's 43 first-half snaps in Saturday's game, with Teague taking his place in the lineup for the other nine. Teague was also in the game for the Buckeyes' first 15 snaps of the second half. After that, the Buckeyes turned to true freshmen Crowley and Chambers to finish out the game – and both scored their first career touchdowns in the process – while McMahon, a walk-on, also checked in for the first snap of his career.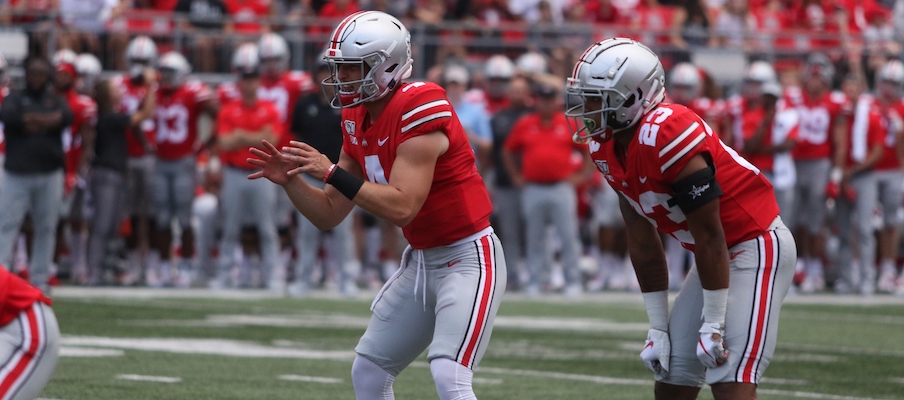 Wide Receivers
Garrett Wilson: 32
K.J. Hill: 30
Binjimen Victor: 25
Chris Olave: 25
Austin Mack: 22
Jameson Williams: 14
Xavier Johnson: 10
Austin Kutscher: 10
Jaylen Harris: 9
Sam Wiglusz: 9
Ellijah Gardner: 7
Demario McCall: 6
Jaelen Gill: 5
As has been the case in each of the first four games, five wide receivers saw regular playing time in the first half of Saturday's game: Victor and Wilson at X receiver, Olave at Z receiver, Hill in the slot and Mack at both the Z spot and in the slot. The only other receivers to see playing time before halftime were Harris and Gill, each for only one snap.
While Hill, Victor, Olave and Mack all came out of the game at halftime, Wilson continued to play into the second half, and played the most snaps among all wide receivers and the most snaps in any game of his brief career to date.
Wilson (X), Gardiner (Z) and Gill (H) started the second half, while Harris (X), Williams (Z) and McCall – who played as an H-back on Saturday after playing running back for the first three games – also mixed in during the third quarter, with Williams scoring the first touchdown of his Ohio State career on a 61-yard catch-and-run early in the fourth quarter.
Johnson, Kutscher and Wiglusz, all walk-ons, were the wide receivers for the Buckeyes' final possession of the game.
Tight Ends
Rashod Berry: 23
Jake Hausmann: 23
Jeremy Ruckert: 23
Luke Farrell: 16
Mitch Rossi: 6
Derrick Malone: 4
Brock Davin: 1
As they have all season to date, the Buckeyes continued to rotate four tight ends in and out of the lineup regularly on Saturday. Farrell, who started the game, did not play at all in the second half, but Berry, Hausmann and Ruckert all remained in the game after halftime for more snaps. The Buckeyes continued to mix in a healthy dose of two-tight end sets as well, using them on 21 of their 75 offensive plays against the RedHawks.
Rossi, Malone and Davin, all walk-ons, saw their playing time on Ohio State's final possession of the game.
Offensive Linemen
Thayer Munford: 43
Jonah Jackson: 43
Josh Myers: 43
Wyatt Davis: 43
Branden Bowen: 43
Joshua Alabi: 32
Matthew Jones: 32
Harry Miller: 32
Gavin Cupp: 32
Nicholas Petit-Frere: 32
Dawand Jones: Special teams only
Brandon Pahl: Special teams only
Kevin Woidke: Special teams only
Max Wray: Special teams only
Ohio State's starting offensive line of Munford, Jackson, Myers, Davis and Bowen played the entire first half of Saturday's game. The second-team offensive line of Alabi, Jones, Miller, Cupp and Petit-Frere played the entire second half. Dawand Jones, a true freshman, played a snap on special teams for the second time this year, while Pahl and Wray also saw their first playing time of the season on the Buckeyes' extra-point unit in the second half.
Defensive Ends
Chase Young: 33
Tyler Friday: 28
Zach Harrison: 23
Javontae Jean-Baptiste: 21
Alex Williams: 13
Noah Potter: 7
Aaron Cox: 3
As he has in every game for Ohio State so far this season, Young played the most snaps among defensive ends and was one of the team's star performers, recording two strip sacks in the second quarter. With Jonathon Cooper and Tyreke Smith both out due to injuries, Young was on the field for 33 of the Buckeyes' first 45 defensive snaps. Friday made his second start in three games opposite Young, while Harrison and Jean-Baptiste also rotated in for first-half playing time.
Harrison and Jean-Baptiste continued to play into the second half of Saturday's game with Williams, Potter and Cox also mixing in for playing time.
Defensive Tackles
Jashon Cornell: 27
Davon Hamilton: 27
Haskell Garrett: 18
Tommy Togiai: 17
Antwuan Jackson: 13
Jerron Cage: 12
Zaid Hamdan: 7
Jaden McKenzie: 7
Cornell and Hamilton were the Buckeyes' starting defensive tackles for Saturday's game and were on the field together for 27 of Ohio State's 45 first-half defensive plays. Those two and Garrett, who played the other 18 snaps of the first half at the 3-technique spot, played only before halftime.
With Robert Landers sidelined by an undisclosed injury, Togiai and Jackson each saw playing time at nose tackle in both the first half and in the third quarter, while Hamdan – a walk-on – finished out the game at that spot. Cage and McKenzie split the second-half snaps at 3-technique, with McKenzie – a true freshman – playing in the first game of his Ohio State career.
Linebackers
Malik Harrison: 37
Pete Werner: 32
Tuf Borland: 28
Baron Browning: 20
Brendon White: 16
Dallas Gant: 15
Teradja Mitchell: 14
K'Vaughan Pope: 12
Justin Hilliard: 8
Cade Stover: 6
Jahsen Wint: 6
Tommy Eichenberg: 1
Cade Kacherski: 1
Craig Young: 1
Logan Hittle: Special teams only
Ben Schmiesing: Special teams only
Trayvon Wilburn: Special teams only
Harrison, Werner and Borland were the Buckeyes' starting linebackers for Saturday's game, and all played a majority of first-half snaps before coming out of the game.
Hilliard, in just his second game back from injury, saw playing time alongside the starter as a fourth linebacker for five first-half plays, while he also played three snaps at strongside linebacker in the second half.
Browning, Mitchell and White also saw playing time in the first half as the Buckeyes' second-team group of linebackers, with Browning and Mitchell as the inside linebackers and White at Sam linebacker, where he has lined up for the majority of his snaps over the last three weeks despite being designated as a bullet.
Gant and Pope saw playing time in the second half as the third-team inside linebackers, with Wint as the third-team Sam linebacker. Stover saw playing time at Sam linebacker in the fourth quarter, while Eichenberg, Kacherski and Young each checked in for one defensive snap – with Eichenberg and Kacherski playing their first snaps of their Ohio State careers – before the game ended early due to lightning.
Cornerbacks
Jeff Okudah: 45
Damon Arnette: 41
Shaun Wade: 40
Cameron Brown: 13
Amir Riep: 12
Sevyn Banks: 9
Tyreke Johnson: 9
Marcus Williamson: 9
Marcus Hooker: 6
Kevin Dever: 1
Darryl Sinclair: 1
Lloyd McFarquhar: 1
Okudah played every one of Ohio State's first-half defensive snaps against Miami, which tied for him for the most snaps of any player in Saturday's game, while Arnette played all but four snaps for which he was replaced by Brown when he had to leave the game briefly due to cramps. Wade played every first-half snap at slot cornerback, not including the five plays on which Hilliard checked in as a fourth linebacker.
Brown and Banks started the second half as the Buckeyes' outside cornerbacks with Riep at slot cornerback. Johnson and Williamson took over at outside cornerback late in the third quarter, while Hooker checked in at slot cornerback in the fourth quarter. McFarquhar, Sinclair and Dever, all walk-ons, were on the field for the final play of the game.
Safeties
Jordan Fuller: 45
Isaiah Pryor: 12
Bryson Shaw: 6
Owen Fankhauser: 1
Ryan Batsch: Special teams only
Fuller was the deep safety for all of Ohio State's first-half snaps, while Pryor – who has now played his final game as a Buckeye after entering the transfer portal on Monday – was the deep safety for all of the Buckeyes' third-quarter snaps. 
Shaw, a true freshman who made his Ohio State debut on Saturday, saw playing time at deep safety in the fourth quarter, while Fankhauser, a walk-on, checked in for the final play of the game.
Josh Proctor, who played in each of the Buckeyes' first three games and will now be their No. 2 safety following Pryor's departure from the team, was seen with a cast on his hand during pregame warmups and was unavailable to play in Saturday's game.
Extra Points
Blake Haubeil or Dominic DiMaccio (kicker)
Drue Chrisman or Zack Hoover (holder)
Liam McCullough or Bradley Robinson (long snapper)
Luke Farrell or Jeremy Ruckert (blocker)
Joshua Alabi (blocker)
Wyatt Davis or Matthew Jones or Max Wray (blocker)
Gavin Cupp (blocker)
Jerron Cage or Dawand Jones (blocker)
Nicholas Petit-Frere or Brandon Pahl (blocker)
Kevin Woidke (blocker)
Jake Hausmann (blocker)
The Buckeyes used the same place-kicking lineup that they used in their first three games of the season for the first half of Saturday's game, but mixed in some younger players and reserves in the second half. DiMaccio was called upon to kick the final extra point of the game, with Hoover holding and Robinson snapping, but he missed the kick wide right, marking the first time Ohio State has missed an extra point since Tyler Durbin in 2016.
Kickoffs
Blake Haubeil or Dominic DiMaccio (kicker)
Teradja Mitchell or K'Vaughan Pope or Trayvon Wilburn (gunner)
Amir Riep or Xavier Johnson or Cade Kacherski (gunner)
Sevyn Banks or Darryl Sinclair (gunner)
Isaiah Pryor or Bryson Shaw or Amari McMahon (gunner)
Dallas Gant or Cade Stover or Logan Hittle (gunner)
Marcus Williamson or Ellijah Gardiner or Ben Schmiesing (gunner)
Jahsen Wint or Cameron Brown or Tyreke Johnson or Kevin Dever (gunner)
Marcus Hooker or Marcus Crowley or Ryan Batsch (gunner)
Justin Hilliard or Craig Young or Owen Fankhauser (gunner)
Ellijah Gardiner or Jameson Williams or Sam Wiglusz (gunner)
Ohio State started Saturday's game with a familiar group of players on its kickoff coverage unit, but in a game where the Buckeyes kicked off 12 times, more than 30 different players had an opportunity to take the field for at least one kickoff before the end of the game. The Buckeyes deployed a unit full of walk-ons for their final kickoff of the game, including DiMaccio kicking.
Kickoff Returns
Demario McCall or Jameson Williams (returner)
Steele Chambers (blocker)
Xavier Johnson (blocker)
Jake Hausmann (blocker)
Rashod Berry (blocker)
Jaylen Harris (blocker)
Jahsen Wint (blocker)
Amir Riep (blocker)
Dallas Gant (blocker)
Brendon White (blocker)
Master Teague (blocker)
McCall lined up deep as the Buckeyes' kickoff returner for Miami's only first-half kickoff of Saturday's game, while Williams took his place for the RedHawks' only second-half kickoff (neither actually returned a kick). Chambers was a new addition to the kickoff return unit against the RedHawks, while the rest of the unit all returned from previous games.
Punts
Drue Chrisman (punter)
Liam McCullough (long snapper)
Teradja Mitchell or Jake Hausmann (upback)
Tuf Borland or Mitch Rossi (upback)
Luke Farrell or Jeremy Ruckert (wing/upback)
Malik Harrison or Jaylen Harris (guard)
Dallas Gant (guard)
Jordan Fuller or Jahsen Wint (tackle)
Justin Hilliard (gunner) or Xavier Johnson (tackle)
Chris Olave or Jameson Williams (gunner)
Isaiah Pryor (gunner)
The Buckeyes' lineup for their only punt of the first half of Saturday's game consisted entirely of players who had already seen playing time on the punting unit this season. Seven different players were on the field for Ohio State's only punt of the second half.
Punt Blocks/Returns
Demario McCall or Garrett Wilson or Jaelen Gill (returner)
Damon Arnette or Tyreke Johnson or Darryl Sinclair (rusher/blocker)
Sevyn Banks or Kevin Dever (rusher/blocker)
Xavier Johnson or Ben Schmiesing (rusher/blocker)
Amir Riep or Ryan Batsch (rusher/blocker)
Austin Mack or Bryson Shaw (rusher/blocker)
Jaylen Harris or Cade Kacherski (rusher/blocker)
Dallas Gant or Amari McMahon or Austin Kutscher (rusher/blocker)
Cameron Brown or Lloyd McFarquhar (rusher/blocker)
Master Teague or Baron Browning or Cade Stover or Brock Davin (rusher/blocker)
Brendon White or Jameson Williams or Trayvon Wilburn (rusher/blocker)
Miami punted the ball 10 times against the Buckeyes, and like with the kickoff coverage unit, Ohio State used its punt block/return unit as an opportunity to get a multitude of players – including walk-ons – into the game. The highlights of the game for this unit came in the second quarter, when Banks blocked a punt, and the third quarter, when Wilson – who replaced McCall as the Buckeyes' punt returner for the second half, except for Miami's final punt, for which Gill took the field – returned a punt 52 yards for Ohio State's longest punt return since Jalin Marshall in 2014.
Field Goal Block
Jeffrey Okudah (blocker)
Chase Young (blocker)
Damon Arnette (blocker)
Jordan Fuller (blocker)
Teradja Mitchell (blocker)
Jashon Cornell (blocker)
Sevyn Banks (blocker)
Pete Werner (blocker)
Shaun Wade (blocker)
Davon Hamilton (blocker)
Haskell Garrett (blocker)
Banks and Hamilton replaced Tuf Borland and Robert Landers on the kick-blocking unit for Miami's only field goal attempt on Saturday, while the rest of the unit remained the same from the Buckeyes' previous game against Indiana.
Snap Tracker: Offense

| POS | PLAYER | FAU | UC | IU | MIAMI | TOTAL |
| --- | --- | --- | --- | --- | --- | --- |
| QB | JUSTIN FIELDS | 73 | 67 | 63 | 43 | 246 |
| QB | CHRIS CHUGUNOV | 5 | 5 | 8 | 18 | 36 |
| QB | GUNNAR HOAK | DNP | 4 | 5 | 14 | 23 |
| RB | J.K. DOBBINS | 49 | 43 | 44 | 34 | 170 |
| RB | MASTER TEAGUE III | 18 | 17 | 23 | 24 | 82 |
| RB/WR | DEMARIO MCCALL | 6 | 12 | 4 | 6 | 28 |
| RB | MARCUS CROWLEY | 5 | 1 | 5 | 6 | 17 |
| RB | STEELE CHAMBERS | DNP | 3 | DNP | 10 | 13 |
| RB | AMARI McMAHON | DNP | DNP | DNP | 1 | 1 |
| WR | K.J. HILL | 45 | 45 | 38 | 30 | 158 |
| WR | BINJIMEN VICTOR | 41 | 31 | 32 | 25 | 129 |
| WR | CHRIS OLAVE | 41 | 33 | 29 | 25 | 128 |
| WR | AUSTIN MACK | 30 | 31 | 36 | 22 | 119 |
| WR | GARRETT WILSON | 29 | 21 | 30 | 32 | 112 |
| WR | JAYLEN HARRIS | 5 | 22 | 14 | 9 | 50 |
| WR | JAELEN GILL | 6 | 10 | 14 | 5 | 35 |
| WR | JAMESON WILLIAMS | 5 | 6 | 7 | 14 | 32 |
| WR | ELLIJAH GARDNER | 2 | 3 | 6 | 7 | 18 |
| WR | XAVIER JOHNSON | ST | ST | ST | 10 | 10 |
| WR | AUSTIN KUTSCHER | DNP | DNP | DNP | 10 | 10 |
| WR | SAM WIGLUSZ | DNP | DNP | DNP | 9 | 9 |
| TE | LUKE FARRELL | 53 | 29 | 28 | 16 | 126 |
| TE | JEREMY RUCKERT | 34 | 23 | 20 | 23 | 100 |
| TE | JAKE HAUSMANN | 16 | 21 | 21 | 23 | 81 |
| TE | RASHOD BERRY | DNP | 25 | 24 | 23 | 72 |
| TE | MITCH ROSSI | 2 | 1 | 5 | 6 | 14 |
| TE | DERRICK MALONE | 1 | 1 | DNP | 4 | 6 |
| TE | BROCK DAVIN | 2 | 2 | DNP | 1 | 5 |
| OL | WYATT DAVIS | 73 | 67 | 63 | 43 | 246 |
| OL | JONAH JACKSON | 73 | 67 | 63 | 43 | 246 |
| OL | JOSH MYERS | 73 | 67 | 63 | 43 | 246 |
| OL | BRANDEN BOWEN | 63 | 56 | 63 | 43 | 225 |
| OL | THAYER MUNFORD | 54 | 56 | 63 | 43 | 216 |
| OL | JOSHUA ALABI | 24 | 20 | 13 | 32 | 89 |
| OL | NICHOLAS PETIT-FRERE | 15 | 20 | 13 | 32 | 80 |
| OL | GAVIN CUPP | 5 | 9 | 13 | 32 | 59 |
| OL | HARRY MILLER | 5 | 9 | 13 | 32 | 59 |
| OL | MATTHEW JONES | 5 | 9 | 8 | 32 | 54 |
| OL | KEVIN WOIDKE | ST | ST | 5 | ST | 5 |
| OL | DAWAND JONES | DNP | ST | DNP | ST | ST |
| OL | BRANDON PAHL | DNP | DNP | DNP | ST | ST |
| OL | MAX WRAY | DNP | DNP | DNP | ST | ST |
| K | BLAKE HAUBEIL | ST | ST | ST | ST | ST |
| K | DOMINIC DiMACCIO | DNP | DNP | DNP | ST | ST |
Snap Tracker: Defense

| POS | PLAYER | FAU | UC | IU | MIAMI | TOTAL |
| --- | --- | --- | --- | --- | --- | --- |
| DE | CHASE YOUNG | 42 | 34 | 35 | 33 | 144 |
| DE | JAVONTAE JEAN-BAPTISTE | 33 | 16 | 28 | 21 | 98 |
| DE | ZACH HARRISON | 24 | 17 | 22 | 23 | 86 |
| DE | TYLER FRIDAY | DNP | 15 | 33 | 28 | 76 |
| DE | TYREKE SMITH | DNP | 21 | 20 | DNP | 41 |
| DE | ALEX WILLIAMS | 14 | 5 | DNP | 13 | 32 |
| DE | NOAH POTTER | 8 | 6 | DNP | 7 | 21 |
| DE | AARON COX | 6 | DNP | DNP | 3 | 9 |
| DT/DE | JASHON CORNELL | 32 | 23 | 22 | 27 | 104 |
| DT | HASKELL GARRETT | 36 | 19 | 24 | 18 | 97 |
| DT | TOMMY TOGIAI | 29 | 25 | 22 | 17 | 93 |
| DT | DAVON HAMILTON | 26 | 20 | 16 | 27 | 89 |
| DT | ROBERT LANDERS | 25 | 10 | 23 | DNP | 58 |
| DT | ANTWUAN JACKSON | 18 | 10 | 14 | 13 | 55 |
| DT | JERRON CAGE | 14 | 4 | 10 | 12 | 40 |
| DT | ZAID HAMDAN | 6 | DNP | DNP | 7 | 13 |
| DT | JADEN McKENZIE | DNP | DNP | DNP | 7 | 7 |
| LB | MALIK HARRISON | 53 | 41 | 45 | 37 | 176 |
| LB | PETE WERNER | 60 | 35 | 41 | 32 | 168 |
| LB | BARON BROWNING | 36 | 32 | 37 | 20 | 125 |
| LB | TUF BORLAND | 36 | 20 | 26 | 28 | 110 |
| LB/S | BRENDON WHITE | 19 | 15 | 27 | 16 | 77 |
| LB | TERADJA MITCHELL | 25 | 14 | 12 | 14 | 65 |
| LB | DALLAS GANT | 6 | 13 | 12 | 15 | 46 |
| LB/S | JAHSEN WINT | 19 | ST | DNP | 6 | 25 |
| LB | K'VAUGHAN POPE | ST | 2 | 3 | 12 | 17 |
| LB | CADE STOVER | DNP | 7 | DNP | 6 | 13 |
| LB | JUSTIN HILLIARD | DNP | DNP | 3 | 8 | 11 |
| LB | CRAIG YOUNG | ST | ST | 3 | 1 | 4 |
| LB | TOMMY EICHENBERG | DNP | DNP | DNP | 1 | 1 |
| LB | CADE KACHERSKI | DNP | DNP | DNP | 1 | 1 |
| LB | LOGAN HITTLE | DNP | DNP | DNP | ST | ST |
| LB | BEN SCHMIESING | DNP | DNP | DNP | ST | ST |
| LB | TRAYVON WILBURN | DNP | DNP | DNP | ST | ST |
| CB | JEFF OKUDAH | 63 | 37 | 51 | 45 | 196 |
| CB | DAMON ARNETTE | 61 | 41 | 51 | 41 | 194 |
| CB | SHAUN WADE | 42 | 35 | 54 | 40 | 171 |
| CB | CAMERON BROWN | 15 | 18 | 12 | 13 | 58 |
| CB | AMIR RIEP | 6 | 14 | 8 | 12 | 40 |
| CB | MARCUS WILLIAMSON | 7 | 15 | 9 | 9 | 40 |
| CB | SEVYN BANKS | 17 | ST | 8 | 9 | 34 |
| CB | TYREKE JOHNSON | DNP | 3 | 7 | 9 | 19 |
| CB | MARCUS HOOKER | ST | ST | 7 | 6 | 13 |
| CB | KEVIN DEVER | DNP | DNP | DNP | 1 | 1 |
| CB | DARRYL SINCLAIR | DNP | DNP | DNP | 1 | 1 |
| CB | LLOYD McFARQUHAR | DNP | DNP | DNP | 1 | 1 |
| S | JORDAN FULLER | 61 | 43 | 54 | 45 | 203 |
| S | ISAIAH PRYOR | 12 | 2 | 15 | 12 | 41 |
| S | JOSH PROCTOR | 6 | 15 | 5 | DNP | 26 |
| S | BRYSON SHAW | DNP | DNP | DNP | 6 | 6 |
| S | OWEN FANKHAUSER | DNP | DNP | DNP | 1 | 1 |
| S | RYAN BATSCH | DNP | DNP | DNP | ST | ST |
| P | DRUE CHRISMAN | ST | ST | ST | ST | ST |
| P | ZACK HOOVER | DNP | DNP | DNP | ST | ST |
| LS | LIAM MCCULLOUGH | ST | ST | ST | ST | ST |
| LS | BRADLEY ROBINSON | DNP | DNP | DNP | ST | ST |