Garrett Wilson arrived at Ohio State as one of the top-ranked wide receivers in the recruiting class of 2019, and he provided a few more glimpses of why on Saturday.
In the Buckeyes' 76-5 win over Miami (Ohio) on Saturday, Wilson demonstrated his big-play ability as both a receiver and a punt returner.
Wilson's heralded trait as a recruit was his ball skills, and he certainly put those on display on Saturday. On a slightly underthrown deep ball by second-string Ohio State quarterback Chris Chugunov in the third quarter of Saturday's game, Wilson made a spectacular touchdown catch when he reached over a Miami defensive back, tipped the ball to himself and then secured the ball after some juggling on his way to the ground, without ever letting the ball hit the turf.
.@GarrettWilson_V just Mossed a man. #BTNStandout x @AutoOwnersIns pic.twitter.com/jiloxlnnyu

— Big Ten Network (@BigTenNetwork) September 21, 2019
That 38-yard reception was Wilson's second touchdown catch of the season, and just like after his first touchdown catch – a 9-yard catch against Cincinnati on which he also showed his ball skills by making a contested grab over tight coverage – both Justin Fields and Ryan Day expressed a lack of surprise at the play he made because of what they have seen him do on the practice field.
Justin Fields on Garrett Wilson: "That was a good catch, but he's definitely had better catches in practice. That wasn't surprising to see."

Ryan Day on Garrett Wilson: "That was things we've seen in practice, but that one was pretty unreal."

In summation, they like him.

— Colin Hass-Hill (@chasshill) September 22, 2019
Wilson had a team-high four catches for 54 yards in Saturday's game.
Just as impressive as the ball skills he showed as a receiver, though, was the ability to make defenders miss that he showed as a punt returner. On the first punt return of his career (Wilson fielded a punt against Indiana but did not return it), Wilson demonstrated impressive agility and speed as he returned a punt 52 yards – the first punt return of 50-plus yards by an Ohio State player since Jalin Marshall had two in 2014.
.@GarrettWilson_V has the sauce. pic.twitter.com/vD4HvrhxRt

— Ohio State on BTN (@OhioStateOnBTN) September 21, 2019
Wilson wasn't the only true freshman wide receiver who made the highlight reel for the Buckeyes on Saturday. Jameson Williams, who might very well be the fastest receiver on Ohio State's roster, put his elite speed on display when he caught a pass about 12 yards downfield from third-string quarterback Gunnar Hoak, then turned and ran away from a group of Miami defenders all the way to the end zone for a 61-yard touchdown, the longest offensive play from scrimmage by any Ohio State player this year.
Ted Ginn Jr., Jr? pic.twitter.com/zvR7s5JMeY

— Eleven Warriors (@11W) September 21, 2019
Day said that Williams, like Wilson, has demonstrated improvement in practice over the past couple weeks, and Fields wasn't surprised to see Williams make a big play, either.
"When he kind of stopped and started running, I already knew right away he was going to score, because he's definitely one of the fastest guys on the team," Fields said. "He's going to be a great receiver in the future."
That touchdown was the first of Williams' career, and he wasn't the only true freshman to hit paydirt for the first time as a Buckeye on Saturday. Marcus Crowley scored a 7-yard touchdown on a short pass from Chugunov for his first career score in scarlet and gray, and fellow first-year running back Steele Chambers – who had eight carries for a team-high 63 rushing yards on Saturday – reached the end zone on a 2-yard run late in the fourth quarter.
Wilson, Williams and Crowley, along with fellow true freshmen Zach Harrison, Harry Miller and Craig Young, have all now played in four games this season, meaning they will not be eligible to redshirt if they play in any more games this year. 
Chambers played in his second game of the season on Saturday, as did linebacker Cade Stover, while defensive end Noah Potter played in his third. Safety Bryson Shaw and defensive tackle Jaden McKenzie, also true freshmen, each saw the first playing time of their Ohio State careers on Saturday.
Backup quarterbacks impress Day
After Fields accounted for six touchdowns in the second quarter of Saturday's game, the Buckeyes turned to their other two scholarship quarterbacks to play the entire second half, and it was a milestone day for both of them, as well.
Chugunov's touchdown passes to Wilson and Crowley were the first two touchdown passes of his Ohio State career, while Hoak's touchdown pass to Williams was his first touchdown pass as a Buckeye.
In the most extended playing time of both of their Ohio State careers to date – Chugunov played the entire third quarter while Hoak played the entire fourth quarter – Chugunov completed six of seven passing attempts for 86 yards while Hoak completed both of his passing attempts for 65 total yards.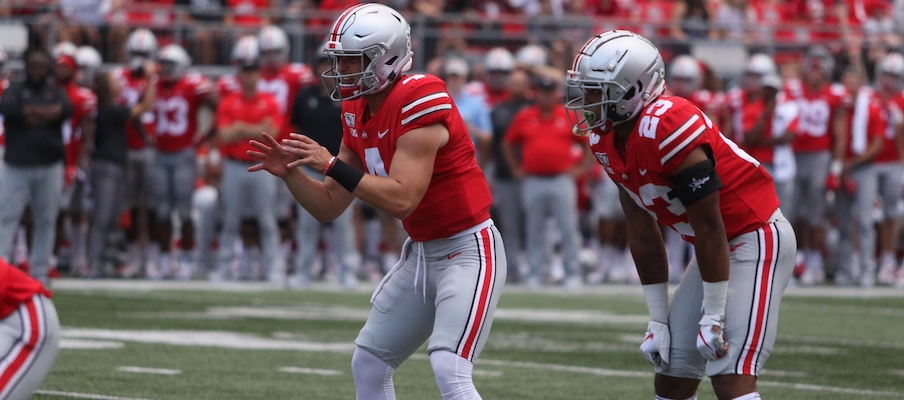 As aforementioned, they got some significant help from the Buckeyes' talented young receivers, but Day said after the game that he was pleased with what he saw from both of them on Saturday.
"I thought (Chugunov) took a step forward," Day said. "Even when Gunnar was in there, he made that nice throw to Jameson. So that was good to see. I thought that Chris handled himself well in that situation … and then Gunnar came in and did a good job as well. 
"We challenged those guys to move the ball down the field," Day continued. "We're not here to just run out the game. Let's really play football and find out where we're gonna go from it. And so I think for those guys, there's a lot to film to grow upon. So we'll make sure we watch that film with those guys for sure, tomorrow, and see if we can build on those guys."
The Chase Young show continues
Chase Young was already considered to be one of the best defensive players in college football and a potential No. 1 overall pick for the 2020 NFL draft entering this season, and through the first four games of his junior season to date, Young has strengthened his case with each passing week.
Young has at least 1.5 sacks in each of Ohio State's first four games of the year, and Saturday was as impressive as any game yet. On two separate occasions in the second quarter – once from the left side and once from the right side – Young blew by the opposing offensive tackle to get to Miami quarterback Jackson Williamson and knock the ball out of his hands for a strip sack. 
Less than four minutes apart.

Chase Young is a cheat code: pic.twitter.com/v9LGJME7C5

— Big Ten Network (@BigTenNetwork) September 21, 2019
Both strip sacks were recovered by his Ohio State teammates and led to Buckeyes touchdowns, and Day said after the game that he believed those plays had a big role in Ohio State turning the game into a complete rout.
"To see Chase come off the edge like that was unbelievable," Day said. "It's one thing to be veteran, it's one thing to be really good; it's another thing to play that way and produce. And to see him do that changed the game (snaps fingers) just like that.
"Not only that, it changes the momentum of the game. It kind of, if you're on the other side of the ball and you see that a couple times, that can take your heart away. And I think it did," Day added. "So he's playing at a high level right now. We've got to keep him going at that level and he's got to keep producing because when he does, our defense is really good."
A surprise absence
Sophomore safety Josh Proctor played in each of Ohio State's first three games of the year and was not listed on the Buckeyes' status report for this week's game, but just minutes before Saturday afternoon's kickoff, Ohio State announced Proctor would also be unavailable to play on Saturday.
Ohio State did not disclose any additional information on why Proctor was unavailable to play, but he was seen wearing a cast on his hand.
Other players who were listed as unavailable on Friday's status report and did not play on Saturday included defensive linemen Jonathon Cooper, Tyreke Smith, Robert Landers and Taron Vincent and wide receiver C.J. Saunders. Cooper was actively working with the defensive linemen in pregame warmups, though – suggesting that he could be back sooner than later – while Smith and Landers also spent time working out on the field before the game.
Tyreke Smith was listed as unavailable and wont play today. However, he came out before the rest of the team to get a bit of pregame work in. pic.twitter.com/uNrjXF3tMT

— Colin Hass-Hill (@chasshill) September 21, 2019
Robert Landers wont play today. While in shorts and a jersey, though, hes working with Zach Harrison prior to the game. pic.twitter.com/pi40kCpdoE

— Colin Hass-Hill (@chasshill) September 21, 2019
Tributes to Cassady
Following the death of Buckeye legend Hopalong Cassady on Friday, Ohio State paid tribute to the 1955 Heisman Trophy winner in several ways during Saturday's game.
The Buckeyes wore helmet stickers on Saturday that featured Cassady's No. 40, a moment of silence was held in his memory before the game and a video montage featuring clips from his Ohio State career was played on the Ohio Stadium scoreboard between the game's first and second quarters.
Ohio State honoring the late Howard Hopalong Cassady with a helmet decal. pic.twitter.com/Dwy1F9HS5M

— Colin Hass-Hill (@chasshill) September 21, 2019