Ohio State's game against Miami (Ohio) didn't start out the way anyone would have expected on Saturday, but it didn't take long for the Buckeyes to turn their first-quarter deficit into a distant memory.
After Miami scored the first five points of Saturday's game, Ohio State scored the next 76, and more than half of those came in a one-sided second quarter in which the Buckeyes turned a game that was unexpectedly competitive early into a complete rout.
Ohio State scored on all six of its second-quarter possessions for a 42-point second quarter, and while that did set a record for the Buckeyes' most points in a quarter – at least dating back to 1960, according to research by Ohio State's communication staff – it certainly wasn't the first time the Buckeyes have taken over a game with an explosive burst this season.
In its season opener against Florida Atlantic, that explosive burst came right out of the gates, as the Buckeyes scored 28 points in the first eight minutes and 10 seconds before coasting to a 45-21 win.
Against Cincinnati in week two, the Buckeyes scored three consecutive touchdowns in a 21-point second quarter en route to a 42-0 shutout.
One week ago against Indiana, the Buckeyes scored 23 unanswered points in just over seven minutes of play in the second quarter to take a 30-3 lead.
Then on Saturday, the Buckeyes had their most convincing takeover of a game yet. Ohio State outgained Miami by 259 yards in the second quarter of Saturday's game – the Buckeyes had 252 yards in the second quarter, while Miami had minus-7 – and took a 49-5 lead into halftime that allowed them to rest their starters for the second half.
"First five, six minutes of the game, not great ... but then from then on, I thought it was pretty dominant overall," Ohio State coach Ryan Day said after the game. "To come out like that after three weeks and a week of a lot of people telling us how great we were, to come out and dominate like that is pretty impressive."
Justin Fields was impressive for the fourth week in a row to start his Ohio State career, accounting for all six of the Buckeyes' second-quarter touchdowns. He threw for 223 yards and four touchdowns and ran for another 36 yards and two touchdowns, and all but 28 of those yards came in the second quarter.
On the receiving end of Fields' passes, Chris Olave caught his third and fourth touchdowns of the season while K.J. Hill scored his third and Binjimen Victor scored his second.
Among the 11 total touchdowns that Ohio State scored on Saturday, seven of them – including five of the six touchdown drives in the second quarter – came on possessions that were completed in two minutes or less, which enabled the Buckeyes to run up the score in a hurry.
"When we're playing with that tempo, I feel like we're more in shape than other teams, and that's what really gets us going," wide receiver K.J. Hill said of Ohio State's quick-strike offense.
Ohio State's explosive bursts haven't just come because of its offense, though, but because of its defense and special teams making plays that have given the Buckeyes great field position – and that was especially the case on Saturday.
Jeff Okudah intercepted a pass on Miami's first possession of the second quarter that gave the Buckeyes the ball at Miami's 41-yard line. Two possessions later, Chase Young made a strip sack on Miami quarterback Jackson Williamson that Ohio State linebacker Malik Harrison recovered at Miami's 28-yard line.
Sevyn Banks blocked a punt after Miami's following possession – marking the second straight week that the Buckeyes have blocked a second-quarter punt, as Chris Olave did the same in the second-quarter run at Indiana – which gave Ohio State the ball at the 20-yard line. One possession later, Young came up with another strip sack that fellow Ohio State defensive end Tyler Friday recovered at the 18-yard line.
"I think anytime your defense can do what they did, which is shut them down, create turnovers like that and then flip a short field … Any time that happens, and you can kind of turn the momentum, it can flip fast. And I think that's what happened," Day said.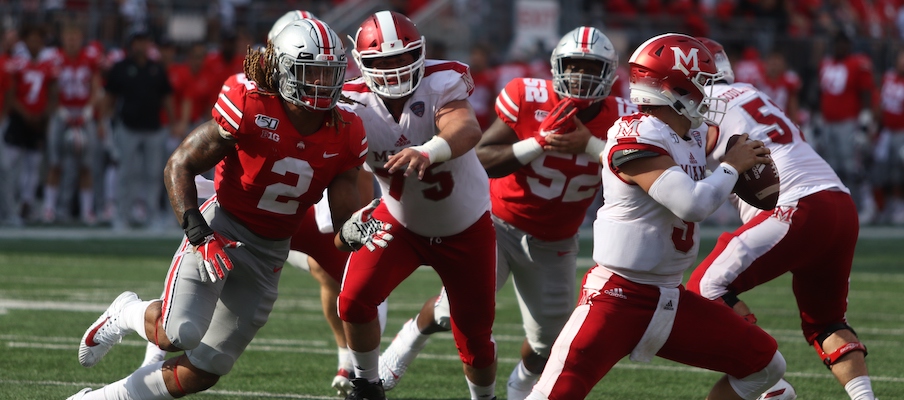 Ohio State was never going to be in any real jeopardy of losing Saturday's game, but when Miami scored the first five points of the game, it looked as though it just might turn out to be an underwhelming day for a Buckeyes team that had been so impressive in its first three games of the year, especially the last two.
With their performance for the rest of the game, though, the Buckeyes showed once again that they can quickly take over a game and looked like a team that could be one of college football's elite teams this year.
"We all knew what we had to do, and we just went out and just played," said Ohio State defensive end Chase Young.
"To come out like that after three weeks and a week of a lot of people telling us how great we were, to come out and dominate like that is pretty impressive."– Ryan Day on Saturday's 76-5 win over Miami
Ohio State will certainly face tougher competition than it did on Saturday, and really in any of its first four games, as the season progresses. That will begin next Saturday, when the Buckeyes hit the road for the second time this year to play Nebraska in a 7:30 p.m. game in Lincoln.
"Going to go into Lincoln, a lot of things to clean up if we're going to go beat those guys next week, so we're already onto those guys and focused on preparing for them next week," Day said after Saturday's win.
The Buckeyes are going to be a tough team to beat, though, if they can continue to deliver the dominant stretches of play that they've had in each of their first four games of the season.