Garrett Wilson's first game at Ohio State was a reminder that even with the hype that comes with being a five-star recruit, he's still just a true freshman.
He didn't catch a single pass in the Buckeyes' season opener against FAU, and the only pass that hit his hands was one that he dropped behind the line of scrimmage, resulting in a fumble that was recovered by the opponent.
In his second game as a Buckeye against Cincinnati on Saturday, however, Wilson needed only one catch to remind everyone why he's been so hyped since he arrived at Ohio State.
With a pass-rusher bearing down on him on 3rd-and-8, Justin Fields lofted a ball to the left side of the end zone, and Garrett Wilson leaped up to grab the ball over coverage from Cincinnati cornerback Coby Bryant – the younger brother of former Ohio State safety Christian Bryant – and pulled it down for a 9-yard touchdown reception.
Get used to this combo. pic.twitter.com/GKzjDHjiAY

— Eleven Warriors (@11W) September 7, 2019
That catch, which was simultaneously the first reception and first touchdown of Wilson's Ohio State career, was an impressive display of his ball skills that have talked about all offseason and that he also put on display with a similar catch in Ohio State's spring game and throughout his high school career. But it certainly didn't come as a surprise to his quarterback.
"For me and Garrett, and I think everybody else on the team, they know that that's not a circus catch for Garrett, that's pretty much routine for him," Fields said. "So he definitely had my trust. He gained all that in the spring and just this summer. So when I saw that, I already knew he was going to catch the ball."
Ryan Day, who was previously a quarterbacks coach for the Philadelphia Eagles and San Francisco 49ers before he joined Ohio State's coaching staff, was impressed by what he saw on both ends of that play.
"That throw and catch there, that was NFL material right there," Day said.
Wilson looked as though he could be in line for a decreased role from the season opener, when he played 29 snaps, when Jaylen Harris rotated into the game at X receiver ahead of Wilson on the Buckeyes' first possession. Both receivers ended up seeing their share of playing time throughout the game, though, in a rotation with starter Binjimen Victor.
Smith shows his potential
Tyreke Smith has been hyped as one of the young defensive ends who could emerge as Ohio State's next star at that position, but he did not have a single sack as a true freshman and did not play in the Buckeyes' season opener this year due to an undisclosed injury.
In the span of just three plays on Saturday, however, Smith made two big plays that proved he was healthy and demonstrated his ability to be an impact player.
With the Bearcats seriously threatening to score for the first time early in the second quarter of Saturday's game, following a roughing the passer penalty against fellow sophomore defensive lineman Tommy Togiai, Smith blew by Cincinnati right tackle Chris Ferguson, exploded into the backfield and buried Bearcats quarterback Desmond Ridder for a 7-yard sack. 
LOOK OUT @OhioStateFB's Tyreke Smith eats QBs for brunch: pic.twitter.com/QV0bw1dIlC

— Big Ten Network (@BigTenNetwork) September 7, 2019
Two plays later, Smith set the edge perfectly on a run up the middle by Michael Warren to collapse on him for a stop two yards short of the line-to-make on 3rd-and-4.
Ohio State's already-established star at defensive end, Chase Young, was among those who were impressed by what they saw from Smith on Saturday – but like Fields with Wilson, he wasn't surprised.
"I already knew Tyreke could do that," Young said. "He's going to keep putting on display how great he is. He's working every day to be the best player he can be, he's going to be real good."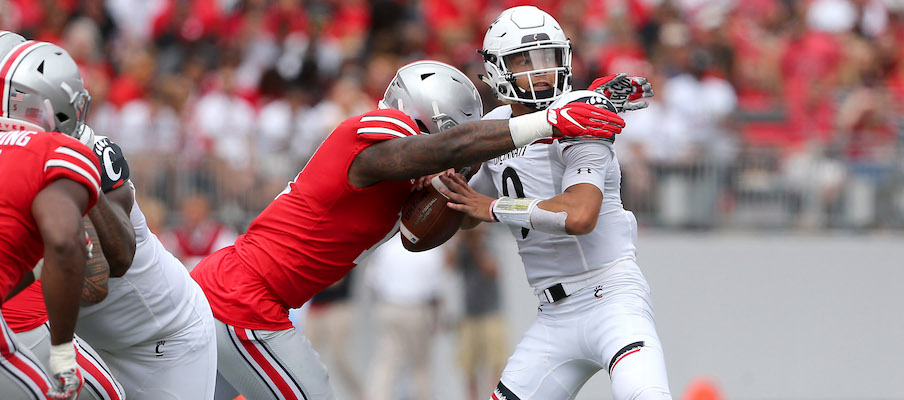 New achievement for Chase
For all that Young has already accomplished in his career at Ohio State and dating back to his career at DeMatha Catholic High School, the Buckeyes defensive end had never blocked a field goal until Saturday.
After the aforementioned plays by Smith force Cincinnati to settle for a 32-yard field goal attempt, Young changed that by breaking through the line and getting a hand on Sam Crosa's kick for a block that kept the Bearcats off the board in a game that would ultimately end as a 42-0 shutout.
Block party in Columbus! @OhioStateFB's defense put the clamps on so far today: pic.twitter.com/QexNCo6jNi

— Big Ten Network (@BigTenNetwork) September 7, 2019
Before Saturday, Young had only blocked field goals in practice. He said that Ohio State's new coaching staff, specifically special teams coordinator Matt Barnes, has placed a greater emphasis on trying to block field goals this offseason, though, so Young had made blocking one in a game one of his goals.
"I talked to Coach Barnes, I said 'I'm going to try to get one in a game,' and it happened," Young said.
Young's block was the first blocked field goal by Ohio State in a game since Dre'Mont Jones blocked a field goal against UNLV on Sept. 23, 2017.
In addition to the field goal block, Young had another dominant game on defense on Saturday, recording three total tackles with 1.5 sacks and bringing pressure on several other plays. The only blemish of his game came when he dropped what should have been an interception after Shaun Wade hit Warren to pop a ball up into the air that fell right into his hands, and with the room to run he would have had if he caught that ball, he was disappointed that he whiffed the opportunity to check off two more boxes on the stat sheet.
"I'm still mad about it," Young said about the dropped interception. "D-linemen, you don't really get a chance to get an interception or a score, and I had a chance to do both."
Stover, Chambers, Jones, Hoak make debuts
After seven true freshmen saw playing time in Ohio State's season opener, an additional three true freshmen saw the field on Saturday for their Buckeye debuts.
Offensive tackle Dawand Jones, the largest player on Ohio State's roster at listed measurables of 6-foot-8 and 360 pounds, played his first snap as a Buckeye as a member of the field goal block unit on which Young blocked Cincinnati's only field goal attempt of the day.
Cade Stover saw playing time at linebacker on Ohio State's final defensive series of Saturday's game and recorded two tackles. Steele Chambers saw playing time at running back on Ohio State's final offensive possession of Saturday's game and carried the ball twice for 16 yards.
Transfer quarterback Gunnar Hoak also saw his first playing time as a Buckeye on Ohio State's final possession, but did not throw a pass. Hoak was the third quarterback into the game for the Buckeyes following Chris Chugunov, who also played one series in the fourth quarter and completed both of his passing attempts for 14 combined yards.
McDonald cleared after medical scare
The scariest moment of Saturday's game at Ohio Stadium came early in the second quarter when Cincinnati safety Kyriq McDonald collapsed to the turf and received medical attention for several minutes after convulsing on the field, prompting Ohio State athletic director Gene Smith, among others, to come out to midfield to monitor the situation.
Fortunately, McDonald was eventually able to rise to his feet, drawing an ovation from the Ohio Stadium before he was carted back to the locker room. McDonald was transported to the Wexner Medical Evaluation for further evaluation, but Cincinnati coach Luke Fickell said after the game that McDonald was expected to make a full recovery.
"I saw his mom. I just saw him. He's been cleared with everything," Fickell said. "I couldn't tell you exactly what the situation was, only that he was not hit. I actually was watching him and thought he tore his Achilles because he went straight to the ground. Just a really scary situation."
While Cincinnati did not confirm what happened to McDonald, his mother told ABC's Allison Williams during the game broadcast that he has a history of seizures.
Several Ohio State players took to Twitter after the game to share their best wishes for McDonald.
Prayers up to Kyriq McDonald and the Cincinnati football family

— Teradja Mitchell (@7eradja) September 7, 2019
Prayers that hes okay https://t.co/3nOOkTVfjm

— Brendon White (@therealestbw0) September 7, 2019