Ohio State will conclude its first half of the regular season by playing the team that has won more games against the Buckeyes than any other this decade.
Only one team has defeated Ohio State three times since 2010, and that's Michigan State, which means the Spartans should have the Buckeyes' full attention when they come to Ohio Stadium on Saturday for the sixth game of the season for both teams.
Michigan State isn't nearly as talented or as explosive offensively as Ohio State, and as a result, the Buckeyes are favored to win Saturday's game by 21 points as of Monday morning.
That said, the Spartans are 4-1 this season – with their lone loss coming in a 10-7 slugfest to Arizona State, who is currently ranked 20th in the AP Top 25 – and Mark Dantonio's squad, which is currently ranked 25th nationally, typically plays the Buckeyes tough. In the past eight games between the Buckeyes and Spartans, Ohio State has only won by more than 20 points once, in its 48-3 win in 2017.
So even though Ohio State has won its last four games by at least 41 points and has statistically been the most complete team in college football so far this season, history suggests the Buckeyes should not take the Spartans lightly. 
We now take a closer first look at Ohio State's sixth opponent of the season with Five Things to Know about Michigan State.
One of the Nation's Top Defenses
As has usually been the case throughout Dantonio's tenure in East Lansing, Michigan State's strength this season has been its defense once again. Through its first five games of the year, Michigan State ranks seventh in the nation in yards allowed per game (253.8), sixth in the nation in yards allowed per play (3.93) and 14th in points allowed per game (15).
The Spartans' defense has been especially stout against the run, holding its opponents to just 1.86 yards per carry (the second-best mark in the Football Bowl Subdivision) and 55.8 rushing yards per game (fourth-best nationally).
Michigan State's defense is led by one of the best defensive lines in college football, headlined by Kenny Willekes, the reigning Big Ten Defensive Lineman of the Year. A highly productive defensive end who regularly makes his presence felt as both a run defender and pass-rusher, Willekes has already recorded 34 total tackles this season – most among all Big Ten defensive linemen – with 6.5 tackles for loss, four sacks and 11 quarterback hurries. He recorded 13 total tackles with 3.5 tackles for loss in the Spartans' 26-6 loss to Ohio State last season.
The Spartans also have one of the nation's best middle linebackers, Joe Bachie, who was named to a multitude of preseason All-American teams and currently leads the Big Ten with 46 total tackles this season.
Michigan State hasn't yet faced an offense like Ohio State's, and its defense is coming off its worst game of the season to date, as it allowed 31 points and 356 yards to Indiana on Saturday. 
Nonetheless, Michigan State's defense should pose the stiffest test that Ohio State's offense has seen this season to date.
Bounceback Year for Lewerke So Far
Michigan State quarterback Brian Lewerke was in the midst of a nightmare season when the Spartans hosted Ohio State in East Lansing last season. While battling a shoulder injury, Lewerke completed just 11 of 28 passes for 128 yards with no touchdowns and an interception in the Spartans' loss to the Buckeyes, and was benched for part of the game in favor of backup quarterback Rocky Lombardi.
After entering last season with expectations that he would be one of the Big Ten's best quarterbacks and potentially emerge as an NFL prospect, Lewerke completed just 54.3 percent of his passing attempts in his junior season for only 2,040 yards and eight touchdowns with 11 interceptions. His quarterback rating (106.1) and yards per passing attempt (6.0) ranked as the second-worst among all Big Ten quarterbacks who started a majority of their teams' games in 2018.
So far in 2019, though, Lewerke has looked more like the promising quarterback he was in 2017. He currently leads the Big Ten with 1,325 passing yards, has completed 59.8 percent of his passing attempts and has thrown 10 touchdowns to just one interception.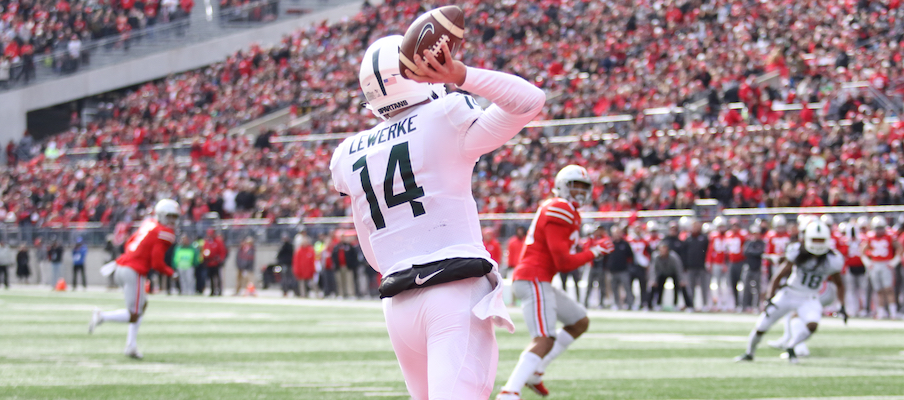 Michigan State's offense is still just mediocre – the Spartans rank 71st in total yards per game (413.6) and 77th in yards per offensive play (5.74) this season – so it shouldn't pose a significantly tougher test than anything Ohio State has already faced in its first five games.
Lewerke is coming off his second 300-yard passing game and third three-touchdown game of the season, though, and his ability to make more plays through the air than he has in his first two games against Ohio State – he went just 18-of-36 for 131 yards with two interceptions against the Buckeyes in 2017 – is crucial for the Spartans to have any chance of pulling off an upset.
Most Field Goal Attempts in the Nation
Michigan State's offense isn't that one will score touchdowns in bunches, but the Spartans ability to control field position through their play in all three phases of the game has led to consistent field goal opportunities this season – in fact, more field goal attempts than any other team in the FBS.
Spartans kicker Matt Coghlin has attempted 15 field goals through five games, at least two more than every other team in college football this year.
The downside of that, beyond the fact that settling for so many field goals means the Spartans are coming up short on opportunities to score touchdowns in opposing territory, is Coghlin hasn't been as reliable as expected so far this season. While Coghlin missed just four field goals in each of his first two seasons as Michigan State's kicker and earned first-team All-Big Ten honors in 2018, he's already missed five field goals this year.
He made two key field goals in the fourth quarter of the Spartans' 40-31 win over Indiana on Saturday, though, demonstrating that they still trust him to make a big kick in clutch situations. They'll need to be able to trust him again this week in what should be a raucous primetime environment in the Shoe.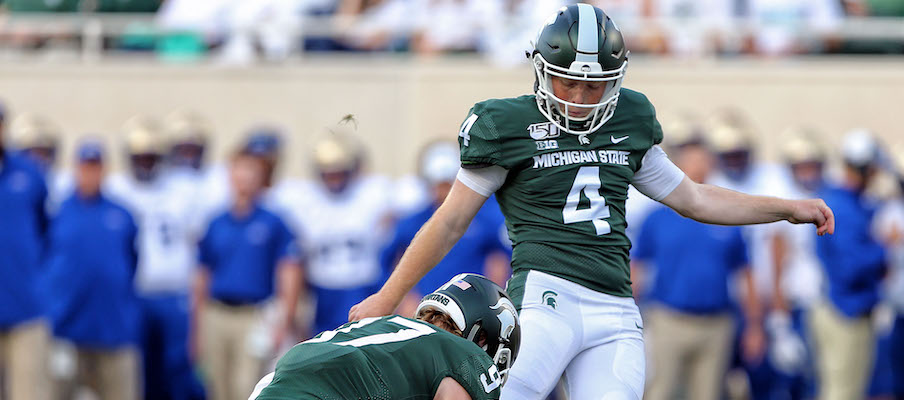 Buckeye State Ties
One point of motivation that's often brought up for Michigan State each year is that the Spartans' roster usually includes a large contingent of players from Ohio who did not receive scholarship offers from Ohio State, and this season's team is no different.
Michigan State's 2019 roster includes 28 players who are Ohio natives, including some of the team's most important players. Michigan State players who were not offered by Ohio State coming out of high school but are now playing major roles for the Spartans include Bachie (from Brook Park, Ohio), cornerback Josiah Scott (Hamilton), safeties David Dowell (North Ridgeville) and Xavier Henderson (Reynoldsburg) and guards Luke Campbell (Olentangy) and Matt Carrick (Minerva).
"Obviously I grew up an Ohio State fan, from Ohio, it's just what you do," Bachie told Eleven Warriors at Big Ten Media Days. "You walk five minutes down the road, you're going to see an Ohio State flag no matter what."
The Spartans' coaching staff, meanwhile, continues to include a multitude of former Ohio State assistant coaches.
Dantonio, a Zanesville native, was the defensive coordinator at Ohio State from 2001-03. Defensive coordinator Mike Tressel, the nephew of former Ohio State head coach Jim Tressel, was a graduate assistant for the Buckeyes in 2002 and 2003. Offensive line coach Jim Bollman, an Ashtabula native, was the offensive coordinator and offensive line coach at Ohio State from 2001-11. Cornerbacks coach Paul Haynes, a Columbus native, was a defensive backs coach for the Buckeyes from 2005-11. Tight ends coach and special teams coordinator Mark Staten was also a graduate assistant for the Buckeyes in 2002 and 2003.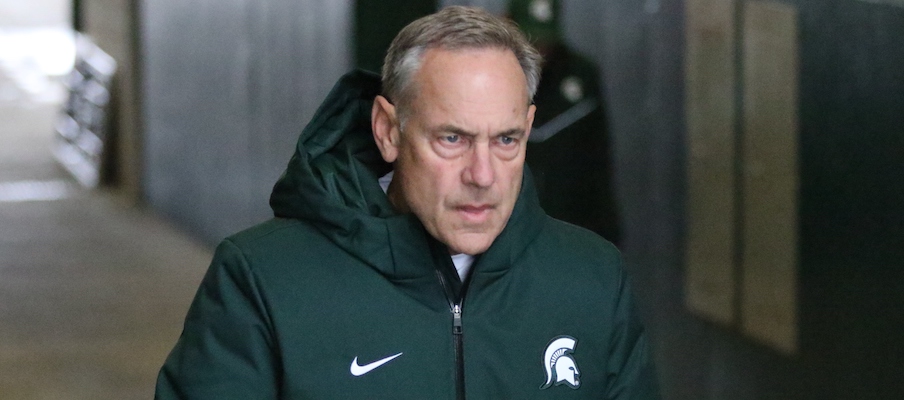 A History of Playing Spoiler
While Ohio State has championship aspirations this season and Michigan State shouldn't be able to beat the Buckeyes on paper, it certainly wouldn't be the first time that the Spartans handed Ohio State a devastating loss with an upset win.
In 2013, the Spartans did that in the Big Ten Championship Game, when they handed Urban Meyer the first loss of his Ohio State career and cost the Buckeyes a trip to the final BCS National Championship Game with a 34-24 win in Indianapolis.
In 2015, the Spartans went into Ohio Stadium and earned a 17-14 win over an Ohio State team that was supposed to be one of its best teams ever, costing the Buckeyes a College Football Playoff berth after a 10-0 start.
Michigan State also defeated Ohio State in Columbus in 2011, 10-7, making the Spartans the only team with two wins over the Buckeyes in their home stadium this decade. The Spartans also memorably played spoiler at Ohio Stadium in 1998, when they defeated the Buckeyes 28-24 to hand them their only loss of the season and ruin their national championship hopes that year.