After a 52-10 shellacking of Indiana in Bloomington last weekend, Ryan Day's Buckeyes return home to friendly confines tomorrow to take on the Miami RedHawks at 3:30 p.m. in the Shoe. 
A hefty 39-point favorite, Ohio State will look to jump out to a huge halftime lead and let the reserves enjoy plenty of playing time on what should be sun-splashed afternoon. 
To prime your pump ahead of the game, we welcome 11W's own Ramzy Nasrallah, Kevin Harrish and David Wertheim to this week's roundtable. 
Let's get to it. 
---
Chase Young is destroying opponents to the tune of 11 tackles and 5.0 sacks through three games. If you're picking one defensive end between Joey Bosa, Nick Bosa and Young, which one are you taking on your squad and why?
Ramzy: Currently, I'll take Joey, as the only things that were able to contain him in college were molly and targeting penalties. Nick was the total package, but his abbreviated stint plus durability issues keep him second. Chase's trajectory in his contract year has him trending to 2nd or 1st here. His recognition is getting better, but it's not quite there yet. When it gets there, yeeeeow.
Kevin: I'm going with Nick Bosa, which is kind of hilarious because if you're looking back at their careers and just comparing numbers, he's going to be quite clearly behind the other three, but that doesn't mean he wasn't the best. Nick was the most dominant pass rusher I've ever seen in his three games his junior year. He was technically perfect in a way his brother was not, but with the same athleticism, length and bend. He was on pace to shatter the Ohio State single-season sacks record before his injury. I'd kill to have him on my team.
David: Give me the Big Bear. Joey was as dominant a defensive player as I've ever seen in my (relatively short) life. If it weren't for quarterbacks going with the first two picks, he would have been the #1 overall draft choice, in what has turned out to be an absolutely stacked class. We saw what happened in 2014 and 2015 with him on the defensive line. The man is a monster. 13.5 sacks as a sophomore!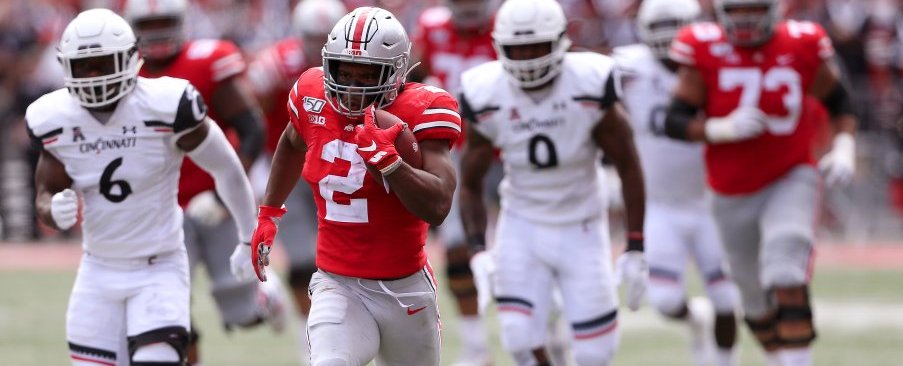 Through three games, the Buckeyes have put up some impressive team and individual statistics including Young's five sacks, the defense sitting at No. 4 nationally in rush defense, the offense scoring 46 points a game, J.K. Dobbins averaging 7.1 yards a pop and Justin Fields completing 70% of his throws. There are, of course, a ton of other sexy stats. What do you think is the most important team or individual stat thus far, as it relates to success over the course of the season and why?
David: I think the rushing yards per carry has to be the most important. We saw last year how much the offense struggled to run the football, and while Dwayne Haskins was able to overcome it most of the time with his arm (and an elite receiving corps), it is so much easier to watch this offense operate with Dobbins and Fields as rushing threats. Everything just looks so much smoother and fluid, and the play calling possibilities are endless now that there is a strong rushing attack to go with a still-potent passing game.
Ramzy: The Buckeyes are currently 30th nationally in penalties. Last season they were the worst team in football and one of the worst of the entire decade. At the current clip of 4.7 flags per game, they'll end up in the top 40 looking at last year's trends. That would be a 90-spot jump. Discipline cost them the playoff last year, as it compounded the terrible defense and wrecked their optics, which ruined their chances with the committee.
Kevin: There's no way the answer to this question isn't some sort of defensive stat, so I'll go with Ohio State giving up just 3.85 yards per play, which is currently good for No. 9 in the nation. That is uh... a change of pace from this point last year.
We asked this question during Eleven Warriors Sunday on 97.1 The Fan and I'm curious to your takes. What has you most excited about this team so far: The rushing attack? Justin Fields? The return of the Silver Bullets? Coaching? Something else?
Kevin: Justin Fields. I've been on the bandwagon since there was even a rumbling that he might be considering a transfer from Georgia and I probably hyped him up a bit too much (I probably called him the perfect combination of like, the three best quarterbacks in Ohio State history), but he's somehow living up to the hype and might actually be better throwing the ball than I even expected at this point.
Ramzy: I think we knew the defense - which was set up for failure from the start - was going to improve. I think we knew Justin Fields would be just fine. One thing that concerned me was the Slobs, which were under great pressure last season run-blocking in front of a non-running quarterback. That was a wildcard for me, especially with four new starters. It's good to have them back.
David: Defense, defense, defense. Offense is great and all, but there's a reason the Big 12 never wins the national championship. The Silver Bullets looked rejuvenated and fun to watch. Pete Werner has been a pleasant surprise in the linebacker corps, while the defensive backs seem to have returned to #BIA status. The players just seem more confident. I'm interested to see how they do against teams that aren't FAU, CIncinnati, and Indiana, but the defensive improvement has to be the best thing that has happened so far.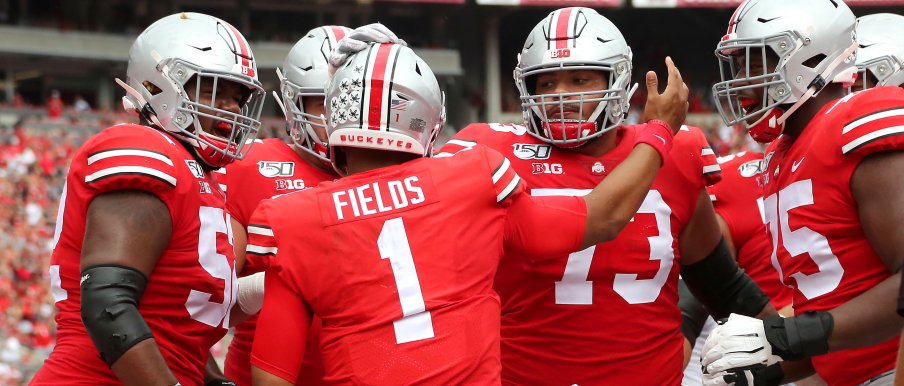 Michigan is a 3-point underdog at Wisconsin on Saturday in a huge game that kicks off at high noon. Who do see winning this one and why?
David: I'm gonna give a non-answer. I guess if I had to pick I'd go with the Badgers, but Harbaugh and co. always seem to start off undefeated for a couple months before faltering to Michigan State, Penn State, or Ohio State somewhere down the line. The Badgers are not any of those three teams, but they look pretty dang good to start it off. 
Kevin: Michigan is getting waxed. Wisconsin is going to win by two or more scores. I really thought we'd see a revamped Michigan offense this year, but it still looks like a gameplan from 1995, and now they might not even have the guy they handed the ball to 33(!!!!) times against Army. The Wolverine offense is still hilariously broken and Wisconsin is going to put them in a damn woodchipper.
Ramzy: Michigan hasn't won in Madison since 2001, which is only one year shorter than the Wolverines' Columbus drought (granted, they don't play every year, but still: it sucks to suck). Michigan also used its rEvEnGe tOuR juice last season and the revenge is on the other, uh, foot now. I think it's a great matchup, but I don't see Michigan winning this one. You hate to see it.
Ohio State enters Saturday's game as a modest 40-point favorite? Do the Buckeyes cover? Give us your final score and game MVP prediction.
Ramzy: Buckeyes 56, Redhawks 7. Fast start, efficient stats for the stars, Master Teague and Garrett Wilson continue to receive accelerated development chances. The MVP will be Chris Olave. Those poor Miami defensive backs.
Kevin: 58-6. They'll cover. With all due respect, Miami is a team of players that weren't good enough to play for a team of players not good enough to play for Ohio State. I expect the reserves to play the entire second half, but the reserves are also significantly better than Miami's starters. My MVP is Demario McCall, because you know he's getting some second-half carries.
David: No. Ohio State does not cover. 54-17 winners. Binjimen Victor catches two touchdowns and Jordan Fuller nabs an interception to earn MVP honors.